Have limited space? Think about 12 ft trampoline!
If you're thinking of buying a trampoline and there is limited space, consider getting 12 ft trampoline. 
Before you buy that 12-foot trampoline that you have been watching lately, you have to consider a few things first – who will be using it, what purpose the trampoline would serve, what its specifications are, its quality, and included safety features. Piece of advice – check our buying guide before that! But anyway, let's go through 12ft and see if size does matter!? That's why you are here, right? 🙂
Who Will Use It And What Is It For?
12 ft trampolines only attract two kinds of audiences – people who have limited space in the backyard, and children who see it as a gigantic play toy. Of course, those are not only reasons 12ft'ers should be considered, as not always "bigger is better", and when it comes to trampolines, this is true as it gets.
One main reason is that bigger trampolines often have more and longer springs, and basically the longer they get, the more force you need to apply in order to achieve desired bounce. That's why we always recommend minimum age when testing trampolines. Of course, this doesn't apply to toddler trampolines, as they are within separate category, made only for smaller kids and toddlers.
Quality Assurance
A trampoline that is of good quality should be made of high-grade materials. A 12-feet trampoline should have at least 72 pieces of 6.5-inch springs to be able to provide a good bounce. This is the bare minimum we can recommend, as that sweet spot would be 80-96 pieces of 7-inch springs. As said above, it all depends on your kid's age and weight.
Regarding other details, like the materials used, rows of stitching of the mat, and similar, you can safely ignore it, as they are all similar and will definitely be able to hold a child. Only a few things matter here –  the bars used for the frame should be galvanized (rust-proof) and you get an enclosure.
Enclosure (safety netting that surrounds the trampoline in order to prevent possibilities of falling over) is the single most important part when it comes to trampolines. Most accidents happen when there is none,  and as we are talking about 12-foot trampolines, we can presume that children will be using them.
SAFETY FIRST. If an enclosure is not included, you could still purchase a generic one separately and it would still fit your existing trampoline perfectly, you will just need to know the actual size, as mostly all of them fit (check first as some manufacturers decided to go down a different route and complicated things, where enclosure only fits their model), but no worries as 95% of them offer standalone products, mostly as replacement parts, so always try to get it from the same manufacturer.
The next thing to notice is trampoline padding, with one purpose only – to cover the springs so it will be impossible to land on them (without it – fractured toes, almost guaranteed).
If you want to learn more, read our article "Staying safe on trampolines".
Cost
On average, a 12 ft trampoline costs anything between $250 and $600. It doesn't necessarily mean that the more expensive one would be better than the cheaper alternatives though, something that we discovered during our reviews, as most well-known brands are inflating price a bit too much, where basically you pay for a name. This is why it is advisable to go through a plethora of reviews before purchasing a trampoline – it could save you a lot of worries, together with a $ or two. You are welcome to check out "compare trampolines" page, and quickly see summary for various brands. Know its benefits as well as its disadvantages before you purchase it.
Smaller or Bigger – Actual Differences
10 foot or 12 foot trampoline
With 10 ft you'll (approx.) get 63 sq ft of total jumping surface area, while 12 ft should be around 93 sq ft. On top of that, springs on 10 ft are usually shorter and will be most suitable for lightweight jumpers. Some general rule of thumb is – for 12 ft trampoline child needs to be at least 8 years old. Also, the spring count will be a bit higher, generally +8 per added foot.
12 foot vs 14 foot trampoline
As in the previous calculation, on a 12 ft round trampoline there are roughly 93 sq ft of the jumping area while 14 ft will provide around 133 sq ft.
14 ft trampolines are recommended for teenagers or families with several children, as this is enough to accommodate all of them, if they decide to exercise or play trampoline games together. Regarding springs, 12 ft trampolines will roughly have 72 springs while 14 ft trampolines will have 96+. Of course, different brands have different number of springs, due to design, purpose etc, so always check for exact spring count, together with their length (longer springs=higher bounce).
Our TOP PICKS of 12 foot Trampolines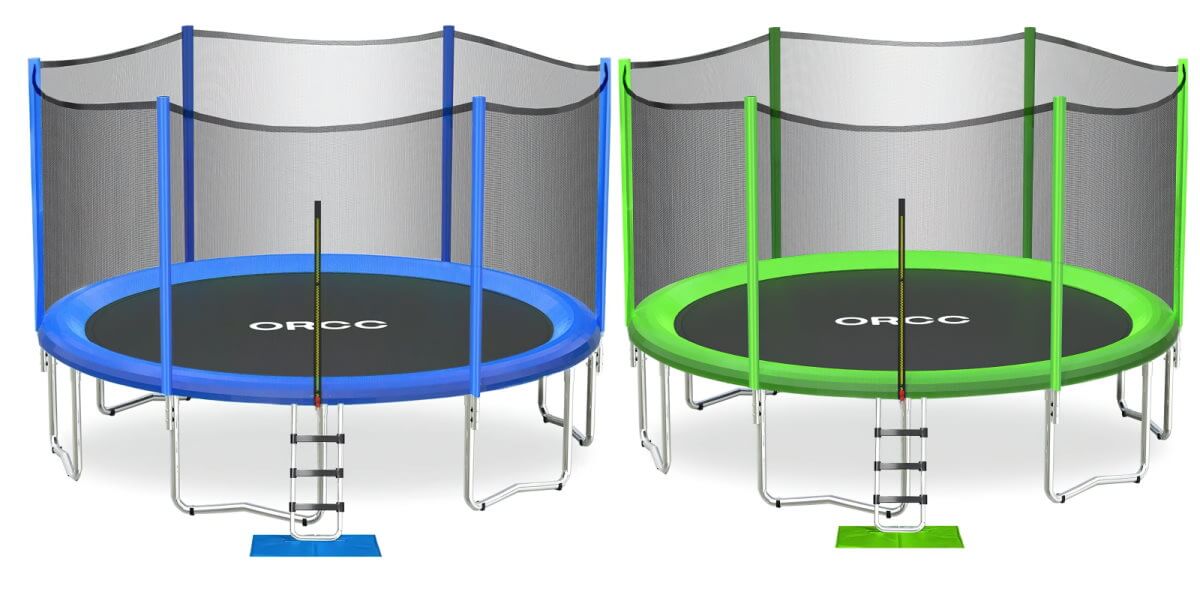 Are you in search of an entry-level trampoline that comes with a good price? Look no further than ORCC Trampolines! These middle-class trampolines have been designed not to break the bank. With a variety of sizes to choose from, you're sure to find the perfect fit for your backyard. What sets ORCC apart is their commitment to customer satisfaction, as evidenced by its top-notch customer service and dedication to providing replacement parts when needed. Discover the ORCC Trampolines.