Best Trampolines of 2023
Ask any seasoned trampoline owner, and they'll say it's the top addition you could make to your backyard. Kids have an absolute ball bouncing around, and based on our comprehensive trampoline reviews, it's clear that the best trampolines don't just provide fun — they're also a fantastic way to keep them fit and lively.
When looking at trampolines, keep in mind that the quality of the trampoline is only as good as its weakest component. A high-quality mat is not useful if the springs are too short or unresponsive. A tall enclosure is not effective if the poles holding it are flimsy. Trust us, this happens, and some manufacturers take advantage of consumers' lack of knowledge about what to look for.
Our trampoline reviews always highlight these issues, as they may not be apparent at first glance. Some trampolines look simply fantastic but are a real disappointment under the hood with shoddy welding and horrible quality control and we want to help you avoid it – no matter if you are searching for an outdoor trampoline, trampoline designed specifically for kids or gym-like mini trampoline. And really often we get asked the same question: "What is the best trampoline?", honestly, not an easy question to answer as the price of a professional trampoline can go up to $18 000, while prices for recreational trampolines vary from several hundred to several thousand dollars. It all depends on your needs, which is why we decided to put them to the test."
---
Expert Trampoline Reviews: Top 10 Best Trampolines of 2023
ACON Rectangle Trampoline 10×17 ft – Air 16, 2023 Model Review
If you're in the market for a rectangular trampoline, you might seriously want to consider this model. Our trampoline reviews have consistently ranked the ACON rectangle trampoline as one of the best trampolines, particularly in the semi-pro category. And, to be honest, the 2023 model fixed a lot of previous issues and it's still being considered the best bang for one's buck.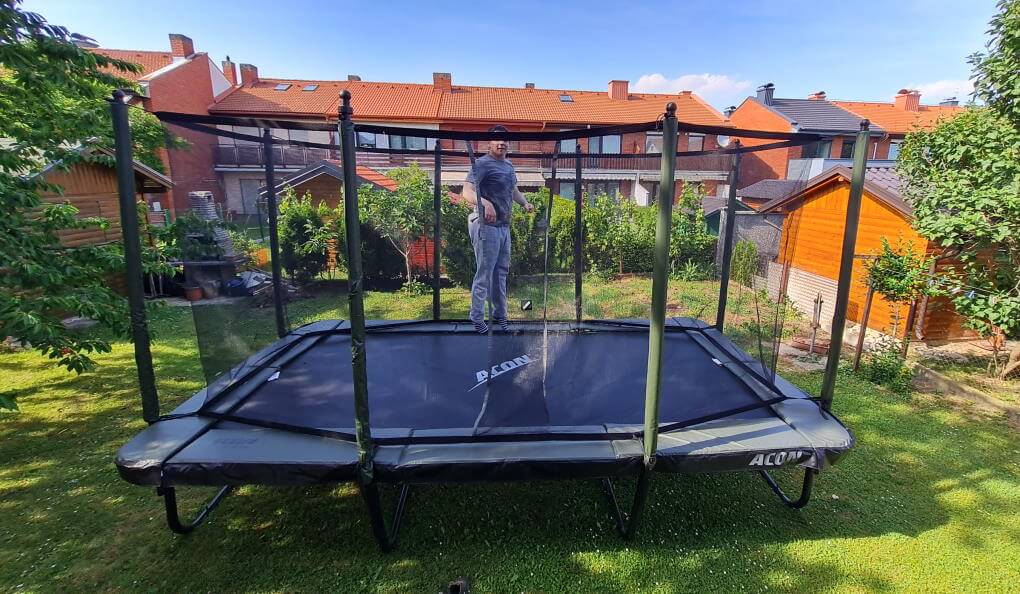 Designed in Finland by a Finnish company ACON, with ample experience in trampolines, this high-end trampoline ticks all the checkboxes – it's fun, sturdy, huge, and safe. Kids jump higher and happier than on any other trampoline we know of, except maybe Beast 10x17ft. The moment you will realize how sturdy Acon 16 really is, is the moment when you'll try to move all the received packages. Weighing 515 lb (234kg), you will soon realize how weight correlates to its sturdiness.
If it will need maintenance no need to worry as new replacement parts, from pads, mats, enclosure net, or even adding accessories such as basketball hoops are easily ordered online. Your friends who have maybe gone cheap will definitely need to replace parts more often than you will, even if you leave them outside during winter.
We do not encourage leaving trampolines unprotected but the manufacturer clearly stated that are well capable of surviving those conditions. We will try this winter and let you know the results next year…
So it is worth the investment for safety and peace of mind. And if you don't mind, your yard will become the neighborhood's play destination of choice!
The camo green or black color represents a departure from the usual blue that many trampolines feature and while we feel it's a bit bland, it's not bad by any means. The enclosure is one of the best we've ever had the pleasure of testing, with great zippered doors and UV-protected mesh material. Do we even have to mention that all the steel parts are black-powder galvanized, making them rust resistant!
An impressive 120 sq. ft. of the jumping surface is at your disposal and the folks at ACON assure us that there is NO weight limit for practical purposes, but does have structural limit of 1750 lbs (800kg).
ACON is so confident that their product is of great quality that they offer an absolutely amazing warranty – 5 years (!) on the mat and frame and a year on other parts.
Acon Air 16 is large and bulky so make sure you have enough space in your yard while the assembly is not too difficult, it takes time due to how large it is. It certainly does pack a huge amount of fun as the bounce is great thanks to 140 pieces of 10″ springs, so the jump is insanely high.
ACON certainly didn't cut any corners with this model and the price is high but certainly appropriate for a model of this caliber.
Recommended as #1 in rectangle trampolines and certainly ranked within TOP3 best backyard trampolines.

ACON Air 16 Rectangular Trampoline Full Review
---
AlleyOOP 14ft Power DoubleBounce 
Okay, now it's time to breathe deeply and get ready for a surprise. This one is easily the most innovative trampoline we've seen for this season and we're simply blown away by it. In our quest to find the best trampolines, the AlleyOOP 14ft Power DoubleBounce stands out.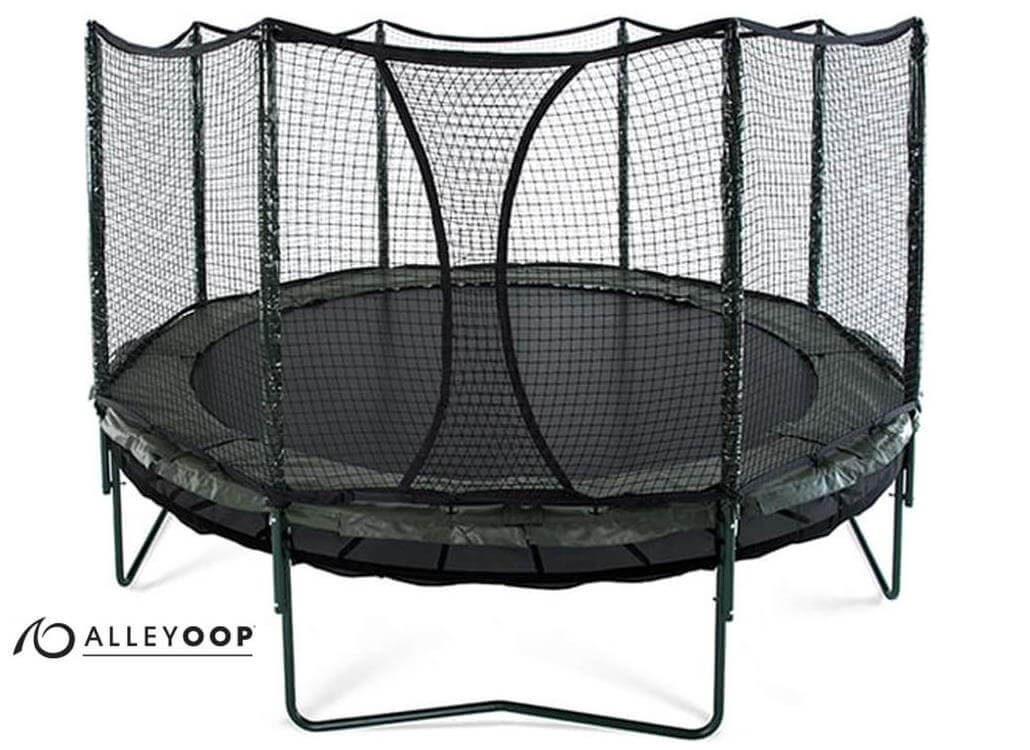 Jumpsport is a reputable company known for making the best outdoor trampolines around. This model didn't disappoint either.
Compared to the last year's AlleyOOP PowerBounce, this one features, guess what, two mats, yes, two separate mats with an outstanding total of 192 springs (128 primary + 64 secondary), as opposed to 144 on the PowerBounce (which is still an amazing number for a 14 ft. trampoline). These models feature the so-called Power Springs along with the regular ones.
What sets this trampoline apart from others is the ability to customize these Power Springs to your liking. You can make the trampoline bounce higher or lower by adjusting the stiffness of the springs and the bounce itself is literally out of this world; likely the best in class. The trampoline may, therefore, be customized to be optimal for all weights and ages.
Jumsport's Air Shock safety system is there to bring you peace of mind by utilizing a double-bed system. The so-called Double Bounce system helps reduce impact forces by up to 50 percent. The two trampoline mats act in tandem to distribute the forces (like an airbag) and the experience is out of this world! Permatron mats have fantastic 10 rows of stitching so expect a very long life span out of it. The frame is one of the thickest around and safety is top-notch. It is limited to 300 lbs but has withstood 800 lbs in real-life testing.
Various accessories are available, such as ladders, tents, and basketball sets, but they cost extra. We recommend you purchase a ladder due to the height of the trampoline.
With a lifetime warranty on metal parts, 5 years on other parts, and two years on the pads, it only shows the level of quality JumpSport provides. Their Fail-Safe online guarantee can extend these periods to 10 years, which is unheard of in the world of trampolines. Assembly will take 2 people and 3 hours of your time.
If you have deep enough pockets for this one, look no further. The last year's model was pure perfection and this one has managed to top it.
AlleyOOP Power Double Bounce Full Review
---
Springfree Large Oval Trampoline
The 8×13 ft. springless oval trampoline is the cream of the crop in many ways – both technological and aesthetic. It's one of the best trampolines we've reviewed, excelling in both design and performance. The first thing you'll notice on this trampoline is its sleek look with its curved lines – and the fact that there are no springs!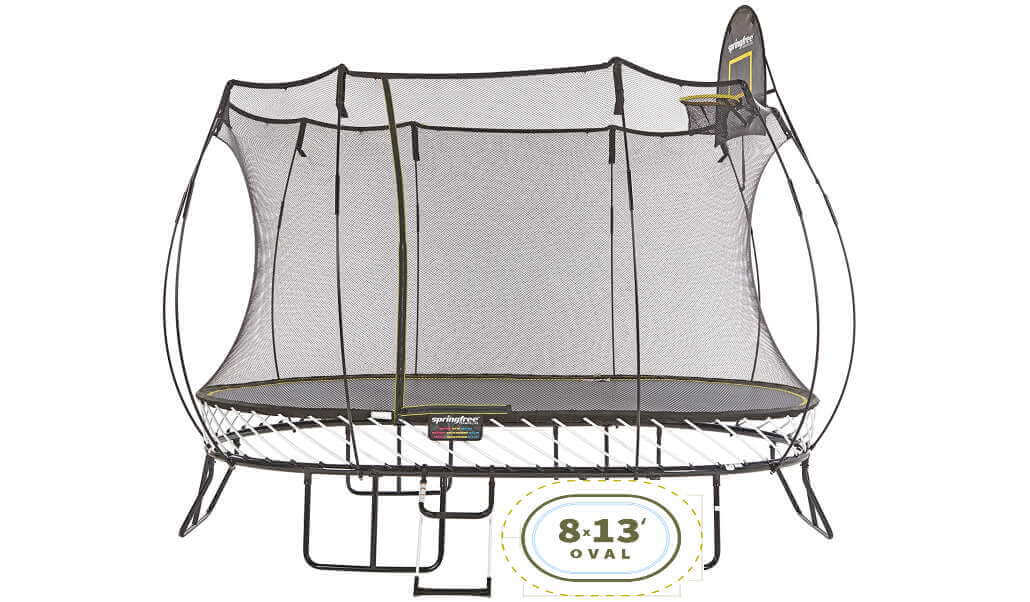 Check Springfree Large Oval price
The frame can handle the structural load of enormous 1100 lbs, which is more than 500 kg. A double layer of powder coating on pre-galvanized steel ensures that rust will never appear on this trampoline. We guarantee that even after several years not just the frame, but the complete trampoline will look just as same as a new one.
Without standard steel springs, there is great looking 60 composite rods. As you might think why would anyone use fiberglass on trampolines, well, there is the perfect reason to do so. Not only does it look cool, it greatly reduces the chances of injury (as much as 35%, according to research about injuries involving frame or springs). Yes, the trampoline works with the help of fiberglass rods providing a safer and more consistent bounce. The beautiful part about these rods is that they are situated completely under the mat. There is no need for any pads to protect the jumper, as it's simply impossible to land on them and this lets the safety net be as close as possible to the edge of the mat
The mat is made of polypropylene, and there is 92 sq. ft. (8.5 m2) of jumping space, which is equivalent 10 x 15ft oval trampoline with springs. It is very shock absorbent and bouncing on it is really pleasant. Regarding bounce, we have nothing bad to say as it is close to being best among recreational trampolines, but still not so high as with mid-class rectangle trampolines, such as ACON Air 16 Sports HD or AlleyOOP PowerBounce.
Regarding safety. there's hardly a safer trampoline on the market. Plus, it's oval and there are not many of those on the market. Springfree trampolines are in general one of the best-quality trampolines on the market, and it shows in this case too. They will cost you, and this one is no exception. But if you can afford it – go for it.
Springfree Large Oval Full Review
---
Springfree feat. tgoma – 13ft Jumbo Square With Basketball Hoop & Ladder
This unique square trampoline by Springfree (who else) is bound to be of interest not only to trampoline enthusiasts but to laypeople as well. This is the first smart trampoline on the market! It features the tgoma outdoor interactive digital game system.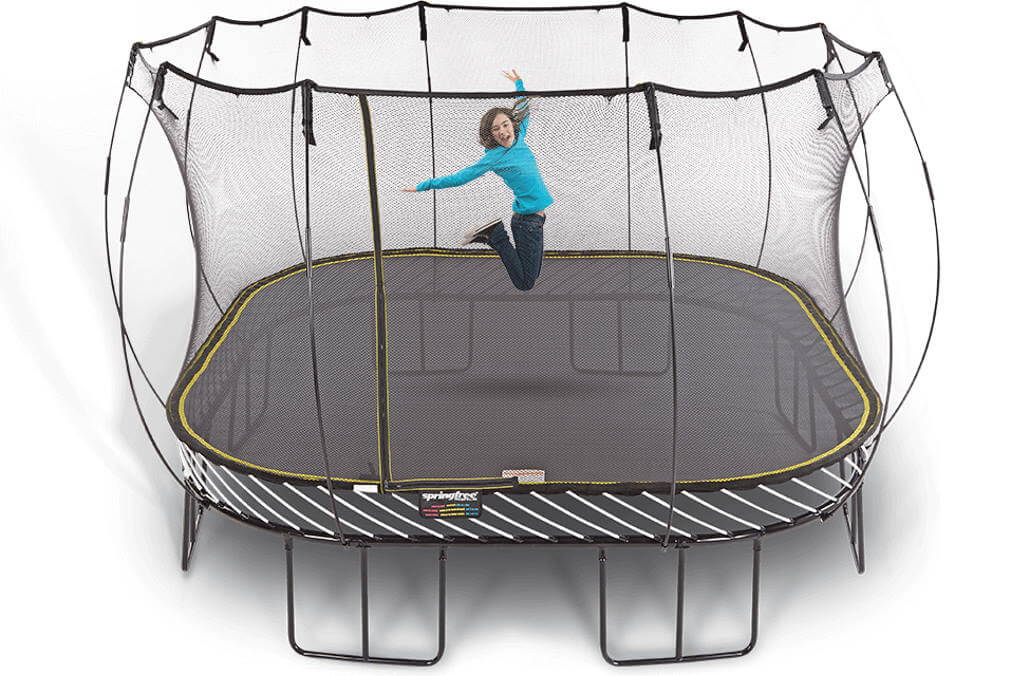 There are various games available that you beat by jumping on the trampoline. The Tgoma gaming system requires you to set up a tablet and install the app; the sensors do the rest. It's a lot of fun and it's safe, as the games are designed for a single user. The springless trampoline, as we have pointed out many times before, is a great way to bounce safer as there is less injury risk.
The enclosure also helps – it's called FlexiNet and is resistant to tearing. The enclosure rods bend and adapt as you go – you can't hit the enclosure pole anymore! The sturdy frame is situated beneath the jumping surface so you cannot hit it. The SoftEdge mat can withstand 5,000 hours of sun exposure – magnificent durability.
The 13 ft of square trampoline is equivalent to 16 ft. in round ones, so bear that in mind (155 sq. ft. of jumping area). There are no springs; 80 flexible composite rods are used instead. There is a 220 lbs weight limit, but we feel it's a conservative number.
If you register it, the warranty period is 8 years on the frame and 2 years on other parts.
Yes, the price is very high, but there really isn't anything even remotely similar to this on the market. The "tgoma" gaming system has upped the ante and the overall package is among the best in the world. AMAZING!
Springfree Jumbo Square Full Review
---
SkyBound Stratos
The skyBound USA has introduced this 15 feet outdoor trampoline hoping it would bring about a revolution in the world of trampolines – and we have to say it's not far from that.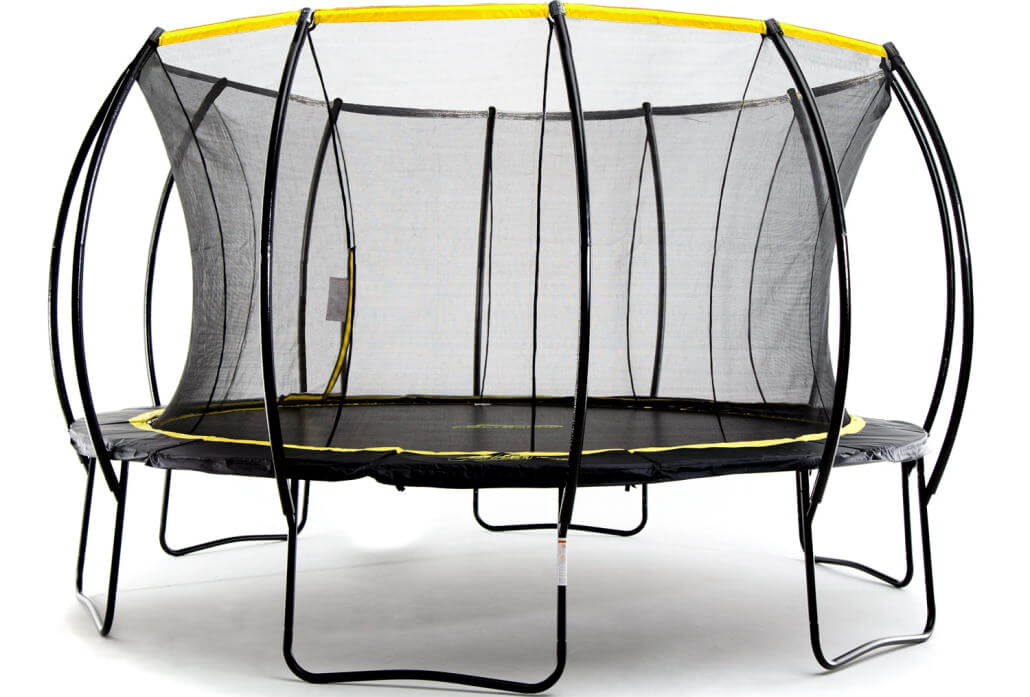 SkyBound prides itself on building and designing top trampolines that are easy to assemble. This one is no exception. From the moment you start opening boxes and unpacking, you will have a great first impression and it will be clear as day that you are going to try something extraordinary. Build quality is something that can only be found in way more expensive models, like AlleyOOP Power DoubleBounce.
The enclosure is safe – the net covers the inside of the trampoline and the poles are curved to add an extra safety layer. It looks good too, with its sleek curved lines. You may leave it outside as the poles and legs are galvanized to prevent the formation of rust. The mat is UV resistant and long-lasting.
The bounce is excellent thanks to 84 premium gold zinc springs 8.5 inches long and it can bear a maximum of 330 lbs, enough for plus-sized individuals. The assembly is simple as it doesn't require any screws, nuts and bolts, but as it's quite large, an extra pair of hands would help immensely; you should be able to assemble it in under two hours.
The warranty is satisfactory, especially on the metal parts, but a year on the pad and 6 months on the spring is not bad as well.
When it comes to safety regulations, SkyBound Stratos not only met ASTM requirements but did exceed every one of them.
As SkyBound stated during a product launch marketing campaign – they do not want a trampoline, they wanted THE trampoline which will be seen as a category leader. And we can say that they did succeed with it.
It definitely is one of our top picks for season 2023 and may easily be one of the top-rated trampolines you can buy today and one of the best in this price range.
Recommended!
SkyBound Stratos Trampoline Full Review
---
ACON Air 4.3 Trampoline
This is another quality offering from ACON. Compared with the "Premium" version of this trampoline, the poles aren't pointing away from the enclosure, but this trampoline is built so well that it definitely deserves the title.
Check ACON 14ft Trampoline price
In line with fond ACON tradition, the trampoline doesn't have a posted weight limit.
This doesn't mean there isn't any, but good golly you'd have to try really hard to overload this one, even on purpose. Those 0.8 inches thick frame tubes may take on a lot of weight.
96 springs, above average for this size, are 8.5-inches long and have a preload force of 96N (most manufacturers don't even provide the number) ensuring a smooth, high bounce. 6 times cross-sewn polypropylene mat is literally built to last.
The only thing we'd like is that the safety pad was a bit thicker. It comes with a spring tool for easier installation and the instructions are simple. We are extremely satisfied with the 5-year warranty on the mat and the frame. It can be left outside with no problem, as it is a heavy-duty trampoline.
Again, ACON trampolines aren't known for their bargain price, so expect to pay a premium over run-of-the-mill trampoline brands. But you really do get what you pay for, and in this case, you get A LOT.
If interested in this fantastic trampoline, which we gave total rating of 4.5*, please read a bit detailed review and decide if Acon Air 4.3 – 14ft with Enclosure is trampoline for you!
ACON Air 4.3 Trampoline Full Review
---
Upper Bounce Mega 10x17ft
Upper Bounce 10×17 ft is an Olympic size trampoline whose designers used every single inch of free space and made it small enough but with a very spacious jumping mat.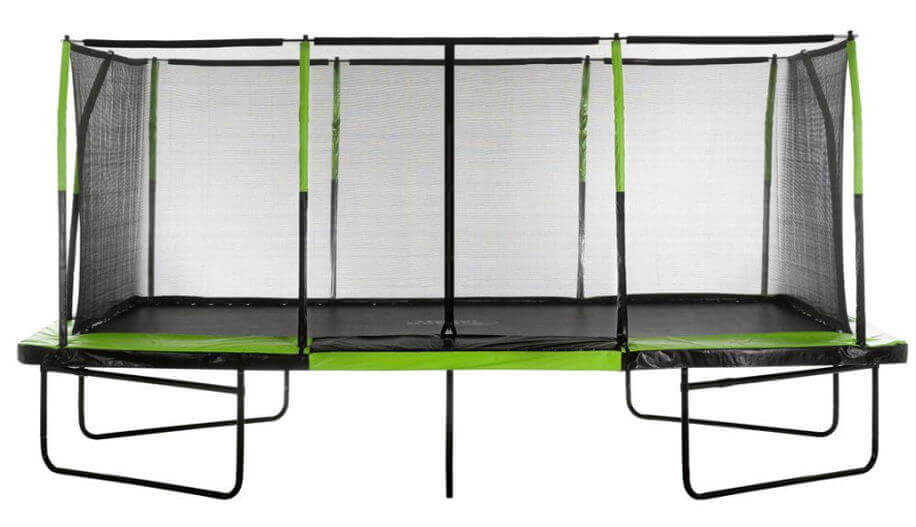 Check Upper Bounce Mega price on Amazon
It is very sturdy and with a total product weight of 500 lbs (225kg), it will make sure that will stay in place no matter what. It features a great responsive mat made from polypropylene mesh material with 8 rows of stitching, ensuring that the jumping mat will probably be the last thing that will fall apart. What we haven't liked is not so thick frame but as the manufacturer guarantees that will hold up to 500 lbs (230kg), we have no other option than believe it.
Why we liked it – because it looks cool! It is one of the nicest rectangle trampolines you may find on the market. Regarding assembly, it must be done by a two-man team and it can be done under 2 hrs as instructions are very easy to follow.
Upper Bounce Mega makes a good purchase for all aspiring gymnasts and even competitive jumpers. Perfect for families where all family members would use it. Get this Upper Bounce rectangular trampoline and you're in for the bouncing experience of your life! If you have a chance, buy it.
---
Exacme Luxury Fiber pole 15 ft. Round
ExacMe enters the arena guns blazing. By sprinkling magic words like "luxury" and "fiber" it aims to swoon us into just letting it slide. Uh-oh! Little do they know… of course, it's being put to the test.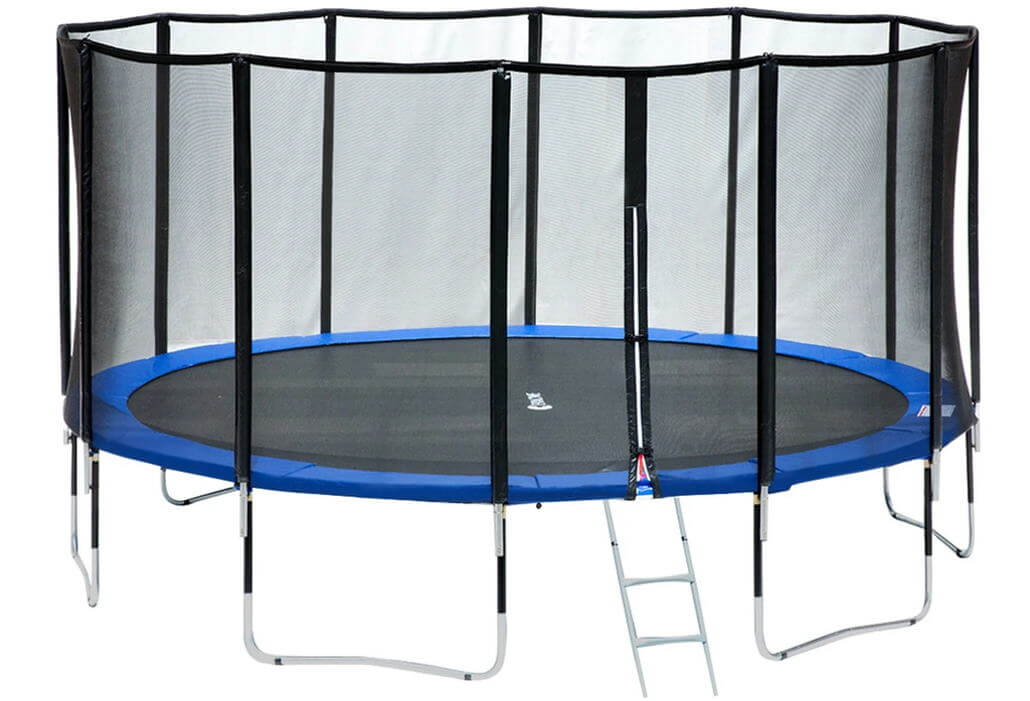 We were a bit apprehensive during ordering when we saw the marvels of English in the description, with gems such as "Not bare any metal" and similar. But if we've learned anything, it's that the language of engineering is universal, so we didn't discount this trampoline.
And it's a good thing we didn't. Exacme is very proud of its sturdy fiberglass frame which supposedly makes it safer. It is safer compared with steel poles, no question there, but it's an old-school design with the springs remaining inside the enclosure. It's also lighter and easier to set up. The mesh is also good, and these poles give the otherwise boring unit a souped-up look.
It's a 15 feet unit, standing on 6 legs with 12 poles. Its 108 springs are nothing short of amazing, along with a 400 lbs rated weight limit. We didn't have to drill anything, as it uses a T-joint system. You'll have to pull all of the springs one by one, but you get the tool. Be warned: It's still time-consuming.
 We have to say we're impressed by how well-built this thing is. The bounce is not phenomenal, but the stability of the frame just about is. This sports almost double the limit of similar, lower-end trampolines. For such a modest asking price, you'd have to be brazen enough to ask for more. Ah yes, you also get a free ladder.
Yes, it's a bit unrefined and rough around the edges, but the sheer value is compensation enough. Definitely one of the best-buy trampolines of this season.
ExacMe Luxury pole Trampoline Full Review
---
Zupapa 15 foot Round Trampoline
Zupapa is a fairly unknown trampoline brand that tries to position itself as a maker of good, best-buy trampolines that are very safe. That's rather ambitious, but let's not discount them from the get-go.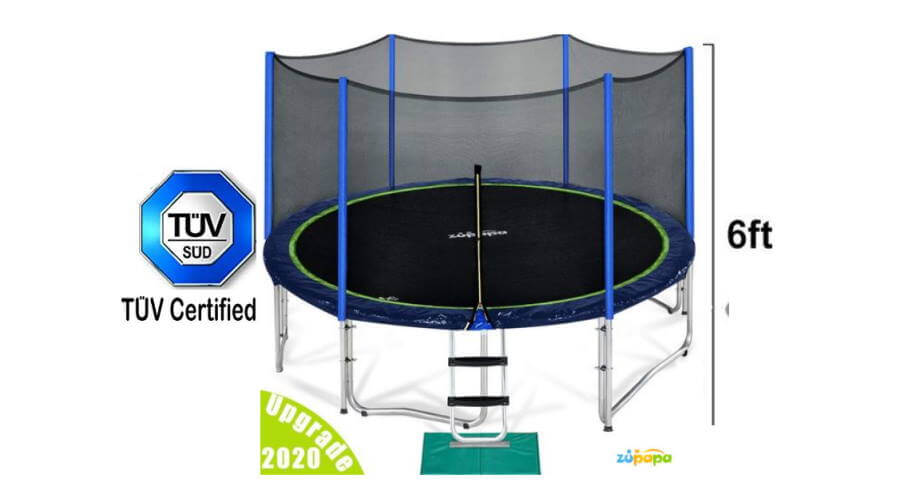 Compliance with all regulatory safety ordnances is very prominently displayed (the German TÜV, for example), which should assure you of its safety.
We liked that the enclosure is rather high and that the pads were pleasantly thick (3.3 centimeters). This is above average. The metal frame is galvanized and we liked how sturdy the legs looked, as they are coupled with the net poles for extra stability. This is something other trampolines could also make use of.
For a 15 ft trampoline, 108 springs that are each 7 inches long is a very good number, and it shows when you bounce. It's much smoother and more enjoyable, and the trampoline doesn't twist when you jump, thanks to the good design of the legs. The mat is UV-resistant, but fairly basic otherwise. You get a ladder for getting on and off the trampoline, additional wind-stakes (basic models), and all necessary tools.
The good part is the high weight limit of 425 lbs. We think this is mainly due to reinforced legs, but what matters is that it's likely true. The warranty is also very respectable. You get 2 years on the pad, enclosure, mat and 10 years on the frame. The spare parts are readily available from the manufacturer and the prices aren't exorbitant. So when the time comes to replace the springs, at least you know where to find them.
This trampoline won't blow you away; it's not too exciting, but it provides a nice package at a good price point. Its safety features are good and the overall construction is much better than in some other basic trampolines. It's sturdy and gets the job done.
---
AlleyOOP 12' VariableBounce with integrated Safety Enclosure
Just like the AlleyOOP DoubleBounce, this model also packs a punch with its great innovative solutions that make the experience safer and even more pleasant.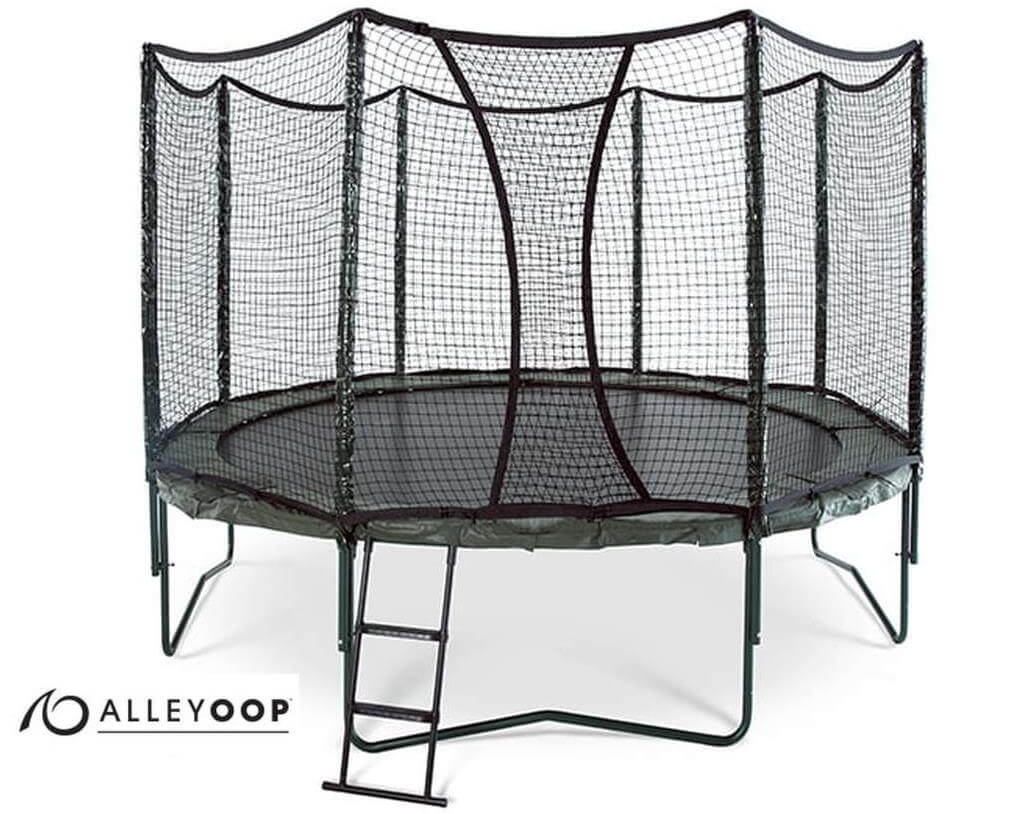 Check AlleyOOP VariableBounce price
While not as high-end as the PowerBounce technology, the VariableBounce has a lot to offer. The bounce is variable, which means that some springs engage earlier than others, which means that the fall is more gradual.
There is a total of 96 springs, each 8.5 inches long.
They let the jumper absorb the impact forces over a larger period of time, thus reducing the risk of injury. The jumper decelerates more slowly and gradually, which also helps with the quality of bounce, as the jumper will absorb less energy, meaning more of it is returned from the springs – making the bounce higher and better!
The trampoline comes in dark green color but otherwise isn't anything special when it comes to looks. The enclosure is very strong – sturdy and keeps you safe and the trampoline is well-padded where it matters. There are only four legs; this is not a problem in itself, but for such a premium trampoline at a premium price they shouldn't have skimped on that. But it is built to last and the have been accounts of the trampoline lasting for a decade and even more and their customer service is phenomenal. Jumpsport posts a single-user limit of 245 lbs.
Unfortunately, it is pricey and doesn't even come with attachments that you'd be happy to have – mainly, the ladder, but also the basketball hoop and the tent. But if you may afford it, it's an excellent choice, even when compared with the DoubleBounce model, as it is a fair bit cheaper.
If the 12 ft. model is a bit too small for you don't worry as larger models are also available.
---
Trampoline is not a kindergarten and never forget that. Constant supervision of jumpers, especially kids, is required at all times. Having a safety enclosure does not change a thing, so please do not leave your children without supervision.