Review of AlleyOOp 14 ft "PowerBounce" Round Trampoline with Enclosure
When AlleyOop 14 ft trampoline came into the review we knew that we will be reviewing one of the best trampolines we had on test. As a high-end brand of JumpSport, AlleyOOp 14 ft. PowerBounce is their exclusive model (and feature) which is constantly on top of all trampoline reviews – thanks to carefully chosen parts combined with innovations, making it one of the sturdiest, safest, and long-lasting trampolines you can buy today.
Weight limit:270 lbs (125 kg)
Recommended for: Everyone in need of fantastic 14 ft round trampoline
---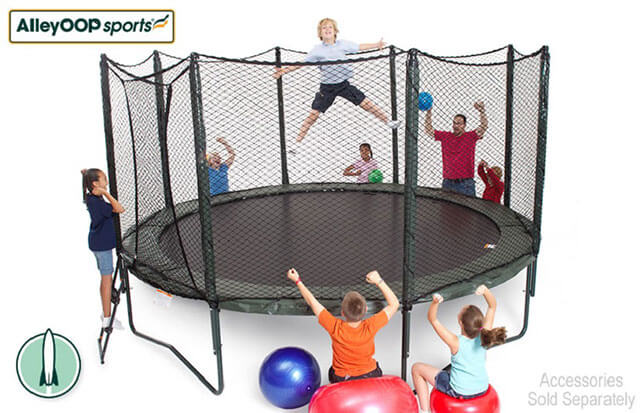 Frame
AlleyOop trampoline has one of the thickest frames in the trampoline industry. It is made from 1.9-inch galvanized steel (in diameter) with 2mm wall thickness, which will successfully stand up to any training session when using this trampoline. The special forest green look comes from a textured powder coating finish. The complete height of the frame itself is 40-inches.
Enclosure & Springs
High-quality enclosure which is extremely strong (can withstand 295 lbs of impact strength) making users safe as they can be. Enclosure uses open weave pattern and it`s wrapped outside the poles.  There are 8 galvanized and powder coated steel poles, padded for extra protection. One thing we didn`t like are plastic caps on top of poles, which hold the enclosure in place. In our opinion, this is the only part that isn't following overall quality.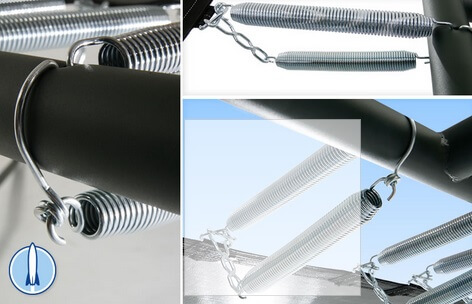 When it comes to number and quality of springs, and thanks to PowerBounce technology (proprietary JumpSport's technology which adds additional advantages), this 14 ft. trampoline features total of 144 springs – 96 primary 8.5-inch long and made from Zinc-Plated steel, and 48 – 6.6″ black high performance PianoSprings.
This state-of-the-art technology improves both shock – absorption and bounce performance. It's the first and only single-bed trampoline that can be tuned for different age, weight, and skill levels, yet it also broadens the performance spectrum so that jumpers with a wider range of weights and skill levels can safely enjoy the same set up.
Mat & trampoline pad
14-foot AlleyOOp PowerBounce uses JumpSport's Permatron® mat, which has 10 rows of stitching and is considered to be the industry leader in making of strong and responsive mats where the bounce is incredibly high. The jumping mat on these trampolines offers around 115 square feet of space. Mat is UV resistant so no worries if stays in the sun.
Trampoline safety pad covers springs and frame and because of 1-inch thick PE foam does a really good job. It is 14-inches wide and covered with water & UV resistant PVC.
Assembly & Warranty
Assembly is very easy and you can expect problems only when trying to install enclosure onto trampoline. Complete assembly can be done in 3.5 hrs but not without any help – at least two person team is recommended!
Exclusive lifetime warranty on this trampoline is one thing why we bought same model for ourselves. JumpSport offers lifetime warranty on frame and enclosure poles and 5 years of full warranty on springs, mat & enclosure.
---
You should consider…
JumpSport SureStep 2-step ladder, which is sold separately and is recommended for this trampoline model, because of it`s height!
Basketball board – it enhances usability and provides new ways of having fun for a long time…
Tent – Camp in your backyard? Why not…
---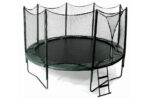 AlleyOOp 14 ft PowerBounce Round Trampoline
Definitely one inside TOP 10 best recreational trampolines you can buy today. If you want zero-worries trampoline that will last, AlleyOOp 14 ft trampoline is the one!
PROS
Extraordinary quality
Very safe trampoline
Looks fantastic
New technologies used on this trampoline
Lifetime warranty
CONS
Expensive (well, not so expensive when you see what it has to offer, but expensive when compared to other trampolines)
Assembly manual could be better, especially part about enclosure
Ladder should be included as this is very high trampoline - separate purchase of ladder is recommended!