NewAcme LLC,  was founded in 2011 originally as an international trading company for a variety of product lines. During years of development, NewAcme LLC built up its brand – ExacMe, specializing in sports equipment, and most importantly, trampolines.
Their motto – "Bring most value to the customers", is something they proudly represent in terms of quality and good ratings their trampolines receive. They have a distribution center in Houston, TX, allowing them to ship products within a short time frame.
Within their product range, there are 4 distinct categories, each with its advantages and disadvantages:
T-series – regular trampolines with high weight limits. They mostly come with 6 legs & 12 poles. The net is outside of the pad.
S-series – simple version of T-series, they normally come with 4-5 legs and with a bit lower weight limits – up to 330 lbs. The net is outside of the pad as well.
C-series – inner netting trampolines, meaning that the net is inside the pad. Weight limits are equal to T-series – up to 375 lbs.
L-series – new model, the enclosure poles are made by carbon fiber tubes, which are lightweight and more corrosion resistant. It has the highest weight limit, up to 400 lbs.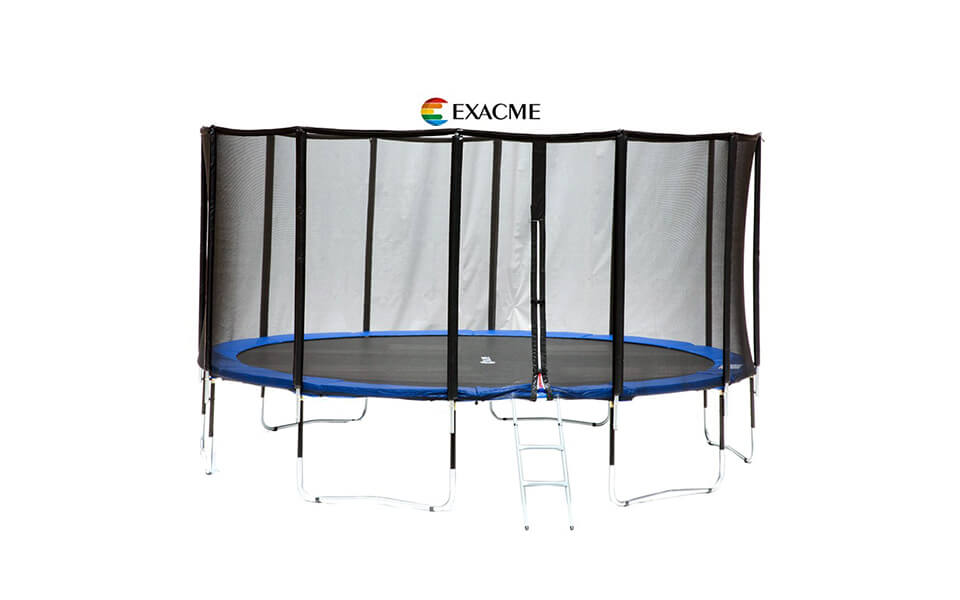 A luxury trampoline for a fraction of the price? Is such a thing possible? Well, we'd always err on the side of caution, but as we say, every trampoline deserves a fighting change. Let's see how the Exacme unit performed. Read more