Two mats and (almost) two rows of springs!? Whaat? JumpSport Power Double is easily the most innovative trampoline we've seen and we're simply blown away. As they've said – Double the fun, Double the safety.
Weight limit: 300 lbs (135kg)
Size: 14 ft
JumpSport AlleyOOP Power Double Bounce Features
Design
Our first impression when we saw this trampoline was that this is bound to be something good. And it turned out to be true (we're rarely wrong, let's face it). This is one of the freshest trampolines around.
We are already familiar with Jumpsport (AlleyOOP brand) and their high-quality trampolines, so we were eager to try this model, too. The last year's model, AlleyOOP Powerbounce, was really good, but this one takes it to another level.
What about other parts?
You get two mats (!) and two levels and separate sets of 8.5″ springs. 128 are primary springs and 64 are secondary. The trampoline also features a Power Spring system, (combo called Single-Bed Asynchronous VariableBounce™ Technology + DoubleBounce AirShock™ Technology – purchased as an extra option) which lets you fine-tune the trampoline to jumper's weight and experience level, so you can set bounce higher or lower by adjusting the stiffness of the springs. The customization works perfectly and you can change the character of the trampoline without problems. This means that the trampoline can be enjoyed both by seasoned users and by children, safely and effectively.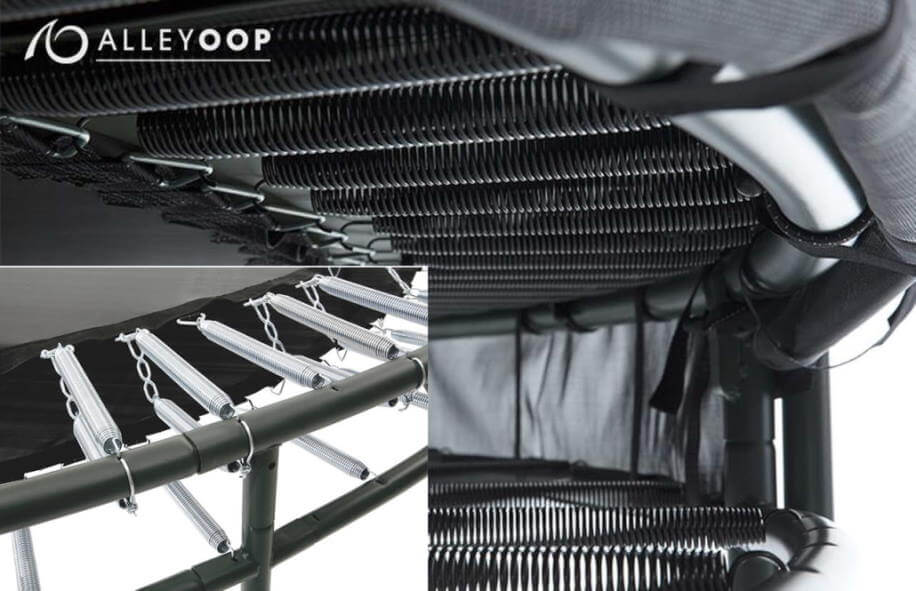 Check 14ft AlleyOOP PowerBounce DoubleBounce price on Amazon
When it comes to bounce, it is literally out of this world; with performance likely one of the best in this class. Phenomenal!
Thanks to its two mats, the manufacturer claims the impact forces are reduced by half.  A secondary jumping mat is positioned 8″ below the primary mat creating a giant air pillow that forms a shock-absorption zone, which provides a comfortable bounce but also reduces the risk of injury. The mats are very sturdy with 10 rows of stitching, as we hoped it would be. We wouldn't be surprised if they last you a whole decade! Overall, the mat offers 113 sq. ft of jumping area.
The netting, while good, isn't as thick as in the competition, and the springs aren't outside the bouncing area.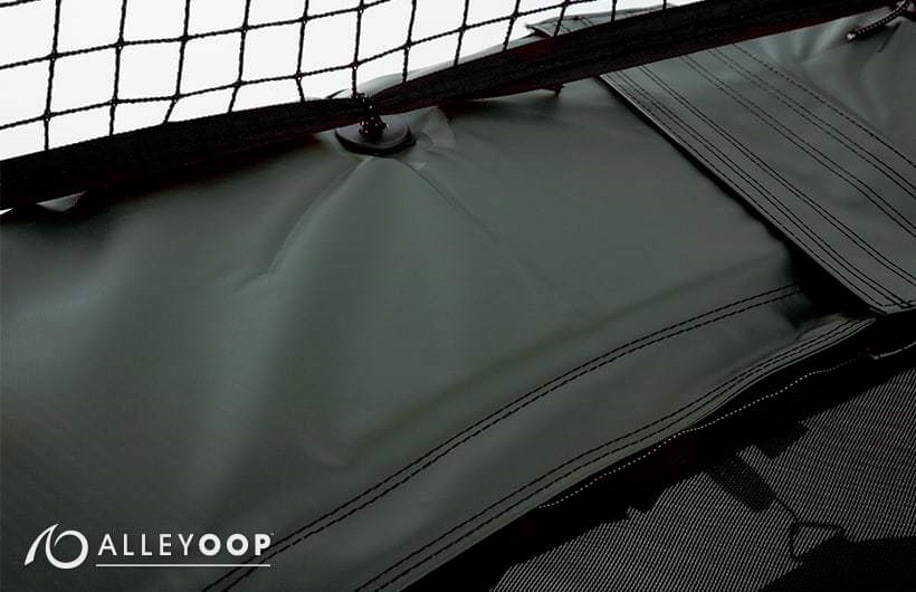 The metal parts are all very thick and rust-resistant and also come with a lifetime warranty. Warranties on other parts last as long as 10 years. The weight limit is 300 lbs., even though testing has shown it can take at least twice as much.
Where the trampoline slips up is value. You don't get any accessories such as a ladder, tent, or basketball hoop. They are available but will cost you extra if you don't buy them on Black Friday, as then they gave most of the accessories free. The Power DoubleBounce trampoline is not cheap either, but among the high-end model, this stands out. If you can afford it, and don't mind a rather dull design, congratulations! You've found a trampoline for yourself.