Top 10 Best Mini Trampolines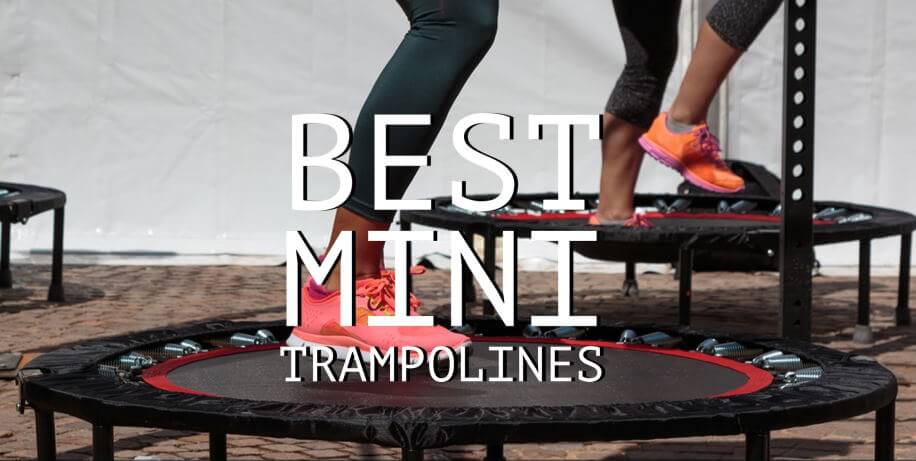 Mini Trampoline – While it might appear as a toy, it's one excellent piece of exercise equipment. Mini trampolines, also called rebound trampolines (rebounders), are best solution if you want some exercise but don't have time to visit the gym or go out for a quick jog. If the weather conditions are bad or the kids have to get some of their energy out, a mini trampoline will prove itself more than useful.
They are nothing new, as they have been around for 50 years (constructed in 1970, during the massive popularity increase of jogging), and can be used by youth & adults alike. Trampolining, as jumping on mini trampoline, will always get a smile on your face, as you will probably remember your fun time as a kid. If you are a kid now – remember these moments!
Having it is a fun and quick method to exercise your way into a healthy body. A bit of jumping and you'll have a perfect sense of satisfaction, along side with a lightweight and movable body. Trust me, jumping on one is referred as "cellular workout" which moves every single cell, automatically increasing your energy as well as your body's capacity to use it.  And now check reviews of best mini trampolines for Season 2022!
---
Top 12 Best Rated for Season 2022
FIT BOUNCE PRO II Rebounder
Weight limit: 300 lbs (135 kg)
Changes from the previous model are mostly cosmetic in nature; if it ain't broken, don't fix it, as they say. And there was no need to change much, as the underlying product wasn't behind in quality compared to its competitors.

The trampoline is very sturdy for such a small (40 inch) rebounder, with a humongous 300 lbs. weight limit. That's some thick steel they put there in order to withstand those forces.
What's more, the trampoline folds in half and its six legs are removable. It will take two people to do it safely, though. It folds only halfway, like a taco, so it won't get as small as quarter-folding trampolines, but it's good enough for occasional transport. You wouldn't really want to fold and unfold it every day, though: its folded state is mainly engineered for safe and easy storage.
Design. When it comes to looks, it's quite a looker with its semi-transparent spring skirt with orange details. The bungee cords are in plain sight, giving it a futuristic look. Sadly, this is detrimental to overall safety of the rebounder, as it's possible that limbs get tangled in between the cords. The cords are very soft, though, but we wouldn't want to risk it.
The bounce is very quiet, almost silent, while being smooth and resilient at the same time. Two extra bungee cords are provided if the current ones get snapped or worn out. There are 30 springs in total.
Its six legs are spring-based with a clip-in design, meaning no screwing is required.
The trampoline comes with a nifty storage bag, an exercise DVD, and a pedometer. The handle bar is sold separately. The pedometer (bounce counter) is a nice addition that lets you track your exercise progress. You also get a free music download letting you get 60 minutes of workout music and three months of free online video membership to their 'Bounce and Burn' streaming service.
The customer service is very helpful and they are glad to answer any queries. The well-designed manual makes assembly a breeze. Spare parts are available from the manufacturer. The warranty is excellent – lifetime warranty on the frame and three years on the rest! Additionally, the customer service is very helpful and forthcoming.
---
MaXimus Pro Quarter Folding Trampoline
Weight limit: 300 lbs (130kg)
For those looking for something upscale to exercise on, the 40 inch MaXimus Pro could be the answer. It looks promising, but is it good enough to get our seal of approval? There's only one way to find out…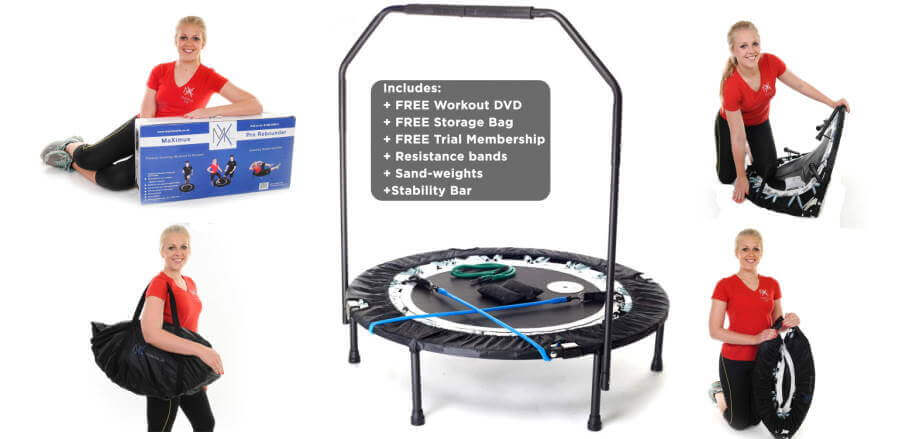 Check MaXimus Pro price on Amazon
Maximus Pro is an originally British brand that has sold well there. It's an upper class trampoline aiming to provide good quality at a fair price.  Like many of its competitors, its primarily black looks are nothing to write home about, but it all looks polished. The silver frame and its six legs perk up the looks a bit.
The mat is anti-slip, double cross-stitched and the frame can take up to 310 lbs, which is impressive for a 40 inch rebounder. Curiously, this trampoline does not use bungee cords, but opts for large springs instead (32 jumbo springs to be more precise). That's good for durability, and the bounce is somewhat better too. Don't get too carried away though: they are adjusted for exercise, so the bounce isn't crazy high, but as this mini trampoline is good for heavy adults, it is absolutely acceptable. Downside of those massive springs is lower usable bouncing area, which is only 28″ in diameter, so you'll need to be careful whenever doing any exercise.
A with all steel spring based mini trampolines, it will start to squeak over time, so you'll have to learn to live with it or apply some grease to it. You get a small tub in the package.
The trampoline is quarter folding and comes with a complimentary carry bag. Carrying and folding it is a chore though, as its 25 lbs of weight don't lend itself well to hassle-free transport.
But that's not all – You get a handle bar, set 36 inches high, which is useful for certain exercises. Unfortunately, the handlebar is not height adjustable. A DVD is also included with a few exercise programs. You can use it for a few hours if you're new to rebounding. We haven't even touched upon the resistance bands and sand weights.
The trampoline arrived well-packaged and required minimal effort to set up, as it was pre-assembled. Still, during the first few tries opening and closing the trampoline will take a lot of effort.
All in all, this trampoline is not the cheapest, but offers phenomenal value with plenty of add-ons that make or break your rebounding experience. It is reasonably well-built and the warranty – 6 months on the mat & spring cover, 12 months on all other parts – is a nice addition to an already enticing package. 
Maximus Pro Folding Rebounder Full Review
---
JumpSport 350 Mini Trampoline
Weight limit: 275 lbs (125kg)
JumpSport 350 is a non-folding mini trampoline designed for eager home users or as exercise equipment in gyms and fitness classes (btw, for that purpose there is model 570 PRO, and as it's full blown gym rebounder, we didn't place it on this list).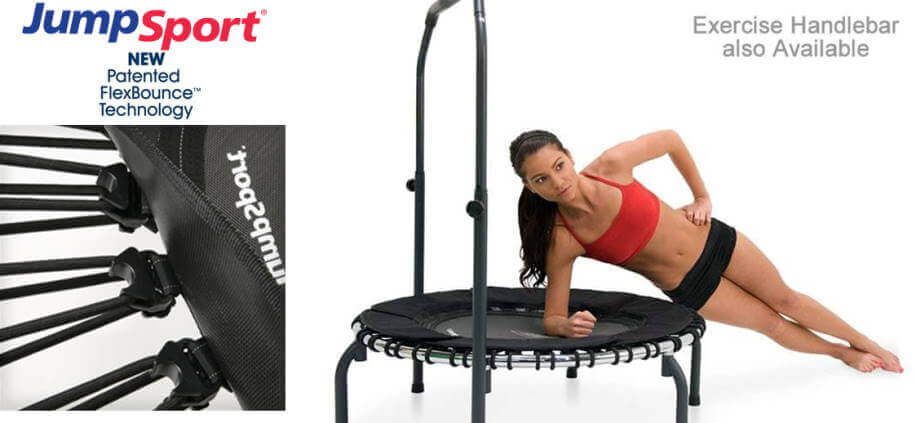 Check JumpSport 350 Amazon price
The tubing is made of 16 gauge steel, with quality coating. The arched legs make it difficult to transport and store mini trampoline, but it is very stable as a result. The legs are, of course, removable and they're easy to set up. This rebounder does not fold, but we figure it is safer this way. It's hefty to transport, weighing only 21 lbs.
The Jumpsport 350 features an upgraded spring model compared to its budget counterparts in the Jumpsport rebounder line, the 250, 220 and 200. This mini trampoline does not use metallic coiled springs. Instead, it uses elastic cords that provide bounce. The proprietary cords that Jumpsports uses are called "EnduroLast" and come in a few flavors. The basic "EnduroLast 2" are featured on cheaper models, while 350 sports the "EnduroLast 3″. The professional high-end Jumpsport models, like 570 PRO, come with "EnduroLast 4″ springs. There are 30 springs in total, each with 8 cm length.
The main difference between these springs, besides better quality control, is the ability to adjust the tension of the springs to three levels. This will come in handy if people with different body weights will jump on the trampoline. It is also good for adjusting to various exercises that might work better with different tension settings.
The bounce is smooth and cushioned, and you can adjust it yourself. More expensive models feature seven tension levels, but three is also okay. The trampoline is almost completely silent, thanks to springs and Permatron mat. You can use it anywhere, anytime… literally.  Silent, easy and remarkably endurant.
Full size of JumpSport 350 rebound trampoline is 39″ in diameter, with 33.5″ of usable jumping area. Whole trampoline is covered with lifetime warranty on frame & legs, 5 years on jumping mat, 3 years on spring cords and 1 year for padding. In case warrant period passed you can easily replace anything you might need,  as replacement parts are accessible from JumpSport.
Model 350 comes with Workout DVD which includes exercises intended for beginner, intermediate and advance users, so you can easy start you exercise routines.
Overall, this is fantastic rebounder which will serve you for years, but it comes with a price.
---
David Hall's Cellerciser Rebounder
Weight limit: 300 lbs (135 kg)
Cellercise – this is what this rebounder is all about. David Hall, the man behind the brand, says – The CELLERCISER is leaps and bounds above them. This is, and we quote, thanks to the "space-aged mat" which won't buckle and stretch, thus keeping you in a perfect position for exercise. So far, so good. Yes, there are rebounders with bad mats that will wear out after use. As Permatron mat is being used we are positive that this claim is absolutely true.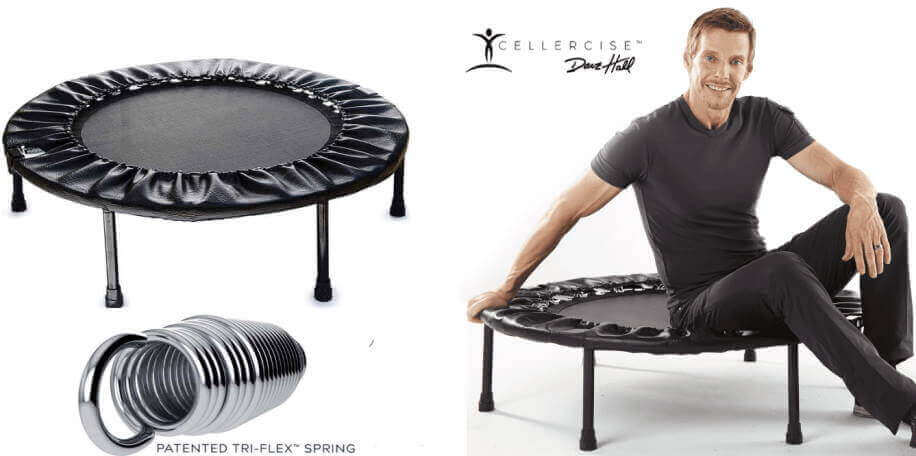 Check Cellerciser price on Amazon
Looking at their marketing babble with claims of all the things the Cellerciser is good for, it appears as though it can cure your every ailment. It looks very sketchy and almost like a huge scam to our prying eyes. This is very unfortunate, as the product is really, really good. We've heard of claims that it's even good for not getting the flu or colds. Well, certainly exercise does help, but that's the case with all trampolines, whoever the manufacturer is.
Cellerciser is 40" wide, with a usable surface of 28", similar to the Jumpsport 350. The legs are 8.5" long, so the trampoline can be used in your living room, as the mat is 10.5" above the ground. Width of 40″ is measured to be distance of greatest support & benefit to the user, according to the research. while usable jumping surface measures 28″.
The frame is very sturdy and has almost no give, regardless of who's bouncing on it. There are no plastic materials in it, so because of all-steel design weak points are nonexistent. What's more, we liked how the springs are not connected directly to the frame, but instead to the steel pins placed into the holes drilled in the frame. It can be folded but this is certainly not a task for single person, especially when is brand new. Balance bar can be purchased but it's not a requirement, so take it only if you are new to rebounding.
The springs in this bad boy are really good, and there is 36 of them, which is standard number for this trampoline type. They are triple-tiered hi-carbon springs, more commonly known as tapered springs. This means the springs have three tension levels. This is adequate for people of all sizes, as those who are fairly lithe will experience bouncing as even as those who are plus-sized, as the springs stretch in a smooth and a controlled manner. in the package you'll get two extra springs, and even though they should not brake, if it happens just contact them and springs will be replaced free of charge, within first 5 years, as Cellerciser comes with a 5 year warranty on all parts and a 30 day (some) money-back guarantee (minus a 50$ restocking fee).
---
ACON Air 1.8 Fitness Mini Trampoline – 6 foot
Weight limit: 220 lbs (100 kg)
ACON Fitness Trampoline comes in a very interesting size of 6 foot or 1.8 metres, which is a pretty large when compared to similar products. Because of that, it's very versatile and can be used as small standard trampoline or rebounder for any kind of workout.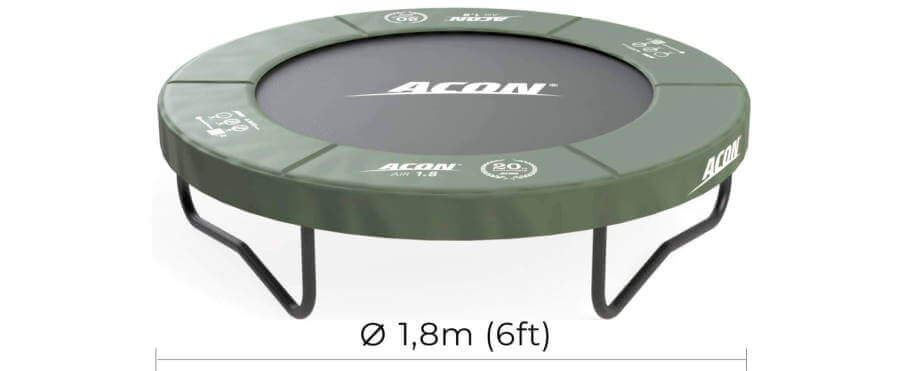 If you were thinking in placing it inside the house, so kids would have place to burn their excess energy then this is your choice #1.
Mat: The phenomenal mat is six times cross-sewn and made of polypropylene. It's, of course, UV resistant. The frame is also heavy duty and galvanized. The trampoline can be left outside without any problems, but due to its size, indoor use is also possible.
Springs: 48 heavy gauge springs, 7 inches long with preload of 39N, give out a firm, responsive bounce.
Padding: For safety against accidentally stepping onto springs, there is 1.2in thick dark green rubber pad.
We liked the fact that both kids and adults can bounce on this without any issues, as a total of 220 lbs maximum single user weight restriction inspires confidence.
We didn't like the fact that an enclosure doesn't come with the trampoline. We understand the manufacturer's decision not to place enclosure on it, as the trampoline isn't that big and the enclosure would look a bit silly and likely make it unsuitable for indoor use, but it would make the trampoline safer, especially if there would be younger kids involved.
If you like trampolines that are "just right" – not too big and not too small, this one definitely provides that Goldilocks effect. Its weight of 66 lbs means it's easy to move around and its attractive price considering its quality makes it a great choice.
Overall, this is a sturdy and a very versatile trampoline that we can recommend.
---
Ancheer 50" Trampoline
Weight limit: 220 lbs (100 kg)
Despite its odd name and iffy (read: barely existent) brand history, this Ancheer product is impressively well-built. It's somewhat of a cross between a rebounder and a trampoline, being 50 inches wide.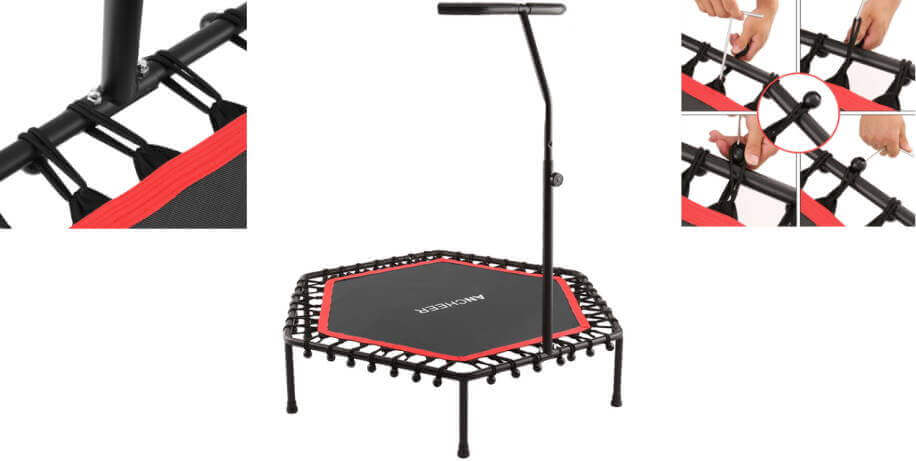 Check Ancheer 50″ Amazon price
Its hexagonal structure is odd, but it looks fantastic with its black iron frame. Add some red details around the mat and you've got yourself a real conversation piece.
The trampoline is 10 inches high so don't try to bounce too vigorously if you're close to the weight limit. You could bottom out. The mat is anti-static with 8 rows of stitching, which is great for any outdoor trampoline, and even better for mini trampoline.
But it's not just a trophy trampoline. You can actually exercise on this baby, as it comes with a sturdy and removable handrail. The handrail is padded and purportedly long-lasting. Its height is adjustable from 45 to 57 in. Quite impressive. Instead of springs, this trampoline uses elastic bands. They are quieter, but less bouncy; perfect for low-impact exercise. You get ample bands, 42 in total. They are replaceable, should any break.
The installation takes about half an hour, possibly more if you care to read the instructions – it's possible you'll be roaring with laughter for longer. Mention of a warranty is answered by the sound of crickets.
The weight limit of 220 lbs. is just enough for most people to slide under. The frame is able to withstand this much. We liked the addition of rubber feet to further absorb shocks and possibly allow its use in apartments (though we'd refrain still).
---
JumpSport 250 Fitness Trampoline
Weight limit: 250 lbs (115kg)
As all mini trampolines from JumpSport's family, model 250 is strong & quiet fitness trampoline but with some specific features when compared to other. As it's often used in gym's (not primary purpose as there are specific gym-quality models), and it is considered as economical version of semi-pro mini trampolines for every person interested in serious training, you can be very sure of it's quality.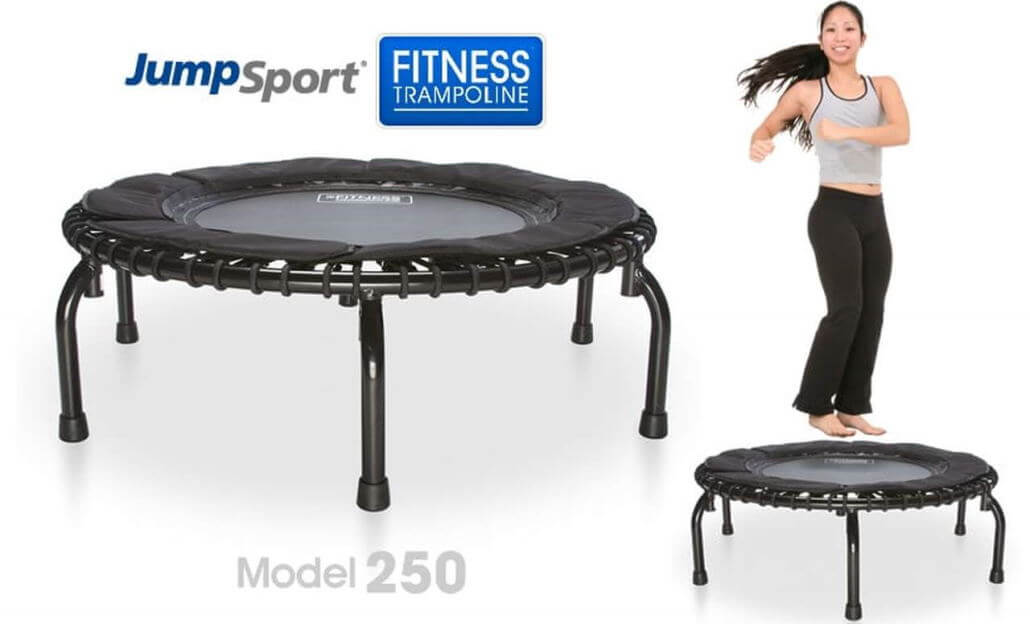 Check JumpSport 250 price on Amazon
JumpSport rebounder offers elegant look with black frame and 6 arching steel legs and make very stable platform. Jumping mat has nice 40″ mat diameter, with 35.5″ of usable bouncing space, framed by 6″ wide trampoline pad.
This model offers great, smooth bounce all thanks to JumpSport "EnduroLast 2" elastic cords acting as springs. With this elastic bungee cords and great quality mat rebounding will be several times more enjoyable than on standard spring-ed mini trampolines. And to help you start, it comes with Basic Workout DVD.
Regarding quality, this trampoline is tested and certified to over 2 million bounces, so if anyone is up to the task now you know what to buy. Great rebounder well worth of money.
Jumping on this mini trampoline will make your all 638 muscles of your body must flex, with all muscles exercising! Rebounding is not only proven to be more effective than jogging, it has proven scientific benefits on your body.
---
Stamina InTone Oval Jogger Mini Trampoline
Weight limit: 250 lbs
Stamina InTone is great looking exercise trampoline that will not let you down, but don't expect anything fabulous, as this is low-middle range fitness trampoline. Due to it's oval shape and steel legs, you'll have plenty of space for performing your daily jogging activities.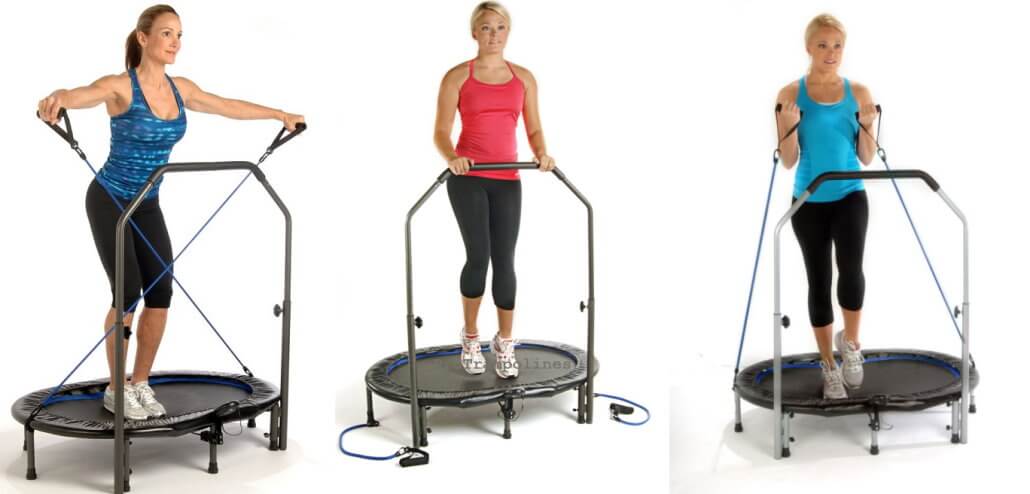 Unfortunately, best things about this trampoline are it's accessories, included in package and all for this remarkable price. With this purchase you will receive trampoline workout DVD set with starter exercises made by fitness expert Mia Finnegan, motivational electronic fitness monitor which tracks total workout time, total number of jumps, number of burned calories, jumps per minute etc.
And no, it ain't all, as you will get handle bar together with bungee style resistance cords, so you easily increase muscle tone and strengthen your upper body, all while increasing overall cardio workout efficiency.
Stamina Intone jogger is quite sturdy little fitness trampoline, very easy to assemble. Even though Stamina InTone is foldable, it is best to have help from additional pair of hands – it`s because springs cause a bit of tension while folding it so to avoid risk of injuries – ask someone for help, but only few first times, as it will get easier.
Mat quality and springs (bungee cords) did disappoint us, as there is almost no bounciness. Even though, makes sense as Stamina advertises this product as "Jogger", not a mini trampoline in full sense of word.
So, if you need something that will get you moving, then we need to recommend this trampoline, as it comes with unbelievable price – basically accessories that come with are worth that much!
---
Stamina Mini Trampoline 36 inch folding
Weight limit: 250 lbs
What this trampoline doesn't have in terms of flair and style, it more than makes up for it in terms of sheer affordability and usefulness. It's a basic 36-incher with 30 bungee cords that work fine for most kinds of exercise. For stability and noise reduction you get rubber pads for each of its six legs.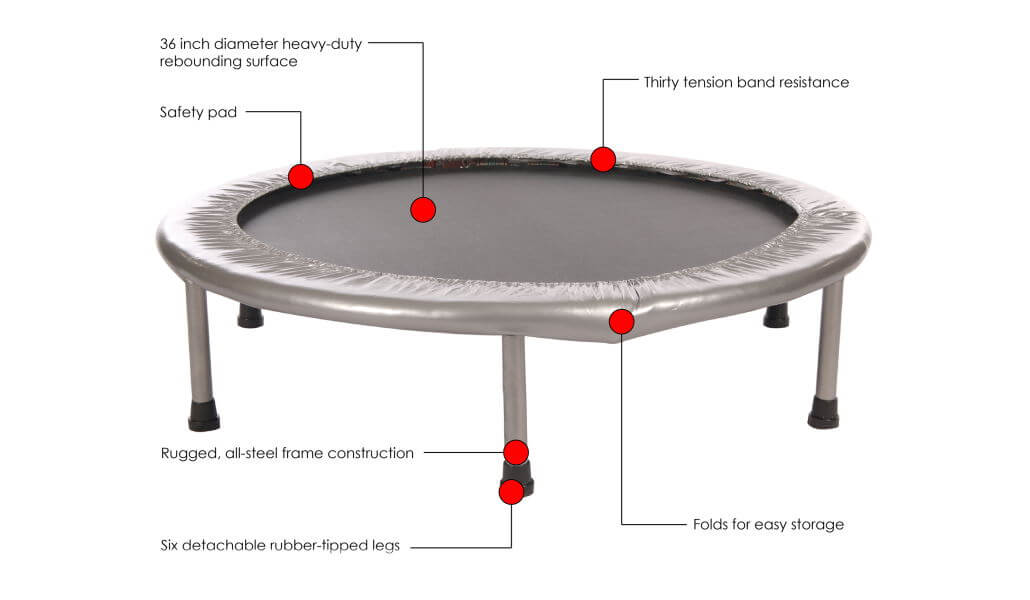 You don't get much in the way of additional equipment, but for affordable price – less than just a handle bar on other mini trampolines – so you really shouldn't complain about it.
It's a light, nifty, quarter-folding trampoline that we recommend to most hesitant fitness trampoline first-timers.
There's always time to upgrade to something better, but for starters this is more than adequate with its 250 lbs weight limit, hassle-free assembly and a workable warranty of 3 months. It's a true value offer, and it doesn't surprise us that it's among the best-selling fitness trampolines around.
For only few $ you get Amazon`s most sold mini trampoline! Stamina 36″ is made from good quality and bouncy mat connected to steel legs through elastic bands. Bands are very sturdy so don`t think you can brake them easily.
Several days of workout during the week and you will love this mini trampoline. Regarding possibility of folding it, it is possible but it is advisable to have additional help while doing it.
---
Sunny Health 3.3 feet (40″) Foldable Trampoline with Bar
Weight limit: 250 lbs (115 kg)
Sunny Health mini trampoline is entry model ideal if you are new to the concept of rebounding. Trampoline itself is actually good looking, giving impression of more expensive rebounder.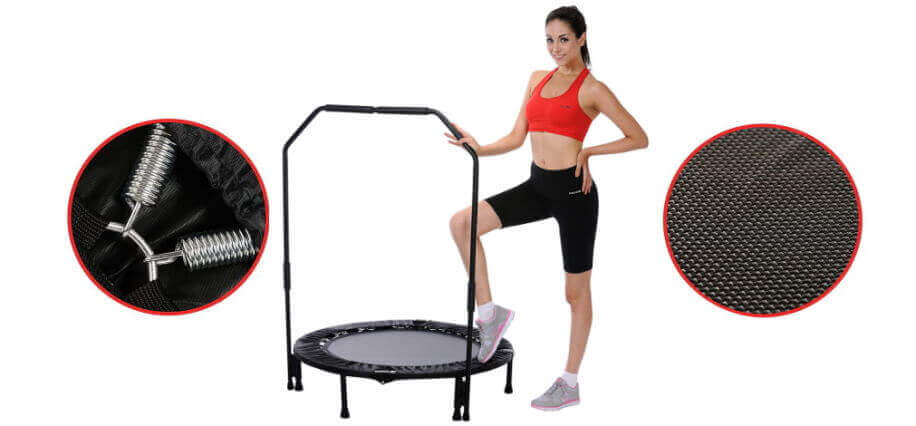 Stability of this rebounder is secured by six pieces of 1″ thick steel legs on heavy-duty steel frame and stability of jumper is secured by adjustable stability bar. Nice addition if you aren't used to rebounders.
Assembled dimensions are 41″ in diameter (jumping area 29″) and total height of trampoline with bar is 55″.
Padding is pretty thin, but will not be a problem as this trampoline has serious jumping area featuring decent quality PE mat.
And now what we didn't like: Springs. There are 32 metal springs but be alarmed as there were multiple reports on springs breaking during exercise. As you will have warranty for 30 days you will have time to have them replaced (Call Sunny Health & Fitness in CA (626) 968-1000.)
Because of the price, overall quality of trampoline is satisfying. If you get good deal, go with it.
---
Pure Fun 40″ Mini Trampoline with Rail
Weight limit: 250 lbs (115kg)
Pure Fun is very cheap workout trampoline which would be perfect for lightweight users. Even though manufacturer clearly tagged this mini trampoline with 250 lbs weight limit,  most adult users after several months report that welding which holds legs broke, making it useless.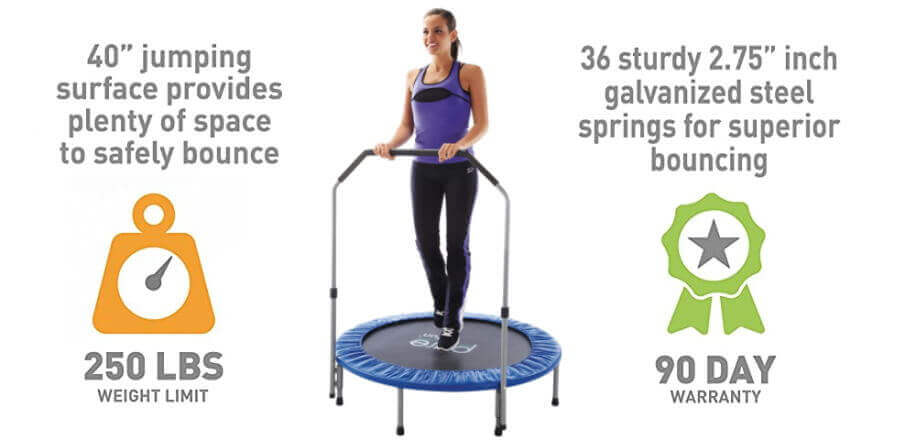 As there is 90 days warranty on this product it can easily be replaced by manufacturer. Also, there are some indications that problems have been fixed by using thicker steel frame and  redesigning leg holders by adding few additional welds. Overall weight of assembled product is 20 lbs (9kg). If primary users of this trampoline would be children then expect no issues what so ever. As this mini trampoline comes with adjustable hand rail, it can be used even by toddlers.
Recommended only for children and lightweight adults who are new to bouncing experience.
---
Upper Bounce 48″ Mini Trampoline with Handrail
Weight limit: 200 lbs (90kg)

Upper Bounce is foldable with 8 leg base which increases stability. It comes with adjustable handle bar which can be adjusted in 5 different heights so can be used by kids or adults of different heights.
Frame and springs are made of steel so they give pretty high bounce. Warranty on all parts is 1 year and can be returned during 90-days period.
Overall this is good trampoline on which we don`t have any special complaints except 200 lbs weight limit making it ideal only for children and lightweight users.
---
How to maximize weight loss on fitness trampolines?
Do you know that exercising on mini trampolines is 69% better than jogging? Not only that, it's weather-proof, as most of the people don't go to gym for rebounding, but buy their own, so you're good to exercise all while watching you're favorite show.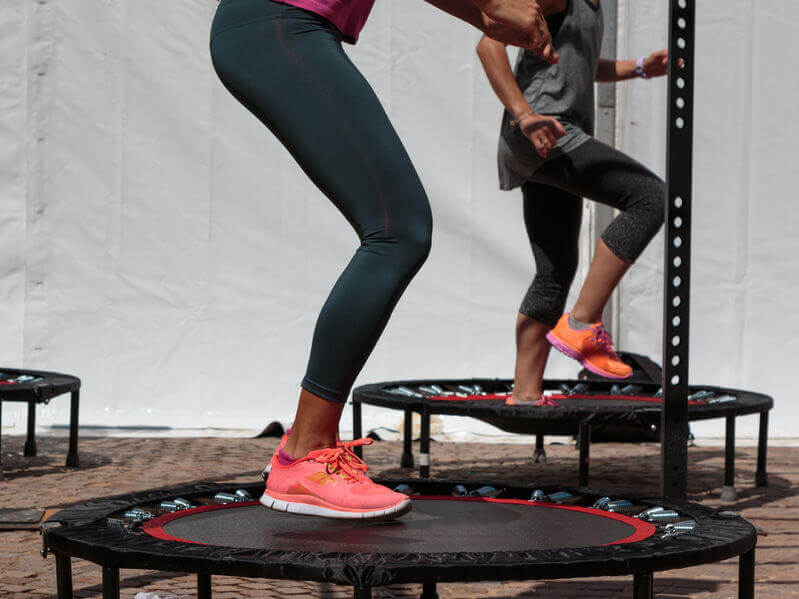 Exercising on mini trampolines includes several benefits, such as better flexibility and increased range of motion. It'll improve your body tone, strengthen your muscles and it's considered to be the fastest way to get into shape. A fact well known since introduction of Urban Rebounder, which was a huge hit few decade's ago (and still is).
At the end, it it great fighter against stress, especially if you have sleeping problems. An hour of exercise on trampoline and you will sleep like a baby. Key to any cardio-vascular training program is to sustain an increased heart rate over a period of time.
The most popular rebounding workouts are closely related to Yoga and Pilates. However when you get into it, you are bound to build much more cardio strength when compared to Yoga (where you gain flexibility, core strength, and balance). This is applicable for for outdoor trampolines as well.

Always warm-up – start your training with decent stretching to avoid injuries. Warming-up is basically a way to prepare you body for exercise. During warm-up, you're body temperature will increase, together with increase in blood flow to your muscles. In return, your body will be ready to execute sudden and explosive moments, without much stress on joints and tendons!
For maximum calorie burn we recommend following exercises:
"Power Bounce" – while sitting down on trampoline jump to standing position as soon as you can.
"Simple jumping jack" – o perform this, simply start by putting your feet together and your hands by your side. Then, jump up while moving your feet apart and raising your hands above your head in a circular motion. Once you land, jump up again and return to the original starting position.
"Lateral Plyo Jumps" – Stand on one foot on one side of mat. Try to quickly hop to the other side of trampoline and land onto opposite foot. Do this for 30 seconds with 3 repeats. Take a 10 second break between sessions.
"Cross Trainer" – Designed to imitate cross country skiing – just raise your hands in front of you while keeping your legs together. When you jump up, move one leg in front of you and the other leg behind you. While you are doing this, move one arm in towards your body while fully extending the other arm in front of you. And when you jump up again, reverse this process.
"Planks & Push-ups" – Start exercise in plank position with your arms in the middle of trampoline then transition to your hands. Do a push-up and return to your forearms for another plank. Do this for 30 seconds with 10 seconds break between sessions. Make sure that your abs are engaged entire time.
---
 Haven't found what you were looking for? Then check all of our trampoline reviews!
---
Recent site-wide searches:
best mini trampoline, best fitness trampoline, best rebounder trampoline, best exercise trampoline, mini trampoline reviews, best rebounder, mini trampoline, mini trampoline for adults, small trampoline