Selection of Best Trampolines Available in Canada! (with Reviews)
With the advent of hotter and brighter days, it's time to whip out older trampolines or upgrade to newer, safer, and better models. However, unlike a choice between a summer cocktail or a cold beer (you cannot go wrong), choosing the right trampoline is sadly not such a straightforward affair.
When looking at it, bear in mind that the trampoline is as good as its weakest link. A killer mat is no good if the springs are too short or unresponsive. A tall enclosure is a letdown when the poles holding it are all flimsy. Believe us – it happens, and unscrupulous manufacturers are banking on this lack of information, as most casual shoppers aren't aware of what to look out for.
We always point out these issues in our trampoline reviews, as this may not be apparent at first. Some trampolines look simply fantastic but are a real disappointment under the hood with shoddy welding and horrible quality control – and we want to help you avoid it. And often we get asked the same question: "What is the best trampoline?", honestly, not an easy question to answer as the price of the professional trampoline can go up to C$18 000, while prices for recreational trampolines vary from several hundred to several thousand dollars. It all depends on what you need, and that's why we decided to put them on a test!
You might have noticed this if you have already tried doing some research on your own. The enormous selection of models, sizes, and shapes are enough to deter even the most determined of shoppers. Luckily for you, you've come to the right place. We've researched for you – to save you both time and money. Below you'll find a list of the best trampolines for the 2023 season. Whether you're after a best-buy unit or want a top of the line gear, we've got you covered. Also, don't forget to check our selection of Best Mini Trampolines available in Canada.
Best Outdoor Trampolines
SONGMICS 15ft Round Trampoline with Enclosure Net
Weight limit: 210 lbs
Size: 15ft
Recommended for: Ages 8 – 14
The SONGMICS 15ft round trampoline is a fantastic addition to any backyard, providing endless hours of fun for both children and adults alike. With weight limit of 210 lbs, this trampoline is suitable for the whole family to use, but it's more suitable for kids up to the age of 14. It comes in a variety of colour options, including Green + Black, Blue + Black, or Blue, and features a sleek, modern design that fits well in any outdoor setting.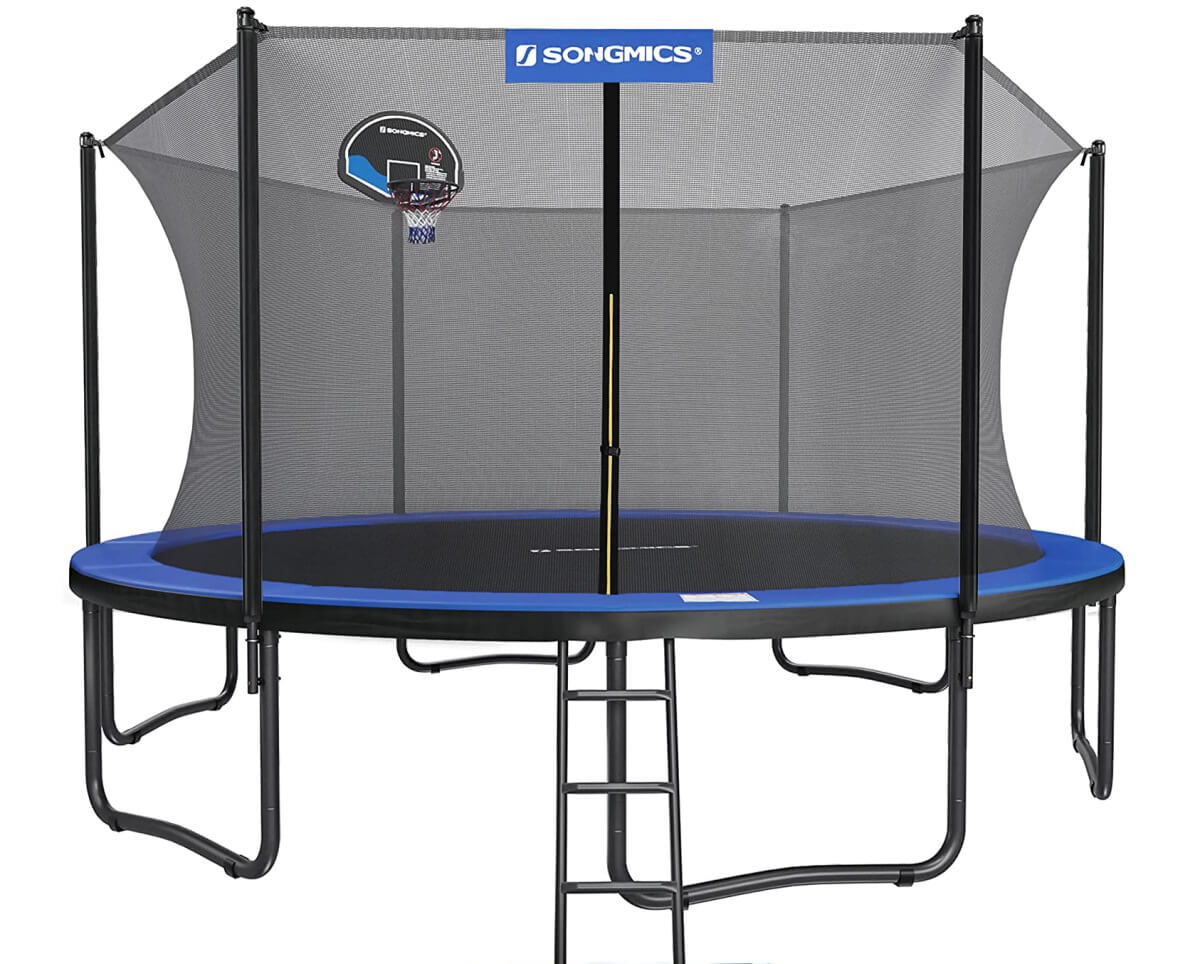 The SONGMICS 15ft trampoline is constructed with a heavy-duty all-steel frame that is galvanized and powder-coated for rust resistance. Six U-shaped legs and support poles provide a stable foundation, with T joints and double-bolt connections ensuring a rigid structure. W-shaped leg tubes offer enhanced stability, and the trampoline's frame is reinforced with T-shaped connectors.
Safety is a top priority for SONGMICS, and this trampoline is equipped with a dense net enclosure that stands 70.9″ high, keeping jumpers secure inside. The net is placed between the trampoline and springs, ensuring there are no gaps that could cause accidents. In addition to the net enclosure, this trampoline includes six EPE foam and PVC-covered poles, a safety pad covering the springs, and a heavy-duty galvanized steel ladder for easy access.
This trampoline complies with ASTM F381-16 Standard Safety Specification, ensuring your peace of mind when it comes to safety. It features 108 strong springs, each 7 " (17.8 cm) long, which makes for bigger bounces and supports the maximum weight capacity of 210 lbs (100kg). The jumping mat has passed the 5000-hour Weathering Test based on ASTM D4329-13, ensuring durability and long-lasting fun.
Assembly is made easy with clear instructions, labelled parts, and the inclusion of necessary tools, such as gloves and a spring puller. The package also includes a basketball hoop, floor stakes, and a footrest, ensuring you have everything you need for a great trampoline experience.
The jumping mat is made of high-quality, anti-UV PP material, with reinforced edges and eight rows of stitches for added strength. The safety pad covering the springs is made of durable, waterproof, and UV-resistant PVC, ensuring maximum protection for jumpers.
Key Specifications:
Dimensions: 9′ H X 15′ W X 15′ D
Manufacturer Part Number:
Overall Product Weight: 203.05 lb.
Spring Count and Length: 108 pieces of 7″ springs
Diameter of jumping surface: 410 cm
SONGMICS offers a 24-month warranty on their 15ft trampoline, giving you the confidence that you are investing in a high-quality and safe product for your family to enjoy.
Customer feedback on this trampoline has been mostly positive, with many praising its easy assembly, good bounce, and overall durability. Some customers have raised concerns about the durability of the metal pipes supporting the net, but this issue seems to be relatively rare. The majority of customers are pleased with their purchase and have enjoyed hours of fun on this trampoline.
---
Skywalker Trampolines 12-Feet Round and Enclosure with Spring Pad, Blue
Weight Limit: 90 kg (200 lbs)
Size: 12ft
Ages: 6 and up
Our Rating: 4.2
A well-known manufacturer of trampolines small and large has come out with a fairly basic 12 ft. trampoline. We won't tire you with Star Wars puns this time, so let's get straight to brass tacks. Is this any good?
Upon first inspection, you'd say no, it isn't. But there are plenty of subtle details that make it a good trampoline if a bit unexciting in the looks department.
For starters, the enclosure is much better than in Trainor Sports 12 ft. for example. There are plenty of enclosure poles that are arched away from the bouncer and well-padded, and the netting keeps you from contacting the springs. The netting is tightly woven and even small fingers could not get stuck inside. There are latches and double zippers to keep the netting safe from accidentally opening. The pad could be thicker, but the nice thing is that it attaches to the frame with drawstrings instead of fabric. The whole thing is UV-durable.
The frame is of very good quality, made of heavy 16-gauge steel. It is galvanized and T-sockets reinforce the joints and prevent excessive twisting. This makes for a more comfortable experience while bouncing. The number of springs is standard- 72 springs 5.5 inches long – and so is the bounce. The bounce is responsive: it's easy to jump quite high. The springs are "gold-colour plated" which means that it's all just for show. Never mind though, at this price point that's to be expected.
The mat offers a total of 95 sq. ft. of jumping area, and the trampoline has a weight limit of only 200 lbs. Keep that in mind if adults are to bounce on it. There are no ladders or any extras; they are sold separately.
When putting it together, make sure you read the instructions carefully so that you don't have to do it over. It will take you an hour. It arrives in a single, huge box. The warranty is 1 year on the steel parts (frame and springs) and 90 days on everything else. A bit disappointing. Even though their customer support is helpful, be sure to always keep your receipt and be ready to offer them some photographic evidence when asked (and you will be; it's a hassle).
Overall, we were happy with this trampoline. Its build quality is almost premium but at a very modest price. The joints and the enclosure are well-designed and safe and the overall experience is a tad above the Trainor Sports trampoline (but so is the price). However, we didn't like the low weight limit and a comparatively short warranty. If you have adults around, make sure they don't exceed the weight limit just in case.
Check Skywalker 12ft price on Amazon CA
---
Upper Bounce Indoor/Outdoor Kids Trampoline and Enclosure Set (7-Feet)
Weight limit: 70 kg (150 lbs)
Size: 7ft
Our Rating: 4.3
Recommended Ages: 3 to 10
Model: UBSF01-7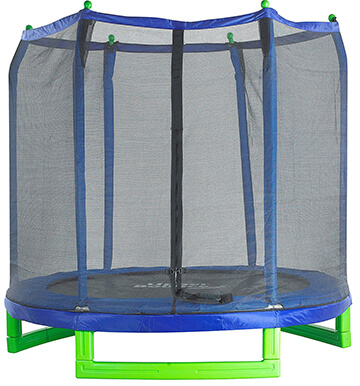 Thanks to a relative dearth of good new kids' trampolines, anything starts to look pretty good or at least warrants an in-depth review.
This time it's Upper Bounce with their 7-feet small kids' trampoline. Like any kid's trampoline, there are a few prerequisites it must fulfill. It must look good, and be extremely safe and accessible. Does this one fit the bill?
Well, when it comes to looks, it's no slouch. Blue dominates, but the legs are lime green. Eye-catching!
Even though the trampoline is labelled as both indoors and outdoors, we're having a hard time picturing it somewhere inside. It's just too big for that purpose. Perhaps in some kind of a garage, but even then… good luck. It's best to keep it outside.
As we said, safety is paramount, and Upper Bounce recognized that. The trampoline has a very low clearance, which means it's safe and easy to hop on and off. The enclosure is very high – 64", ensuring it's impossible to jump over it. The net is very tightly woven and there is no fear of falling out, thanks to a dual zipper. The net tightly attaches to the 6 enclosure poles. There is ample padding on the enclosure poles, and the pads are phenomenal. It is 3" thick, which is some 5 times thicker than in the rest of the trampolines. Fantastic! Kids are very safe in this, and even if they fall, the pads are so thick they won't get hurt.
The frame is galvanized, as is standard, and the springs are rust-resistant, too. The trampoline comes with just 36 springs, but they are 6.5 inches long. Overall, it is adequate for kids. They won't bounce too high, but this is good as safety is of paramount importance. With a weight limit of 150 lbs., adults should not even try bouncing on it. We feel it is best for ages 6 to 13.
The warranty is 1 year on the mats and the metal parts, and 90 days on everything else. You can register your product online for simpler customer support – you can fill your warranty claims online. All the instructions are available online, should you lose your booklet.
The setup will take you a while, but it's manageable and you should be able to do it on your own. All the tools are included and no parts were missing from the package.
Overall, this is a fantastic trampoline for kids and should be considered if safety is your top priority. You will be paying a bit for the privilege, but it is well worth it.
Pros:
Cons:
A tad too pricey
A warranty could be longer
---
Trainor Sports 13-Feet Trampoline and Enclosure Combo with Flash Zone
Weight limit: 100 kg (220 lbs)
Size: 13ft
Our Rating: 4.3
Recommended Ages: 6 and up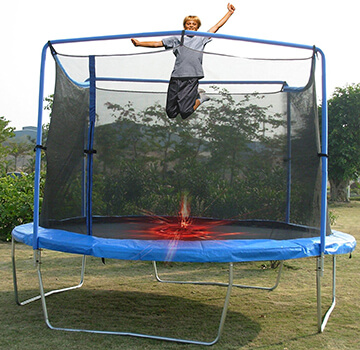 Another offering by Trainor Sports, this rather unconventional trampoline is not something you see every day. While you might be expecting a simple, 13-ft. trampoline, there are several key differing details.
This trampoline has a rather unique construction. It only has four legs, but they are very wide and stable. What an interesting design choice! The enclosure poles are unusual as well. They go above the trampoline. While it looks good, it could be a safety issue for some. However, these overhead poles also keep the netting more stable. It's a tradeoff. The frame is galvanized in and out, so it should safe when left outside.
The enclosure netting is okay, and it is sewn on the inside of the trampoline, so the springs are outside of the enclosure. Correspondingly, the blue safety pads are disappointingly thin.
The mat is a step up from the rest of the pack. It is tightly woven and sturdy with 6 rows of mat stitching. It has a premium feel and should last for a while, even a couple of years and heavy use should not damage it.
The interesting part about the mat is that it has the so-called "Flash Zone". It consists of lights that activate when a jumper strikes the target on the mat. It's not much, but it's fun and can help with some trampoline games. The LED light is powered by two AA batteries. It attaches to the bottom of the mat and uses very little power and the batteries will rarely need to be changed.
The trampoline comes with 72 chrome-plated springs, which is standard for a trampoline of this size. Consequently, the bounce is also good, but nothing unusual. Perhaps it is a little firmer due to a higher-quality mat. The weight limit of 220 lbs is enough even for adult use, although it is aimed primarily at teens and older children.
The assembly is painless and doesn't take long. The spring-loading tool is included and makes installing the springs a breeze. The warranty is standard Trainor – 10 years on the frame, 5 years on the mat, 2 years on the stitching, a year on metal hardware, springs and safety pads, 6 months on foam padding, and 3 months on all the other parts.
This is a fine trampoline that wouldn't stand out from the crowd if it weren't for the interesting light feature. With such a huge number of trampolines on the market, the manufacturers are trying their best to be different – and that's good for you, the consumer. A few years ago, gadgets such as this one weren't even available, let alone sold at an affordable price. Well, the future has arrived and you can get a respectable 13 ft. trampoline with a twist at a good value. What's not to like.
Pros:
Nifty light
Good value
Quality mesh
Cons:
---
Upper Bounce 15ft Round Trampoline and Enclosure Set
Weight limit: 150 kg (330 lbs)
Size: 15ft
Recommended Ages: 8 – 18
Model: UBSF01-15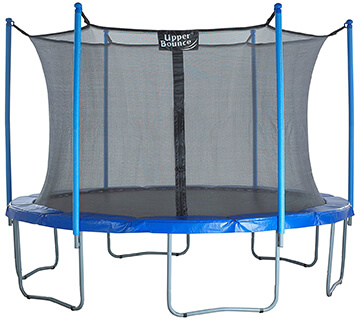 After their small kids' trampoline, which left us with positive emotions, we were eager to try the "real deal", their 15 ft. trampoline. The largest trampoline they have is 16 ft., so this one is a tad smaller. Upper Bounce has been trying to build a reputation as a quality trampoline manufacturer for quite a while, and their products so far have been more hit than miss. We expected this one to perform just as well, and in general, it did.
While the design is very bland, a trained eye will immediately spot ample padding on the poles and the quality of the enclosure netting… But overall, design is the weakest point of this trampoline. The least they could have done is give us a few colour choices.
The frame is made of powder-coated steel and is rust-free. There are 6 W-shaped legs, from which protrude 6 enclosure poles. These joints are welded and sturdy, but the poles are easy to set up or disassemble at the same time, so the enclosure can be removed before winter easily. They are covered in soft foam, as is standard.
The netting is made of premium terylene material and is very durable. We liked how it was sewn onto the mat and well-reinforced. This is usually where the enclosure starts to fail, as the netting simply breaks due to forces exerted onto the mat. Their new technology is called the "no-gap enclosure system". The net attaches to the V-clips at the edges of the springs. The poles are made with a C-cap on which the enclosure net is attached. It won't slide down and is kept securely in place.
Speaking of the mat, there are 8 rows of stitching that give it a very nice feel. It is supported by 96 springs in total each 7.5 inches long. This is above average and is reflected in the bounce. It is much higher and gentler than in plain trampolines. It is among the best in this price range. The total weight capacity of 330 lbs is just phenomenal!
Even though the springs are outside the enclosure, the safety pads are still 1" thick. The safety pads have two rubber ties to hold them tightly in place. This is excellent and makes the trampoline very safe. The pads are filled with waterproof EPE foam. The mat and all plastic materials are UV-protected. In general, we feel like this trampoline would have no problem surviving the Canadian winters outside.
All the parts necessary for assembly are included. You get a screwdriver and the spring loading tool. The warranty is standard Upper Bounce – a year on the mats and the metal parts, and 90 days on other parts. It could be longer for a trampoline of this calibre. Warranty claims can be filed online and customer support is very helpful.
To sum up, this is one of the best reasonably-priced large trampolines on the market. It's got everything – it's reasonably safe, provides excellent bounce and is very durable. Its only flaw is its rather boring design, but we feel that's less important than the other factors. All in all, this is an excellent all-around performer and you certainly won't regret buying this one. Highly recommended!
---
Upper Bounce Skytric 15-Feet Trampoline
Weight limit: 150 kg (330 lbs)
Size: 15ft
Our Rating: 4.4
Recommended Ages: 8 – 18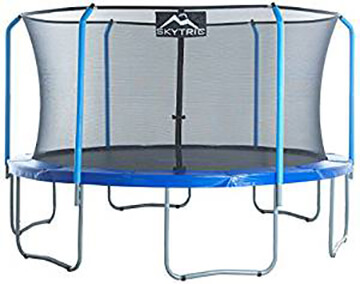 From a wide product range of Upper Bounce comes yet another 15 ft. trampoline. You'd be forgiven to think that this is the same trampoline as the previous one, but upon closer inspection, you can see that the enclosure is done differently.
The enclosure features overhead poles that help keep the enclosure netting taut and in place. Upper Bounce calls it the "Top Flex Pole Enclosure System". We have mixed feelings about it. On one hand, the net is much firmer and safer, but on the other hand, these poles above your head and all around the trampoline can be inconvenient, if not outright dangerous.
The rest of the trampoline is pretty much the same as their standard 15 ft. trampoline with enclosure. There are 96 springs, each of them 7.5 inches long. The bounce feels all around the same, as does build quality. The assembly is a tad more difficult due to the presence of extra poles, but it's only a couple of minutes extra. The weight limit is the same, a whopping 330 lbs., enough for all but the most demanding of users. Also, the warranty is standard Upper Bounce.
Choosing between this and the regular 15 ft. trampoline is a matter of taste. If you don't mind the extra overhead poles that generally make the whole structure more rigid, it's a fine choice. If you feel that these poles might obstruct your enjoyment in the trampoline, both literally and figuratively, then get their other 15 ft. model.
---
Springfree Trampoline – 8x11ft Medium Oval
Our Rating: 4.8
Weight limit: 100 kg (220 lbs)
Size: 8x11ft
Recommended Ages: 0 – 99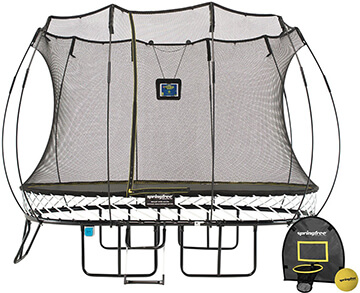 If you have money burning a hole in your pocket, and you're a passionate purveyor of all things trampoline, we're here to lend you a hand. Feast your eyes on the new Springfree 8×11 ft. oval trampoline. It's a premium trampoline at a premium price, with plenty of interesting gadgets.
Aside from its somewhat rare shape, another interesting thing is that this trampoline doesn't use springs at all. It uses flexible composite rods instead. The total weight limit is rated at 220 lbs., but it can handle more than 1100 lbs of structural load. Pretty much everyone can ounce on it without any fear of damaging it. The bounce is as excellent as you'd expect from such an expensive trampoline. Marvellous! You get the best results when bouncing near the center of the trampoline.
The design is very interesting. There's black, and then there's more black. It stands out to make a statement. The FlexiNet mesh is very resistant to tearing and elements. What's more, the enclosure poles aren't rigid, but they flex and bend as you jump, ensuring you don't accidentally hit them. The entire metal structure is galvanized and double powder-coated. Rust simply isn't in this bad boy's vocabulary.
The mat is called the "SoftEdge" and it is rated for more than 5,000 hours of sun exposure. The trampoline comes without any safety pads, as the rods are well underneath the trampoline. There are no springs you can hit. Statistics show that springless trampolines are up to 70 % safer than the regular ones, as most of the injuries come from impact with the frame and the springs.
Oh, and let's not forget the fantastic basketball hoop, a complimentary flexible ladder ("FlexrStep" – they might have gone overboard with the naming), and the tgoma gaming system. Tgoma is hands down one of the most interesting inventions in recent trampoline history. It works on a tablet which you place on a special holder on a trampoline. You just install an app, and the trampoline's Bluetooth sensors will do the rest. They track where you're bouncing and make the whole experience very interactive. There are plenty of games and educational apps to choose from, but not all are free. They should be, considering the upfront cost of this trampoline.
The trampoline is not that difficult to assemble, and it can be done in a single afternoon. The instructions are very clear and easy to follow. Definitely register your trampoline after purchase, as your warranty length is then doubled. When registered, the warranty is 8 years on the whole metal and 2 years on the rest, and their customer support is very helpful.
Springfree trampolines have always been the synonym for perfection – and this time it's no different. The trampoline is fantastic this would be one of our top picks all day every day (along with, perhaps, Acon or Vuly) if it weren't for a single factor… the price. Obviously, a trampoline this good has to cost a lot of money, but if you've got some to spend, don't hesitate a single moment.
---
Skybound Cirrus
Weight limit: 100 kg (220 lbs)
Size: 14ft.
Recommended for: 6 – 18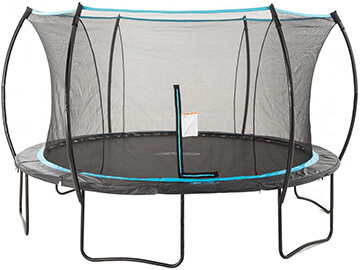 Skybound is a name we don't have to introduce at all if you're familiar with the world of trampolines. They made their name producing great premium trampolines like Skybound Stratos. However, bearing in mind not many people can purchase such magnificent trampolines, they've decided, just like Vuly, to produce a quality trampoline that's much keener on the wallet.
The 14 ft. Cirrus doesn't look like a cut-down version of anything, though. The sleek black lines of the trampoline are complemented with the light blue accents that make this trampoline look fantastic.
The trampoline is kept stable with the help of 6 W-shaped legs. Due to curved poles, we didn't even come in contact with the enclosure netting. The mesh is dense, though, and there's no risk of a body part or a digit getting tangled up in there.
The mat is well-made and comes with an antibacterial coating. This we haven't seen elsewhere and would like more makers to use as well. The 72 7-inch long zinc-coated springs will last you for a long time (they won't rust) and will keep you bouncing for hours (the bounce is responsive and very high).
We disliked the low weight limit of just 220 lbs., meaning this reviewer was hovering around it, even though nothing happened, thankfully. We feel this trampoline can take much more, but we're unsure as to why the manufacturer doesn't have confidence in their product.
The trampoline was easy to set up and the assembly didn't require any nuts, bolts, or screwdrivers. The instructions are clear and the warranty period rivals even the most expensive of trampolines – 10 years on the frame and enclosure parts.
Overall, this is a solidly built trampoline that carries a price premium, just like the Vuly Lite. It's better than the budget trampolines, sure, but the cost is still substantially higher. However, you do pay for convenience and peace of mind. If you dislike tinkering and shudder at the thought of subpar customer service or even missing trampoline parts, as can happen with budget trampolines, do take a closer look at the Cirrus.
Check Skybound price on Amazon CA
---
PureFun DuraBounce
Weight limit: 160 kg (350 lbs)
Size: 14ft
Recommended for: 6 – 14
The name of this 14 ft. trampoline certainly evokes great expectations. PureFun? Well, a tad presumptuous. But not too untrue. In a nutshell, this trampoline really is a lot of fun and seems like a well-rounded package.
At first, this looks just like hundreds of similar, generic trampolines, but the whole impression is livened up by the lime green pads, instead of the boring blue we've become accustomed to. The stitching is also vividly coloured and it's clear the manufacturer isn't ashamed of its quality. And they shouldn't be. It's good.
The enclosure is sewn onto the mat so that the springs are outside the jumping zone. It's a safer option and quite nice to find it in this price range. The zippered enclosure doesn't look half bad and the netting is taut and strong. The netting comes with a buckle to secure the net even if the zipper somehow fails, so there's no risk of falling through the net. The trampoline is very rigid thanks to its T-section structure that is used for joints.
The mat is weatherproofed and boasts a double-stitched structure. The pad is thick enough and we don't expect it to be used much anyway, due to the smart position of the net. The fun begins with the springs, and there's plenty of them in this trampoline – a total of 96 for a 14 ft. trampoline is a feat. They're galvanized and the bounce is springy, as it should be; among the best in this price range. The weight limit of 350 lbs is perfectly adequate.
Our gripes were mainly concerned with the short warranty period of just 90 days, but the replacement parts are readily available and fairly cheap. Assembly isn't as easy and will require a few tools. However, its competitors also don't come with better warranties (Exacme, for example, also gives 90 days warranty). Kangaroo Hoppers give a better warranty on their trampolines, but it's still lacklustre (1 year on the frame and 90 days on other parts).
This is a very good trampoline if you can get over its short warranty period. It's well built and a lot of fun once you set it up thanks to a large number of springs that won't rust, keeping ownership costs down. But obviously, nothing is perfect, so it's a risk you'll have to take, unfortunately. It's cheap enough to warrant that, and from our observation, it doesn't look like it will fall apart anytime soon.