Review of Trainor Sports Deluxe 15′ Trampoline Combo with shoe bag and roll-a-way wheels
Being a 15 ft. trampoline, it's a central part of any backyard you put it in. This is not just another Chinese rebrand; in this case, there are no tell-tale generic blue parts. The trampoline is nice and subdued with its dark green accents. It's as conservative as a huge trampoline-like that can get. What it lacks in excitement, you get in refinement. It's up to you whether you dig that or not.
Weight limit: 220 lbs (100 kg)
---
Check latest price on Amazon Canada
Trainor Sports Deluxe 15ft Round Trampoline Features & Specs
Frame & Enclosure
There is a standard number of enclosure poles. The enclosure netting rests on six poles that support it. It's firm and sturdy, and the top of the enclosure is reinforced with a layer of green fabric. The enclosure is zippered and there are also additional safety buckles. The zipper doesn't look sturdy or reliable. It didn't fail us, but it certainly doesn't inspire confidence.
The frame is weatherproofed. It is galvanized and so can withstand the occasional shower. Of interest are the roll-away wheels added to its legs. This is a unique feature, but if you're putting it on grass, it's of limited usefulness as they are small. Luckily, when the trampoline is standing, they don't cause it to roll around too much; the stability isn't compromised. There are leg breaks that you activate when done with transport.
Unfortunately, the trampoline doesn't come with a ladder.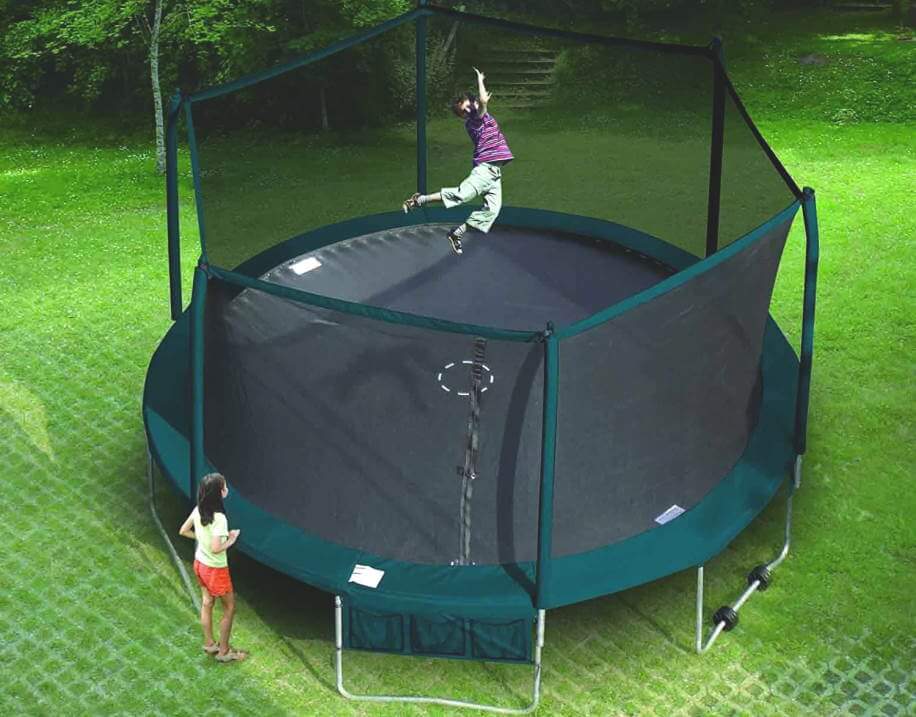 Mat & Pad
The mat is standard polypropylene, however, it has 7 rows of stitching, which is better than industry standard (6 rows) but still not as high as more expensive models (10 rows of stitching). That and UV protection enhance its durability. It is quite heavy, detracting a bit from the quality of the bounce. The mat features several markings at the middle – we're unsure as to whether it was supposed to be a decoration or not, but it's surprisingly useful for orienting yourself while mid-air. The usable jumping area is 158.5″.
Pad skirts are green and aren't too thick. Overall, the protection is barely adequate, aided by the fact that the springs are outside of the enclosure. You get a good shoe bag where you can store your footwear before you begin bouncing so they don't get dirty on the floor (you should always bounce barefoot).
Springs & Bounce
Trainor hasn't skimped on springs. There are 96 springs overall, and they are galvanized. The result is a good bounce, better than average for this category. The overall weight that the trampoline can support is 220 lbs. Not a lot, honestly – we felt it could handle more. In any case, a single jumper rarely weighs more than that, so it's not a big issue.

Assembly & Warranty
The assembly process was smooth. It came with all the pieces and the spring loading tool was useful. The instructions could be better, but we managed to understand them. Nothing out of the ordinary, overall. The boxes are quite bulky – the trampoline itself weighs about 200 lbs. At least two people should attempt to install this trampoline.
The warranty is surprisingly good. There's a whopping 10 years on the frame and poles, 5 years on mat fabric, 2 years on mat stitching, a year on the springs and the pad and 6 months on the foam padding.
The user manual is available online: Download here!
This is a 15 ft. trampoline at an attractive price point that is in every aspect an improvement over run-of-the-mill store brands. It features improved security, good weatherproofing and an adequately responsive bounce. There are no ladders, but the inclusion of a shoe bag and transport wheels is a nice touch. This trampoline requires ample space in your backyard, so make sure you have somewhere to place it before purchase.
We feel it's a great trampoline for the price; it is of good quality and seems to be quite durable. There's not much flair or flamboyance in this model – instead, you get a dependable and good trampoline for a modest amount of money. One of our best-buy models for this season!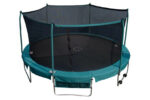 Trainor Sports Deluxe 15ft Trampoline
PROS
Great value
Good bounce
Weatherproof - most customers rated is as excellent when it comes to quality (3 yrs easy in Canadian conditions, but don't leave outside during winter)
CONS
Low weight limit
No ladder
Pads could be thicker