Trampolines and Mini Trampolines in Ireland
When it comes to buying a trampoline in Ireland, then you are quite limited with options. The UK, in general, has dozen of superb manufacturers which make fantastic trampolines and dependent accessories but not all of them are shipping to Ireland. Domestic manufacturers? You wish.
As most people still buy trampolines at sporting goods stores or shopping malls, they do not realize that choice online is way broader and chances of getting fantastic deals are being multiplied.
At ProTrampolines Ireland, we will try and do our best in giving you honest reviews and directions about trampolines, making sure that only the best & safest trampolines reach your doorstep, minimizing the chance of making poor decisions. Have in mind that we will mostly concentrate our reviews of mini trampolines and rebounders, but some outdoor trampolines shall be included as well.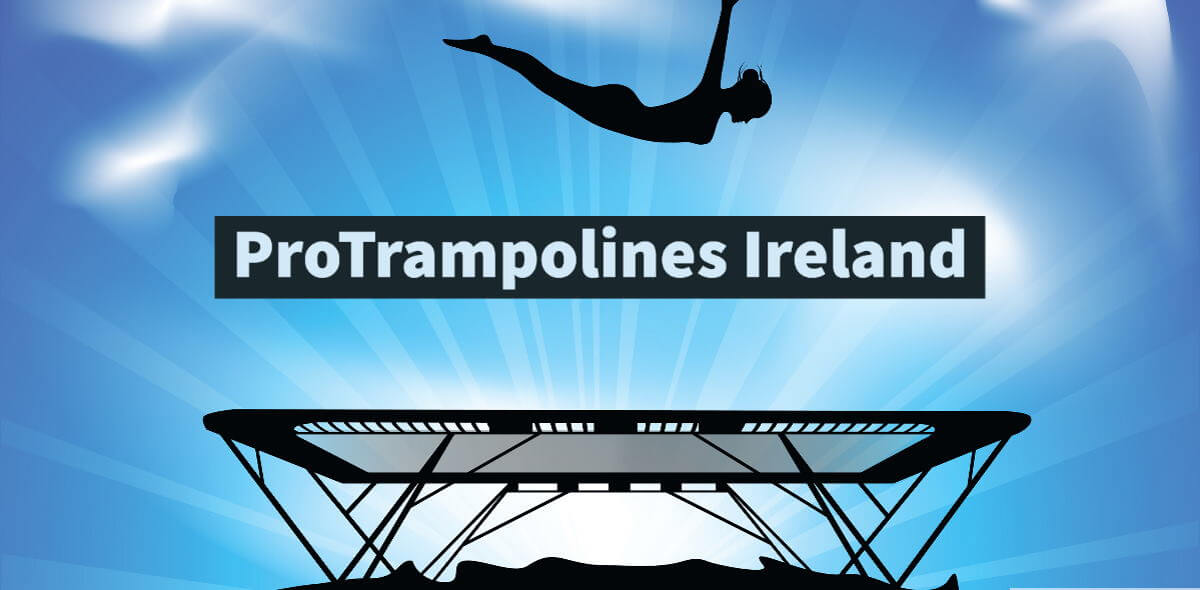 How to choose the best trampoline based on your needs?
The most important thing to think about is the age and weight of the jumper, then planned activities (is it for recreational purposes or gymnast training?), and the last amount of cash you are willing to spend.
Regarding age and weight, have in mind that larger is not better, at least not about trampolines. Smaller trampolines will give more control to lighter jumpers, with bounce not as high, but as a starting point in terms of trampoline training, much better than larger ones. Yes, larger trampolines will give you high bounce, but to accomplish that you need to have enough weight to make some pressure onto springs. Without enough weight, springs won't even matter…
When it comes to planned activities, you will find out that shapes themselves dictate what is and what is not possible to do on a trampoline, at least to some extent. If you are buying a trampoline for a toddler to do some exercise, then go for a round trampoline, and if you need a trampoline for a gymnast or semi-gymnast then always choose rectangular versions. More about that below, in the "shapes" paragraph.
SHAPES
When it comes to shapes, there are several main ones where each of them brings various advantages over another:
Round Trampolines
With the usual size from 6 – 16 ft, round trampolines are the most common trampolines found today. They are also referred to as recreational trampolines. Jumping on round trampolines does not require prior experience, because wherever on the jumping mat you land, you will be slightly directed towards the centre of the trampoline.
Rectangle Trampolines
Rectangular trampolines are the closest thing to professional trampolines. Of course, they can't even compare to 10 times more expensive bigger brothers but features, together with bounciness and size is most comparable.
Square Trampolines
Square trampolines are often a good choice if you know why you need a trampoline. As it combines all the good things from both worlds (round & rectangular), and without most weaknesses, people love them but their price is mostly a factor why they avoid them.
About the good things…square trampolines will give you bounciness better than found on round trampolines but then again not as good as on rectangular versions. This is mostly because springs on the square are in a similar pattern as n rectangle, providing you with higher bounce and better response. If you need a good bouncy trampoline for kids & teenagers then square trampolines are the way to go.
Oval Trampolines
Usually some of the biggest trampolines on the market, or at least when it comes to the available jumping area. Its unique size makes it great when multiple children use a trampoline and when trampoline games are played. Trampoline games? Check biggest list of games here.
Octagonal Trampolines
Its shape makes it unique and eye-catching, as having one of those will grab anyone`s attention. Also, the quality of bounce is much closer to rectangular trampolines, making it much superior to round trampolines. When compared to rectangular then bounce is still better on rectangle but safety, especially for beginners, lies on the octagonal`s side.
Mini Trampolines
Mini trampolines, also called rebound trampolines (rebounders), are the best solution if you want some exercise but don't have time to visit the gym or go out for a quick jog. If the weather conditions are bad (Met Éireann 😊) or the kids have to get some of their energy out, a mini trampoline will prove itself more than useful.
Having a mini trampoline is a fun and quick method to exercise your way to a healthy body. It is fun, but it will also burn over 400 calories per hour, to say at least. Regular aerobic exercise on rebounders and mini trampolines can enhance your overall fitness level, improve your cardiovascular health and strengthen the muscles you use during the workout. It would also improve your motor skills, along with your sense of balance, it will help you to get rid of negative energy, stress, and last but not least, it will strengthen your body and your muscles.
And the best part of it is that you can do it in your backyard or the privacy of your home, whenever you like and want to, all for a low cost.
BEST OUTDOOR TRAMPOLINES IN IRELAND
It's time for a best-buy trampoline roundup! We've reviewed several trampolines from each of the groups so you don't have to. And, you'll get the most for your money should you decide to get a trampoline for your kids or yourself.
BEST BUY ROUND TRAMPOLINE
Ultrasport Uni-Jump Garden Trampoline (15 ft, 460cm)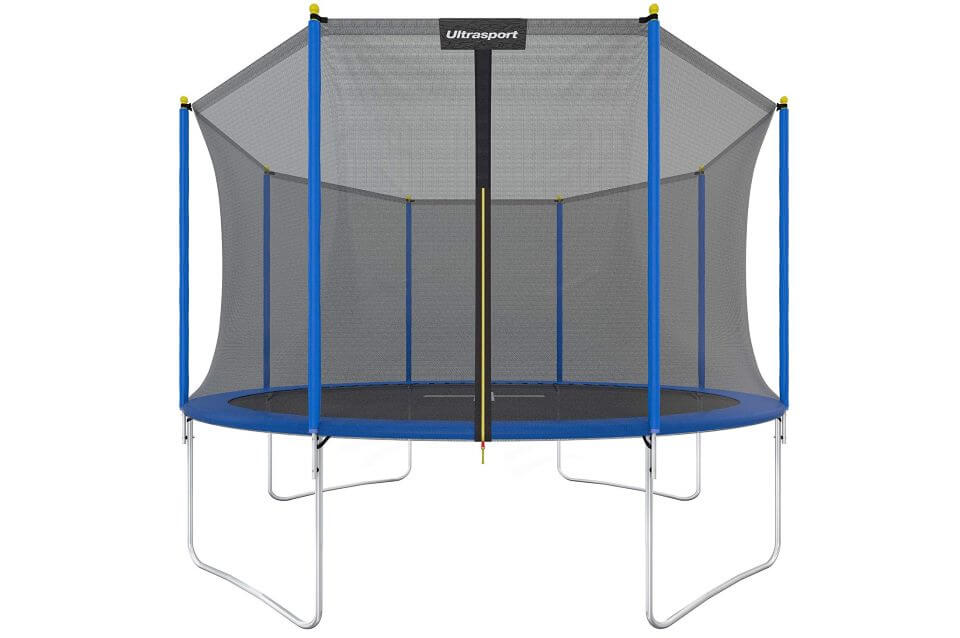 Ultrasport is a brand that needs no introduction among those in the know, and soon-to-be buyers will certainly find out why. At a fairly appealing price point, you get a package that is even more appealing.
Let's start with the basics. The trampoline boasts a diameter of 460cm with 414cm of effective bouncing surface diameter. Design-wise, the Ultrasport doesn't raise any eyebrows or cause your heart to race, but at least it's consistently adequate with its blue accents.
Safety is perfectly adequate. The padding above the springs is just 1 cm thick, but it's sturdy and UV-resistant, so it will protect against the odd fall. The poles are foam-padded, but the enclosure netting is difficult to zip up completely. It's rather tightly woven and it withstood our attempts to damage it. Be careful not to bend the steel poles while installing, which can happen. The trampoline is stable when installed and during use.
When it comes to bouncing, the trampoline has an ace up its sleeve: a combination of 96 standard, rust-free springs with additional 6 longer springs which make for a fuller bounce. It's plenty, it's noticeable, and it's fairly good – you can particularly feel if you're somewhat heavier. Once you set them up, however, which will require feats of strength. The trampoline supports up to 150 kilograms, though with loud-ish squeaks.
Now for the big questions: can it survive the winter? Well, it should. Just keep it well-covered, remove the safety net and poles (about a 15-minute job) and anchor it well. The warranty lasts for 2 years, as is standard, and customer support is good. Replacement parts are also available.
Sadly, we were perplexed by the lack of a ladder, particularly considering a hefty frame height of 90 centimetres, which will make entry and exit difficult for younger users, unless you purchase separately. Keep that in mind!
Overall, while the trampoline doesn't excel in any of the categories, it doesn't have any obvious let-downs or quality issues, which is a small miracle in and of itself in this price range – and hence why we recommend it if you can fit this in your garden. The 460 cm version we reviewed (15ft) is very large, but the trampoline also comes in smaller sized, starting from 8 feet (244 cm) upwards. We haven't had the chance to try them all out, but there should be no major differences.
Check latest price on Amazon Ireland
---
BEST RECTANGLE TRAMPOLINE
Upper Bounce Spacious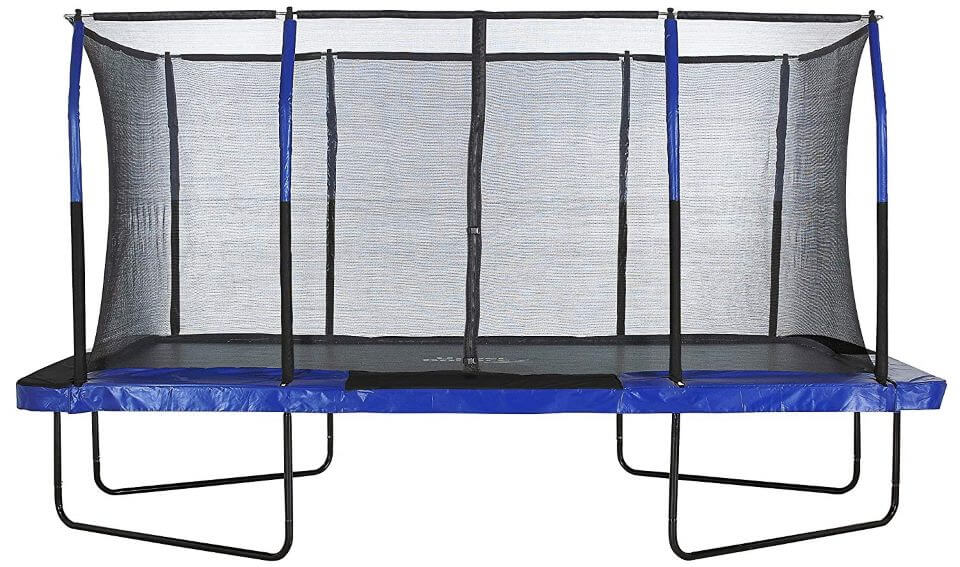 Rectangular trampolines are always a difficult find, and buyers are usually relegated to poor-quality units at a premium price. Fortunately, this Upper Bounce rectangular trampoline is by and large an exception to the rule.
The enclosure is stable and the netting is always taut, primarily owing to the extra tubing on the top of the enclosure, which prevents sagging. The terylene mesh net is secured via a double zipper and additional latches to prevent accidental opening. The netting is additionally woven onto the mat, so the springs remain outside the bouncing area. This does reduce the net effective bouncing area by a little bit. However, the poles are curved so there is no need to consciously avoid striking them while bouncing.
The foam padding is rather thick – at 2,54cm (1 inch), which is ample enough to cushion even the harder blows. The trampoline stands on four U-shaped legs. We would have liked there to be two more along the long axis, but this is adequate too.
The eight-row stitched mat provides ample support for long-term bouncing, but it's a bit on the weaker side bounce-wise. Due to its shape, the bounce is more responsive and gradual than with round trampolines. The number of springs, 86, could be considered inadequate by some in relation to the size of this unit, but they do fulfil their purpose well.
The maximum rated user weight is around 220 kilos. It can therefore accommodate two adults without complaints (not that it's a smart thing to do).
The assembly is by no means easy. You'll need some help and free up an afternoon in your schedule. Dreary instructions don't help either. Still, the trampoline is designed to require very few tools (you get everything in the package). There have been reports of missing parts, which add yet another layer of hassle to the ordeal. But it doesn't seem to occur very often.
The rectangular shape lends itself more towards professionals, so this is a fine gift for the aspiring gymnast. It's sturdy, safe and affordable. Just mind the weaker bounce and somewhat inconsistent quality control. Still, it's a sensible buy.
Check latest price on Amazon UK
---
BEST SMALL/KIDS TRAMPOLINE
Plum 6ft Magnitude Springsafe Trampoline & Enclosure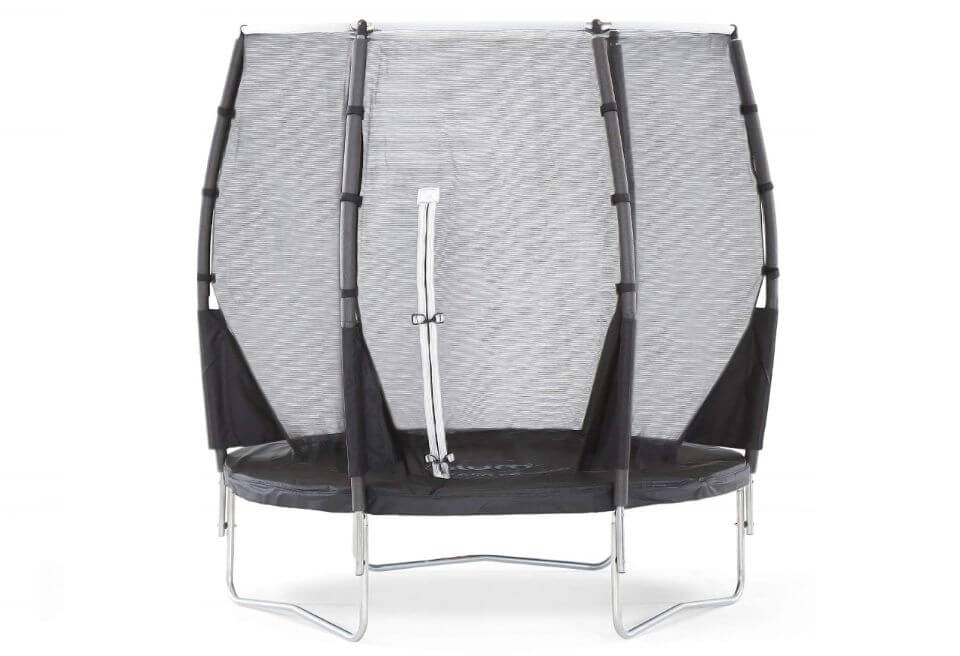 If the larger trampolines aren't quite your fit, then you should consider something smaller, but still quite functional. This Plum Magnitude Springsafe trampoline seems to tick all the boxes.  With its six feet diameter (198cm), silver accents and imposingly high enclosure, the trampoline doesn't look that small at all.
The netting is tough but doesn't look as good as that in other trampolines – it sort of resembles the usual potato mesh bag. However, it is held very tightly with the help of six outward pointing, foam-enclosed poles. This solution doesn't reduce the jumping area at all, despite keeping the springs outside of the jumping area, thus protecting the jumper.
As long as you remove the poles and the netting, the trampoline can easily be left outside during the winter. The springs are galvanized and they will remain rust-proof for quite a while.
The 140mm long springs – 36 in total – are perfectly adequate for jumping, especially for children and teenagers. However, due to its size, we recommend that only one child uses the trampoline at any time. Otherwise, the kids will surely collide and it will end in tears. The maximum user weight is 60 kilograms, making this usable for smaller adults, but preferably children and teenagers. It does look like it can take a bit more weight, but we wouldn't advise you to risk it.
There are some issues with unresponsive customer service and availability of spare parts, but they should be resolved eventually if you're willing to wait. The warranty is one year from the purchase date for the frame, and six months for other parts.
On the brighter side, assembly is intuitive and the structural integrity is very good. This is primarily due to their proprietary Tramp Klamp system, where reinforced brackets are used to link the enclosure with the bottom frame. The result is more than acceptable.
Overall, this small outdoor trampoline is a solid choice if you want your children to bounce on, and at an acceptable price as well, but its lower weight limit makes it unsuitable for adult use.
Check latest price on Amazon UK
---
BEST OVAL TRAMPOLINE
Telstar Orbit Trampoline 9x13ft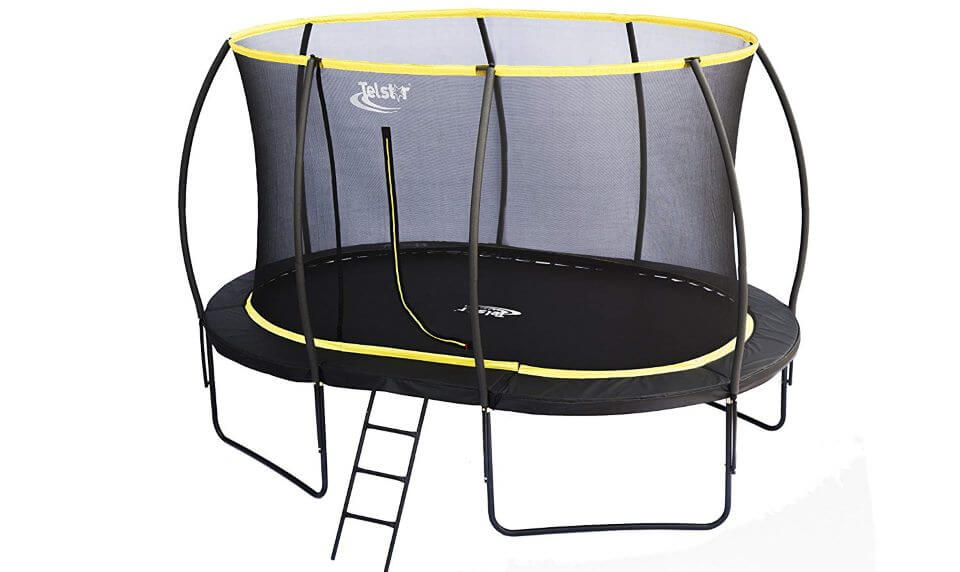 Oval trampolines present a good middle ground between rectangular and round trampolines. They are less professional than a rectangular trampoline, but come at a lower price and are more similar to round trampolines in the way they feel.
The Telstar unit follows this pattern. It is relatively affordable for an oval trampoline, but there are no huge compromises that a prospective buyer would have to make.
The Orbit features a relatively fresh design. Its yellow and black elements complement each other well.  Its black powder coating looks very luxurious and helps with resistance to the elements.
Safety features are quite impressive. The padding is 20mm thick and the enclosure netting is held up very well by the extremely curved poles. There really should be no fear of striking a pole with the Telstar Orbit, nor accidentally hitting the springs. They call it the "Fiber Glass Rod System" (fairly self-explanatory). <
The zipper mechanism is used for entry and exit, and we had no issues with it. A ladder is included in the price. It does the job fine, though it may look a bit flimsy.
Its 68 springs are 7 inches long, each, which makes for a satisfactory bouncing experience. It's somewhat above average in feel, height and overall springiness. This maybe sounds unenthusiastic, but it's not a bad result at all. An average trampoline is still very fun to bounce on – it's the bottom of the barrel ones that cause issues. The mat is a high-quality Permatron unit, which should guarantee a longer lifetime and fewer issues with stitching and durability.
The assembly process is a very bright point. The instructions are well-written and clear. The process can be completed within two hours.
The maximum user weight is 110 kilos – enough for most children and adults as well. The warranty is fairly standard, one year for all parts except the frame, which carries a five-year warranty.
All in all, this is a very good buy whose price comes close to some of the round trampolines. It's worth looking at if you're into something different.
Check latest price on Amazon UK
---
BEST IN GROUND TRAMPOLINE
Avyna Kids In-Ground 300X225 cm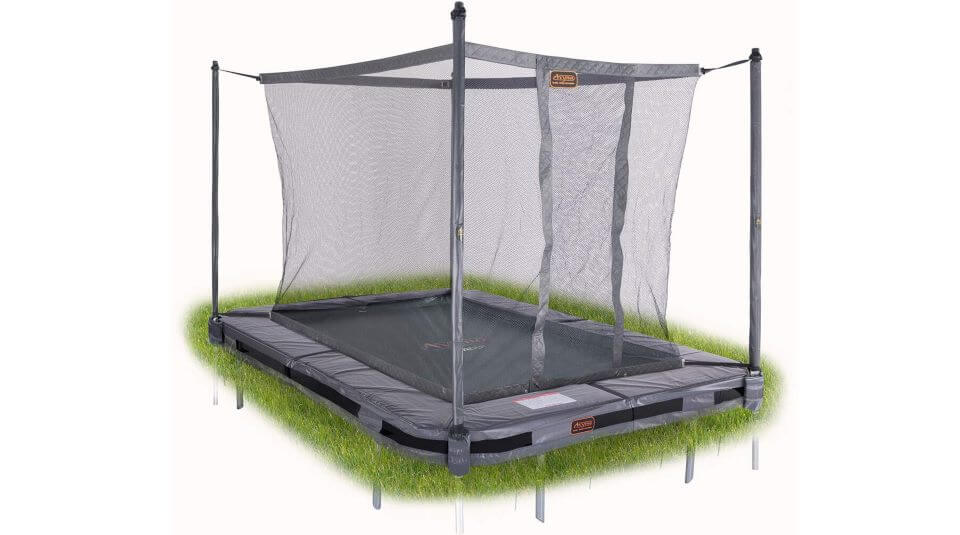 In-ground trampolines have always been reserved for the trampoline buffs. They are way more difficult to set up, but the result can be very rewarding. It, however, comes at a price which is why the best-buy unit in our selection costs several times more than the regular trampolines.
The trampoline in question is the Dutch Avyna Kids trampoline, but in this case, the name is a bit of a misnomer. See, the trampoline is perfectly adequate for all users. Its size of 300x225cm is more than enough for everyone to use safely coupled with its generous 140kg weight limit.
Despite its lower position (as it doesn't need any legs), the trampoline still has a safety net. There are only four poles, unfortunately, and the netting only indirectly connects to them via simple straps, which does detract a bit from the experience and the overall safety. It's still fairly safe to use due to its thick safety pads made of weatherproof PVC and lower height compared to regular trampolines.<
When it comes to looks, the cool grey shade is attractive and a bit unusual. The trampoline is also available in camo and dark green colour patterns.
64 springs are responsible for the bounce. The bounce is excellent. There are two sets of springs; one is a bit thicker and you should pay attention during assembly to fit them well. But don't worry, as they are colour-coded and the instructions are extremely well-done with detailed pictures and steps. All the necessary tools are included.
Of course, we take that you have dug an adequately sized hole and ensured there is proper drainage and support for the trampoline. This is something inherent to all in-ground trampolines and is a bit of an arduous task. But that's your choice to make – the aesthetic benefits may as well be worth it.
The warranty process should be smooth sailing as the manufacturer is based in the EU. There is a lifetime warranty on the frame. Springs get a 10-year warranty and the rest gets a 3-year warranty coverage.
All in all, this is a good buy if you're looking for something different – and exciting but safe in-ground trampoline. In times where quality options are scarce, all positive developments such as this are worth considering.