UK Trampoline Reviews & Buying Guide
When it comes to buying a trampoline in the UK then your options are not so limited as you might imagine, as the UK, in general, has dozen of superb manufacturers which make fantastic trampolines and dependent accessories.
While most people still buy trampolines at specialized shops or even shopping malls, not realizing that offer of good trampolines online is so much better and broader and chances of getting fantastic deals are being multiplied.
At ProTrampolines.com UK, we will try and do our best in giving you honest reviews and directions about trampolines, making sure that only the best & safest trampolines reach your doorstep, minimizing the chance of making poor decisions.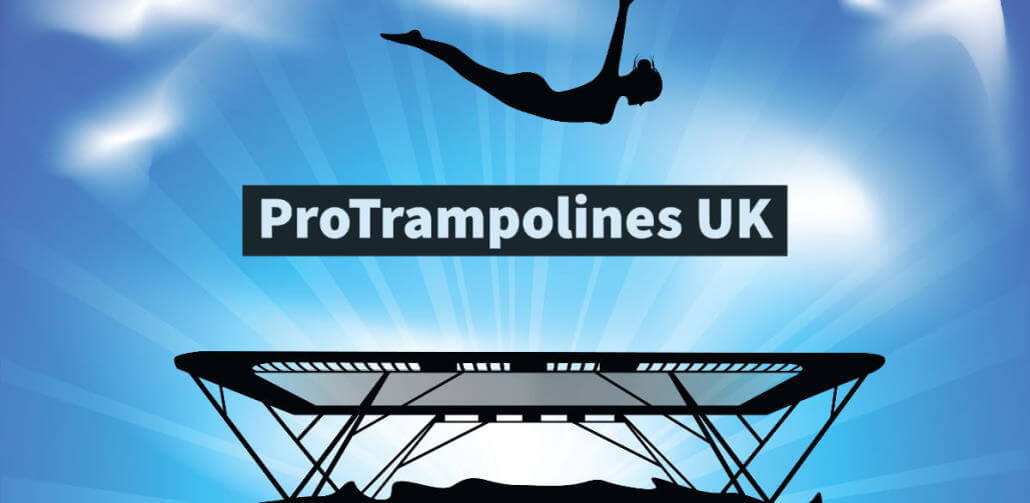 How to choose the best trampoline based on your needs?
The most important thing to think about is the age and weight of the jumper, then planned activities (is it for recreational purposes or for gymnast training?), and the last amount of cash you are willing to spend.
Regarding age and weight, have in mind that larger is not better, at least not about trampolines. Smaller trampolines will give more control to lighter jumpers, with bounce not as high, but as a starting point in terms of trampoline training, much better than larger ones. Yes, larger trampolines will give you high bounce, but to accomplish that you need to have enough weight to make some pressure onto springs. Without enough weight, springs won't even matter…
When it comes to planned activities, you will find out that shapes themselves dictate what is and what is not possible to do on a trampoline, at least to some extent. If you are buying a trampoline for a toddler to do some exercise, then go for a round trampoline, and if you need a trampoline for a gymnast or semi-gymnast then always choose rectangular versions. More about that below, in the "shapes" paragraph.
When it comes to types of trampolines then we can group them into two main groups: Standard frame-based & inflatable trampolines, which are additionally segmented into sub-types: professional & recreational, spring-based & springless, inflatable & inflatable water trampolines, with last but not least, mini trampolines as a type for itself.
If you are interested in mini trampoline then check TOP 10 best mini trampolines available in the UK.
When it comes to shapes, there are several main ones where each of them brings various advantages over another:
Round Trampolines
With usual sizes from 7 – 16 ft, round trampolines are the most common trampolines found today. They are also referred to as recreational trampolines. Jumping on round trampolines does not require prior experience, due to a fact that wherever on the jumping mat you land, you will be slightly directed towards centre of the trampoline.
Rectangle Trampolines
Rectangular trampolines are the closest thing to professional trampolines. Of course, they can't even compare to 10 times more expensive bigger brothers but features, together with bounciness and size is most comparable.
Square Trampolines
Square trampolines are often a good choice if you know why you need trampolines. As it combines all the good things from both worlds (round & rectangular), and without most weaknesses, people love them but their price is mostly a factor why they avoid them.
About the good things…square trampolines will give you bounciness better than found on round trampolines but then again not as good as on rectangular versions. This is mostly because springs on the square are in a similar pattern as n rectangle, providing you with higher bounce and better response. If you need a good bouncy trampoline for kids & teenagers then square trampolines are the way to go.
Oval Trampolines
Usually some of the biggest trampolines on the market. Its unique size makes it great when multiple children use a trampoline and when trampoline games are played. Trampoline games? Check the biggest list of fun trampoline games here.
Octagonal Trampolines
Its shape makes it unique and eye-catching, as having one of those will grab anyone`s attention. Also, the quality of bounce is much closer to rectangular trampolines, making it much superior to round trampolines. When compared to rectangular then bounce is still better on rectangle but safety, especially for beginners, lies on the octagonal`s side.
---
TOP 10 UK Trampolines (with reviews)
This is a selection of TOP 10 trampolines in the UK, which we have tested and rated. As we will review more and more trampolines this list will probably change, so make sure to come back and check if there are any surprises on the list. Who knows? Someday a deal you can`t refuse will be on this list…
What to be careful about in specifications on trampoline reviews?
Each of these specifications, and others, should be thoroughly examined to determine which trampoline suits your needs.
Weight Limit: This refers to the amount of total weight that the trampoline can hold. If one person weighs 200 pounds, for example, and the weight capacity is 250 lbs, that person will be one of the only ones allowed on the trampoline at a time, unless a child who weighs 50 pounds or less is accompanying them. If the weight limit is 300 pounds, and 3 100 pound people are on it, then they are at the limit of the capacity. The number of people who can be on at one time will depend on the weight of each person and the limited capacity that the trampoline has. For an exercise trampoline that a bigger person will be using, they will want to ensure the capacity has a higher limit.
Dimensions: Dimensions of a trampoline define the height, width, and diameter of the trampoline itself.  Some trampolines are closer to the ground, whereas others are much higher up, and require a ladder to get on them. Trampolines, on average, range from 2.4m – 4.9m (8 – 16ft) in diameter and go around 80 – 100 cm above the ground.
Frame Material: The frame of a trampoline is most often made of steel, with some smaller versions of kid's trampolines made from hard plastic. Most trampolines will have galvanized steel. If specifications say the steel is galvanized, it means it has been coated with zinc, which acts as a protective layer. This is what makes it resist the rust from forming, or at least a limited amount of that will develop on the steel due to different weather conditions when a trampoline is left outdoors all year-round.
Price: Some people opt to get a trampoline that is priced low because it is much more affordable. However, the higher-priced ones are almost always a better choice,  as they may last longer than the cheaper ones. It all depends on how long you wish to have the trampoline, how much use you hope to get out of it, and the amount you are willing to spend. Most trampolines range anywhere from £200 to £800, depending on the size, shape, weight capacity, life expectancy, and most importantly, bounce quality.
Rating: The ratings listed in the comparison chart are those from Amazon purchases. The rating is the average of all trampoline reviews, good and bad, and can range between 1 and 5 stars, with 5 being the highest possibility. It is important, however,  not only to look at the overall rating but also the number of reviewers who provided a rating. Something trampolines may have 5 stars rating, but only with 1 review. It is not as accurate as something with 4 stars and hundreds of reviews. The more reviews and higher the rating, the better the product has proven to be on numerous occasions.
Reviews of Best Trampolines in UK
Airmaster 14 ft "Mega Bounce" round trampoline – 4.26m
Weight limit: 125 kg single user /180 kg combined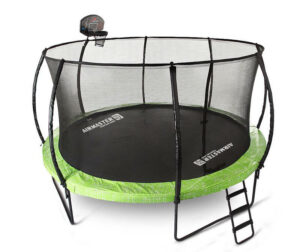 Recommended for: Age 8 – 18
Airmaster is well known global trampoline manufacturer whose trampolines were always at the top of the game.
Their latest, 2017. a version of the trampoline is one of the coolest trampolines you can purchase for the money, and thankfully, is not all about the looks. Their newest Airmaster "The Bounce" series offers a wide span of sizes, from 8 ft – 14 feet, providing you with the option to choose based on your needs.
Airmaster 14 ft trampoline brings a huge number of safety measures, from combining zip locks and clips for the entrance, ensuring that all openings will be tightly sealed all the way to connect the safety enclosure directly to the mat. That`s not all, as enclosure pads are curved, a change that resulted not only in increased safety but also provides much more jumping space.
The only thing that bothers us on this trampoline is the number of support legs, as on a trampoline that big stability is crucial. But honestly, 4 legs do the job nicely and the trampoline is surprisingly sturdy.
Airmaster trampoline specifications:
Frame: made from galvanized steel,  42 x 1.5 mm thick gauge, black powder-coated, connected with "T-Master Lock" push & click system. The frame connects to 4 support legs. Frame height is 80 cm from the ground.
Springs: 88 pieces of coated springs 194 mm long.
Mat: PP (Polypropylene) Mat (Made in the USA)
Enclosure: Fantastic enclosure with 8 curved support poles. On top enclosure is reinforced with fibre rail, which improves the stability of the net itself.

Trampoline pads: 0.55mm PVC covers, 10mm inner foam
Additionally, included in the price are a flat-step ladder, weather cover and basketball hoop, £109.00 in value.  By choosing a "Value" or "Premium" edition of Airmaster trampoline, depending on your choice, you can get "Mathmania", a game which helps children to develop balance and memory skills.
---
We R Sports 12 ft. (3.66 m) round trampoline
Weight limit: 120 kg single person, 180 kg combined.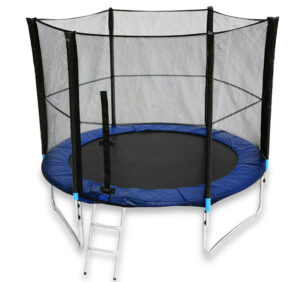 Recommended for: Age 8-13
This modestly priced trampoline has a lot to offer and doesn't seem shoddily built at all.
It comes with an enclosure, which is an industry-standard, but also has a nifty ladder that lets you climb up and down the trampoline easily. Mind you, it's not the best ladder there is, but it does the job.
The same goes for the enclosure – it's not half bad, but we've seen more innovative designs. It's nothing to hold against this trampoline, though. It does have a degree of resistance to elements, as the mat is UV resistant and the foam won't absorb moisture. The trampoline has all the relevant safety certificates and sports a weight maximum of 180 kilograms. This is a very good result, way above comparable trampolines of this price range. It's very bouncy, so it holds up well in this category too.
The instructions could be clearer (this is a massive understatement). Expect to do a bit of handiwork to make everything fit together, and some parts are built to very tolerant… tolerances. Anyhow, we were able to set it all up and it's all smooth sailing from then onward. You also get a rain cover and this sweetens the deal – it's excellent value.
Specifications:
Frame: Frame is made from double galvanized (inside&outside) steel, 38 x 1.3mm thick, connected to 4 U shaped support legs. The total height of the frame from the ground is 80cm

Springs: 72 galvanized springs

Mat: Black Permatron jumping mat, UV resistant. Permatron is considered one of the best jumping mats you can currently find on recreational trampolines.

Enclosure: UV resistant netting with 16 poles

Trampoline pad: Pad made from 12 mm thick closed-cell foam with PVC outer coating, so you don`t have to worry that will absorb water or lose shape.

Other: TUV, GS, EN-71, CE Approved
---
Jump Star 14 foot round trampoline – 4.26m
Recommended for: Age 10-16
This trampoline is probably one of the easiest to assemble as it will take around 1 hour to finish it. Instructions are not the best but everything is pretty straightforward, so no worries there. Regarding sturdiness, Jump Star trampoline feels like it has much more support legs, and the balance this trampoline achieves, even when jumping directly on the netting, is truly remarkable. Jump Star is made from fantastic materials, and for that price range, it surprised us. Probably best-buy trampoline on the UK market today.
Specifications:
Frame: Total diameter of 426 cm (measured from the outer side of the metal frame), Frame is made from 1.5mm thick galvanized steel, connected to 4 support legs and its height from the ground is 89cm which is pretty high, so great thing is that trampoline ladder is included in the set.

Springs: Made from galvanized steel, 88 pieces of 180mm springs.

Mat: UV resistant, 3 times woven with 6 rows of stitching.

Enclosure: Included in the set, made from UV resistant polypropylene mesh net with Velcro lock entrance.

Trampoline pad: Available in two colours, blue and green, foam with PVC coating.

Other: Free ladder, shoe bag and rain cover.
---
Plum "Magnitude" 14 ft round trampoline – 4.26m
Weight limit: 125 kg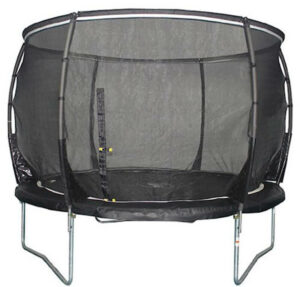 (20 stone)
Recommended for: Age 6 – 15
Plum Magnitude Trampoline features an exceptionally innovative bubble-shaped design where poles are curved to the outside providing jumpers with a massive jumping area. This patented trampoline enclosure called 3G, separates frame and springs from jumping mat, making it very safe for anyone using it. IF 14ft is too big, do not worry as Plum Magnitude is available in five sizes.
Specifications:
Frame: Galvanized 1.5mm thick steel frame with 4 W shaped support legs, secured with push-button locking system. The total height of the frame from the ground is 89cm so buying a ladder is advised if smaller children will be using it.  The total diameter of the Plum trampoline is 426cm.

Springs: 80 zinc-coated steel springs

Mat: Permatron mat,

Enclosure: Plum 3G Enclosure with its curved design maximizes jumping space but at the same time protects jumpers from jumping onto springs. The enclosure is fitted with an all-black netting that includes a top rim to ensure maximum stability, even when jumpers land onto it.

Trampoline pad: 20mm thick foam enclosed in PVC.

Other: Comes with spring loading tool
Assembled size:  L4.26 x W4.26 x H2.50m
---
Ultrasport 10 foot round trampoline
Recommended for: Age 4-8
This very nice trampoline model comes from Ultrasport. It's midsized and very adequate for smaller backyards or if you simply prefer to have a smaller trampoline than the usual 14 or 16 feet.
The frame is made from galvanized steel construction supported by 3 W-shaped legs, with a total height of frame 80cm from the ground. It comes with 54 springs that are well-made and provide a satisfying bounce thanks to their 6-inch (140mm) length. They are galvanized and won't rust when left outside.
Ultrasport have included handy training instructions so that you can see better gains in the shortest possible time.
The enclosure poles are curved away from the net, which adds an extra layer of safety. The enclosure is of good quality overall, with galvanized tubes 25 mm thick. The mat is made of polypropylene and is coated with UV resistant material for extra longevity.
This model is some 10 to 20 per cent more expensive than other generic trampolines of the same size, but we believe the quality is well worth the price premium. The trampoline arrived well-packaged and the instructions are manageable, which cannot be said of many other trampoline models. It does take up to two hours to assemble so make sure to take your time and don't rush it; it's best if two people were to assemble it.
The 120 kg weight limit should be enough for most of the users – more than one person shouldn't bounce on the trampoline anyways.
This trampoline is a good choice if you're worried about the enormous footprint larger trampolines have and prefer a more space-effective option.
Other accessories, such as the anchor kit, can be bought separately.
Specifications:
Total height: 96.5in (245 cm)
Surface area (in/cm):  122.5in (311cm)
Ring diameter: 120in (305cm)
Jumping area: 103.5in (263cm)
---
Cortez Premier 10 foot round trampoline
Recommended for: Age 6 -12

Available in two colours, black and green (cheaper version but not so eye-catching), Cortez "Premier" trampoline is a good choice for smaller children, up to 12 years of age.
Specifications:
Frame:  38 x 1.3mm thick, connected to 3 w shaped support legs. The total height of the frame from the ground is 80cm

Springs: 54 pieces of zinc plated and heat tempered steel springs, 7″ (178mm) long.

Mat: Made from Permatron Polypropylene, UV resistant mat. Permatron is generally considered one of the best mats available.

Enclosure: Enclosure fully surrounds the trampoline so no worries about falling off! The entrance has a zip lock and extra clips for easy entry & exit. The top of the enclosure is additionally reinforced with a fibre rod pole.

Trampoline pad: Made from UV resistant Gortex

---
Woodworm 10 foot (3.05m) round trampoline
Weight limit: 150 kg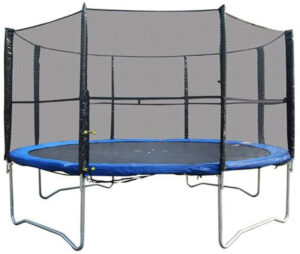 Recommended for: Age 6 – 12
This is another mid-sized trampoline, this time by Woodworm, a company that makes various sports equipment and apparel.
Is their trampoline up to par?
Well, mostly yes, with a few caveats. It's a good trampoline for the price. It has galvanized steel tubes and springs that ensure it stays rust-free. The polyester mat is coated with UV resistant material and we are very satisfied with the posted 150kg weight limit – this is very, very good.
The trampoline looks classic and nothing out of the ordinary. The standard blue colour is dominant here, but the nice black enclosure mesh lifts it a bit. The enclosure, by the way, is good. The poles have a thick cover of foam so you won't injure yourself even if you strike it.
You also get loads of extras – the enclosure, a ladder and a waterproof trampoline cover, which is nice. The price is also keen.
So what's the problem?
Nothing in particular. If you can live with horrible instructions and shoddy packaging, you've found yourself an excellent bargain. There have also been reports of some parts missing and arriving damaged. But still, we would like to stress that the trampoline is of excellent quality once you set it up. The main difference between this and other higher-end brands is the level of polish, so to say. This trampoline would then be the rough diamond of sorts. If you don't mind tinkering a bit but want quality and affordability, this is the one to get.
Recommended – best buy.
Specifications:
Safety Standards: meets EN safety guidelines.
Included in set: Safety net, trampoline ladder and trampoline cover included
Frame diameter: 10 feet (3.05M)
Frame height: 2.49 feet (760mm)
Safety Enclosure Height: 6 feet(1.83M)
Packing Dimensions: 164 x 44 x 27 cm
Gross Weight: 52kgs
---
Zupapa 15 ft. (4.5m) Round Trampoline
Weight limit: 170 kg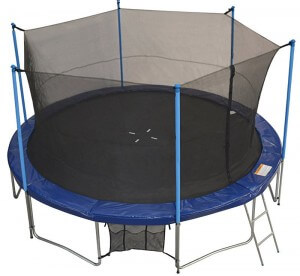 Recommended for: 8 and above
As one of the trampolines which were in the USA awarded as one of the top 20 trampolines, from this British version of Zupapa trampoline we expect nothing less. Same as for the US market, this trampoline set features several add-ons which other manufacturers sell separately – spring pool tool, ladder (made from deep galvanized steel, so no worries about possible rust),  shoe bag, rain cover! Well rounded set, we might add.
Regarding assembly, this trampoline requires no drilling whatsoever and can be assembled by one person in under 2 hours. The great manual helps a lot.
Specifications:
Frame: 42mm in diameter by 1.5mm (thick) deep galvanized steel frame.

Springs: 7-inches long, 108 steel rust-resistant springs. 7-inch springs are considered standard for 4.06m trampolines and will most certainly provide high jumps and a good overall experience.

Mat: Standard PolyPropylene (PP) UV resistant mat.

Enclosure: Enclosure is tied directly onto the mat, leaving springs inaccessible for jumpers. If you worry that this kind of design will only make jumping space smaller, do not as with 4.03m trampolines you will certainly have more than enough room to jump.

Trampoline pad: 13-inches wide PE+PVC padding for the frame, filled with 0.8-inches thick foam. Padding for enclosure poles is also filled with foam, 1cm thick.
---
FoxHunter 14 ft. Round Trampoline
Weight limit: 200 kg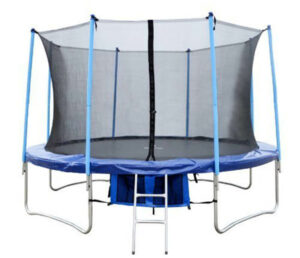 Recommended for: 8 – 20 y.o.
Foxhunter 14 ft trampolines come with an enclosure and shoe bag and guess what, you will even get a free space hopper (bounce ball) which will make the youngest ones even happier.
Specifications:
Frame: Frame is made from galvanized steel, which makes it rust-free and guarantees longevity of this vital part. As you may know, the trampoline frame is one of the most important parts when it comes to sturdiness and stability. FoxHunter 14 ft. round trampoline is made from 38.1mm x 1.5mm steel tubes, whereas connecting joints are the same size.
Mat: Trampoline mat on first look looks as 6-times sewed (will be checked from the manufacturer and updated accordingly) mat made from PE. Mat is UV resistant so no worries if you leave it on the sun, rain or any other weather conditions. OK, don`t leave it on snow as it will surely decrease the overall lifespan. Mat is made and imported from the US.
Enclosure:  Enclosure is made from PE mesh, the same material as a mat. It has small holes only 4×4 mm wide. The enclosure is fairly good so no worries there.
Padding: 15mm thick and 26cm wide foam pad with a top layer made from UV resistant PVC. Bottom layer PE!
Assembly: This trampoline lacks a good manual as this one is a joke. If this is your first trampoline then you will have problems putting it together. I  would advise you to check the assembly manual from any other respected manufacturer, from UK or US, all the same. Also, the latest reports stated that there are severe issues with the trampoline frame, but only on the 12 ft. model of FoxHunter trampoline. Anyway, the trampoline itself can be assembled in 2 hrs, extra hands preferred.
Warranty: Foxhunter offers 12 months of limited warranty on the trampoline and all parts except space hopper and shoe bag,
---
Rebo Fun Jump v3 round trampoline
Weight limit: 120 kg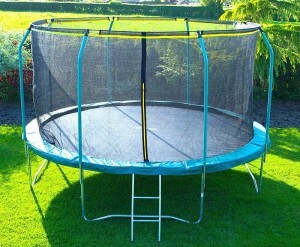 Recommended for:  Age 6 – 14
From Rebo, a well-respected trampoline manufacturer who hit the market with a successful Fun Jump trampoline comes a redesigned, 3rd version of Fun Jump. Fun Jump v3 not only comes with new colours to choose from but reinvents some parts of the trampoline, like adding fibre technology to reinforce their trampoline enclosure.
Specifications:
Frame: 38 x 1.5 mm steel tube frame with a total height of 88 cm. Total of 4 W shaped legs.
Springs: 72 pieces of zinc plated and heat tempered, 7-inches (17,8 cm) long trampoline springs
Mat:
Enclosure: fibre reinforced HALO enclosure. The total height of the enclosure is 250 cm. Included in the set.
Trampoline pad: 20 mm thick padding made from Polyethylene (abbreviated PE)
Rebo Fun Jump v3 trampoline comes with 1-year manufacturer guarantee, easy to follow assembly manual and toolset needed for installation.
Did we mention that the trampoline ladder and weather cover are included in the set, free of charge!?
---
Parts of trampoline
If you want to own a trampoline then knowing something about the parts it's made is essential. Maybe it doesn`t matter how thick or thin the frame is or how many springs it has, it is a trampoline at the end…right? Wrong. Read on…
The trampoline frame is the very foundation of every trampoline, as top rail and legs are usually made from galvanized, rust-resistant steel (can vary, but mostly only kids trampolines are made from hard plastic). Frame thickness, together with legs provide stability for the trampoline as a whole, where more legs usually mean a more stable trampoline. It is a part which mostly comes with a 10-year warranty, as it will, most likely, last longest.
Springs and Importance of spring count and length on jump experience.

What is more important, a trampoline mat or springs? Is it that difficult to guess? Well, not really. Mat is an important part of the trampoline but what people don't understand is that mat can't be very stretched. It is springs that provide all the bounce, meaning that springs are solely responsible for the height you will reach by jumping on a trampoline.
Trampoline Pad – Safety first with good quality padding!
Hitting the edge or poles inside the trampoline is not something you would like to do. So, padding which covers all those solid parts is there to help.
Safety Enclosure – Do you need enclosure netting?
75% of accidents happen because of one stupid reason – no safety netting on the trampoline so people hurt themselves by falling off the trampoline. Do you still think you don't need an enclosure?
Is safety a real issue? What are potential hazards?
As safety is the #1 issue when it comes to trampolines, where using one comes with a lot of advantages but also disadvantages, you need to think clearly before buying one for your child. But when you do see all the benefits trampolines has to offer, you will not think long.
When a trampoline arrives at your home first thing you should do is have a nice conversation with your child, explaining to them what is and what is not safe to do.
Why not buy a cheap trampoline?
Well, if you read the paragraph above, then you are well aware of the potential hazards that come with trampolines. Cheap trampolines not only are not nearly as safe as high-end trampolines, but they can also sometimes be a real threat to your child's safety.