10 Best Mini Trampolines & Rebounders in the UK – With Buying Guide!
When it comes to trampolines, nothing is as simple as it seems. Trampolines can be a lot of fun but also serve as a great exercise option. This is doubly so for mini trampolines, many of which are made precisely to serve this function. Mini trampolines are often referred to as "rebounder trampolines" or "mini fitness trampolines".
Possibly the most asked question we receive is – What is the difference between a rebounder and a mini trampoline? – and the answer is pretty straightforward, there is no difference. Rebounder is the same as a mini trampoline or fitness trampoline, where all of them are referred to as smaller versions of regular outdoor trampolines.  But while they were more and more adopted in gyms as exercise equipment, on which rebounding exercises are being performed, the term "rebounder" came to life. So basically when we talk about rebounders we think about better mini trampolines, performance-wise but they both do fall in the same category. Do not let this confuse you! Click here to learn more about different types of trampolines.
FIT BOUNCE PRO II




Weight limit: 135 kg (21 stone)
Rebounding area diameter: 63cm (25")
Springs: 30 x Bungee elastics (2.5 inch diameter cords)
Can be folded: Yes, half-folding design

Rebound UK Pro Gym Rebounder



Weight limit: 150 kg (24 stone)
Base diameter: 102cm (40 inches)
Rebounding area diameter: 70 cm (27,5")
Springs: 36 springs, 4.5" with hooks
Can be folded: No, only 6 chrome collapsible legs
Height: 26 cm

MaXimus PRO Rebounder



Weight limit: 130 kg (20 stone)
Base diameter: 101cm (40-inches)
Rebounding area diameter: 69 cm (27-inches)
Can be folded: Yes, quarter folding design

Pro Urban Rebounder



Weight limit: 100 kg (15.5 stone)
Base diameter: 101cm (40-inches)
Springs: 32 jumbo springs
Can be folded: Yes, quarter folding design



Tunturi Fitness Trampoline



Weight limit: 140 kg (22 Stone)
Base diameter:
Rebounding area diameter: 70cm (27.5")
Can be folded: Yes

66 Fit Mini Trampoline



Weight limit: 125 kg (19.5 stone)
Base diameter: 90cm (36")

Juice Master's Pro Bounce



Weight limit: 100 kg (15.5 stone)
Base diameter: 112cm (44")
Springs: 36 steel springs
Can be folded: Yes, half-fold design

Confidence Fitness Trampoline



Weight limit: 100 kg (15.5 stone)
Base diameter: 101cm (40")
Springs: 34 steel springs

Gold Coast MIni Rebounder



Weight limit: 80 kg (12.5 stone)
Base diameter: 90cm (36")

Upper Bounce Mini 2 Fold Rebounder



Weight limit: 90 kg (14 stone)
Base diameter: 101cm (40")
Can be folded: Yes
---
BEST Mini Trampolines & Rebounders
Here are our top picks for buying a mini trampoline in the UK. From budget-friendly to upscale models, there really is something for everyone.
---
Fit Bounce Pro II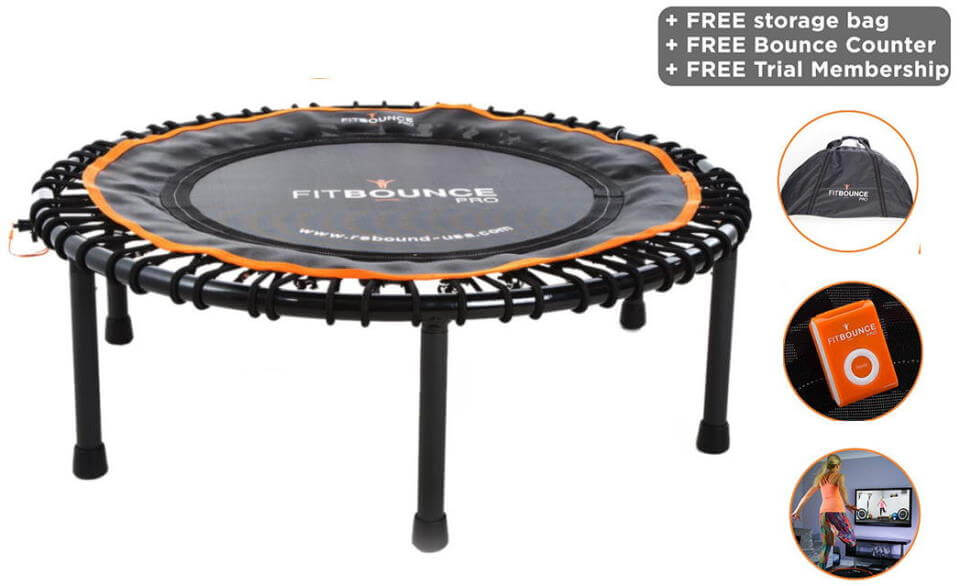 This rebounder by Fit Bounce Pro is the pinnacle of their product range. Unlike many other models of rebounders, this one does not utilize springs for providing bounce. Bungee elastics are used instead, a total of 30. These cords are much safer and the feeling when rebounding is a lot more direct. They are 8 mm thick and are one of the thickest on the market. The bounce is soft, meaning there's less force on your joints and bones. It's also quieter than other spring rebounders we've tested, as there are no springs that can squeak. The cords are elastic and soft so even if you miss the trampoline mat, it's no big deal.
The mat is quality made and won't break soon. Unfortunately, due to the cords, the rebounding area is a tad smaller than with other rebounders – only 28 inches in diameter.
It's a half-folding design and takes a few times for the cords to loosen a bit so it can be VERY difficult to open properly for the first few times. Make sure you've got the muscles or ask someone else to help you! But when folded it's really small and can fit almost everywhere.
There are six legs and 63 cm (25in) of rebounding area diameter. A respectable weight limit of 135 kg (21 stone) means nearly anyone can bounce on it, making FitBounce PRO the perfect mini trampoline for adults.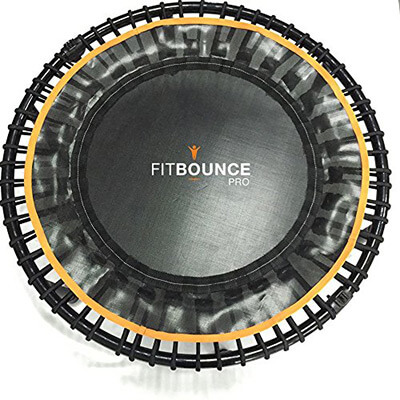 The trampoline comes with two spare cords if some break and a convenient storage bag, so that's extra value. Considering the high-end price, it's the least we've expected, to be honest. It comes with a "bounce meter" that tracks the number of bounces you've done during the training session so you can monitor your progress. Included are two videos and one music download (60 minutes of workout music).
Unfortunately, the stability bar costs extra. The warranty is a year on the frame, 6 months on the mat and 3 months on the cords. It could be a bit longer.
Key Specifications:
Weight limit: 135 kg (21 stone)
Rebounding area diameter: 63cm (25″)
Springs: 30 x Bungee elastics (2.5 inch diameter cords)
Folding: Yes, half-folding design
Overall, this is a capable and good-looking trampoline. It is well-made, sturdy and adequately bouncy. The warranty is phenomenal. The addition of a bounce counter sweetens the deal. It's a nice little unit with hassle-free assembly and a quiet bounce. Fit Bounce Pro is a top-quality trampoline that we would definitely recommend to anyone, but its high price makes it a lot less attractive. Still, if you can afford it, definitely get this one! Our verdict? Excellent.
---
Rebound UK Pro Gym Rebounder
Weight limit: 150 kg (24 stone)
Rebound UK presented us with their model from the Pro line of rebounders. With a standard diameter of 102 cm and a rebounding area diameter of 67 cm, which is a bit above average, the trampoline can fit almost anywhere. The maximum weight limit of 130 kg is also a good indicator of its quality. Almost anyone can bounce on it without fear something will break.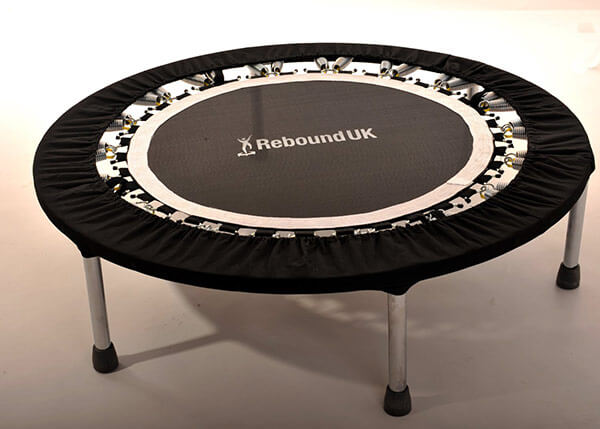 The rebounder looks nice but we would prefer it if the springs were covered with some sort of pad for extra safety…
36 springs are responsible for the bounce, which is gentle and not too loud. It doesn't sound like an old mattress like some bargain bin rebounders can and often do. The mat is non-slip for extra safety. Six chrome-plated collapsible legs keep it safe and stable at a height of 26 cm.
Warranty is the same as with the previous product – a year on the frame, 6 months on the mat and 3 months on the cords. Again, the period could be a bit longer.
Key Specifications
Base diameter: 102cm (40 inches)
Rebounding area diameter: 70 cm (27,5″)
Springs: 36 springs, 4.5″ with hooks
Can be folded: No, only 6 chrome collapsible legs
Height from floor: 26 cm
Unfortunately, the rebounder doesn't come with a stability bar and is one of the highest-priced spring rebounders on the market. It does come with two exercise DVDs to help you get started. It's decidedly good, though, so it's not a bad purchase as it is, but the MaXimus Pro provides a lot more value for a little less money.
---
MaXimus PRO Rebounder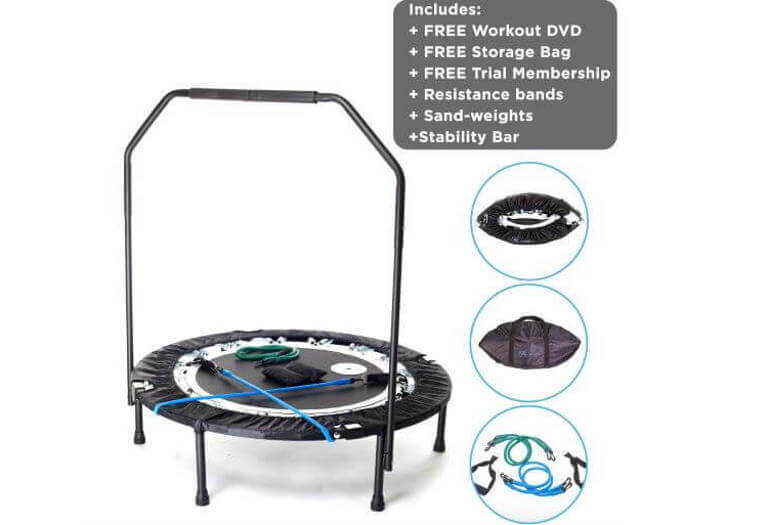 The well-esteemed trampoline star makes a comeback. Maximus Pro is known as a manufacturer of reliable rebounders and this 40-inch model seems to follow suit. A rich accessory package complements the offer, as you'll receive a free handle rail, sand weights, a storage bag and an awesome DVD/online selection of workouts for all levels, from teenagers to seniors. The MaXimus Pro Rebounder represents a great upper mid-range package.
The trampoline folds in half for easy storage and comes with a neat storage bag. The triple-tiered springs are very large (jumbo coils) and provide a safe, responsive bounce that doesn't put a lot of stress on your joints. There is a total of 32 of them and for this size it's quite a lot, considering the size. We have to admit we were very pleased with them as they were not only quiet but very responsive.
The mat is double-stitched for safety and stability. The overall rebounding area diameter is 69 cm (40″), which is a lot considering the size of the springs and the overall diameter of 101 cm.
A 135 kg weight maximum means the manufacturer is confident in the materials used and their strength. The rubber feet are non-marking and can be used without worry in gyms and living rooms.
It is rigid and won't bend or feel wobbly when bouncing as many cheap rebounders can feel.
The warranty provider is Rebound UK, meaning the warranty period is the same as with the previous two trampolines. Maximus Pro folds in half for easy storage.
The bundle is really admirable in its scope and considering the asking price, it's one of the best deals on the market.
Key Specifications
Weight limit: 130 kg (20 stone)
Base diameter: 101cm (40-inches)
Rebounding area diameter: 69 cm (27-inches)
Can be folded: Yes, quarter folding design
We heartily recommend MaXimus PRO for all age groups as it's a perfect sweet spot between high-performance rebounders and home-use mini trampolines!
---
CLORIS Mini Trampoline
This is somewhat of a budget mini trampoline, but still made it into our list as provides some nice features, together with a more than affordable price.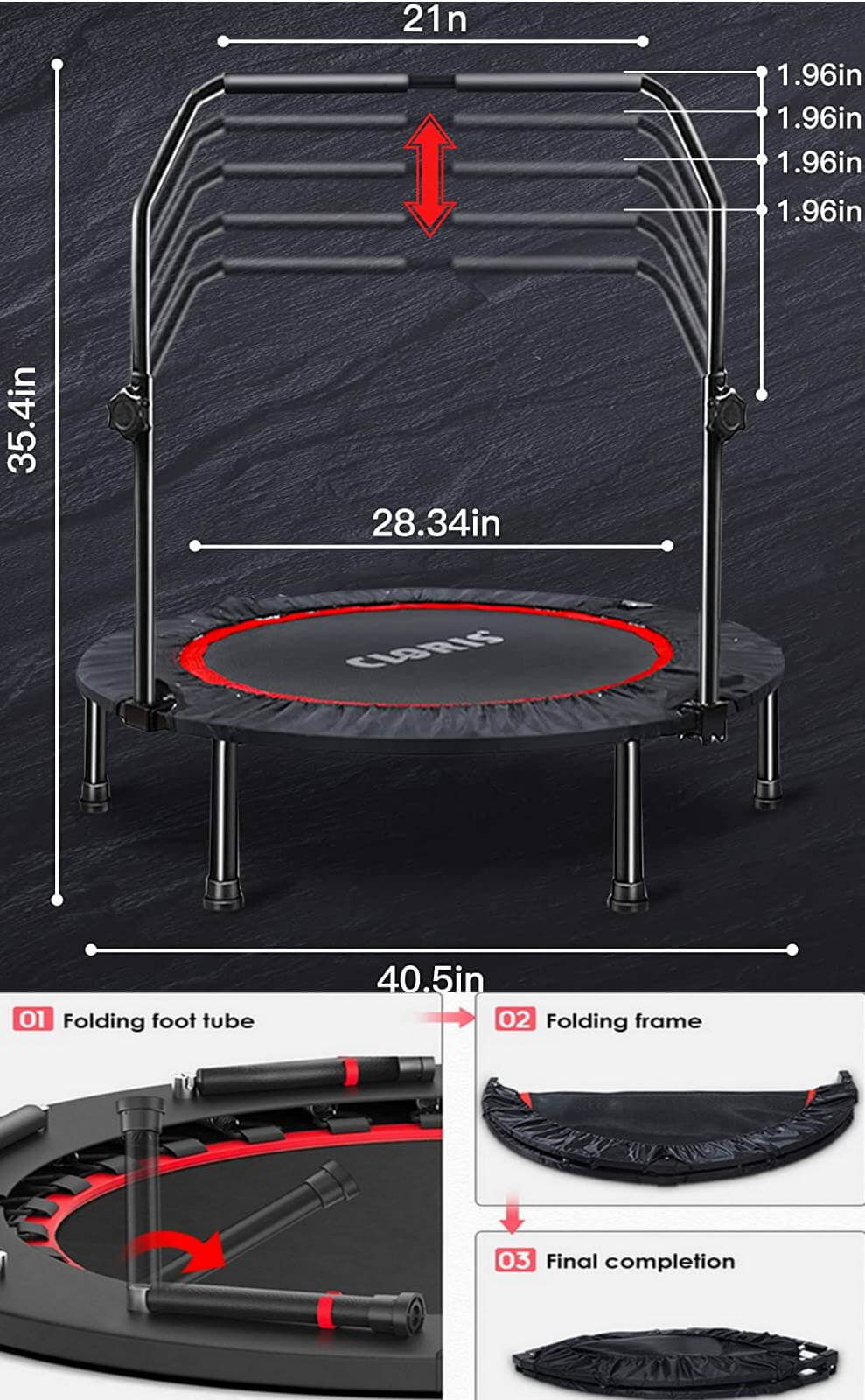 We all know that mini trampolines are one thing that will help with our workout routine, but choosing the right one can be a daunting task. There is so much choice again (it was easier during COVID supply issues when only respectable manufacturers could manage the demand), so choosing the right one in the variety of look-alikes can be really hard. That's why we're here, to help you choose something that will not break the bank but is satisfactory, as every single piece of training equipment should be. With this on our minds, let's continue.
First things first – weight limit. Being capable of handling 180kg (28.85 stone), it's definitely on top, as most of them will barely manage 115 kg (17 stone). But not everything is within the weight limit, as common sense dictates, to be able to handle such weight you will need a sturdy and somewhat heavier mini trampoline. Do you really think that if you put 180kg on 22kg (3.57 stone) equipment it will perform as intended? Most definitely it won't. Do you really think that 24 springs would be able to handle it? It would, but for how long? So let's be realistic here, it will be fine but let's stick to the somewhat lower weight limit, in our opinion, it's 3x the total weight of Cloris trampolines, which is closer to 80kg.
When it comes to springs, they are trying to copy David Halls Celleciser, but definitely don't provide the quality it will be fine for occasional training sessions, but definitely don't expect longevity. It's just not possible, let's take replacement springs for example – if you put it on paper, 24 springs ordered online will be more expensive than a trampoline, so think about it.
When it comes to frame, it's again more suitable for up to 90kg.
Not the best quality, but also not the worst. If you're planning weekly sessions it will do just fine, but for anything more common, we just need to say hard pass – buy something better.
---
SereneLife Portable & Foldable Mini Trampoline
Weight limit: 100kg (15.7 stone)
Size: 40″
The sleek black design of the SereneLife mini trampoline is not only visually appealing but also highly functional. Its foldable and space-saving construction allows for easy storage and transportation, making it a perfect option for those with limited space.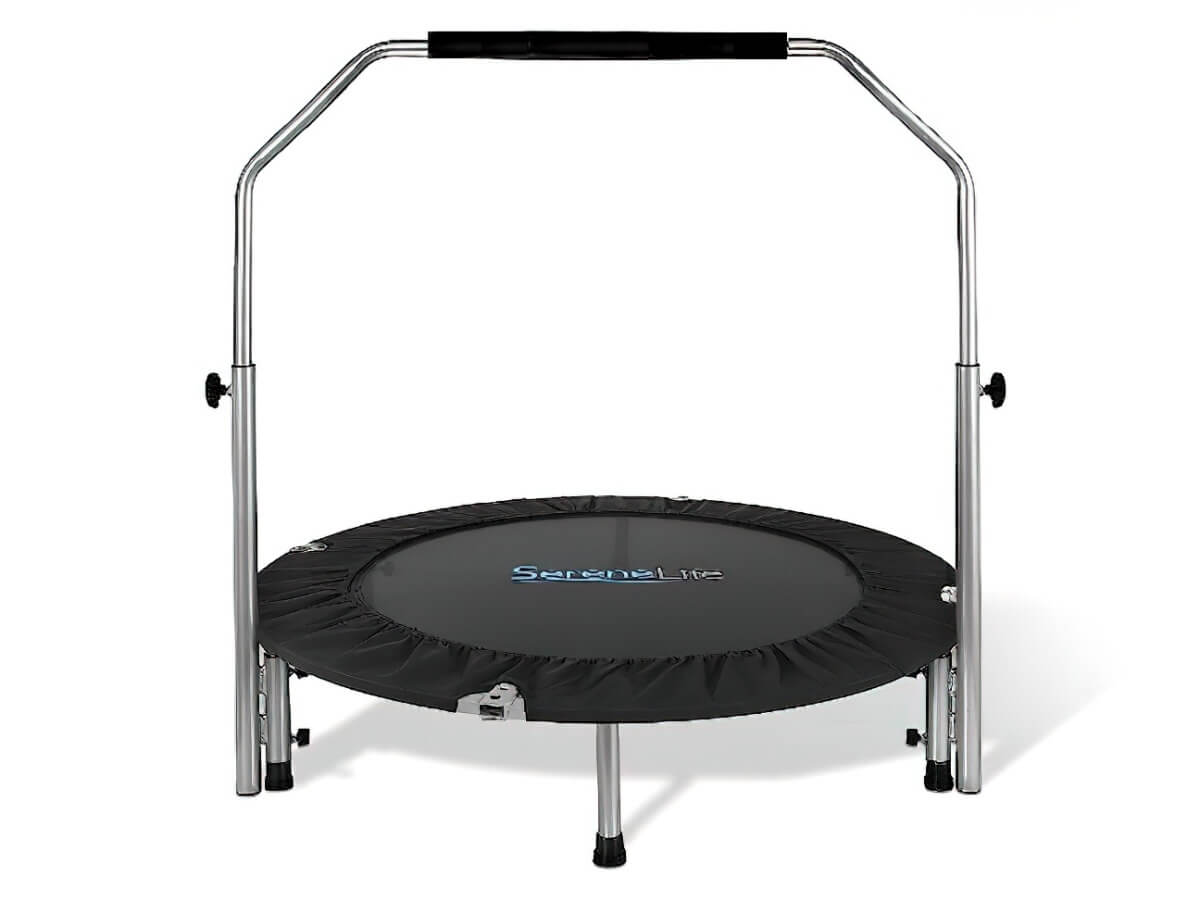 Frame and Padding:
The frame of the SereneLife mini trampoline is made from rust-proof, powder-coated steel, ensuring its durability and longevity. The 40-inch (101.6 cm) frame size is perfect for small spaces, both indoors and outdoors, allowing you to exercise in any suitable location. The frame features six support legs, evenly distributing weight and providing a stable base for your workout. The trampoline's frame cover is padded with PVC material, providing a safer jump surface by protecting users from potential contact with springs or the frame.
Jumping Mat and Springs:
The 29.3-inch (74.42 cm) round jumping mat is made of robust polypropylene material, designed to withstand continuous bouncing. This heavy-duty mat ensures sustained bouncing and allows for a secure workout. The trampoline features high-quality coil springs that provide excellent bounce and elasticity. These springs are secured with the heavy-duty polypropylene jumping mat, ensuring a reliable and enjoyable workout experience. The SereneLife mini trampoline is designed to support a maximum weight of 100kg  (15.7 stone), making it suitable for users of various sizes and fitness levels.
SereneLife comes with an adjustable padded handlebar, ranging from 35″ to 46″ (88.9 cm to 116.84 cm) in height. This feature accommodates users of different heights, offering a comfortable grip for better bounce control and stability during your workout.
---
Kanchimi Mini Trampoline
Kanchimi fitness trampoline is a great all-rounder as it is suitable for most age groups, from teenagers to the elderly. Available from 38 – 45″ in diameter with a 150 kg (23.6 stone) weight limit.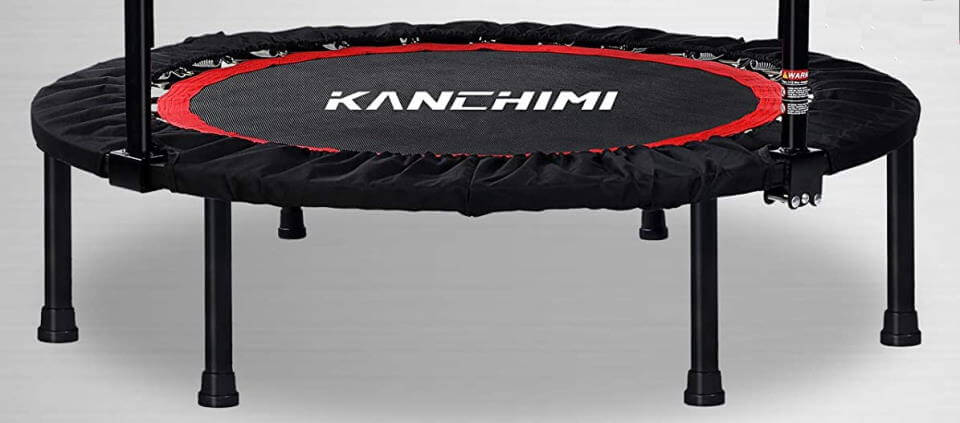 Kanchimi fitness trampoline can be double-folded for easy storage. This is one feature that some cheaper mini trampolines are missing and, if you live in a smaller apartment then it is a lifesaver as you really don't want the trampoline to be in the way when it isn't being used.
One more good thing about Kanchimi is that the handlebar has 5 different height levels, from 68 to 90cm, so no worries if you're a bit taller. This is excellent as most other manufacturers do have only 2-3 height levels, often resulting in adverse effects on posture. Do have in mind that high-tempo exercises (130+ BPM) are best performed without the use of a handlebar.
Mat is made from Polypropylene (PP), thermoplastic plastic material woven in Oxford composition, meaning that it was weaved in a basket structure by weaving multiple fibres together by passing them over one another in vertical and horizontal directions.
---
Pro Urban Rebounder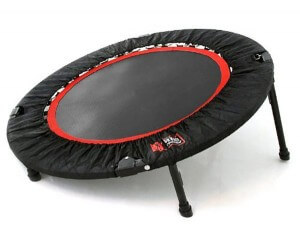 This mini trampoline is touted as "the most robust mini trampoline on the market" by its manufacturer. And they're not that far off – it's certainly comparable in build quality to the best of the bunch.
It is foldable and comes with a stability handle bar and an exercise DVD. As a unique addition, it comes with a special kit (four extra legs) that lets you elevate its legs and use the rebounder in a slightly tilted position. The manufacturer claims it burns more calories that way.
True, but take care if you're a beginner as it's a lot easier to fall off the trampoline that way!
The base diameter is 1020mm or 40 inches and the stability bar is 100 cm (39.5 inches) high.
The mat is durable and the springs are covered for extra safety and good looks. The trampoline is rated for a maximum of 100 kg (although a few more kilos should not be a problem) and has 8 inches of ground clearance. Its six legs keep it stable and sturdy. The warranty is classic for rebounders – a year on the frame, 6 months on the mat and 3 months on the spring cover. The rebounder is intended for ages 12 and up.
If you think you might get good use of its incline position feature, this rebounder won't disappoint you. But if you don't need the feature, other choices might suit you better.
However, there have been general concerns with springs snapping due to long-term use. This has been the case for us on some rebounders, but those were mostly really cheap and flimsy. We feel this is not a common occurrence on this model and should not pose an obstacle when deciding about your purchase.
---
Tunturi Fitness Trampoline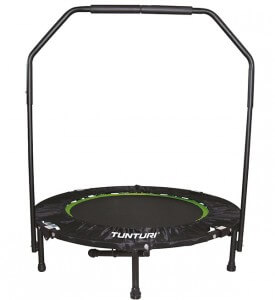 The Tunturi Fitness Trampoline is an interesting package very similar to the Pro Urban Rebounder, but features a lower price while promising an exceptional standard of quality.
The springs are heavy duty and the bounce is responsive, but not too firm so as to damage the joints. The rebounder is foldable but requires a lot of muscle strength to open the first few times.
It comes with a stability handlebar and four extra legs that allow you to set it up for an incline jumping workout. It activates your muscles more than when bouncing on a straight surface, but as with the Pro Urban Rebounder, take care. It can be dangerous if you don't know what you're doing.
Unfortunately, the trampoline doesn't come with a workout DVD, so you will have to look up some exercises on your own. We liked the rated weight capacity of 140 kilos and a 1-year warranty on parts. Some users have reported missing parts in a package, but this is usually swiftly solved by contacting the Tunturi Trampoline Customer Service.
For the price, one cannot complain too much. For a lot less money you can get a rebounder almost as good as the Pro Urban Rebounder.
If you're cash strapped but don't want to sacrifice quality, this is an excellent choice.
---
What is "rebounding"?
Rebounding is a low-impact cardiovascular exercise, a type of aerobic workout performed while jumping on a mini-trampoline. Rebounding exercises are a great way of burning off excess calories. They are a good cardio workout and have many health benefits. Jumping on mini trampoline burns over 400 calories per hour, all up to 1000 with some specific workout sessions. Not only that, but it is a lot of fun as well. It can be done in the comfort of your home. You do not have to leave your house just to exercise. Your motor skills will also improve, along with your sense of balance. Your muscles and bones will strengthen, too. Some also say bouncing every day helps them get rid of negative energy and built-up stress.
What is the best brand of rebounder/mini trampoline?
If you are in the market for a rebounder, which will be intensively used, then some of the better brands are as follows: Jump Sport, bellicon and Cellerciser, alongside Maximus Pro & Fit Bounce Pro, which are somewhere in between high-performance and budget mini trampolines. While we talk about budget versions, then we need to mention BCAN, Ultega, Marcy & Ancheer.
Are mini trampolines good for seniors and Who shouldn't use them?
While there is no age limit in terms of who can use them, there are several safety guidelines, such as people with back problems, injured joints or feet, or people who suffer from a heart condition and similar, so in those cases, it's always good to consult a doctor before using them. Also, be aware of your limits, so always go easy – do a warmup session then continue to basic jog, and only then continue to more intense aerobic exercise.
What to check before buying a mini trampoline?
---
Size / What size mini trampoline is the best for you?
They are mostly made in three different sizes, with few available variations. Those are 36″, 40″, 50″  in diameter, and as mentioned, there are a few models which are in between those. When answering the questions about which one is the best, it's good to know who will actually use it. The smaller size is better for kids, teenagers and skinny people, so the weight of a jumper should be the most important factor when thinking about the size. . While the differences in size are not too big, every inch counts and if you live in a rather cramped space you might not appreciate the extra bulk larger trampolines invariably have. Beware though that by choosing a smaller trampoline you will most likely sacrifice some of the jumping surface. But even the smallest of trampolines should accommodate an average person without any problems.
---
Weight capacity
If you are plus-sized and want to rebound, of course, you can! In fact, it is a great exercise and will likely help you maintain a healthy weight and good general health. There is a thing you must pay attention to while purchasing it, though. Always ensure the maximum weight capacity is not exceeded.
Good trampolines should have a capacity of at least 115 kg (18 stone / 250 lbs), and some of the best ones can bear even more than 140 kg( 22 stone /300 lbs). You should avoid trampolines with less than 90 kg (14 stone / 200 lbs) of maximum weight capacity if you are a larger person.
While exceeding the maximum weight capacity of a trampoline generally does not lead to catastrophic failure right away (though it very well may) and there is some extra leeway left by the manufacturer, it should not be done often as it may cause parts to experience increased wear and tear and ultimately fail prematurely. There is no warranty for such cases and it is best to abide by the manufacturer's claims than to risk it yourself.
Mini trampolines are to be used by only one person at a time, but we generally suggest the same even for larger trampolines as there is a considerable risk of injury due to collisions.
A general rule of thumb is that the more weight trampoline is able to carry, the more expensive it will be due to higher quality parts and better build quality required.

---
Portability
Depending on your needs, you might value your trampoline to be as portable as possible. Most trampolines accomplish that by making use of folding legs or a whole rebounder for easier storage and transport. When you're not using your trampoline, you can simply fold it or just the legs and stow it away behind a wardrobe.
There are various mechanisms for folding and unfolding and some require huge amounts of strength to fold and unfold properly. It is best to try doing it yourself in the store or, if you are ordering online, read our reviews to get an idea of what mini trampoline would suit you best. We would also recommend you to avoid extremely cheap big box store foldable trampolines as their legs are very flimsy and made of thin sheet metal if metal at all. These can present a huge risk, especially if not unfolded well and it can lead to injuries. That is why it is important to look up any model you might want to buy.
If you have enough space, we would definitely recommend you to buy a non-foldable mini trampoline with good, stable legs and preferably with an anti-rust coating. It is not that foldability is inherently unsafe, but it is simply one less thing that could go wrong.
---
Trampoline Features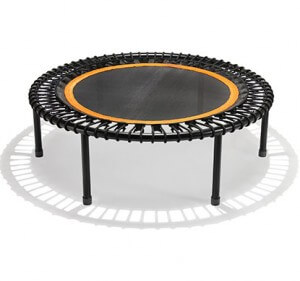 Just because the trampolines are small, it does not mean they should come with a shortlist of features. There are various designs available and your mini trampoline should not look ugly. The most common, run-of-the-mill options (and the cheapest ones) come in a combination of black mat and blue safety pads. But the more money you are able to spend, the better and sturdier the trampolines begin to look.
At a minimum, you should ensure the trampoline comes with anti-slip rubber caps on its legs to ensure stability and safety. Mini trampolines generally have a firmer bounce, but it does not mean they should be reasonably bouncy and not too firm.
The more you move up in price, the better the features become. You should expect more expensive trampolines (over £100) to have an all-steel construction and some kind of anti-rust plating. Springs should also be of better quality and there should be a higher density of them. Some trampolines even do away with springs and use special very elastic bungee cords.
But unfortunately, the corresponding higher cost is enough to turn away some prospective buyers. Even more expensive models come with adjustable bounce firmness settings.
At least six legs are the norm for mini trampolines, and some come with eight to bring more stability.
---
Most mini trampolines are easy to assemble as the parts are neither big nor plentiful. Some even come pre-assembled and just need to be unfolded. Most come with free shipping from online retailers, but even if you buy from brick-and-mortar stores, they should not be difficult to transport in your car.
---
How much do they cost?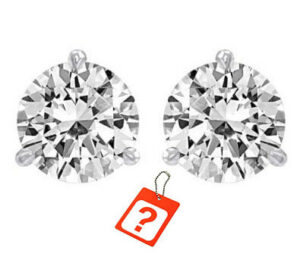 Expect to pay about £30 for entry-level mini trampolines. There are not many that we could recommend and would generally advise you to steer clear of these unless you have personal experience with the product or have read unbiased recommendations and reviews such as those conducted by us on this website. There is nothing inherently wrong with buying a budget trampoline but exercise caution. Best quality trampolines can be found from £200 upwards. They are sturdy and come with long warranties so you can be sure they will last you a long time. It is a significant upfront investment, so you are still advised to do your research and hear our thoughts about them.
Anyway, mid-priced mini trampolines are a real minefield and it is difficult to give a hard and fast rule. Generally, avoid those that are cheap-looking and too similar to those budget big box £30- trampolines. They are likely just marked-up rebrands that prey on unsuspecting and uninformed buyers.
Here are a few tips to help:
Always check the maximum weight capacity
Ensure the warranty is comfortably long
Check the unbiased reviews
Use our trampoline comparison tool
Look for galvanized frames (these frames do not rust as easily)
Look for springless trampolines that use elastic cords (bungee cord rebounders are supposed to give the best lymphatic drainage)
When in doubt, contact the manufacturer about the warranty and spare parts availability
Ensure there is generous safety padding around the mat
Instructions should be included, and they should be clear and detailed
You should always aim for the trampoline to have some kind of warranty. The longer, the better. You can generally get a good overview of a trampoline's quality by the length of the warranty. While it's not always the case that a short warranty means a bad trampoline, it is a cause of concern. Why purchase a trampoline that even the manufacturer does not believe in?
The length of the warranty varies by price range and manufacturer.
Expect the cheapest ones (£30-£40) to have a 60-day warranty, if at all. Some have 90-day warranties on the mat, springs and other parts and are a bit more generous on the frame with at least a year's warranty. Generally, warranties on frames are longer than those on the mat or springs, as these can be realistically expected to fail after use. However, more expensive trampolines will generally have 10 year or lifetime warranty on the metal frame, at least two years on the mat and at least a year on the springs, with some offering five and two years, respectively. The springs are the first part to fail, especially on the cheaper trampolines.
---
For some customers, it is very confusing when shopping for a rebounder as there are so many mini trampolines on the market. And they are suitable for some people. But have in mind that cheaper mini trampolines will not allow you to get all the amazing fitness benefits that are achievable from rebounding on a fitness trampoline.