Mini trampolines, also known as rebounders, are an excellent choice for individuals seeking a low-impact, engaging form of exercise. While you might think that bouncing on a trampoline is an activity reserved for children, you'd be seriously mistaken. There are slight differences between bouncing on an outdoor trampoline and jumping on a mini trampoline indoors. Bouncing on a small indoor trampoline is called rebounding. The exercises consist of a small and quick series of jumps intended to lift you just a bit from the surface of the trampoline, not launch you airborne as with regular trampolines. As an expert in mini trampolines, I can attest to the importance of incorporating high-quality rebounders into a comprehensive fitness regimen.
Measuring up to 4 feet in diameter, mini trampolines are specifically designed for indoor use, providing a versatile workout option suitable for a wide range of fitness levels. Their low-impact nature makes them particularly beneficial for individuals with joint or bone sensitivities, as trampoline exercises minimize stress on these areas, allowing for extended, pain-free workouts.
In addition to being enjoyable and adaptable to various indoor settings, mini trampolines are a cost-effective and healthier alternative to other fitness equipment, such as treadmills. Many mini trampolines feature a foldable design, making them convenient to store when not in use.
A cheap and low-quality rebounder can pose a serious safety risk, in addition to reducing the effectiveness of your exercise regime. But to ensure your time doesn't go to waste, we took the trouble of testing and reviewing the mini trampolines available on the Canadian market, and we've compiled a top-10 list of the most popular and best-performing rebounders on the market. We took everything into account – the pricing, performance, looks, warranties, and more, so you can be confident in the impartial nature of our reviews. Read on to find out which rebounder would suit your needs the best, and remember – the earlier you begin exercising, the more benefits you'll reap!
---
TOP 10 Best Rebounders and Mini Trampolines available in Canada
FIT BOUNCE PRO II Rebounder
Weight limit: 300 lbs (135 kg)
Changes from the previous model are mostly cosmetic; if it ain't broken, don't fix it, as they say. And there was no need to change much, as the underlying product wasn't behind in quality compared to its competitors.


The trampoline is very sturdy for such a small (40 inch) rebounder, with a humongous 300 lbs (135 kg) weight limit. That's some thick steel they put there to withstand those forces.
What's more, the trampoline folds in half and its six legs are removable. It will take two people to do it safely, though. It folds only halfway, like a taco, so it won't get as small as quarter-folding trampolines, but it's good enough for occasional transport. You wouldn't want to fold and unfold it every day, though: its folded state is mainly engineered for safe and easy storage.
Design. When it comes to looks, it's quite a looker with its semi-transparent spring skirt with orange details. The bungee cords are in plain sight, giving it a futuristic look. Sadly, this is detrimental to overall safety, as limbs may get tangled in between the cords. The cords are very soft, though, but we wouldn't want to risk it.
The bounce is very quiet, almost silent while being smooth and resilient at the same time. Two extra bungee cords are provided if the current ones get snapped or worn out. There are 30 springs in total.
Its six legs are spring-based with a clip-in design, meaning no screwing is required.
The trampoline comes with a nifty storage bag, an exercise DVD, and a pedometer. The handlebar is sold separately. The pedometer (bounce counter) is a nice addition that lets you track your exercise progress. You also get a free music download letting you get 60 minutes of workout music and three months of free online video membership to their 'Bounce and Burn' streaming service.
The customer service is very helpful and they are glad to answer any queries. The well-designed manual makes assembly a breeze. Spare parts are available from the manufacturer. The warranty is excellent – a lifetime warranty on the frame and three years on the rest! Additionally, the customer service is very helpful and forthcoming.
Check Fit Bounce PRO Amazon CA price
---
MaXimus Pro Quarter Folding Rebounder
Weight limit: 135 kg (300 lbs)
Size: 40″
A quick look at this trampoline set the bar very high. Originally British, this model sold very well in the US, and we expect it to perform similarly in Canada. The feature set is rich and the rebounder makes a lot of promises. But can it deliver?
It sports a very classic design, but that's a design that exudes confidence. A non-slip black mat and safety skirt are accented with silver frame parts.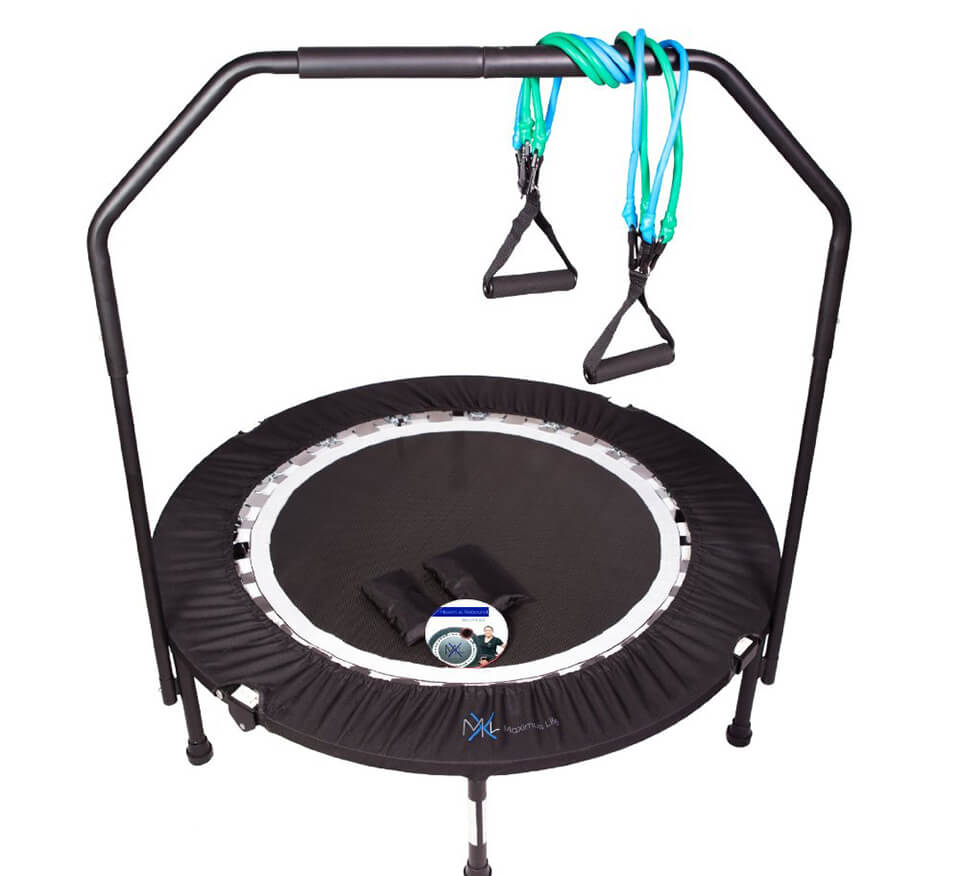 The bounce is excellent for the purpose. We are fans of old-school springs, 36 in this case, and this one has large enough springs that facilitate quick rebounding with minimal stress to the joints. They do squeak a bit at first – much more than the elastic cords – but you get a small jar of lubricant to lube up the springs so they stay quiet. You'll have to do it now and then for optimal performance – Vaseline works just fine.
It comes with a handlebar set 36 inches from the jumping surface. The rebounder is stable and sturdy, and the legs don't wiggle around – neither does the handlebar.
We weren't surprised by the high weight limit of 300 lbs (135 kg), as the rebounder is constructed of good quality, high-grade parts. The weight limit is as advertised, and can be safely used by individuals within that limit.
The trampoline is foldable. You can fold the legs against the bottom of the trampoline and fold it in half for storage. Well, you can't. It takes *two* people to do it as the springs resist hard – it's their job, after all. It comes with a nifty storage bag to protect it against dust and bugs, but you can also use it to carry it around if need be, as the trampoline is very small when properly folded. It's not the easiest rebounder trampoline to carry, though, as it weighs 12 kilograms.
As an added value, you get lots of stuff. First, take a look at a workout DVD with three plans and exercises to try out, ranging from beginner to advanced exercises. Some of these can be quite demanding for beginners, so consider yourself warned.
You also get a set of resistance bands and sand weights for a wider selection of exercises you can perform. There's a lot in the package. It's also easy to assemble and the instructions are top-notch; so is the customer service. All parts are replaceable so this can be considered a long-term investment of sorts.
The trampoline should be registered online for warranty claims. The warranty is a tad lacklustre, with a year on the frame, 6 months on the springs and the mat, and three months on everything else.
However, we were delighted with the price tag. The asking price is very fair for such a premium, well-made piece of exercise equipment with tons of extras. If you're looking for a good all-around rebounder that will keep you in motion for a long time to come, you've found your match.
Pros:
Lots of accessories
Quality made
Nice bounce
Good instructions
Cons:
---
Marcy Cardio Trampoline Trainer (40")
Weight limit: 115 kg (250 lbs)
Our Rating: 4/5
Marcy is a sub-brand of Impex, itself a fairly unknown producer. There is quite a tradition to the company, and it's all health and exercise-related, so we aren't just talking about a reseller of generic Chinese rebounders.
The trampoline doesn't look too exciting, with various shades of black, but it doesn't lack refinement and it doesn't look like it would break if you look at it the wrong way.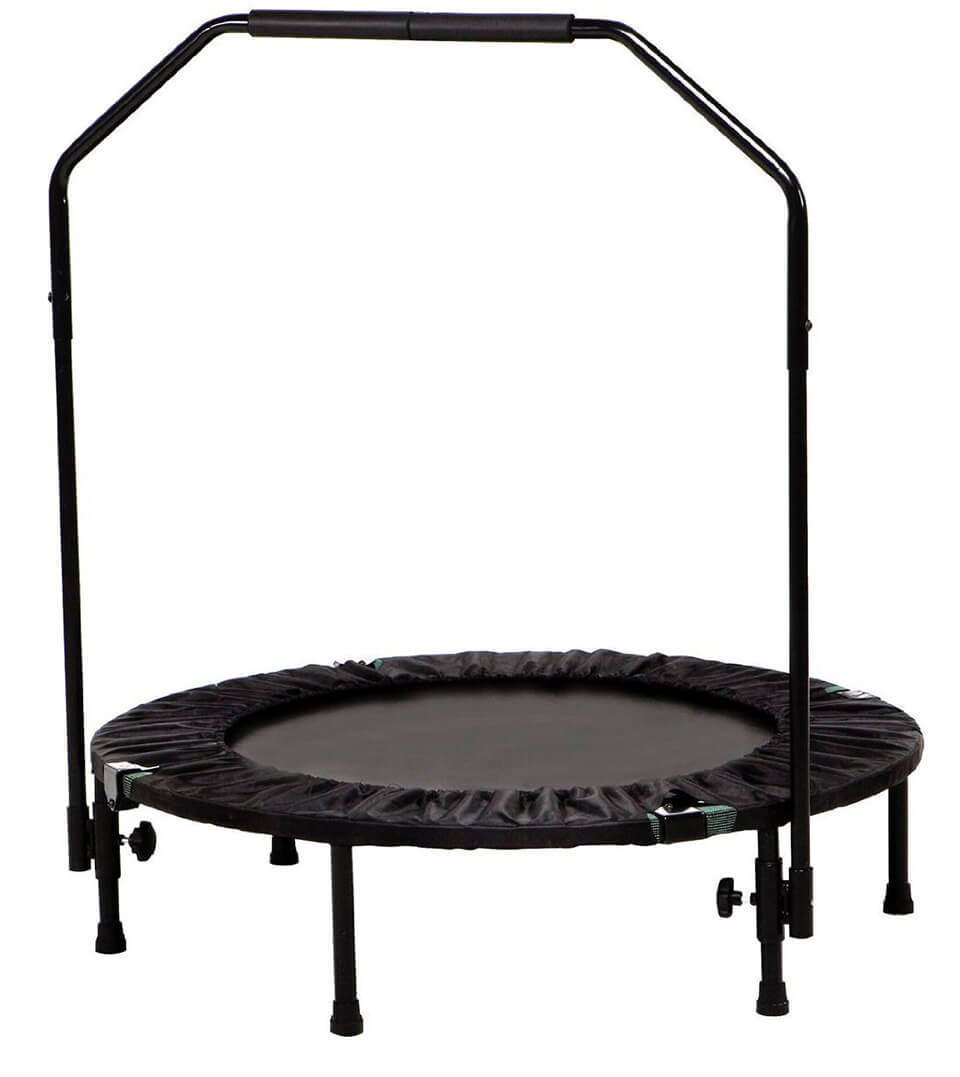 This 40-inch trampoline comes with a hefty weight limit of 250 lbs, but as with the previous model, the Stamina 36 inch trampoline, we'd advise you to take it with a grain of salt. While it seems to be sturdily built, we came across some reports of legs breaking, even with regular usage patterns. The legs are generally stable and we experienced no unexpected lateral movements while rebounding. Due to elastics, the rebounder is very quiet, without squeaking sounds.
There are no metal springs, elastic rebound bands are used instead. This has become somewhat of a trend lately, and we feel the choice mostly comes to your personal preference, as the bouncing feel is somewhat different. Bungee springs are more elastic and bouncy, but gonna bottom out sooner and can't rebound as fast as spring-based mini trampolines, but in this case, there isn't as much bounce. Bear in mind that these elastic cords need replacing more often, as they're not as sturdy as metal springs.
The safety bar can be moved up and down, but not by much. 30 inches from the mat is its lower setting, and it can go about 5 inches up, but it does let you perform a wider variety of exercises. Bear in mind that you should take down the bar if children are bouncing, although the manufacturer has intended the trampoline for ages 13 and up.
We liked how the trampoline is folding 4-ways, saving a lot of space. However, it's difficult for a single person to fold and unfold. The installation of a handlebar is also very difficult, more so due to the practically useless instruction booklet. You do get all the necessary tools, including the Allen wrench. The handlebar has too much give even if you tighten it down well, it annoyed us to no end.
The rebounder doesn't come with any exercise instructions or CDs. Take care that you don't tear off the cover during installation, but it will deteriorate with use anyway. The warranty period is surprisingly good, lasting for two years from the date of purchase.
Overall, we found that, while the trampoline performs adequately, it did not impress us. There are better competitors around offering much better performance for your money – it simply feels too budget for the asking price. You do get a handle bar with this model, and it's fairly large, but don't expect too much.
Pros:
Comes with handlebar
4-way foldable
Quiet
Cons:
Check Stamina price on Amazon CA
---
SereneLife Portable & Foldable 40″ Mini Trampoline
Weight limit: 115 kg (250 lbs)
Size: 40″
The sleek black design of the SereneLife mini trampoline is not only visually appealing but also highly functional. Its foldable and space-saving construction allows for easy storage and transportation, making it a perfect option for those with limited space.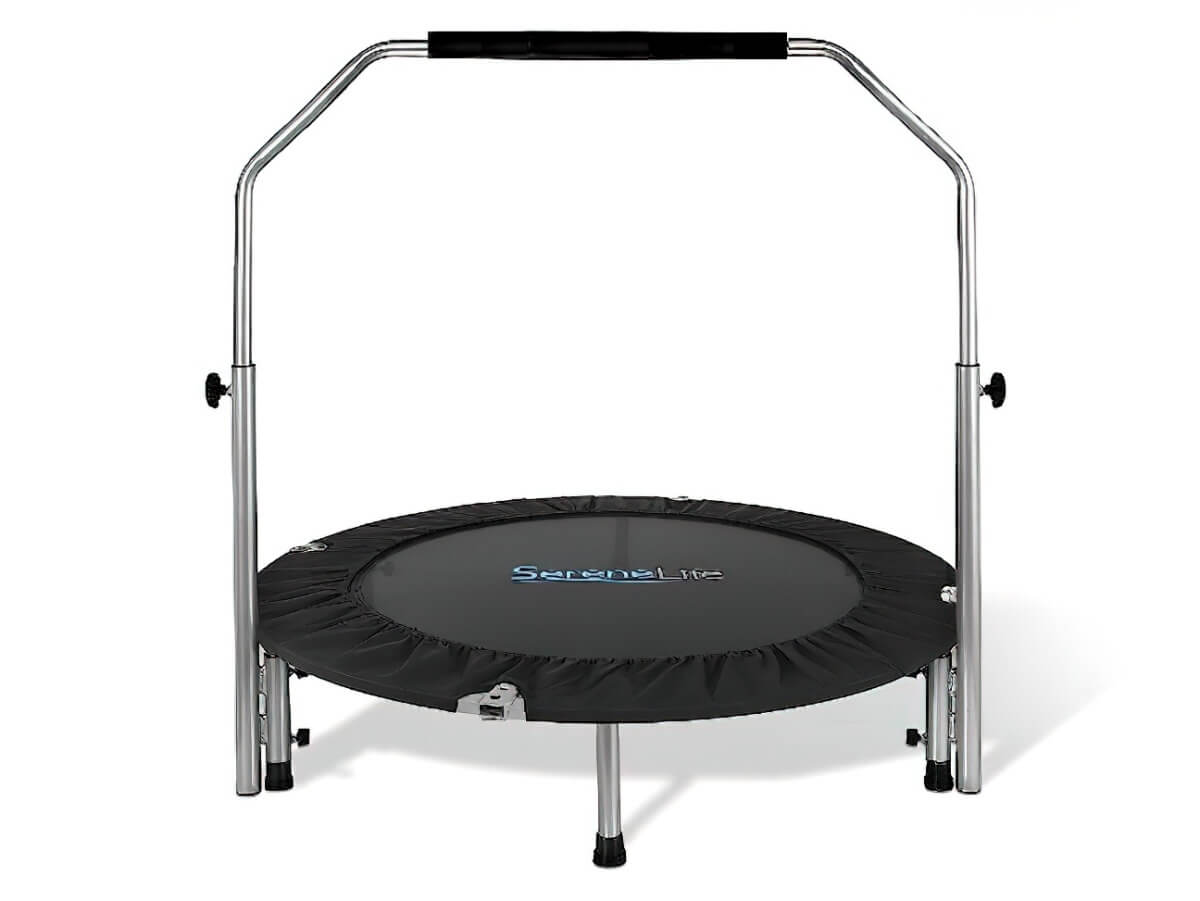 Frame and Padding:
The frame of the SereneLife mini trampoline is made from rust-proof, powder-coated steel, ensuring its durability and longevity. The 40-inch (101.6 cm) frame size is perfect for small spaces, both indoors and outdoors, allowing you to exercise in any suitable location. The frame features six support legs, evenly distributing weight and providing a stable base for your workout. The trampoline's frame cover is padded with PVC material, providing a safer jump surface by protecting users from potential contact with springs or the frame.
Jumping Mat and Springs:
The 29.3-inch (74.42 cm) round jumping mat is made of robust polypropylene material, designed to withstand continuous bouncing. This heavy-duty mat ensures sustained bouncing and allows for a secure workout. The trampoline features high-quality coil springs that provide excellent bounce and elasticity. These springs are secured with the heavy-duty polypropylene jumping mat, ensuring a reliable and enjoyable workout experience. The SereneLife is designed to support a maximum weight of 220 pounds (99.79 kg), making it suitable for users of various sizes and fitness levels. This weight limit ensures that the trampoline remains stable and secure during your workouts, providing a safe and enjoyable exercise experience.
Handlebar:
The SereneLife mini trampoline comes with an adjustable padded handlebar, ranging from 35″ to 46″ (88.9 cm to 116.84 cm) in height. This feature accommodates users of different heights, offering a comfortable grip for better bounce control and stability during your workout.
In conclusion, I highly recommend the SereneLife Portable & Foldable 40″ Mini Trampoline for Canadians looking to incorporate a reliable and adaptable workout option into their fitness routine. Its well-designed construction, secure jumping surface, adjustable handlebar, and suitable weight limit make it a versatile and valuable choice for users with different fitness goals and preferences.
Check Stamina price on Amazon CA
---
Sunny Health Folding Fitness Trampoline, 40"
Weight limit: 115 kg (250 lbs)
Size: 40″
We had the opportunity to try out this 40-inch trampoline with a very cheerful name. Is it cheap and cheerful enough for you, dear trampoline purveyor? Well, read on to find out.
The trampoline is a standard-looking 40-inch trampoline with 28 inches of the bouncing surface. We're not expecting miracles when it comes to the looks of rebounders, but just a bit of creativity could go a long way. Be that as it may, it's not unpleasant to look at.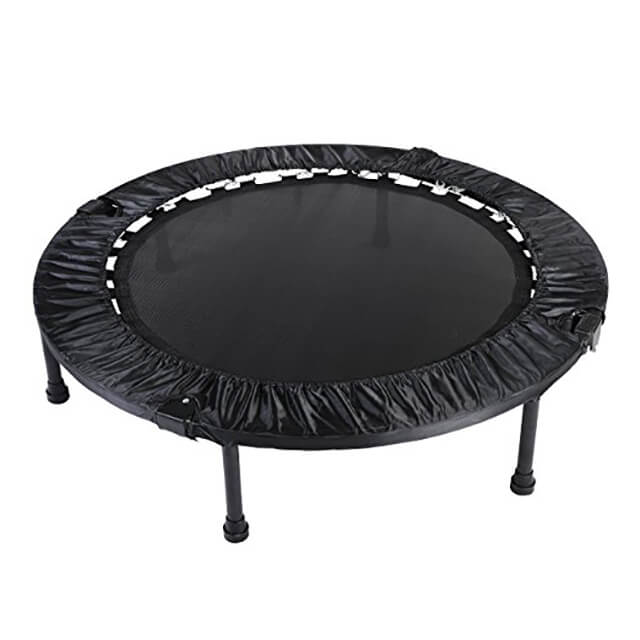 The manufacturer claims a weight limit of 250 lbs, and it seems about right. They also warn against using it outside. The stability bar is weirdly made, almost going through the center of the trampoline, which limits its usability. It can be adjusted to 40, 45, and 50 inches from the surface. The mat is made of polypropylene, the standard among trampolines.
There are 32 metal coiled springs in total. We felt that you can use this in an apartment as they aren't too squeaky, but they can be lubricated if you find them too noisy. Sometimes these springs can unhook, especially after folding, and they're extremely difficult to hook back manually.
There's a total of 13 parts to set up. Make sure to find a companion to help you unfold the trampoline. It's mighty difficult to do alone. The instructions are rather basic but functional and understandable. The assembly went without major issues. There are no tools in the box, as they aren't needed for assembly. The rebounder comes with a storage bag. We are easily won over with these simple accessories that make your life so much easier; however, you don't get any exercise DVDs – off to youtube with you!
While the rebounder is technically able to fold, the legs aren't, so you'd have to disassemble them. This is time-consuming so you might want to opt for something more user-friendly if space is at a premium at your home.
Note the 90-day warranty, which isn't top-notch, but the company is reputable and they can be reached and contacted easily. The replacement parts are pricey compared to the cost of the trampoline as a whole.
While serviceable, we weren't too excited about this trampoline: there have been reports of inconsistent quality and the warranty is short. However, nothing was particularly wrong with our model and we were okay with how it performed. You essentially get a basic, 40-inch rebounder without too many accessories. If these drawbacks don't concern you too much, you might find this trampoline adequate. We also feel it's good for undemanding users that think a 36-inch trampoline such as the Stamina reviewed above is too small.
Pros:
Solid all-around performance
Price
Cons:
Inconsistent quality
Short warranty
Difficult to fold down
---
Jumpsport Model 250 Rebounder
Weight limit: 100 kg (220 lbs)
Size: 39″
JumpSport is a manufacturer widely known for its quality trampolines with original design and high-grade parts. They have made quite a name for themselves with quality customer service and watertight warranty agreements. We were eager to try and see if their rebounders are just as good.

Jumpsport Canada has a whole palette of mini trampoline models, with Model 250 being the most "entry-level" among them. But it's not entry-level at all. There are plenty of nifty features and smart design choices.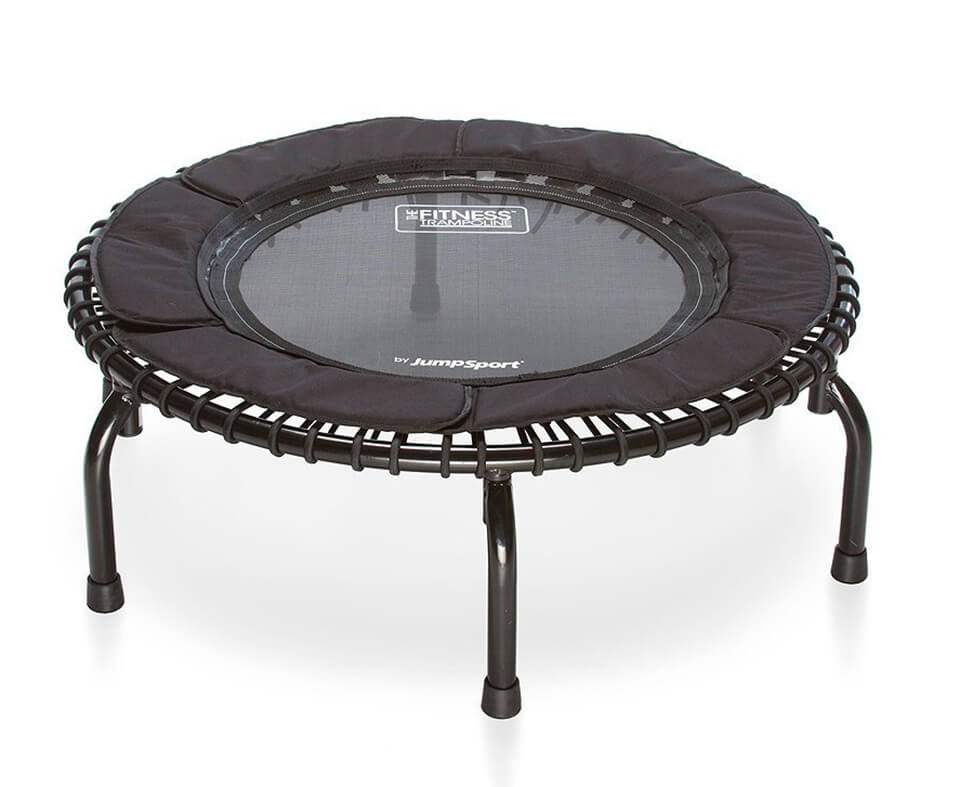 By looking at this trampoline you can see it doesn't share the design of many other rebounders. It features curved legs that enhance its stability. As a result, it can withstand a truly large range of motion and is much harder to tip over.
The bungee cords are visible, but they are covered with thick petal safety pads. The total jumping surface is 35.5 inches, while the total size is 39 inches. The mat itself is 30 inches in diameter, although even the skirt can be used for exercise if need be. The mat is made of Permatron material, which doesn't stretch and is more durable than regular polypropylene mats. The rebounder cannot be folded.
The 16-gauge steel used in the frame is powder-coated to help prevent rust, but it should be a non-issue as this is an indoor trampoline. We enjoyed the bounce provided by this rebounder. There are 30 elastic cords in total, called EnduroLast 2 cords, each 8 mm wide. They are really quiet; there is no squeaking or other unpleasant sounds. The bounce is very soft and pleasant. It's a joy to exercise on this rebounder. A weight limit of 250 lbs is in line with other rebounders – and we trust this figure, unlike with some other cheap models.
Unfortunately, you cannot adjust the firmness setting on this trampoline; that option is reserved for the more expensive models, but in theory, the cords are replaceable with higher grade ones, so you could do it, although it wouldn't be cheap.
You don't get a handle bar, but a complimentary DVD with basic workouts comes in the box. It's not particularly helpful, but it is a useful introduction to rebounding. We liked the warranty – lifetime on the steel parts, 5 years on the mat, 2 years on the elastic cords, and a year on everything else. Be prepared to replace these cords as they can and do snap. The assembly process was smooth and took less than 10 minutes. The instructions are clear and helpful.
Now, don't get us wrong. This is a fantastic rebounder offering excellent performance and build quality, but it isn't our best-buy model. It cannot be folded and does not come with a handlebar, making it unwieldy for use by some. It has to be purchased separately and costs extra. If this doesn't bother you, however, you get one of the best-performing rebounders there is, with a fantastic warranty and customer support, though without any other additional features.
Pros:
Excellent build quality
Great performance
Innovative design
Quiet
Cons:
Cannot be folded
No extras
Too expensive
Check Jumpsport 250 price on Amazon CA
---
Jumpsport Model 370 Rebounder
Weight limit: 115 kg (250 lbs)
Size: 40″
The Jumpsport Model 370 presents an upgrade of the previous, lower-end model codenamed 250. It sports the same size as the Model 250 – about 40 inches (42 if you count the protruding legs) and carries a hefty price premium over its sibling. Is it worth it?
At first, you can't see many differences. The size is largely the same. The only giveaway is the silver steel round frame. It is triple coated to ensure longevity and resistance to moisture, but the steel is the same, 16-gauge.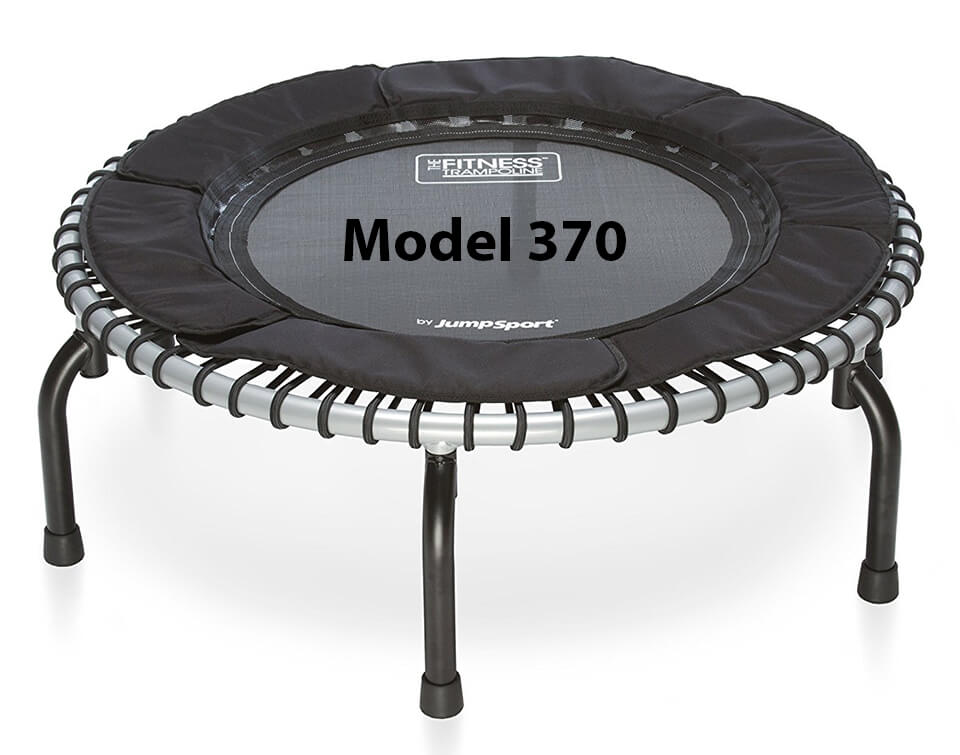 This one also features arched legs for extra stability, which helps prevent the trampoline from tipping over. The safety pads are likewise petal-looking. They also represent the useful bouncing area, but we prefer bouncing on the sturdy Permatron mat. The maximum weight limit is 250 lbs.
Now, this trampoline shines when it comes to the springs, or more precisely, bungee cords. It features an upgraded model of the Jumpsport proprietary EnduroLast cords. Instead of the EnduroLast 2 used in Model 250, this one features adjustable EnduroLast 4 adjustable cords. These allow for seven firmness settings, so anyone can adjust the trampoline to their liking. This is especially important if people with different body weights bounce on the trampoline, as each will prefer somewhat different settings. Various settings will affect the firmness of the bounce, and consequently how fast you bounce and exercise. This lets you tailor the firmness setting based on the exercise requirements.
The content on the DVD has also been upgraded and it features 4 comprehensive exercise programs. You can use this one for quite a while and it provides decent results, at least until you get bored of it and move on to something better.
Just like Model 250, this trampoline also cannot be folded, which can make storage difficult. Bear that in mind if you live in an apartment. On the other hand, it is very quiet, much more than spring-based trampolines like MaXimus Pro Quarter Folding Trampoline. The assembly is simple, in fact, the same as the Model 250. Installation videos are available on the manufacturer's website.
The warranty is comparable to that of the Model 250, except you get 4 years of warranty on the elastic cords, as they are of higher spec than in the cheaper model. They are also less prone to breaking.
This trampoline is what the 250 should have been. It offers a comprehensive package with plenty of premium features, except for the stability bar which still costs extra. Our only gripe is the price – this trampoline is a significant investment and it isn't fit for everyone. More serious and professional users will be able to get the most out of this mini trampoline.
Pros:
Fantastic performance
Good looks
Adjustable elastic cords
Cons:
Pricey
No handle bar (can be bought separately)
Check Jumpsport 370 price on Amazon CA
---
Pure Fitness Mini Rebounder
Weight limit: 100 kg (220 lbs)
Size: 38"
Even though it has the word "mini" in its name, it is a middle-sized rebounder with a diameter of 38 inches. Could the "mini" be the term you could apply to its quality? We're here to help you find out.
The trampoline looks nice if a bit understated. The padded fabric is nice silver colour, while the mat is black with appealing letters that spell out the brand name.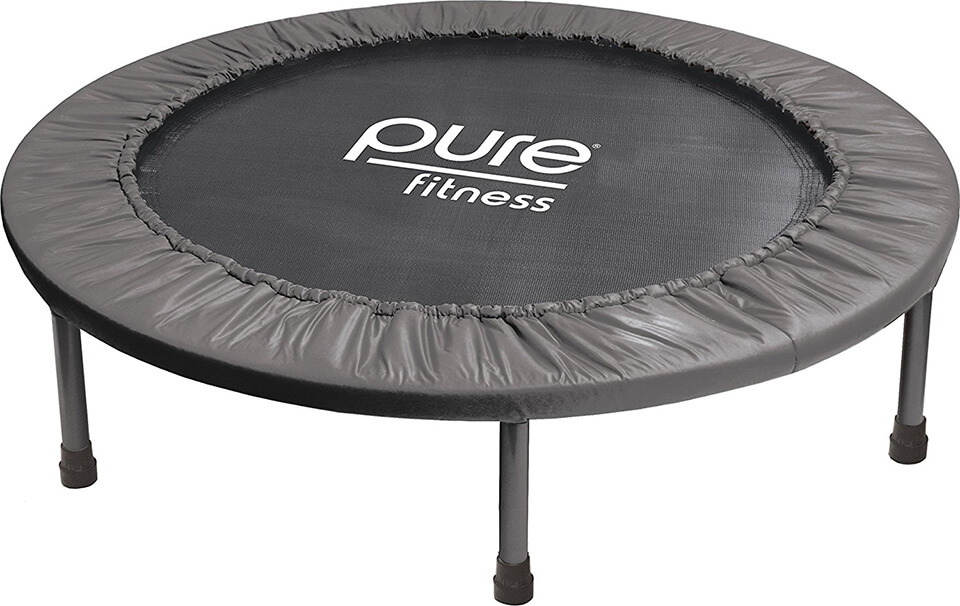 This is a smallish trampoline when it comes to its height, with only 9 inches of distance from the ground. It's not recommended for children under 13, though. The trampoline doesn't fold in half. The total rated weight limit is 220 lbs. There is ample cushioning in the spring pads.
The package looks appealing at first, but there are certain design flaws. The trampoline uses springs to provide rebound, which is fine in itself. However, these springs are joined to the trampoline as a set of two (still okay), via a small metal part that attaches to the straps on the mat. Now that is this rebounder's Achilles heel. These straps are simply too flimsy and cannot bear the stresses that regular bouncing puts on them, so they break. This means that the springs, though functioning correctly, are no longer attached to the rebounder, thus rendering it all but useless.
These reports pop about so often that we are very hesitant to suggest you purchase this. Some have also found out that several parts were missing from their boxes. This is all indicative of poor quality control at the factory. Still, we have to be fair and report that actual bouncing is fine… when it works.
Customer support is also very helpful and they will send replacement parts or even whole trampolines, but that's very little consolation when you're stuck with a non-functioning unit for a while. The return period is 90 days, but the warranty period is the same at 90 days, which is quite short.
Assembly is tricky. The tool that you get in the box can't get the job done and the final two legs are very difficult to set up.
We are sad to say that we do not recommend this trampoline if you're looking for something consistent in quality. There are just too many lemons around, and even if you do get lucky, there's no guarantee it won't fail in a couple of months. This is unfortunate since the overall level of performance isn't bad at all.
Pros:
Affordable
Looks nice
Good customer support
Cons:
Serious reliability issues
Bad quality control
---
ProForm Fitness Trampoline
Weight limit: 115 kg (250 lbs)
Size: 1.9/5
Over the last couple of years, we've seen our fair share of shoddy trampolines, and we broke out in cold sweat when we saw the box this bad boy came in. We're in for a ride, exclaimed one of our colleagues who seems to delight in trying out the worst of the worst. Well, he wasn't wrong. If you're looking for a trampoline to purchase, just scroll down further. If you're looking for a grisly tale, then read on…
To begin with, the trampoline comes in black, which fits our mood well after we had assembled it. Once you manage it, however, it somehow manages to perform. Bouncing is nothing special but exceeded our remarkably low expectations. We feel that the spring cover will deteriorate quickly with use, but this problem is not exclusive to the ProForm trampoline.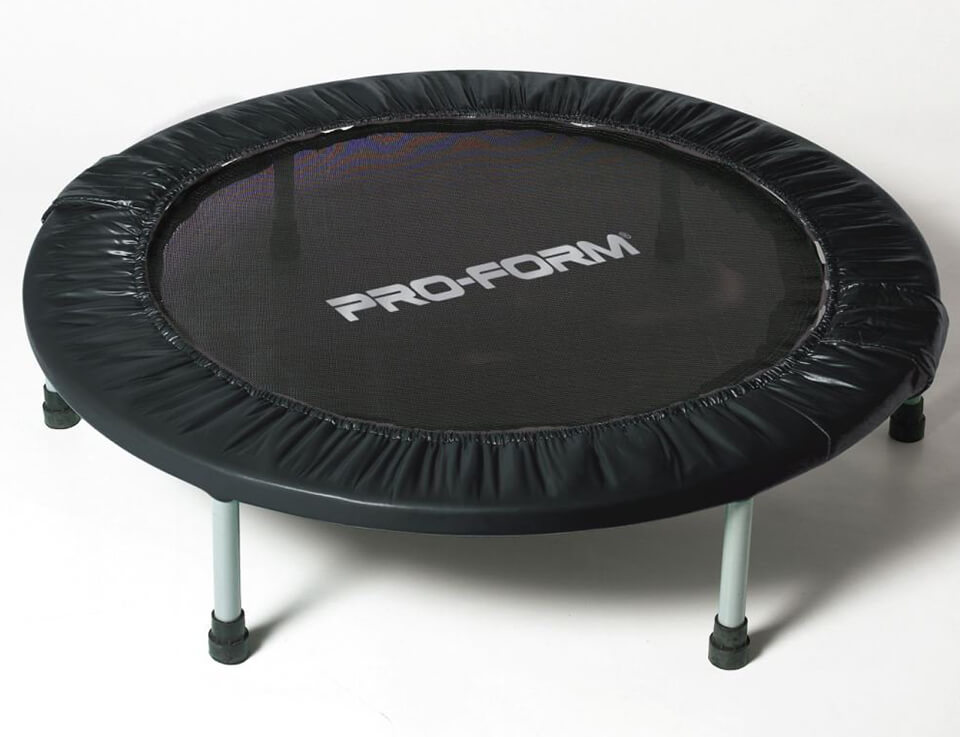 Unfortunately, even after you go through the trouble of assembling it, you run the risk of it breaking real soon, not unlike the Pure Fitness Rebounder. The springs connect to the mat via a low-quality fabric loop that breaks often and early. When that happens, you get a useless trampoline, with no way to replace a damaged part. There is a weight limit of 250 lbs, though you should take it with a grain of salt.
Back on to the arduous assembly process. There are no instructions to speak of or at least no useful instructions. You get a lousy piece of paper with indecipherable hieroglyphs that are supposed to help you understand the installation process. Well, they don't. They are dangerous and you shouldn't follow them at all.
The tools don't help much, too. The spring-loading tool is a joke, and it is so bad that you might accidentally hurt yourself while installing it. We read reports by people using mallets to set it up and exclaiming there's nothing wrong with that – well of course there is! Don't even begin to set it up without a screwdriver. There have been reports of missing parts, so the deck could be stacked against you even before you start. Not our idea of a fun afternoon.
You might have guessed that there are no workout DVDs or additional extras are thrown in – but you'd be wrong. You get a DVD and an 8-week meal plan (digital download).
It's cheap, but in this case, you do get what you pay for, actually even less. If you want a budget trampoline that does not pose an injury risk, take a look at the Stamina 36 inch trampoline. We are unsure how such a large manufacturer of sports goods, Icon, managed to produce such a disappointing rebounder.
Pros:
Cheap
Comes with a nutrition plan
Cons:
Dangerous and difficult to assemble
Missing parts
Bad customer support service
---
Relaxdays Foldable Fitness Trampoline with Handle
Weight limit: 100 kg (220 lbs)
Size:40″
This is one of the newest rebounders available on the market and in this review. We haven't heard of the name "Relaxdays" so we took it upon ourselves to do some research. Turns out the rebounder mini trampoline is made by a German company. This doesn't have to mean much, so a test was in order.
Alright. Once assembled, the trampoline is a breath of fresh air. Instead of consisting of black and blacker parts, this one has a lively blue safety skirt that's eye-catching. It looks sturdy and the balance bar is a tad different than in other rebounders.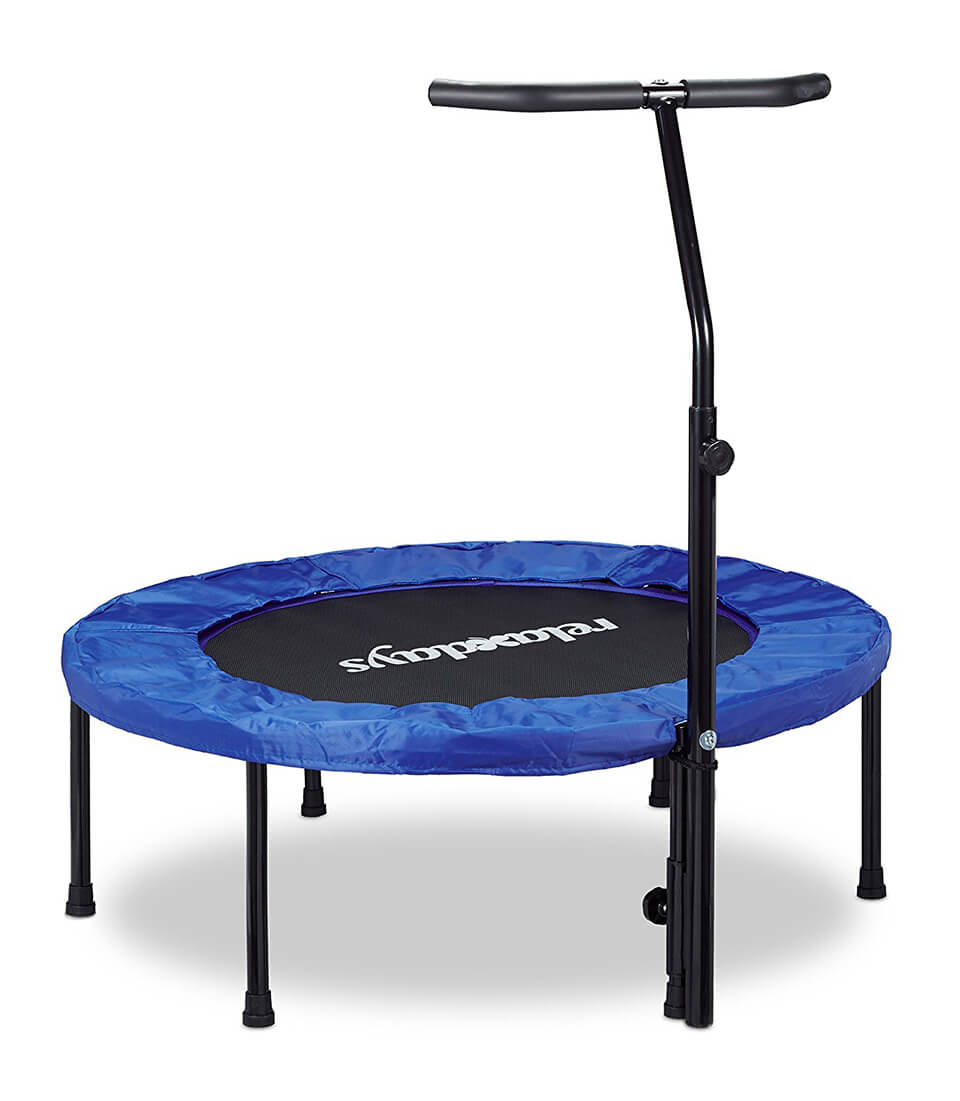 The trampoline is metric-sized, with a width of 102 cm, which amounts to slightly above 40 inches. That's quite large for a rebounder. There are about 70 centimetres of useful jumping surface overall. With the stability bar, it is 126 centimetres high. But it's not too bulky, weighing 9 kilograms. Unlike most other rebounders, this is rated for ages 3 and up – although we would advise against that, as there is no enclosure and the stability bar needs to be removed before kids bounce on it since it is set too high for them and they cannot reach it.
It is for indoor use only, and while it looks well-made, we wouldn't expose it to rain or snow since we are unsure of its rustproofing, and generally it hurts the integrity of the elastic bands. The blue spring cover is nice, but it's not made of quality materials. It crackles and doesn't feel nice to touch. Overall, the metal structure is well-made, with strong, welded joints. It definitely can withstand the weight limit of 100 kg (220 lbs), and likely even more.
There are no springs; this mini trampoline also relies on elastic bands to provide a bounce. The bands are sensibly attached to the mat with the help of sturdy plastic parts that attach to the mat fabric. Overall, a good design which we believe is reliable. It is very quiet.
We liked how the bar was designed, with two handles protruding from a single-pole bar. This makes for simple assembly, but the bar can be wobbly. Do not rely on it too much – the trampoline can tilt forwards, which is very unpleasant and can occur especially if you set the bar to its highest position. But the trampoline itself is very stable thanks to rubberized wide feet.
It is easy to assemble and dismantle. Its folding construction lends itself to stowing for longer periods when not in use, but you have to remove the legs and the stability bar, so the process, while simple, takes time. You also get two replacement elastic bands in the package. There is a 30 day hassle-free return period. Overall warranty situation is unclear, as the supplier is German. However, your vendor will be able to assist you further as long as you keep the receipt.
We were pleasantly surprised with this trampoline, which turned out to be a "dark horse" of this comparison. It's pleasant to bounce on, extremely sturdy, foldable, and comes with detailed instructions. We recommend this trampoline if you don't mind the sometimes inadequate stability bar – but you can take it down if it bothers you.
Pros:
Good build quality
Nice design
Very quiet
Replacement bands
Cons:
---
Reap the Rewards: Unparalleled Benefits of Rebounding on Mini Trampolines
Rebounding on mini trampolines offers a multitude of benefits for both physical and mental well-being. Engaging in this aerobic exercise not only improves cardiovascular health but also strengthens core muscles and enhances balance. The low-impact nature of rebounding allows for extended workouts, reducing joint stress by up to 80% compared to running. This increased workout duration contributes to effective weight loss, with studies revealing that trampoline exercises can burn an impressive 320 to 1000 calories per hour.
In addition to the physical advantages, rebounding serves as an enjoyable and refreshing way to unwind, release negative energy, and promote restful sleep. With a wide range of innovative workout programs available, rebounding on mini trampolines presents a convenient and accessible fitness solution for individuals of all fitness levels.