Stamina Mini Trampoline Review – 36″
Mini trampoline "Stamina 36" is a folding mini trampoline that provides a safe & effective way to exercise at home or in the office. The folding design is ideal for moving it anywhere in the room when not in use. The trampoline comes with a 90-day warranty. This trampoline is Amazon's TOP SELLING mini trampoline. 
Weight limit: 250 lbs (115kg)
---
 A very unassuming home mini trampoline with a rather bland name, this bad boy has consistently topped the best-seller charts all around. Why is that so? Well, there are plenty of reasons.
The main reason is its affordability. Being an entry-level trampoline, it's not perfect by a long shot, but it's an enticing package. The design is silver and blends nicely with its surroundings. We've seen better safety pads, but you shouldn't really be needing it anyway.
It is a quarter-folding trampoline and really doesn't take up much space when stored. Bear in mind you'll have to remove the legs first, and you'll need Herculean power to fold it the first time, as the bungee cords, thirty in total, won't budge at first. These elastic bands aren't noisy but don't expect them to last as long as the spring-based trampolines, especially if heavier people are to bounce.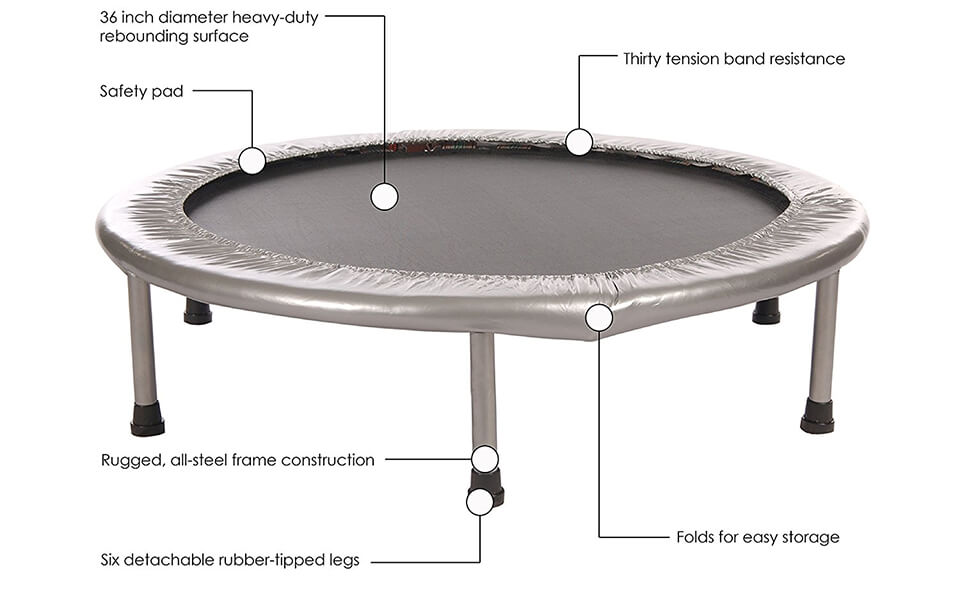 The steel frame and its six legs, with rubberized bottom caps for added stability, can hold 250 lbs easily. That's more than enough for most people. The assembly in general is pain-free with legible instructions (a rarity in this price range). It will take you up to two hours; the package has 20 parts you have to assemble. You also get a few workout tips but it's nothing serious.
The warranty isn't the best: 3 months on all parts except the frame, which comes with a 1-year warranty, but again, most competitors don't offer even that. Spare parts are also ample and available.
The mat is adequate in quality and the overall springiness is great for most types of exercise. Overall, we were impressed at the build quality of this trampoline for the price. It is definitely *the* best-buy rebounder that doesn't outright suck. You aren't getting any extras or special features, such as handle bars. But you do get a quality product that's excellent for beginners who don't want to invest too much.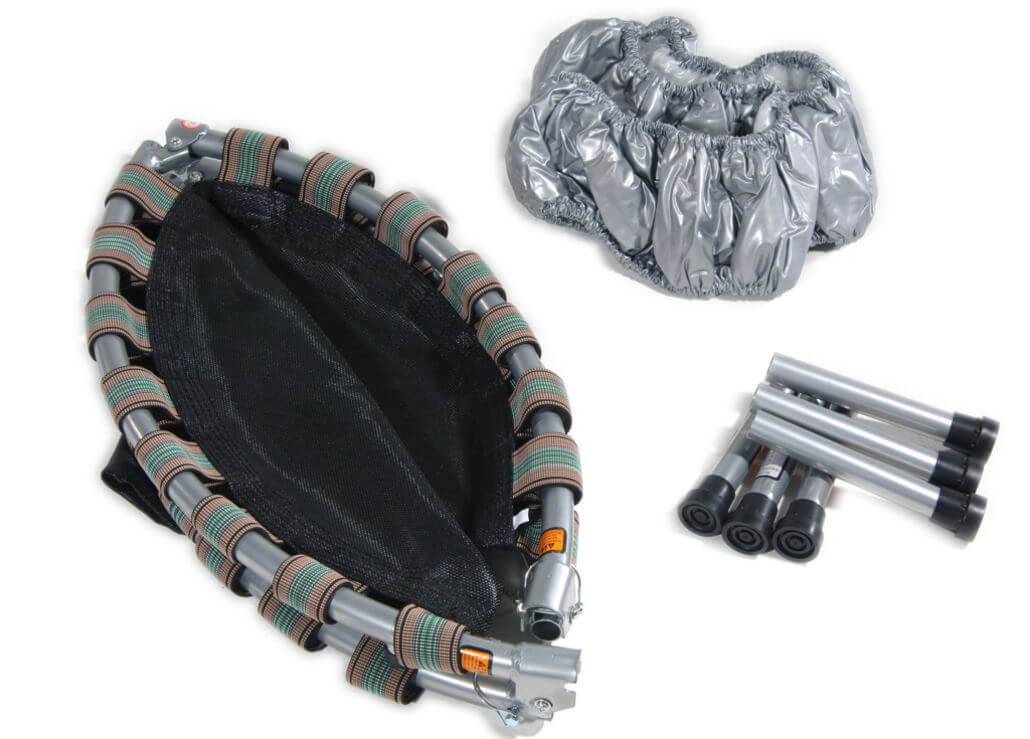 ---
Main features of Stamina 36-inch mini trampoline:
–          30 band-based springs – for durability and high bounce
–          Steel frame construction
–          Safety padding
–          Heavy duty mini trampoline mat
–          Six detachable trampoline legs
–          250 lbs max weight limit
Main benefits of mini trampoline exercise:
–          Challenging cardio workout – improves stamina
–          Home/office based training – no need to visit gym to get real training
–          Cheap price (great for birthday present)
–          Almost no space required 🙂
Don't like it? Check only best mini trampolines which we have reviewed!
TOP 10 Mini Trampolines (with Reviews)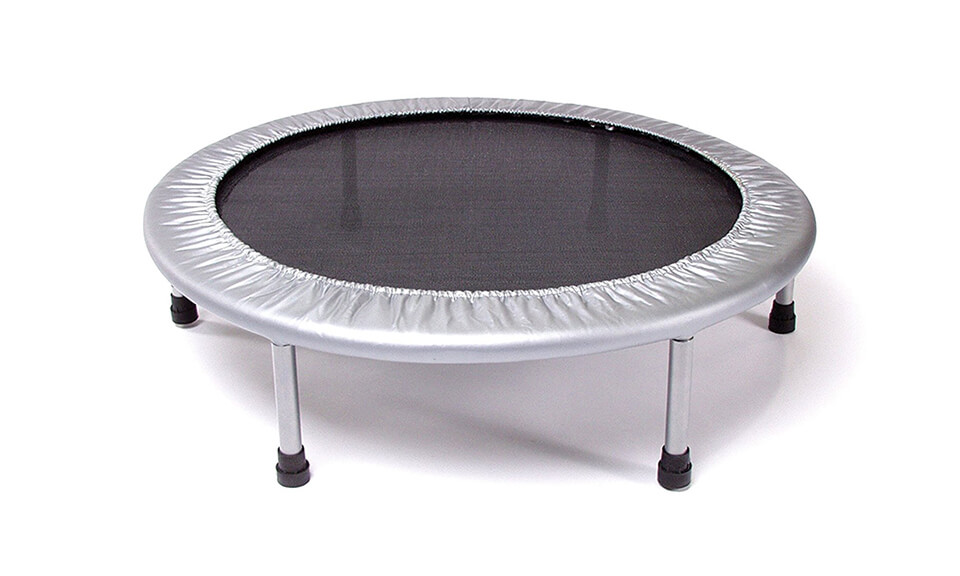 Stamina 36-inch Mini Trampoline
Stamina 36-inch mini trampoline is great workout trampoline for rainy autumn or snowy winter home workout with more than fantastic price2value ratio. Cheap and usable? Definitely!
PROS
Price: The Stamina 36-inch Mini Trampoline is very affordable and a great option for those on a tight budget.
Portability: It's lightweight and compact, making it easy to move and store when not in use.
Weight limit: It has a weight limit of 250 lbs, making it suitable for a wide range of users.
CONS
Usage limitations: The Stamina 36-inch Mini Trampoline is not suitable for high-impact exercises or for users looking for a more intense workout.
Mat: The trampoline mat is not very durable and may need to be replaced after a short period of use.
Jumping area: The bouncing surface area is relatively small, limiting the types of exercises that can be performed.