The BCAN 40/48″ Foldable Mini Trampoline, a delightful addition to any fitness enthusiast's collection, is a versatile and robust piece of equipment suitable for both indoor and garden workouts. This review delves into the various aspects of the trampoline, evaluating its features, design, and overall performance.
Design and Build
With dimensions of 48 inches in diameter, this round trampoline boasts a sturdy steel frame that promises durability and stability. The trampoline's frame, made of stainless steel, ensures longevity, while the polypropylene material used for the bounce mat adds to its resilience. Notably, the BCAN 48-inch mini trampoline supports a maximum weight of 440 pounds, indicating its robustness and suitability for a wide range of users. The 40-inch version has a somewhat lower limit, but still impressive 330 lbs.
Buy on Amazon - $159.99 (last updated: 2023-11-26 09:30:03 ET)
One of the standout features of the BCAN trampoline is its foldable design. This feature allows for convenient storage, reducing its size to less than a quarter of its original, making it an ideal choice for those with limited space.
The adjustable foam handle is another significant aspect, offering four height levels ranging from 39″ to 49″. This adjustability caters to different user heights, ensuring a comfortable and safe exercise session. Moreover, the trampoline's foam pad, waterproof PP mat, and foldable Oxford pad contribute to its safety and ease of maintenance.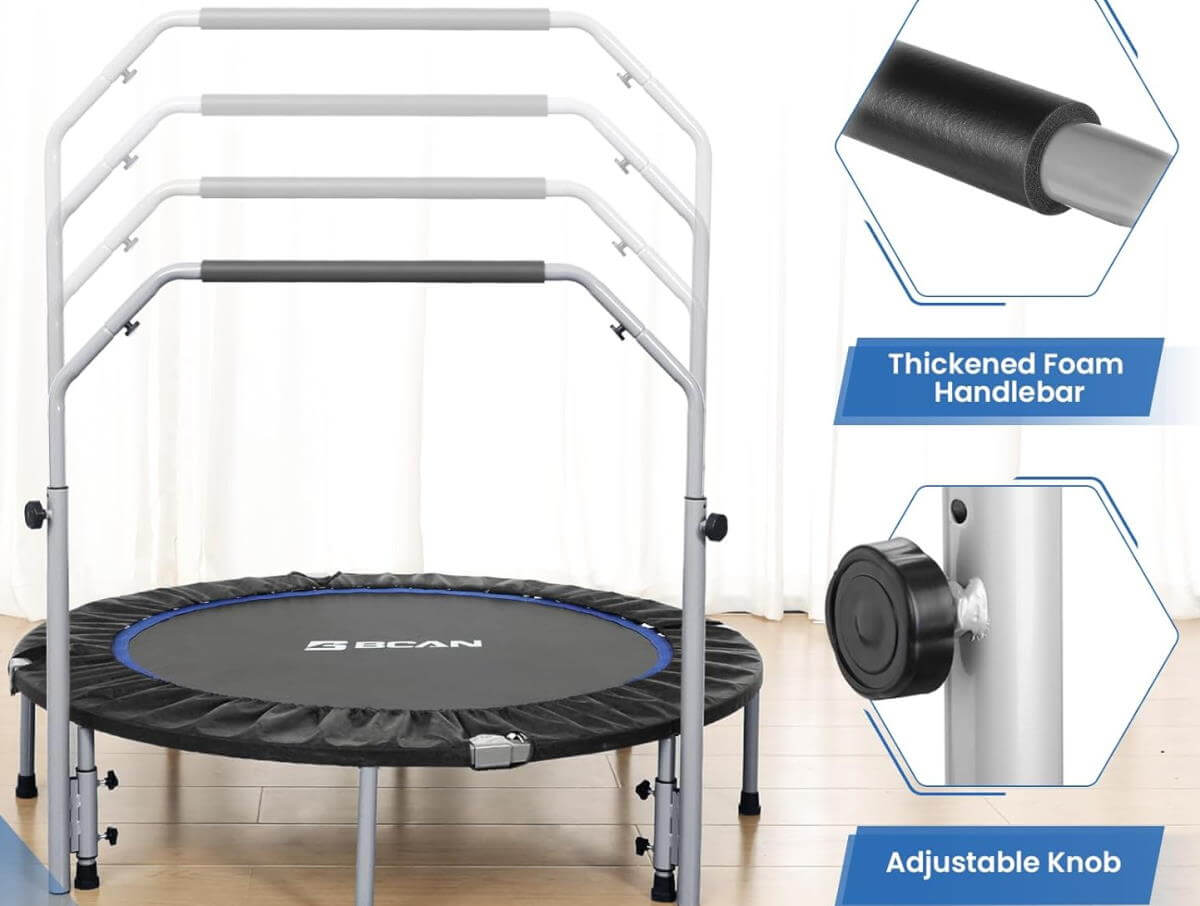 Performance
The trampoline is equipped with high-strength stainless steel springs, which provide a powerful elastic recovery system, enhancing the bouncing experience. They are also much firmer, when compared to bungee cords, providing a bit more
Number and Size of Springs: The trampoline is equipped with 32 steel springs on 40″model and 40 heavy-duty steel springs on 48″ model, each measuring 4 inches in length. These springs are designed to provide a powerful elastic recovery system, ensuring a satisfying and safe bounce every time.
Spring Quality and Safety: The springs are crafted from high-strength stainless steel, offering durability and longevity. Despite not having a spring cover, the design ensures that the springs are securely enclosed, reducing the risk of injury during use.
User Experience: While the BCAN trampoline generally receives positive reviews, some users have noted issues like noisy springs during use. This minor inconvenience is typically overshadowed by the overall enjoyable and effective workout experience provided by the trampoline.
Assembly and Maintenance: Upon delivery, the trampoline typically arrives with the springs already attached, simplifying the setup process. In cases where a spring might be missing or detached, the BCAN Support Team provides guidance and assistance for reattachment, with helpful resources like instructional videos.
Engaging in a workout on the BCAN mini trampoline is akin to a dynamic and enjoyable fitness session. The trampoline's design ensures a safe and controlled bounce, making it an excellent tool for cardiovascular exercises, balance improvement, and overall body toning. Its ability to provide a workout equivalent to an hour of jogging, 30 minutes of cycling, or 20 minutes of swimming in just 10 minutes of bouncing is remarkable.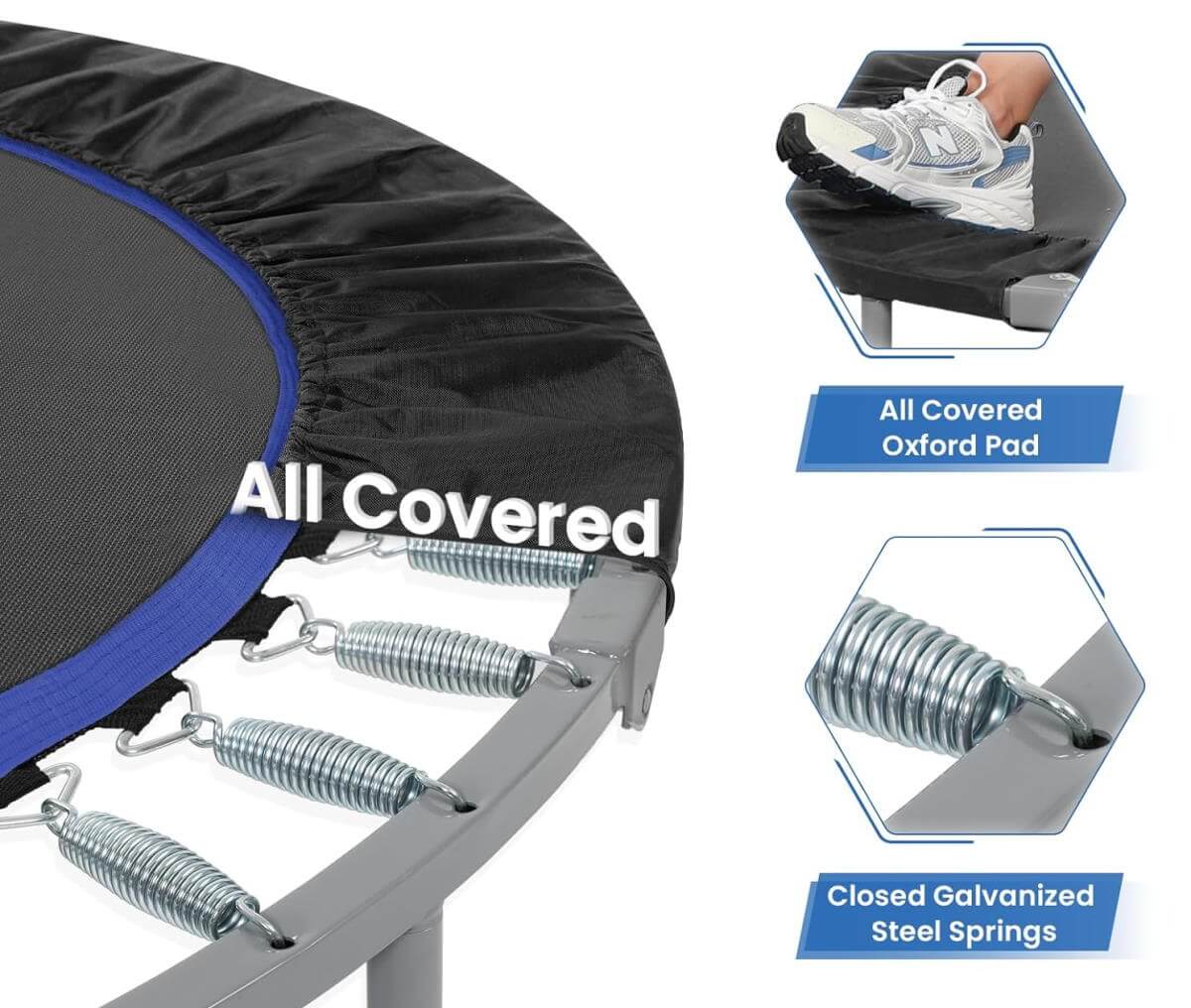 Buy on Amazon - $159.99 (last updated: 2023-11-26 09:30:03 ET)
When it comes to jumping mat, here is our opinion:
Safety and Maintenance
Safety is a paramount consideration in the design of the BCAN trampoline. The closed steel springs reduce the risk of injury, providing a safe bouncing experience. Regular maintenance checks are recommended to ensure the trampoline remains in optimal condition, with specific attention to the springs and frame.
---
The BCAN 40/48″ Foldable Mini Trampoline is an excellent choice for adults seeking a fun, efficient, and safe way to exercise. Its durable construction, adjustable features, and easy storage make it a versatile addition to any fitness regime. Whether used indoors or in the garden, its sure to bring a new level of excitement and effectiveness to your workouts. And lastly, if you still think this one is not for you, check our top list of best mini trampolines and rebounders!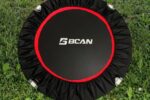 BCAN 40/48″ Mini Trampoline Reviews
In summary, while both the BCAN 40" and 48" models offer a robust and enjoyable trampoline experience, the 48" model edges out with its higher weight capacity, larger size, enhanced stability, and adjustable features, making it a more versatile choice for family use and varied fitness needs.
PROS
High-Quality Construction - Equipped with a high-quality steel frame and stainless steel springs, these trampolines are built for durability and longevity.
Adjustable Features - The adjustable foam handlebar, particularly in the 48" model, caters to different heights, making these trampolines versatile for both kids and adults.
Weight Limit - The 48" model's high weight capacity of up to 440 lbs allows it to be used for both children and adults, enhancing its versatility, while the 40" model, with a slightly lower weight limit of 330 lbs, still accommodates a wide range of users, though it may be more suited for individual workouts and younger users.
CONS
Inconsistent Quality Control - Some users have experienced quality control issues, like receiving the product with missing or detached springs.
Durability of the Mat - Users have reported issues with the mat's durability, including stitches coming off and tearing, which raises concerns about its long-term use.
Noise Issues - There have been mentions of the springs being noisy during use, which might be a distraction for some users. WD-40 might help.