Have children play on a gaming console and exercise simultaneously? Sounds more than thrilling, if it works as intended, even for a shorter period of time, as nothing is so precious as the well-being of loved ones, especially the smallest ones.  So let's see what's hiding behind TekyGo sensor and trampoline bundle.+
What is TekyGo?
As one of the most talked-about holiday season children's toys, fast-tracking learning and activity from the youngest of age, as it's specifically designed for children ages 2-6, this bundle (mini trampoline for toddlers and console) includes everything you need to get started with no additional accessories required. Do have in mind that you can use your own mini trampoline, if you own one, as the console can be bought separately from the TekyGo mini trampoline.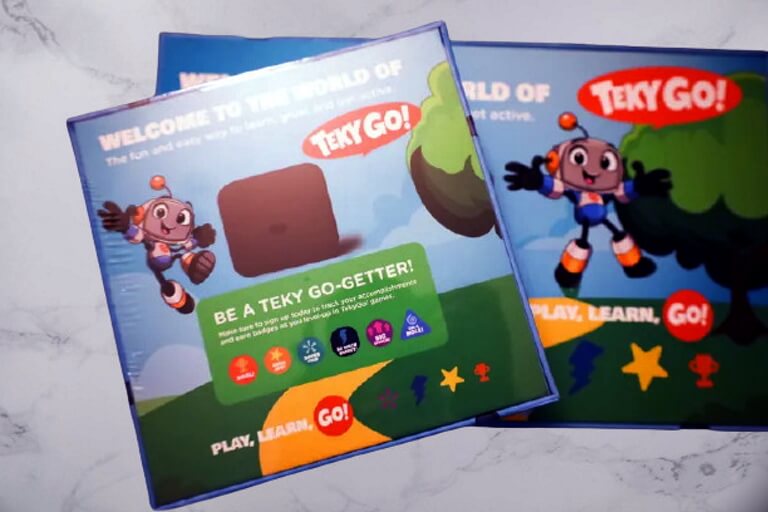 Unboxing and what's included with the Junior Bouncer Bundle:
TekyGo! Portal & Controller (required batteries are not included  – requires 2 x type AAA)
Trampoline Sensor
Junior Bouncer Trampoline (78 lbs/35 kg max weight limit)
TekyGo! Learning and Activity App and access to the library of games (a new game is released every 1-2 weeks) and
2 months FREE TekyGo! Premium Subscription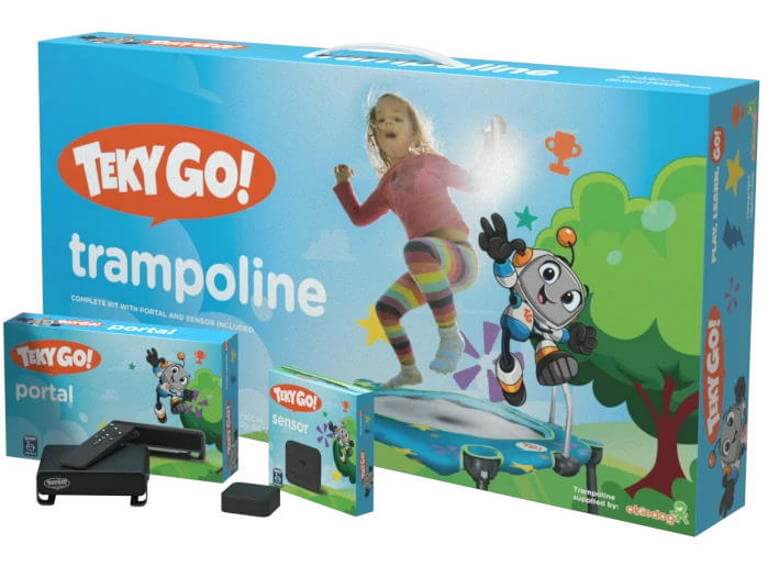 If you bought only TekyGo sensor then no worries, bring back to life your old mini trampoline, set it up, place TekyGo sensor underneath, plug in your Portal, and let the magic begin!  There is a variety of games, most of them requiring activity (jumping over your enemies in arcade-style games), all the way to logical games.
About included mini trampoline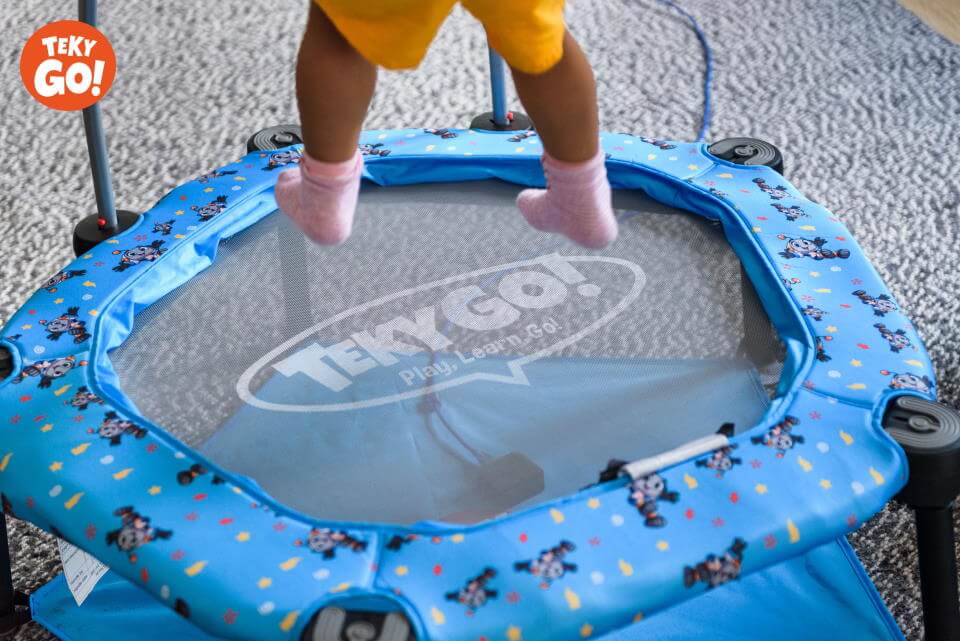 The included trampoline is just a generic mini trampoline, so don't expect miracles from it. As this is toddler trampoline, anything except safety features shouldn't be essential. Do you really need a lot of springs to give you a lift? Not really, at least in this case. Anyway, bundled toddler mini trampoline will be more than enough for 2-3-year-old kids.
Games on portal
TekyGo! games are designed to promote physical activity, learning, and imagination all while providing endless amounts of fun. But let's face it. Kids get bored easily. That is why TekyGo! is committed to releasing a new game every 2 weeks! The games will also include levels that get progressively more challenging so that we can keep kids of all ages happy, active, learning, and entertained! And if that's not enough, we do have a list of trampoline games to keep your child interested!
Here is just a portion of them, as there are too many to list all of them, and new ones coming out every other week!:
Xmas Roo and Friends

All kinds of holiday activities, such as Santa's sleigh run, snowball fights, sled racing, etc

Bao Bao and Bunny

Help Bunny (plush toy) to cook, do gardening, get clean, etc

Teky's Dino Stomp
TekyGo! World Explorer

Travel the world and learn new things around the globe

Pogo Jump

Get a high score by dodging obstacles, get speed boosts

Chef Teky's Food & Flip

Be a Chef, learn how to prepare food.

Baby Roo

Help Roo find a way home!

Ants In Your Plants

Play from ant perspective, grow plants, collect food and dig
Testimonials – What do others think?
Jenny from Iowa: I don't know who was more excited when package arrived, was it me or my son Jeremy. He is a true – not so active – gamer and as soon as he had seen the box he was kinda surprised that he'll actually need to do something while playing, and couldn't really grasp what was going on. But, as soon as sensor was in place and we turned on the console, all fears were gone. He was so excited browsing through the games, but as soon he stumbled upon Pogo Jump, tried it and he was – hooked. Eventually he went through all the games and played for a solid 3-4 hours, and that would go on, but there was way too much jumping involved.

What I do love about Teky Go is that it has everything we need to keep him entertained, as there are new games being released on monthly basis, so you can use it again and again.
TekyGo Toddler Mini Trampoline Bundle