Introducing the Pure Fun 36-inch mini trampoline – a compact, safety-oriented addition to your child's playtime arsenal. Designed with a blend of durability and enjoyment in mind, this trampoline is a perfect introduction to the world of bouncing for the little ones.
Pure Fun "Monster" Specifications:
Size: 36 inches
Designed for: Indoor bouncing / children ages 3 – 7
Frame: Tough galvanized steel
Handle: Soft, padded grip
Weight limit: 75 lbs (34 kg)
Assembly: Required, but straightforward and done in 5-10 minutes
Legs: Equipped with rubber feet for stability and floor protection
Jumping mat: High-quality material for resilience and longevity
Springs: 28 steel,  high-tension springs
Trampoline weight: 14 lbs (6.35 kg)
Note: Monster feet double as slippers – toddler size 7 to 11

Not Available - Click to check related trampolines on Amazon store
Pure Fun "Monster" Trampoline Review
Jumping into the review of the Pure Fun 36-inch Mini Trampoline, it's clear that this little jumper is packed with features that make it a hit for kids and parents alike. Let's bounce through what this trampoline has to offer.
When you first get this trampoline out of the box, you'll notice it's pretty easy to set up. You won't be fumbling around with too many parts, which is always a plus for any parent. Once it's up, the steel frame feels solid—it doesn't wobble or feel flimsy, which is reassuring when your kids are the ones who are going to be using it.
The handle is a big win for the little ones. It's covered in foam so kids can get a good grip while they're jumping. It's just the right height for a small child to hold onto, which helps a lot with keeping them balanced and safe.
For kids who love jumping around, the mat on this trampoline provides a decent bounce. It's not too springy, which is good because you don't want your kids hitting the ceiling, but it's just enough to let them have a great time. The trampoline's recommended for children ages three and above, and the weight limit is set at 75 lbs, making it a good choice for young jumpers.
Now, about the size—it's not too big or too small. It fits nicely in a corner of the playroom or the living room, so kids can jump no matter what the weather's like outside. Plus, those rubber feet are great for keeping your floors scratch-free.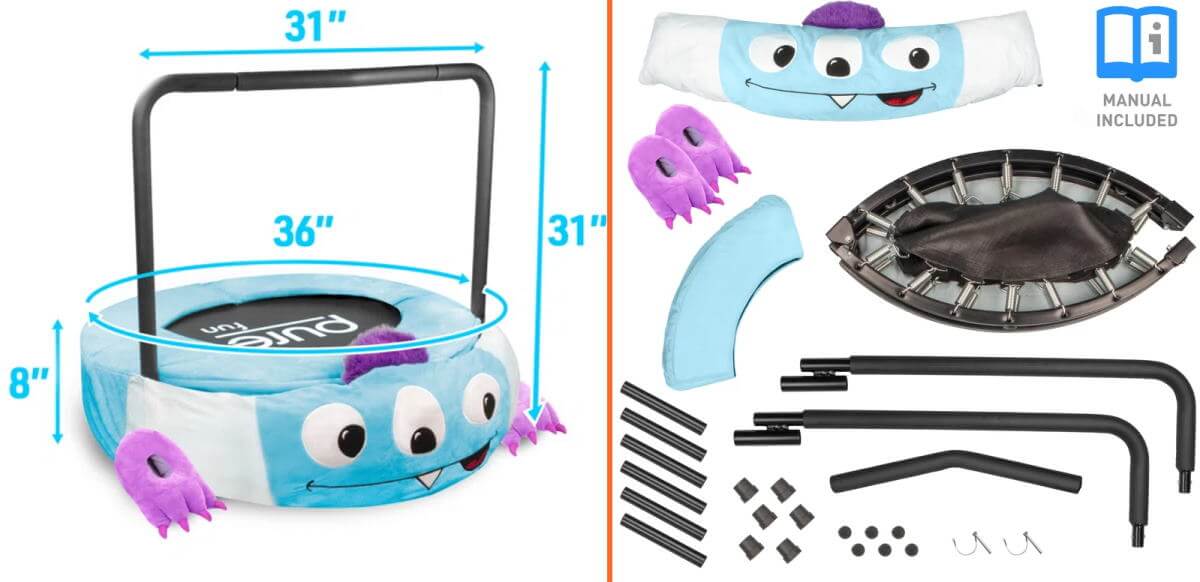 But it's not all high-flying fun. Let's go through some cons:
Some users reported that the foam on the handle can tear after a while. It seems like it might not be the toughest when faced with lots of little hands grabbing at it day after day. You might need to keep an eye on it and maybe add some extra tape or a cover if it starts to go.
Another thing is the weight limit. It's great for young kids, but as they grow, they'll outgrow this trampoline. It's not something that'll grow with them into their later childhood years. And while the trampoline is mostly sturdy, it can get a bit shaky if a child near the weight limit is using it.
Lastly, the springs do their job well, but they can be a bit noisy. If you're looking for a silent bouncer, this might not be it. But then again, a bit of noise is often part of the fun when kids are playing.
After thorough testing, the Pure Fun 36-inch kids Trampoline stands out as a well-constructed, safe, and enjoyable mini trampoline for younger children. It strikes a fine balance between fun and physical activity, all the while maintaining the safety features that give parents peace of mind. While there are larger and more feature-rich mini trampolines on the market, for the demographic targeted, it hits the sweet spot of functionality and playfulness.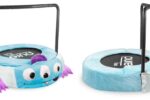 Pure Fun 36-inch Monster Trampoline
PROS
Easy Assembly - The straightforward setup process, which makes it convenient for parents.
Safety Features - The padded handlebar and spring cover are often cited as great safety additions.
Sturdy Construction - The trampoline feels secure and durable, even after frequent use, but not if you go over weight limit!
Engaging Design - Children seem to love the look and feel of the trampoline, keeping them engaged and active.
CONS
Weight Limit - it restricts the trampoline to younger children only.
Padding Durability - there are comments about the foam padding on the handlebar being prone to wear and tear, potentially requiring additional protection or replacement.
Noise from springs - the springs can be noisy, which may be a consideration for some living environments.