Airzone 55″ Trampoline for Toddlers – they simply adore it!
Airzone 55″ (4-1/2 Foot) trampoline and enclosure set is the safest way for kids and toddlers to learn to jump and bounce. This trampoline has a safety enclosure enclosing the trampoline and a frame made of steel, spanning 55″ in diameter, making it small enough to fit indoors.

Weight limit: 60 lbs (30kg)
Recommended age: 2-5 yrs
---
The enclosure is held by poles covered with soft material and has an inlet that is locked with a zipper which makes it easy for children to get in and out. Kids Airzone 55″ trampoline also has rails and poles that support the kid. Not to forget it is very easy to assemble. It withstands weights up to 60 lbs, which is not a lot, but in this case more than enough. The frames are made to resist rusting by steel coating.  The trampoline manufacturer gave much attention to overall safety awarding it with safety certification and we can say that this trampoline is a great product for starters.
Kids Airzone 55″ Specifications
The Kids Airzone 55″ is 29,50″ high with a length of 15,70″ and a width of 7.9″. It is enclosed with mesh fabric which has a zip for ease of entry and exit. Added to the mesh are pads that reinforce your child`s protection and increase overall safety!
Stability of Airzone 55-inch trampoline
The trampoline has 6 steel legs and poles for support and stability. Airzone is rubber-band based trampoline, meaning it has bungee bands instead of steel springs. In either case, they are cushioned with foam padding. It has a durable frame that comes with a manufacturer's warranty of two years. All other parts have manufacturer's warranty of 90 days. But don't be worried about a 3-month warranty as each trampoline undergoes specialized laboratory examination. It has a spring structure all covered by padding.
Pros
Each Kids Airzone 55″ set has undergone specialized testing which makes sure that every product reflects Airzone quality and makes their brand proud. This makes you sure of the trampoline as is. It has top-notch safety specs. There is a zip that enhances safety when children are jumping inside. Maybe the lock could be a bit better (as noted in the downsides of this mini trampoline) but for ages 3+ suits just fine.
You can be double sure of your children's safety due to additional padding added onto the mesh fabric. If your child is a starter it will be easy to jump because of support poles around the structure.
It has six legs which makes this mini trampoline very stable. More so, with a mat size big enough for every kid it has got an adequate bouncing area for your child. The trampoline has a padded cover which ensures a soft landing for your child.
It can be used both interior and exterior due to its reasonable size. The trampoline is very easy to assemble. It has a user manual given by the manufacturer that guides you in its assembly and maintenance.
The best thing about this trampoline is that there is a variety of child colors you can choose from. You can be sure of its durability because of the quality material used in manufacture. Most of all, it surpasses kids' safety standards for play.
Cons
Even though the Airzone 55″ trampoline is for kids, the weight limit on offer is too low – it's meant for smaller children and can only be used by them. This means when they grow up you should be ready to dig into your pocket for another trampoline –  therefore adds cost. But, this is reasonable. The only intention of this trampoline is to be a starter pack for kids to learn to jump on the trampoline. Do not expect anything else.
Airzone Warranty
The warranty period is too short – a reasonable warranty for the material should be equal to a frame warranty. The point to note is that even with the padding, the metal springs are not so good for children. They still pose great danger, give or take…
---
Our thoughts…
Starting with the choice of available colors, this trampoline is a beautiful present for your kid. It's a fairly safe trampoline with an all-round enclosure mesh fabric. Moreover, it is also safe with all-round padding. The six legs are reasonable for extra stability and thanks to their padding of the landing area the bounce is good. Finally, it has poles to support a first-timer.
In general, this Airzone 55″ starters trampoline is a nice piece of art and is recommended as your child's first trampoline!
Reviews of BEST Trampolines for Kids/Toddlers!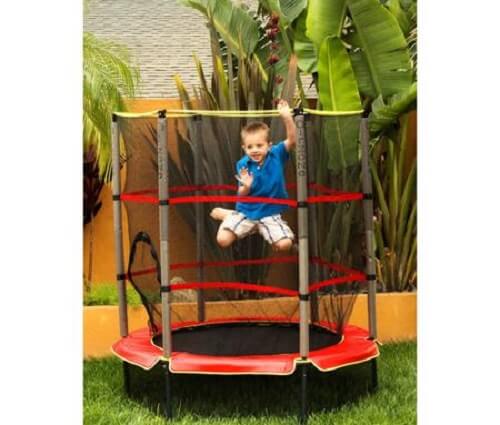 Airzone 55″ Trampoline with Enclosure for Kids