JUMPZYLLA Trampoline 14ft Review
If you're looking for a cheaper and acceptable quality trampoline, one suitable for people for whom this would be their first contact with backyard trampolines, then you should consider the Jumpzylla 14ft trampoline. Jumpzylla trampolines have taken the recreational industry by storm, and for good reason, not only because there is a huge shortage of trampolines as a result of disrupted supply chain management. Its design is focused on safety, durability, and practicality, so this trampoline is an excellent choice for families with young children and adults looking for a fun and healthy outdoor activity.
Weight limit: 450 lbs
Size: 14ft
Shape: Round Trampoline
Recommended for: Ages 6 – 14
This is a comprehensive review of the Jumpzylla trampoline, including specifications, features, assembly, and the overall value for money, together with a comparison of some models from competing trampoline companies, ACON and Zupapa, to name a few.
This trampoline comes with many great features that make it one of the best-buy trampolines on the market today. Let's take a closer look at what makes the Jumpzylla 14ft trampoline so special.
Buy on Amazon - $499.95 (last updated: 2023-11-26 11:00:02 ET)
Who is it for?
Jumpzylla trampolines are suitable for both kids and adults, with weight limits that can accommodate various sizes. The trampoline comes in four different sizes, 8ft, 10ft, 12ft, and 14ft, with weight limits ranging from 265 lbs to 450 lbs, so there is something for everyone to choose from.
Size and Weight Capacity
The Jumpzylla 14ft Trampoline is perfect for those with larger yards or more space to spare, as it may look small in pictures, but the trampoline is actually pretty big.  The trampoline's frame measures 14 feet in diameter, making it large enough for several people to jump on it at the same time, but as you know, this is something we never approve of.
The frame is made of high-quality steel, which makes it sturdy and durable enough to withstand years of use.
Design
Jumpzylla trampolines have a sleek and modern design that sets them apart from other trampolines in the market. The trampoline is round in shape and comes in five different colors, including black, blue, green, orange, and red. The frame is made of galvanized stainless steel, with a powder-coated finish for added protection against rust. The legs are also powder-coated, and the jumping mat and spring cover are waterproof and treated against UV rays.

Sturdiness
The Jumpzylla trampoline is sturdy and can withstand even the most rigorous use. The frame is made of high-quality stainless steel that is resistant to rust, and the legs are powder-coated for added protection. The trampoline's weight limit is impressive, ranging from 265 lbs to 450 lbs, depending on the size. This makes the trampoline suitable for both kids and adults, and it can be used for a long time.
Frame and Enclosure
The trampoline's frame is made of galvanized stainless steel, making it durable and resistant to rust. There are 6 support legs. also powder-coated, which adds an extra layer of protection against rust. The frame is designed to withstand the weight limit of each trampoline, making it sturdy and reliable. Enclosure comes in an in-net system, where you're unable to land on springs, but it decreases available jumping space, so choose wisely.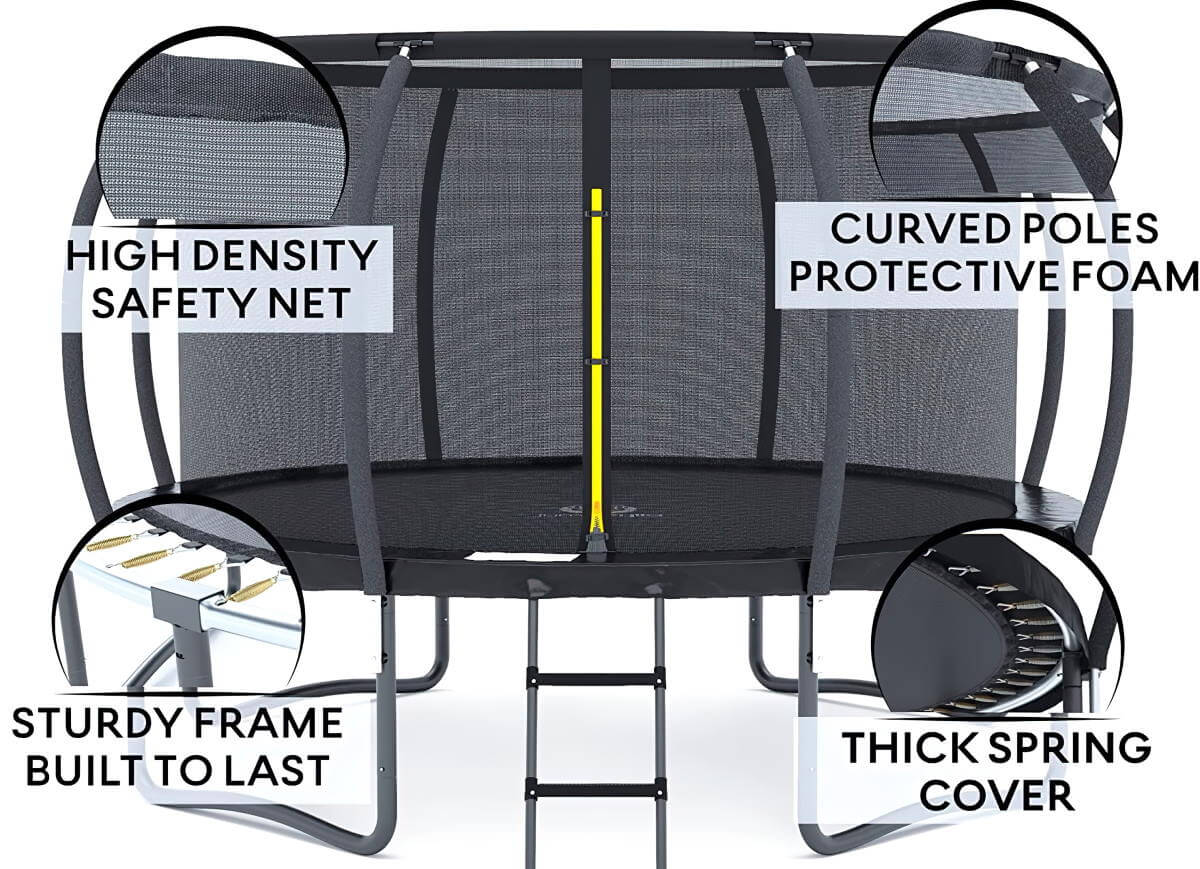 Jumping Mat and Springs
The Jumpzylla trampoline's jumping mat is made of high-quality materials that are waterproof and treated against UV rays. The mat is durable and can withstand the weight limit of each trampoline. The jumping mat is an essential component of any trampoline, and Jumpzylla's attention to detail ensures that it is of the highest quality. The JUMPZYLLA offers a spacious 12.5 feet diameter of jumping area, ensuring users have ample space to bounce and perform various activities. This measurement accounts for the actual bounce space and does not include the springs, providing a generous area for kids and adults alike to enjoy.
It features 72 heavy-duty, galvanized steel springs that are evenly spaced around the jumping surface. Each spring measures 7 inches in length, providing the necessary tension for a smooth and enjoyable bouncing experience. The springs' length and quantity are specifically designed to support the trampoline's weight capacity and ensure optimal performance, accommodating users up to 450 pounds. The JUMPZYLLA trampoline offers a smooth and responsive bounce, although some customers have reported that the bounce is less powerful compared to more expensive models.
Specifications and Features
Dimensions: 14ft diameter with 12.5ft actual bounce space
Weight capacity: 450 lbs
Materials used: Galvanized steel frame, polyethene safety net, and UV-resistant PVC padding
Assembly and disassembly process: Comes with all necessary tools and hardware, as well as clear instructions for easy assembly (usually takes about two hours)
Safety features: Enclosure net, padded poles, spring covers, and safety clips that can be locked from the outside
Additional accessories: Ladder, 4-piece anchor kit, and optional basketball hoop and weather cover (sold separately)
Assembly and Tools
One of the standout features of the JUMPZYLLA 14ft trampoline is its relatively easy assembly process. The trampoline comes with all the necessary hardware and tools, along with clear and easy-to-follow instructions, and YouTube video. On average, it takes about two hours to assemble the trampoline, although having extra help can speed up the process. Overall, customers have reported a generally positive experience with the assembly, with many praising the included tools and straightforward instructions.
Warranty and Customer Support
The JUMPZYLLA trampoline comes with a one-year manufacturer's warranty, which provides a level of protection for consumers. However, the warranty period is shorter than some competitors, which may be a concern for potential buyers. Regarding customer support, users have reported a positive experience, with the company responding promptly to questions and concerns.
Maintenance and Care
To prolong the life of the JUMPZYLLA trampoline, investing in a protective cover is recommended. This will help protect the trampoline from harsh weather conditions and prevent damage to the mat and spring cover. For more general maintenance tips, check out this article on cleaning a trampoline. Following these guidelines will help keep your trampoline in good condition and extend its lifespan.
---
Comparison with Competitor trampolines – Zupapa 14ft and ACON Air 14ft
When comparing the JUMPZYLLA 14ft trampoline to its competitors, we've chosen the Zupapa 14ft and ACON Air 14ft round trampoline as reference points.
Jumpzylla 14ft vs Zupapa 14ft Trampoline
The Zupapa trampoline is a popular choice for many consumers, featuring a durable design, high-quality materials, and a longer warranty period. While the Zupapa trampoline is more expensive than the JUMPZYLLA model, it offers a better overall value in terms of durability and customer satisfaction.
Jumpzylla 14ft vs ACON Air 14ft Round Trampoline
ACON is a well-known brand in the trampoline market, with the Air 14ft round trampoline offering a premium product with the excellent build quality, strong bounce, and a 5-year warranty on the frame. However, the ACON trampoline is significantly more expensive than the JUMPZYLLA, making it a less accessible option for families on a tight budget.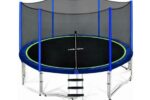 The Zupapa 14ft Round Trampoline offers a durable, safe, and enjoyable jumping experience for the whole family. Its hot-dip galvanized steel frame and high-quality materials ensure long-lasting fun, while the included accessories provide extra convenience and protection. With a generous warranty and a high weight capacity, this trampoline is an excellent investment for creating lasting memories.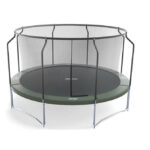 If you search trampoline which will be used by all possible age groups and will do it's job just awesome, then Acon Air 14 ft Trampoline with premium enclosure is the right choice. A bit higher price is well justified by provided part quality.
---
User Reviews
The majority of customer reviews are positive, with users appreciating the balance between price and quality. Some highlights include the easy assembly, sturdy design, and additional safety features such as the clips that can be locked from the outside. However, some users have experienced issues with the durability of the trampoline, specifically with the springs and jumping mat becoming overstretched. Some users also reported difficulties with the safety net, though others were able to resolve these issues by adjusting the assembly method.
Conclusion
Overall, the JUMPZYLLA trampoline may not be considered one of the best in terms of quality, its price certainly justifies some of its drawbacks. The materials used may not be as durable or long-lasting as some of its more expensive counterparts, but for those on a budget, it's a great option, so if you're looking for a trampoline that won't break the bank, but still offers a fun and safe way to bounce around, this one is worth considering. Just be prepared to make some trade-offs in terms of quality and durability. If you prioritize a long-lasting trampoline with a more extended warranty, you may want to consider more expensive options like the Zupapa 15ft or ACON Air 14ft round trampoline. In the end, your choice will depend on your budget, priorities, and desired level of quality.

JUMPZYLLA Trampoline 14ft Round
Review Conclusion
In conclusion, the Jumpzylla 14ft trampoline is a great option for those on a budget. While it may not be the best in terms of quality and durability compared to some of its more expensive counterparts, its affordable price justifies these drawbacks. If you're looking for a trampoline that offers a fun and safe way to bounce around without breaking the bank, the Jumpzylla trampoline is worth considering. However, be prepared to make some trade-offs in terms of quality and durability.
PROS
Size options: Available in multiple sizes to suit different space requirements.
ASTM approved
Easy to assemble and includes a ladder for convenience.
Affordable price: The JUMPZYLLA 14ft trampoline is budget-friendly, making it a more accessible option for families.
CONS
Spring performance
Mat quality