The SkyBound USA is well-known for its performance and durability, which makes it one of the best choices for you. It has many models like round, rectangle, and oval that suit everyone's needs. You can also buy it at an affordable price online or offline stores.
About the Brand
The SkyBound USA is a leading manufacturer and distributor of trampolines and other aerial recreational products.
In the year 2000, Skybound USA was founded by two brothers from New Jersey, who had been in the trampoline business for many years. The company has always been striving to provide customers with high-quality products at affordable prices while maintaining a high level of customer service. In 2003, Skybound USA became a member of the International Trampoline Association (ITA) and in 2005 became an ITA Registered Manufacturer.
Today, Skybound USA is one of the largest manufacturers and suppliers in North America with a distribution network that reaches across the country.
From product range, they offer entry-level kids trampolines like SkyBound Super7 and SkyBound Atmos, trampoline for teenagers like SkyBound Cirrus, all the way to regular-size backyard trampolines like SkyBound Stratos. If you are in the market for an oval trampoline, they've got you covered with their Oriokyn oval trampoline, and for semi-pro jumpers and everyone who wants to increase their gymnastics ability, there is their biggest rectangular trampoline – SkyBound Horizon.

Reviews of Skybound Trampolines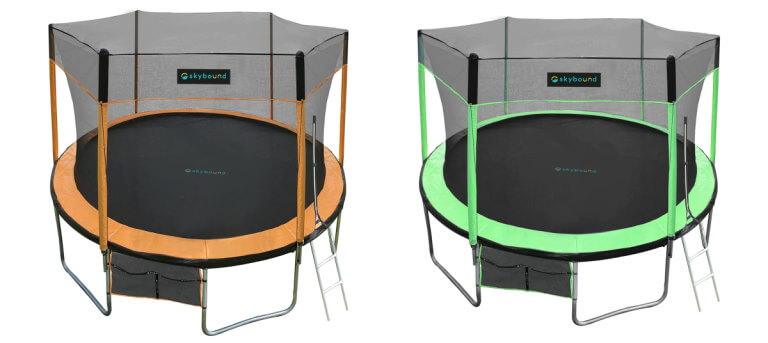 The SkyBound SkySoar 15ft round trampoline is an excellent choice for families seeking a safe, durable, and fun outdoor entertainment option for their children. With its various safety certifications, high-quality materials, and additional features, this trampoline offers a fantastic backyard experience.