The all-new Acon Air 13 Sport HD
ACON, manufacturer with Finnish know-how and years of experience in manufacturing trampolines, decided it's time to show the baby brother of their flagship ACON Air 16 model, so this trampoline  is their newest attempt to assimilate the world of rectangular trampolines. As market lacks good trampolines, looks like ACON decided to put an end on it and make another great trampoline, capable of much more than fellow competitor offer.

Weight limit: CE /ASTM -certified : 330 lbs
ACON Air 13 Sports HD Specifications
Cool, two-tone ACON Garden Green that pops in any scene. It's recognizable in just one look, from its unique shape to the premium styling
Frame
Heavy Duty galvanized steel frame, black powder coated with a tube diameter of 2.4″ and tube thickness of 0.10″
Mat
Synergy Design at its core to create a smooth, efficient bounce. Quiet SafeZone mat is a leap forward in safety and sound, with a skirt that reaches over the springs. This eliminates the risk of spring contact and dampens any noise while bouncing. It's made from UV treated, cross-sewn polypropylene with 10 rows of stitching and with a total size of 130×72″.
Springs
Called X-Series Springs, offer more bounce, a longer lifetime, and enhanced safety right out of the box. It's their finest Finnish engineering in action. A New, Adjustable Double-Layer Spring System allows you to set your springs to one of two different vertical attachment positions to create the bounce that gives jumpers a choice of spring tensions to find the bounce that's just right for them – from small kids to advanced jumpers. Perfect for helping grow with young jumpers as they mature.
Springs are made from galvanized steel, there are 108 pieces of 10″ springs in the box, with a spring pull tool included.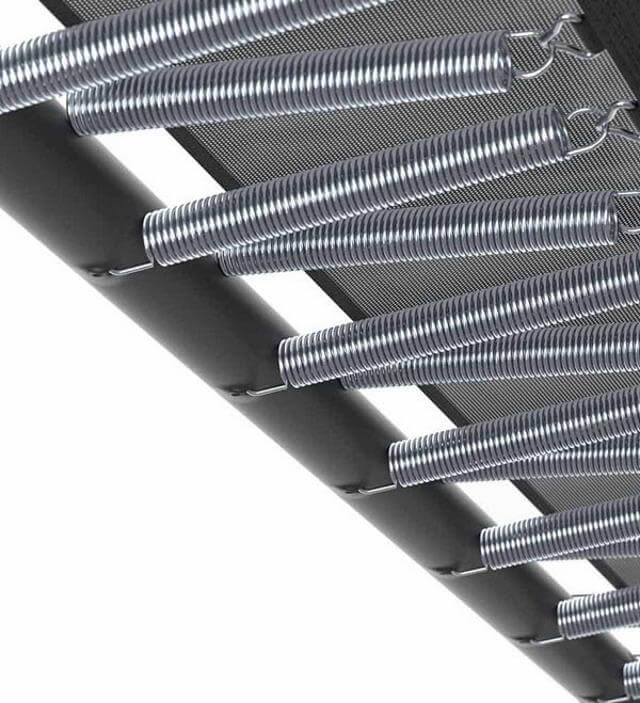 One-way set-up – All springs are attached on the upper side of the frame.
Two-way set-up – Springs are attached two-sided of the frame – every other on top, every other under the frame.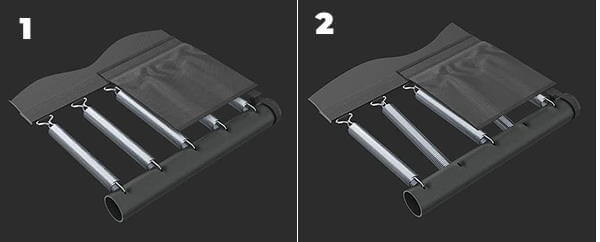 Padding
The thick UV treated vinyl cover is 16-inches wide and 1.2-inches thick. There have been thicker pads than we've seen, but this one is perfectly adequate. The material is of better quality than most other pads. It does sit above the springs so even if you land on the mat, it is still bouncy enough. The whole deal is heavy duty and you can leave it outside year-round. The trampoline can definitely withstand the elements – it is sturdy and bulky, but everything just fits into place and it feels extremely safe.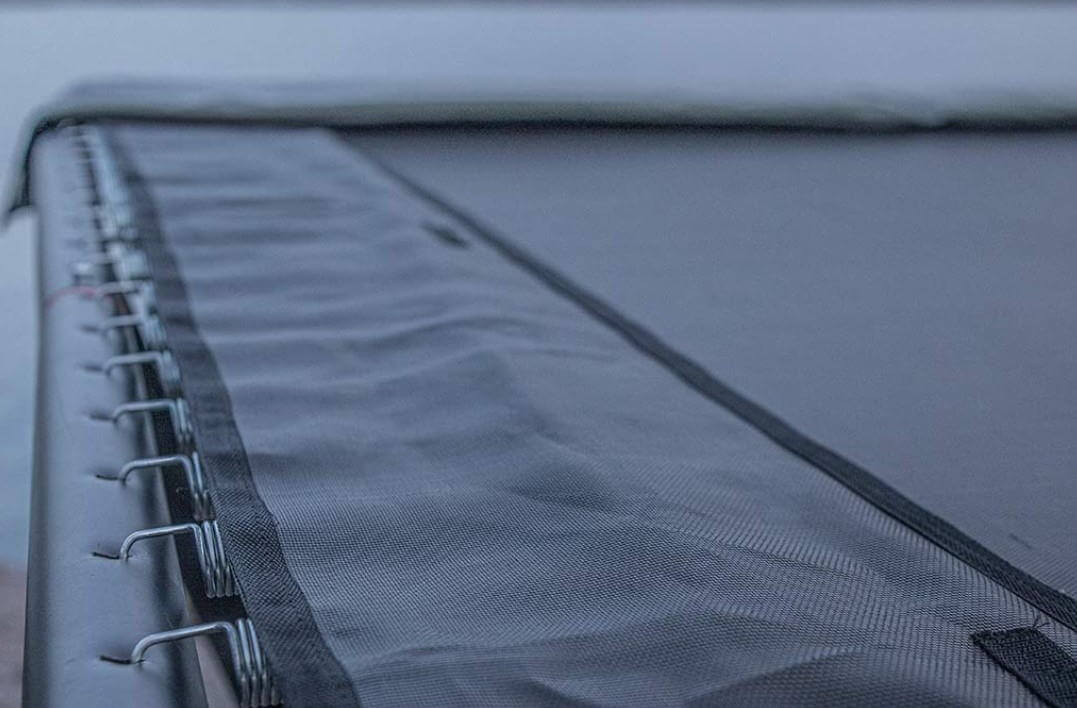 What's included in the package?
ACON Air 13 Sport HD Trampoline (frame, mat, springs, safety pad)
ACON Air 13 Sport HD Enclosure
Ladder
ACON HD Anchor kit (incl. 2 anchors)
Needed assembling tools
Spring Pull Tool
Trampoline user manual
Graphical instructions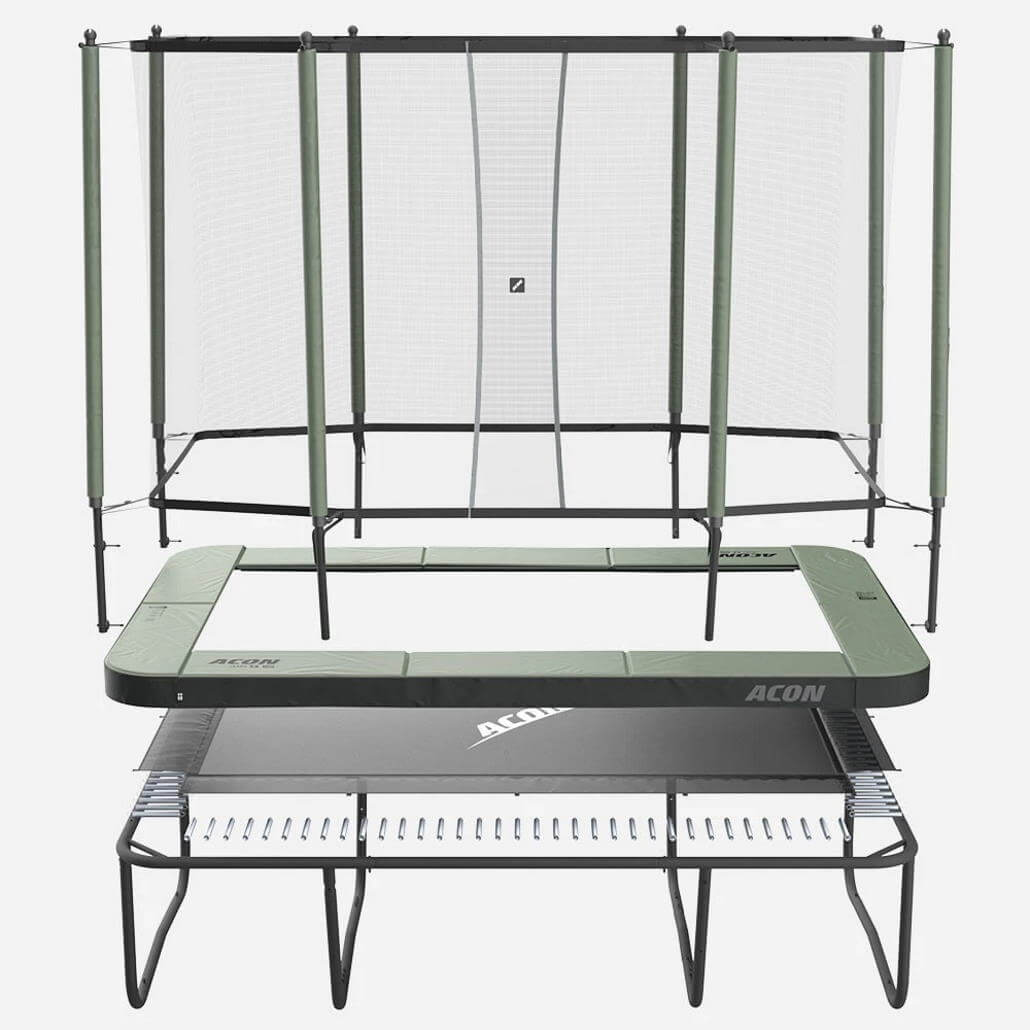 How it arrives?
It comes packaged in three pretty heavy boxes, with total weight of 456 lb
Package 1: 60″ x 30″ x 7″, 188 lb
Package 2: 60″ x 30″ x 7″, 184 lb
Package 3: 60″ x 30″ x 6″, 112 lb
How long is the warranty on ACON Air 13 Sports?
10 years for the frame
5 years for the springs
5 years for the jumping mat
2 years for other mat components
2 years for the safety pad
1 year for the anchors, ladder and enclosure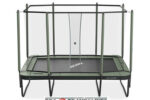 ACON Air 13 Sports HD
PROS
Excellent bounce
Good warranty on the parts
CONS
Expensive, especially as enclosure is not included in base package