bellicon Classic 49″ Review

For a start, first-time buyers who may be wondering about the difference between a rebounder and a regular mini trampoline should know that a rebounder is simply a mini trampoline designed for use in gyms – it's not inherently different from a regular mini trampoline but does offer superior performance, it is specially designed for low impact workouts, and of course, capable of much higher weight limits. For someone who is a gymnast, a rebounder makes perfect sense as a low-impact alternative for warming up before training sessions.
What is special with bellicon is that every unit is custom-assembled to fit you, your personal jumping style, and your fitness goals, as you can choose not only size but also spring tension, all on different models, whichever suits you best. And that's why bellicon comes with a price.
Check bellicon price on Amazon
bellicon Classic 49″ Specification
Frame:
Bellicon frames are made of durable, industrial-strength material but they still do have a weight limit. In the case of bellicon Classic, its weight limit, with Extra-Strong bungees is around 250 lbs, while Premium models have even better steel quality.  They're solid, stable, and built to last. This model offers 37″ of jumping area, which is quite more than you'll find on smaller models. Overall, frame is quite sturdy but could be a bit better, as the actual overall weight of 30 lbs doesn't add to the sturdiness. But those are drawbacks when you use bungee springs instead of standard steel springs, as they do quite add to the product weight.
Mat:
The bounce mats are constructed from UV-resistant polypropylene mesh fabric. They offer a secure but highly elastic surface and they're designed to hold up to regular and frequent use both indoors and outdoors. Bellicon trampolines are also designed with a unique mat that has a non-slip surface. This means you can jump with confidence, even if your feet are sweaty or wet. The mat is also easy to clean, which means you don't have to worry about it getting dirty or smelly.
Cords:
One of the standout features of the Bellicon trampoline is its customizability. You can choose the bungee strength that best suits your needs, which means you can customize the trampoline to your individual fitness level.
49″ Classic comes with a highly elastic rope ring suspension. The bungee cords are crafted from allergen-free rubber and are covered by rugged polyester material. It's made from bellicon's proprietary, custom-formulated latex. They are quite stretchy (tried on strong bungee cords), and provide a nice lift, without too much stress on the joints. When compared to JumpSport 350, bounce height is a bit lower but still acceptable. Keep in mind that JumpSport doesn't offer an adjustable spring firmness level so it might be different for each one of you.
49″ Classic version of bellicon trampoline offers three different levels of spring firmness, according to your personal wishes:
Strong Bungees (140 – 200lbs weight limit)
Extra-Strong Bungees (200 – 280lbs weight limit)
Ultra-Strong Bungees (280 – 440lbs weight limit)
If you require something even softer, then you'll need to sacrifice some jumping space, as 39″ bellicon Classic offers "Medium-Bungees (80 – 140 lbs)".
Frame Support Legs:
bellicon offers two leg styles — pre-attached and screw-on. The pre-attached legs fold inward, so the unit can be stored relatively flat. The screw-type legs must be completely removed if you wish to store the unit under a bed or flat against a wall. It is 14″ tall, which is quite a lot but still safe to jump.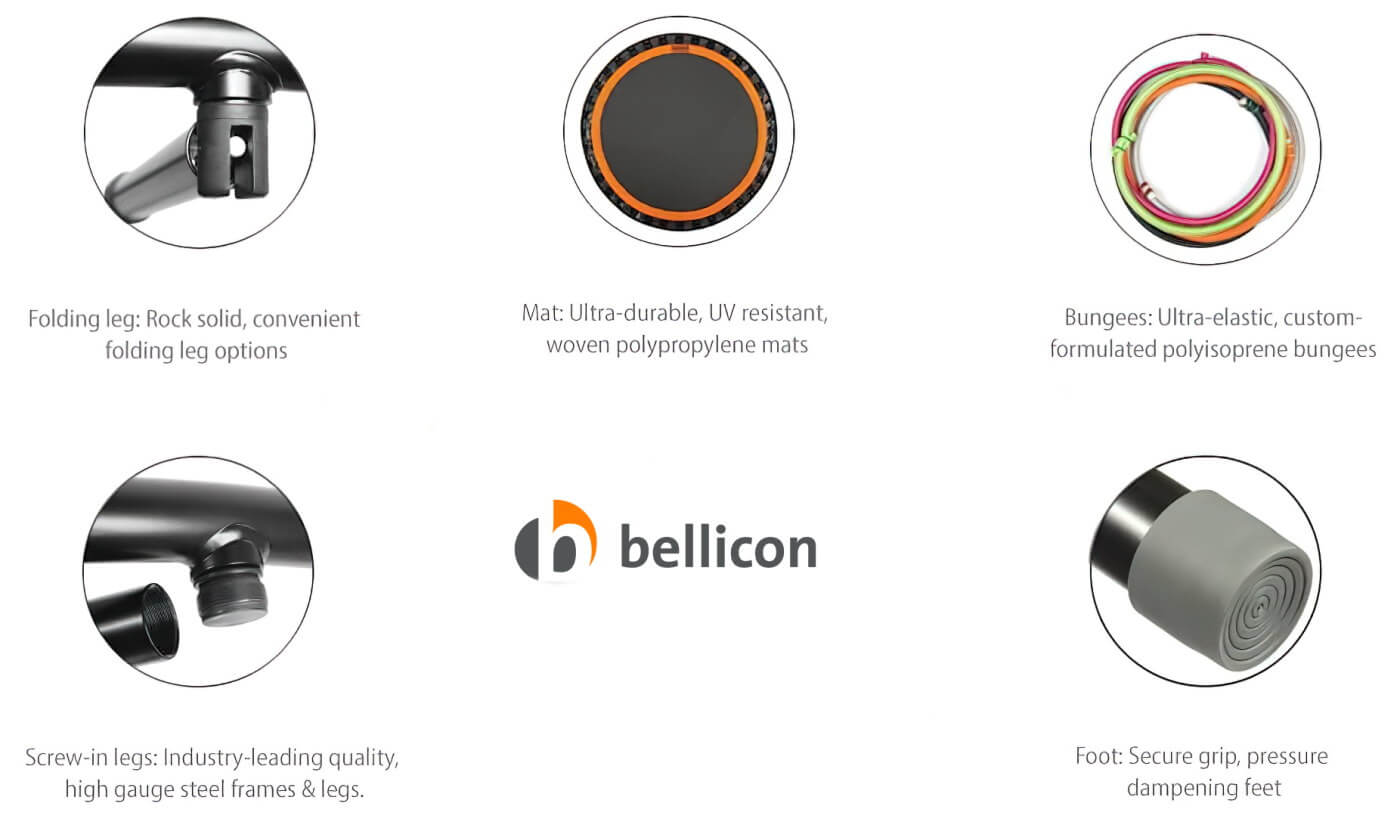 Pros and Cons:
Pros:
Built quality
Excellent choice of spring firmness, and weight limits with it
Good quality mat, not the best but quite good.
Cons
Price
Complementary bellicon Live subscription could be longer.
Other bellicon Classic model sizes:
The bellicon Classic is a versatile option suitable for all training styles. It comes in three different sizes: 39″, 44″, and 49″:
If you have limited space or need to transport the bellicon® frequently, we recommend the smallest size of 39″.
For a more challenging workout, we suggest the medium size of 44″ as it provides 40% more jumping area.
The largest size of 49″ offers even more comfort and training possibilities, making it ideal for exercises that require lying down. It's available with screw-in legs or fold-up legs.

What are you actually paying when buying a bellicon trampoline?
A lot of people want to know if it's really worth paying. In our opinion, after extensive testing, we think there are two possible reasons to pay for a bellicon:
Customization:
You're paying more for a unit that better fits you and your specific fitness needs. The bellicon's specially formulated bungees come in five different strengths to accommodate different body weights and different forms of exercise. As a result, you'll end up with a model that is most appropriate for your fitness goals, body type, and bounce style. The fact that your mini trampoline will be custom-fit for you means that the overall jumping experience will be more satisfying. Choice of bellicon springs available to choose from, based on jumpers weight and depending on the type of bounce you desire. Yes, you can choose firmness according to your personal wishes, pretty cool, we might add!
<80 lbs: Soft bungee cords
80 – 140 lbs: Medium bungee cords
140 – 200 lbs: Strong bungee cords
200 – 280 lbs: X-Strong bungee cords
280 – 440 lbs: Ultra bungee cords
Quality:
Second, if you opt to buy a bellicon rebounder, you can be sure you're getting a top-quality, high-performance unit. Yes, it is expensive, when compared to others, but you're paying more for the super stable frame, better, bouncier mat, and quieter jump experience. It's perfect even for heavier adults, as frames on Premium models can handle at least 440 lbs. On the other hand, springs can't, so have some extra.  The bellicon is German-designed and manufactured, passed a lot of independent certification tests, and has a proven track record almost like no other mini trampoline.

Frame Size Options:
The company offers three main frame-size options. The larger the frame size, the larger the mat. Ranging from 39″, via 44″ all the way to 49-inch diameter. Having tested the biggest, the 49-inch model, I would definitely say bigger is better, as this size definitely provides enough jumping area. But one big step and you're off the trampoline. It's not a big drop-off – you're only 6 inches or so above the ground – enough to twist an ankle, so caution is advised.
Small round frame – 39″ (100 cm)
Medium round frame – 44″ (112 cm)
Large round frame – 49″ (125 cm)
bellicon Live
Bellicon provides two subscription-based online services that offer hundreds of workout videos tailored for rebounders. Bellicon Home is a video-on-demand system that can be accessed through a web browser and is updated weekly. Bellicon Live, which I am reviewing, is an app-based service that provides access to multiple live classes daily. Both services offer get-started videos, fitness plans, and progress tracking.
Upon logging in to the Bellicon Live app, users are presented with a schedule of live classes hosted by instructors from different countries and time zones. Bellicon also sends out a weekly schedule via email for those who prefer to plan ahead.
The Bellicon Live app has a vast content catalog that can be easily navigated in various ways. Users can browse by exercise type, with options like HIIT, and view upcoming live classes and on-demand videos. They can also browse by an instructor, each of whom specializes in different styles and techniques. Some programs are available in different languages. Users can add their favorite programs to their list for quick retrieval or download videos for offline use.
It definitely makes it easy for users to explore and experiment with different workout programs to find what works best for them.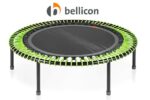 bellicon Rebounder Classic
Overall, we believe that the Bellicon trampoline is an excellent choice for anyone who is looking for a piece of high-quality, low-impact exercise equipment. Its durable construction, stable design, and variety of exercises make it a versatile piece of equipment that can be used for a wide range of fitness goals.
PROS
High-quality construction and durable design
Bungee cords provide a smoother and more enjoyable jumping experience compared to metal springs
Low-impact design is gentler on joints than traditional trampolines
Customizable bungee strength to fit individual fitness levels
Non-slip mat surface provides a safe jumping experience
Easy to clean mat surface
CONS
Higher cost compared to traditional mini trampolines
Some users may prefer the feel of metal springs over bungee cords for jumping
Price