Stamina InTone Oval Jogger Exercise Trampoline Review
Weight limit: 250 lbs (115 kg)
Exercise is a very important part of our lives. This mini trampoline – Stamina InTone Oval Jogger, is an excellent way of getting that exercise without leaving the comfort of your own home as there is nothing quite as satisfying as getting a workout while watching TV or following exercises from DVD.
First of all, you should be aware that this is not a proper rebounder, but a 'jogger'. In other words, this has no proper bounce as you'd expect in a rebounder. It's hard and has just a little give – ideal for running on a trampoline.
Recommended for: Adults in need of cardio-vascular workout. Not recommended for children!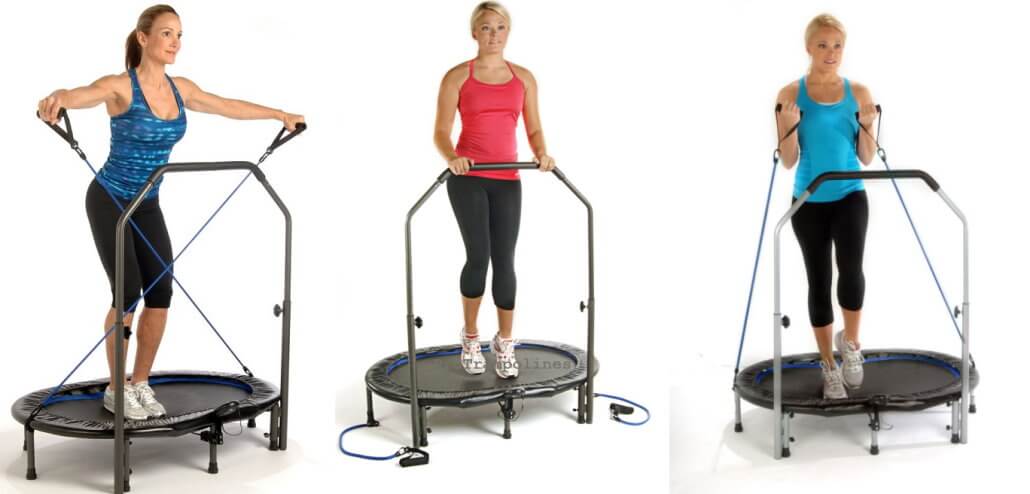 Stamina InTone Oval Jogger Specifications
This jogger trampoline is measuring 38-inches (3 ft.) in diameter and it is completely made of steel. It features 8 steel support legs which guarantee stability when in use.
The trampoline mat is very thick and will last for a long time. Total dimensions of jumping mat are 44.5″ W x 26″ D. But we have to mention, such large jumping area and good quality mat on mini trampolines in this price range is something really unusual.
As we mentioned, there is no real bounce like on regular mini trampolines, it's more like for jogging exercise. Jogger uses elastic straps that are responsible for that behavior. The straps aren't top-notch and don't inspire much confidence. On the other hand, they don't make much noise and vibration, thanks to the rubber pads at the legs. They do provide nice quiet resistance and are covered with a very thick safety pad. We just need to do something we haven't yet, and that is to recommend a user minimum weight of 150 lbs.
The handlebar is adjustable and can be set from 41-inches to 50-inches but in 3-inch increments. Not so hard to find your sweet spot! Good thing is that resistance tubes are connected on the side of trampoline so the handlebar does not get in the way
InTone Oval Jogger exercise trampoline is small and lightweight enough for anyone to move out of the way… Just set it up in the living room in front of the TV and you are good to go.
Storing it is a bit more difficult than a typical mini trampoline because of the safety bar. It must be removed if you want to store this exercise trampoline.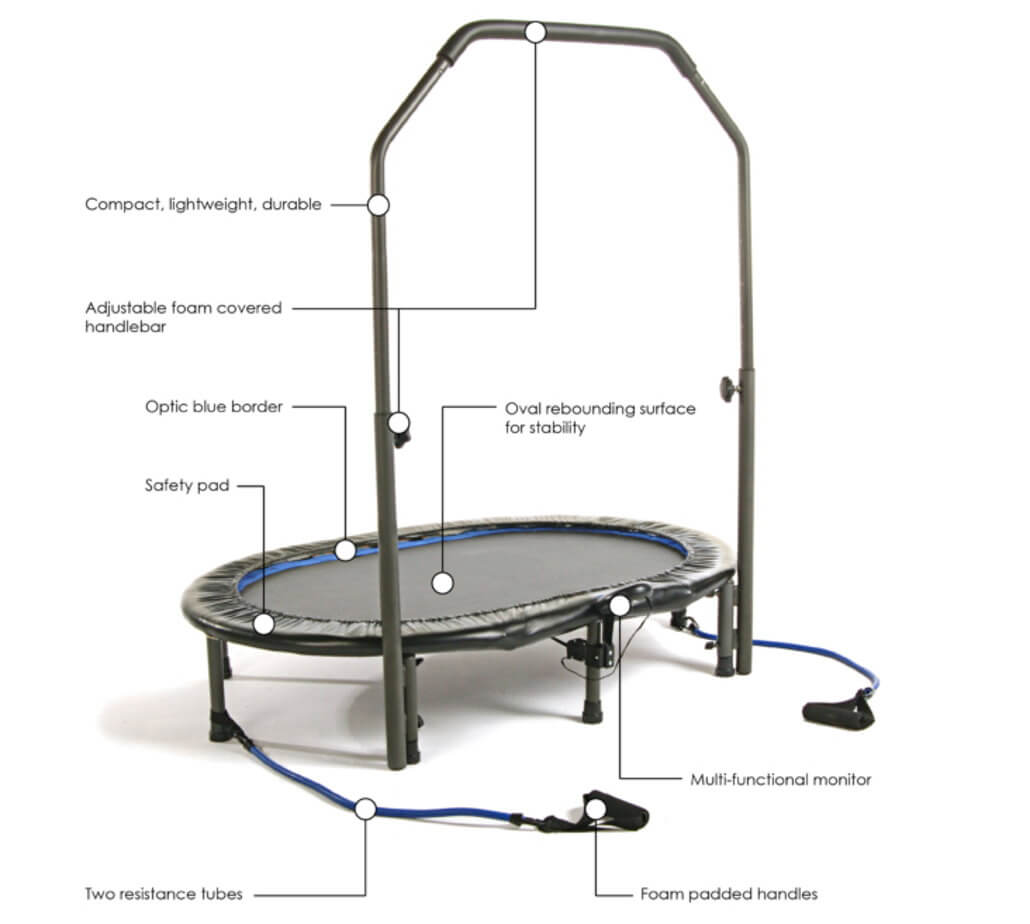 One thing that really surprised me is included fitness monitor, a little device that monitors your progress by tracking jumps per minute, the total number of jumps, calories burned, and total workout time. The device requires an AA battery which is not included in the set. The quality of the monitor is questionable (made of cheap plastic) but we presume it will last as long as you don't hit it too often 🙂
As Stamina Jogger trampoline comes with a workout DVD you can simply put the DVD in and follow expert guides with the best exercises to perform. The DVD is very informative and we were pleasantly surprised by it, as instructor and fitness trainer Mia Finnegan is cheerful without being super annoying (when compared to some other workout videos). After a while, you won't even need that DVD because you will have it all memorized. Good stuff!
---
Warranty
The warranty is 90 days on parts and a year on the frame. Could be better, but reasonable for the price point. The installation process isn't difficult, but we suggest that two people do it for extra safety. We do not recommend this model for children; there are dedicated trampolines for that that do a much better job.
Assembly
Assembly process is pretty straight-forward and while manufacturer advises assembly by two people we think that only one person will suffice to do the job under 40 min. Complete dimensions of assembled product are 9″H x 36″ W x 55″ D. Overall weight of this trampoline is 21 lbs (10 kg).
Need assembly manual? Download here!
 Stamina InTone Jogger Motivational video
Stamina is a well-respected company for producing quality products on a budget and Stamina InTONE Jogger also follows that tradition. We're not sure what to make of this trampoline. It's definitely not good for serious bouncing, but it doesn't even claim to be. It's springs are subpar, but well-suited for jogging. You get loads of extras for a reasonable price, and you're also covered by some kind of a warranty. While there are some quality control issues, if you're looking for a good mini trampoline to jog on, this might be worth a shot.
FRAME QUALITY & STURDINESS
PROS
All parts made of steel making it long lasting
Big oval jumping surface
Workout DVD included
Included handlebar and bungee style resistance cords
Included fitness monitor to track your progress
Affordable price
CONS
Handlebar and arm bands don't feel sturdy nor reliable enough
Low quality digital counter
Not so good for person under 150 lbs because of bounce responsivness
Not so flexible mat, but good enough for workout few times per week
Can't remove the handlebar without hassle, when you want to.