Best Buy Trampolines 2023
This is the category most prospective buyers like to find out about first. Why? It's simple. Best-buy trampolines provide the most fun for the best possible price. They represent that sweet spot where quality and price meet.
Are Best-Buy Trampolines Cheap?
Not necessarily. Best buy does not always equal cheap trampolines. Actually, bargain bin trampolines most often provide poor value for money. They cost a little, but they break so often that you'd be sorry you bought them in the first place. As with all things in life, you'll pass much cheaper buying an average item from the best retailer than the best item from an average one.
Best-buy trampolines are usually in the middle of the pack when it comes to price. They're not the cheapest, but not really expensive too. It's true – you do get more with pricier models, but for many users, the perks will not outweigh the increased costs.
However, if you can afford them, top of the line trampolines are always the best, performance-wise. Just be prepared to shell out some extra money. If you can deal with that, you're golden!
What Makes a Trampoline Best Buy?
There are several different factors to consider. Obviously, price is extremely important. No matter how good a trampoline is, if it's too expensive, it's not going on our list. Then, we like to see the list of extras. Ladders, covers, spring-pull tools, together with other exercise equipment (such as bounce counters for mini trampolines) all add up to a terrific value package.
The performance of a trampoline also must satisfy certain criteria. The enclosure must be adequately safe, and the bounce must not be below average in quality. We like to see rust-resistant frames in our best-buy trampolines as well.
Then we look at the warranty period. It's always nice to have a great warranty, but sometimes it's worth it to buy an otherwise good trampoline with a shorter warranty. Remember, best-buy is all about trade-offs, and something has to give.
Will this be good enough?
If you're a first-time trampoline shopper, then it certainly is. All the best-buy trampolines on our list are safe and fun enough for carefree, everyday use. You get an enjoyable experience with only a few minor annoyances, but you can save big. But, if you want to learn more, just check our trampoline buying guide and frequently asked questions.
We don't recommend best-buy trampolines for professionals. They are used to larger and more sophisticated rectangular trampolines, and none or only a few trampolines can satisfy the criteria.
Most best-buy trampolines and rebounders are round. It's the easiest and the most practical shape to make. Other shapes usually carry a price premium, so bear that in mind if you're looking for an oval or a rectangular trampoline. However, the benefits of an extra jumping surface and a smoother bounce might be worth the money to some.
I'm Interested – Show Me the List of Cheap Trampolines!
You can find the top Best buy trampolines of the season in the list below. We have carefully reviewed every one of them so you don't have to – just pick and choose what you like to see the detailed review. Happy jumping!
---
PureFun DuraBounce 14ft with Enclosure
Weight limit: 350 lbs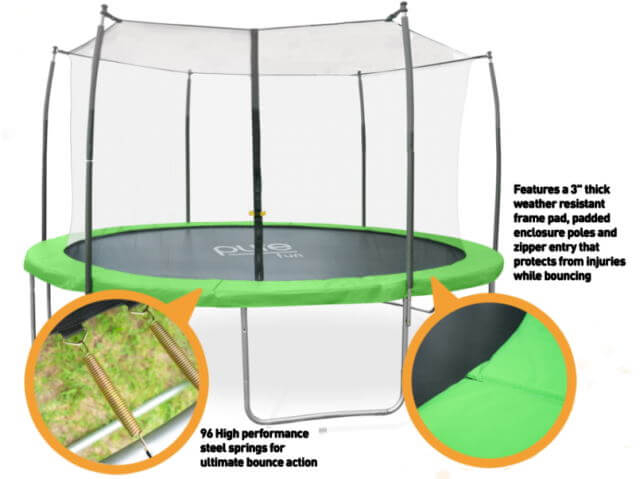 Check price of 12ft model on Amazon
This model of backyard trampoline by Pure Fun features great looks with lime green pads and a sleek mat.
The polypropylene mat is double stitched which not only looks nice but is a great safety feature that improves performance and bounce quality, too.
The enclosure poles (8 in total) keep the net strong and safe. We liked that the zippered net prevents you from touching the springs and the safety pad.
6 U-shaped legs provide good stability. We're happy that the manufacturer chose to include 6 legs instead of four. 96 springs are more than adequate for a 14 ft. trampoline and they support a maximum weight of 350 lbs.
Pure Fun has weatherproofed the trampoline really well and it justifies the term "outdoor" in the title. The poles are all rust-resistant; the mat is weather resistant and the mesh is UV resistant.
The trampoline takes a few hours to assemble but the assembly is not too difficult. For ages 6 and up. The warranty period is 90 days and covers all the parts. The trampoline is certified by all the relevant safety agencies.
All that comes at a reasonable price. The bounce is better than on generic trampolines and the safety net is designed well. The weight limit is very good.
Our verdict – we definitely recommend it, it's one of our favorite inside Top5 best-buy trampolines!
---
Kidwise Magic Circle 13.5ft Round
Weight limit: 450 lb.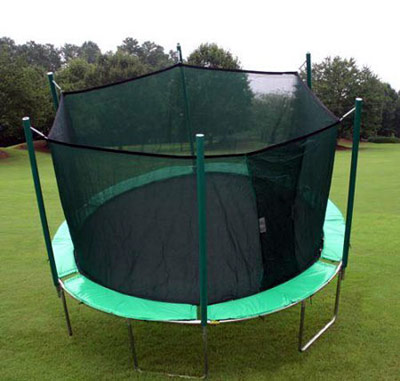 Available size: 10ft, 12ft, 13.5ft, 14ft, 16ft Reviewed model: 13.5ft
KidWise is a known manufacturer of trampolines that focus on safety and are kid-friendly, but they don't sacrifice usability either. This trampoline is no different. Featuring a bit unusual size of 13.5 feet, it comes in nice, bright colors.
Safety is paramount with this trampoline; the enclosure is sewn together with the mat so that the child won't accidentally land on the springs.
Not that they could anyway since the foam is so thick that it would protect them in either case. The mesh is tight and sturdy. The trampoline is very bouncy owing to 96 long springs (8.5 inches), meaning that there is a lot of fun to be had with this model.
Materials used are of high quality (14 gauge steel), as its weight rating of 450 lbs. shows. It's a large rating that shows us how confident the manufacturer is about their product.
It's easy to assemble and should take about an hour. An added bonus is that the trampoline is manufactured in the USA, which should justify its higher price than other, imported trampolines.
It's a good quality product suited for anyone, and won't leave you dissatisfied.
---
ExacMe 16 ft. All-in-one Trampoline
Weight limit: 330 lbs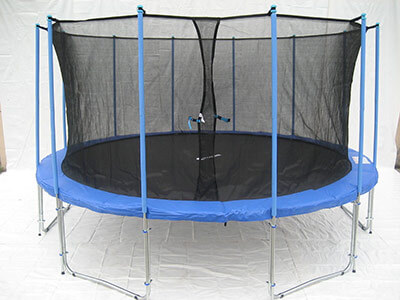 Compared with the previous ExacMe model on our list, this 16 ft. trampoline is a foot larger and features a different, improved style of enclosure, a style that we like more.
The net is sewn on the inside part of the trampoline so you cannot come in contact with the springs, making it a bit safer for recreational jumping. The net itself is 6 feet high.
For added stability, it comes with 6 stable support legs to hold a frame. The frame has a pipe thickness of 0.06″ with a full diameter of 166.9″. Steel is galvanized for an extra layer of protection. So do not worry about rust. 🙂
While it looks fairly basic, it is well-built and has no obvious quality issues or weak points, as most ExacMe trampoline are. The bounce is very responsive and the trampoline is a lot of fun. It can be left outside without issues as the mat and the safety pads are all made with UV-resistant material.
108 pieces of 7″ galvanized springs – same count of springs as on 15 ft version, too bad they didn't follow industry standards and added a few springs more – it could really five a nice boost in bounce. A few points blew away 🙁
As the trampoline is 3.1 feet high, the manufacturer provides a free ladder along with the trampoline. This is a great addition as ladders can and usually do cost quite a bit. The only gripe we had with this trampoline is that the setup and assembly are a nightmare and the useless instructions don't really help. You do get all the required tools and parts, though. So with some tinkering, it's definitely doable and isn't something you'll do more than once anyway.
If you're patient enough, this can definitely be a great purchase as the price is very fair and the complimentary ladder further helps sweeten the deal. Another plus is the great weight capacity of 375 lbs, something unheard of in this price range.
Have in mind while quality is satisfying we have to admin to some extra points were awarded only because of it's price.
Exacme 16ft Trampoline Full Review
---
Skywalker Trampolines Trampoline Sports Arena, 15'
Weight limit: 200 lbs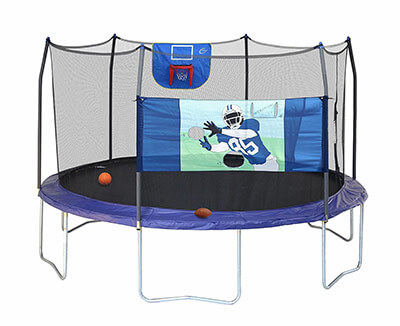 This trampoline again comes from Skywalker but is a markedly different product than 14ft round.
It comes with reinforced T-joints and good quality enclosure as well, but where unbeatable value for your children comes is with various unique additions. There are 96 gold plated springs that won't rust and the bounce is better than on their smaller model.
The trampoline includes a basketball hoop inside the trampoline for extra fun times. It also comes with a volleyball net that can be attached to the trampoline, so that those around it waiting for their turn can also do something fun.
But that's not all! The trampoline comes with a unique blow-back accessory, which is basically like a target that you attach to the trampoline frame and it rebounds the ball back to you. It's loads of fun and we really haven't seen anything like that anywhere. And it all comes together with the trampoline and requires no extra payment. This is an unbeatable value as the trampoline itself is not really expensive for its size. The warranty is standard for Skywalker – a year on frame and 90 days on other parts.
Again, the only gripe we have with this trampoline is its unrealistically low weight limit of 200 lbs. We feel the trampoline is capable of much more and simply cannot fathom why the manufacturer opted for posting such a low limit. Even though we are confident of the quality and think it can safely take quite a bit more, we must warn you that any malfunctions while going over the limit most likely won't be covered by any warranties. We still think it's excellent for kids due to its unique attachments providing hours of fun.
Plus-sized adults – take care.
---
North Gear Trampoline
Weight limit: 330 lb.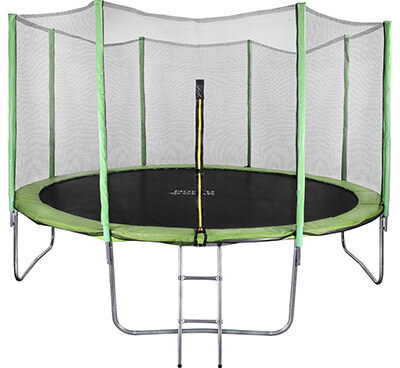 Available size: 10ft, 12ft, 14ft; Reviewed model: 14ft
North Gear has created a trampoline of medium size that will fit in most yards and provide a lot of fun. It comes equipped with a zippered enclosure, which is a standard even for cheaper trampolines these days.
We found that most trampolines have at least six legs whereas this has only four. This has not been an issue as the trampoline was still stable and it meets the regulatory requirements, but if you are really concerned you might want to spring up for a more equipped model. On the bright side, the trampoline comes with an included enclosure and a trampoline cover plus a free ladder.
The ladder is good for safety and the trampoline cover helps extend the longevity of your trampoline by shielding it from the elements. The trampoline is also rust-resistant.
It is recommended for ages 4 and up but we would actually recommend age 8+ as smaller jumpers will definitely not use all potential North Gear trampoline has to offer. It is rated for a maximum of 330 lbs, which is good for a trampoline of this size and more than most other trampolines offer.
What bothers us is the problem with the frame – we find it way too thin for that kind of weight limit so we definitely can't support 300 lbs claims from the manufacturer – stick to 200 lbs!
It is not difficult to put together and can be done in under two hours. We found it less bulky and more lightweight than other trampolines – some might consider this as lacking in quality, but it doesn't show. The customer service is stellar as well and they will happily answer all your questions. It comes in nice green color which is a breath of fresh air as most trampolines are blue.
While it probably won't be adequate for the most demanding users (we've seen a lot better), it's perfect for the occasional user. Also, the price with included accessories makes it one of the best buy trampolines.
---
New Clevr 12 ft. Trampoline With Enclosure
Weight limit: 330 lbs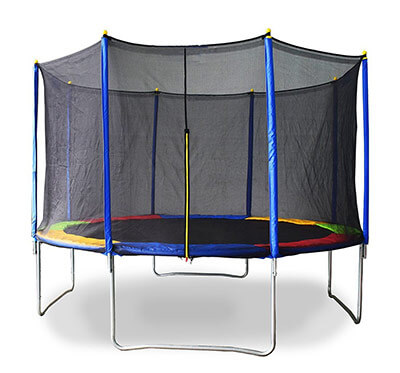 This trampoline represents the basic value product that is great for casual users. Just like trampoline we've already mentioned, the North Gear 12ft, it is highly functional and equipped with an enclosure.
As colors make us think that it was intended for younger jumpers, we would have liked if the enclosure was sewn on the inside of the mat so that you cannot touch the springs while landing, but that's what pads are for so it's still safe. Anyway, when it comes to kids' trampolines we really do prefer a bit more.
Build quality is good, especially considering the price point. It's not a revolutionary trampoline when it comes to function, but performs really well. 72 springs function well to provide a good bounce.
A high maximum allowed weight of 330 lbs. is very high for a trampoline of this size and as with the North gear trampoline above, this weight limit just doesn't sound reasonable.
It comes with a ladder, as a nice bonus.
The main selling point of this trampoline, though, is its design. Unlike regular blue trampolines, this one is colorful, bright, and vivid. It's easy on the eyes and the kids will love it for that. We haven't seen trampolines of this size in such colors and this one is definitely unique in this regard. The parents will love the fact that it won't break the bank and requires no extra tools and little time to assemble.
What about the price? Well, this is one of the cheapest ones that ended up on our TOP trampolines list so we can indicate that easily can be in the Top 5 best-buy. Again, if you don't mind the size…
---
SportsTramp Extreme 16ft. Octagon Trampoline with Detachable Cage
Weight limit: 450 lbs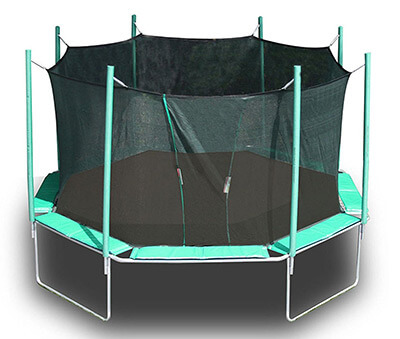 If, for some reason (we won't judge!), you dislike round trampolines, then here is something you might be interested in.
This is an octagonal trampoline and is really huge – 16 ft. and comes with an enclosure. The enclosure poles are foam-covered and the mesh is installed onto the mat; you can't land on the springs this way. The 14-gauge steel frame is rust-resistant and can withstand the occasional shower or storm without issues.
The bounce is "gymnastic quality", as quoted by the manufacturer. While we're unsure of what "gymnastic quality" would precisely entail, the description is fairly adequate.
A total of 112 tapered springs, which is a lot, does provide a good bounce. They are 8.5 inches long (above average) and the trampoline has a max weight limit of 450 lbs. A great result overall.
We found it easy to assemble, as installation requires no additional tools. We did it in an hour, but it shouldn't take anyone more than a couple of hours. For ages 12 and up.
The trampoline is more expensive than we thought it would be, but that is likely because of its unusual shape (round trampolines go for half the price). The bounce is better than the usual so it's a plus, too. But if you care about price, you should look elsewhere.
If you absolutely cannot stand round trampolines, then feel free to get this one.
---
Kangaroo Hoppers 15-Feet Round
Weight limit: 250 lbs

Here comes yet another affordable 15 ft. trampoline. Not that there is anything wrong with that…
The trampoline is very well designed and is available in five different colors – blue, orange, dark green, apple green & pink. There are no other differences among the models, though.
We tested the pink version and it looks good – the design choices are unique. This is not one of those re-branded cookie-cutter trampolines; the designers did their best, both looks- and function-wise.
Five U-legs keep it stable and the enclosure mesh covers the spring pads. The zippered doors allow for easy entry.
When you see that the "no drilling required" is featured in the description as a pro, it's a good indicator that you're not about to expect a hassle-free assembly. And it does take quite a bit of time as the instructions aren't clear at times – set aside a few hours for setup. No drilling though – they weren't lying!
The weight limit is 250 lbs. and there are 90 springs in total. We've seen ones with better bounce, but we won't call this disappointing. The extra L-shaped ladder, which is built into the trampoline, is basically a little step that helps you get on the trampoline, but nothing more is required, actually. It should last you a while, considering the materials are UV resistant and the frame is rust-resistant.
The price is very enticing and is one of the reasons we liked the trampoline so much. There definitely are better products around but expect to pay more. There have been some issues with customer support, but if you buy from Amazon you should be all set.
If you can't stretch your budget but want a 15 feet trampoline, you don't have to get a smaller one as this will do just fine.
Kangaroo Hoppers 15ft Trampoline Full Review
---
Skywalker Round with Enclosure
Weight limit: 275 lbs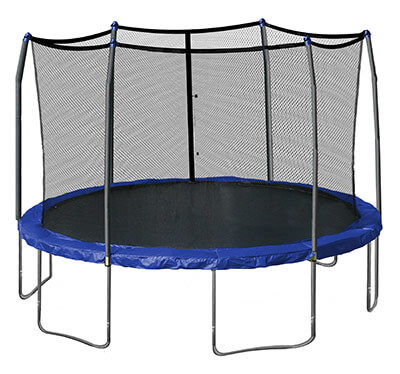 This 14 ft trampoline from Skywalker really will make you feel like you're in the sky, except you'll be jumping, not walking.
Skywalker is a company that has always made good quality trampolines at very acceptable price points and this one is no different. It comes with a very good enclosure that attaches at every spring, preventing you from touching them at all.
The enclosure is doubly secured and it cannot open on its own during operation. Special T-brackets are used to further secure the joints and stabilize the trampoline so that the frame doesn't twist under load and pressure. 84 springs 6.5 inches long provide a high bounce.
Six legs provide adequate trampoline stability and the fairly thick pads are covered in customary blue UV resistant paint. The polypropylene mat is UV resistant too and heavy-duty.
The trampoline doesn't feature groundbreaking design but isn't ugly to look at either. We found the assembly instructions clear and simple. It took us about an hour and a half to set it all up.
A red flag is its 200 lbs rated weight limit. The trampoline looks like it's capable of more, and in fact, some of our reviewers are dangerously pushing the said limit, yet they had no issues jumping on the trampoline. The joints look sturdier than in some trampolines that are rated for way more. Still, we wouldn't advise going over the limit (as you would if two people jumped, something we don't condone anyways).
There is a 1-year warranty on frame and 90 days on other parts. We did like the trampoline overall but the weight limit is really underwhelming. Think twice before you purchase!