ExacMe 16 ft trampoline – Improved version of ExacMe 15 ft trampoline or just a bigger brother?
ExacMe 16 ft T-series trampoline, the bigger brother of ExacMe 15ft, a model with a crazy weight limit, low price, and great reviews, so in case 15 ft is not enough, just for several bucks more you can get even bigger and improved version. Is it worth it? Well, read our review about 16ft ExacMe trampoline and decide for yourself!
Weight limit: 375 lbs (170 kg)
Model: 16FTcom – T-series
---
About ExacMe 16 foot trampoline:
The trampoline is ideal for first-time buyers who would like to enjoy a safe trampoline that is also fun to use. It won't suit the expert users, but this unit will be ideal for pretty much all families. If you have a smaller yard, consider a smaller ExacMe 14 ft or 12 ft trampoline.
ExacMe 16-foot trampoline has a diameter of 166.9″ (4,24m) and 108 springs for 375 lbs maximum weight limit is very easy to assemble and requires no tools or extra drilling. Almost all ExacMe trampolines can be assembled by two people in less than 2 hours, and this one ain't different. For those worried about quality control and safety, it meets all GS/TUV/ASTM/EN71/CE quality standards and safety requirements. The full height of assembled trampoline is 37.8-inch (96 cm) while the full height with the trampoline enclosure is 108.7-inch (276 cm).
Complete package includes trampoline frame, trampoline safety enclosure, springs, mat,  poles, ladder, clamps, and pole pads. It comes with all the hardware needed for DIY assembly.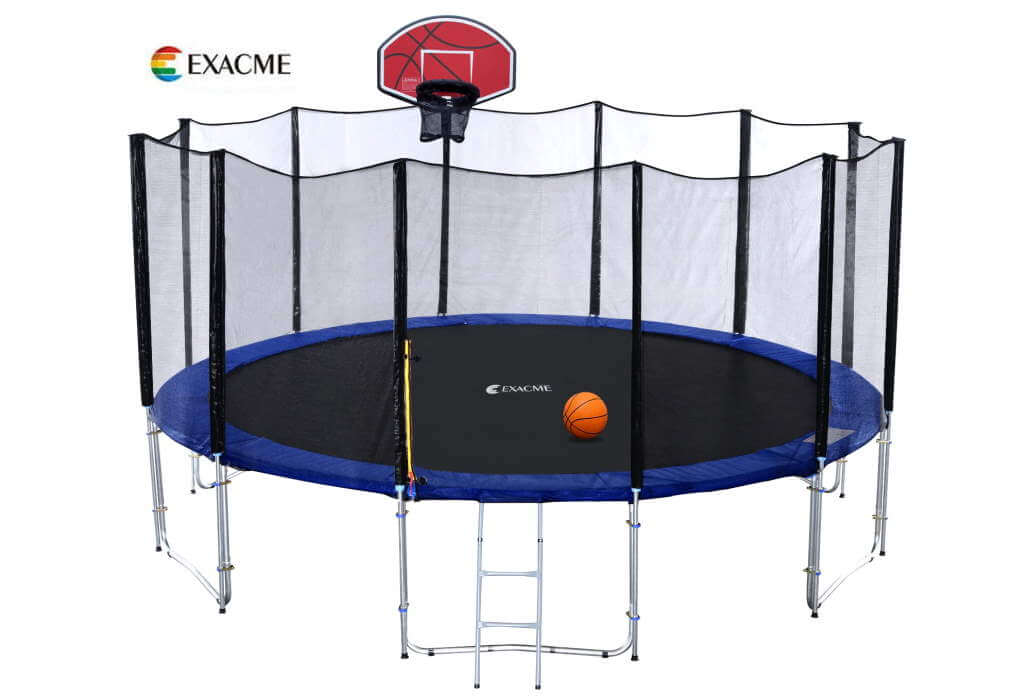 ExacMe 16 ft T series with Basketball Hoop – Parts Review
Frame:
ExacMe 16 ft trampoline is made with thick and strong, rust-resistant galvanized steel tubing, which is safer than conventional frame welded trampolines. We guarantee that this frame will be firm and rust-free in any weather conditions. While some may not like it, the trampoline frame comes covered with a protective layer of grease which you have to clean first. Trust me, if the manufacturer ships it with frame protected, it has to be good!
Enclosure:
PE mesh netting with zipper lock and straps and ropes for connections to trampoline frame.
Padding:
1-inch thick blue padding should suffice for everyday activities without risk of injury. Trampoline pad is made from PE+PVC material which is waterproof and UV resistant. Pad is filled with protective foam.
Mat:
Traditionally made from PolyPropylene (PP), which is industry standard for this type of trampoline. Mat is 6-times stitched with 8-stitches on the edge, for connection with V-rings. PolyPropylene is an industry-standard when it comes to regular backyard trampolines, is UV resistant and waterproof so no worries if you don't have a protective cover. Nothing will happen!
Springs:
108 pieces of 7″ springs should provide nice & adequate bounce. Springs are galvanized so need to worry about rust, also, as these are standard dimensions finding replacement springs should be easy, as this is the most common size and can be bought almost anywhere online, not only from the manufacturer. As there is the same number of springs as on 15ft model, we kinda feel bad there isn't a bit more of them… But, this is perfectly adequate for this price range. Especially when you consider the fact that you get a ladder and basketball hoop free of charge!
How Practical Is It?
You'll get it shipped in three large boxes, but don't let that throw you off. It's quite intuitive and doable with help of informative instructions. You also won't have to stop by the hardware store, as all the necessary tools are included in the package (even the pump to inflate the basketball). Of course, it's easier with pro-grade tools, but these will do fine.
Assembly manual for ExacMe 16ft Trampoline can be downloaded here.
Now, for the size. 16 feet is not small, so make sure you have ample space in the yard. And once you fit it, it will be the focal point of your yard. We didn't mind, even though it's a classic design, it looks refined enough – for the price, of course.
What about the Warranty?
The warranty isn't the most flattering part of the trampoline, we must admit. There's a 60-day return policy and a total 90 days warranty period. It applies to all parts but the frame, which is covered for a whole year. We are certain the parts won't fail even after the warranty expires, but we'd like to see it longer still.
Summary:
Rust Resistant Galvanized Steel Frame – Frame has pipe thickness of 0.06″ with full diameter of 166.9″. Frame needs assembly from 12 pieces of steel tubing. Steel is galvanized for extra layer of protection. So do not worry about rust. 🙂
6 W-Shaped legs with 12 pieces poles – Hot deep galvanized

Trampoline mat from PP (PolyPropylene) with 8-stitches on edge and 6 on the rest – jumping material which is waterproof and highly elastic.
108 pieces of 7″ galvanized Springs – same count of springs as on 15ft version, too bad they didn't follow industry standards and added few springs more, or a half of inch longer – it could really give a nice boost in bounce height.
PVC pad cover in blue color;
Enclosure – PE mesh netting;
Protective foam for the poles;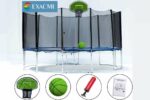 ExacMe 16 ft Trampoline – T Series with B-hoop
Very good trampoline which comes with unbeatable price! Highly recommended!
You may be Interested: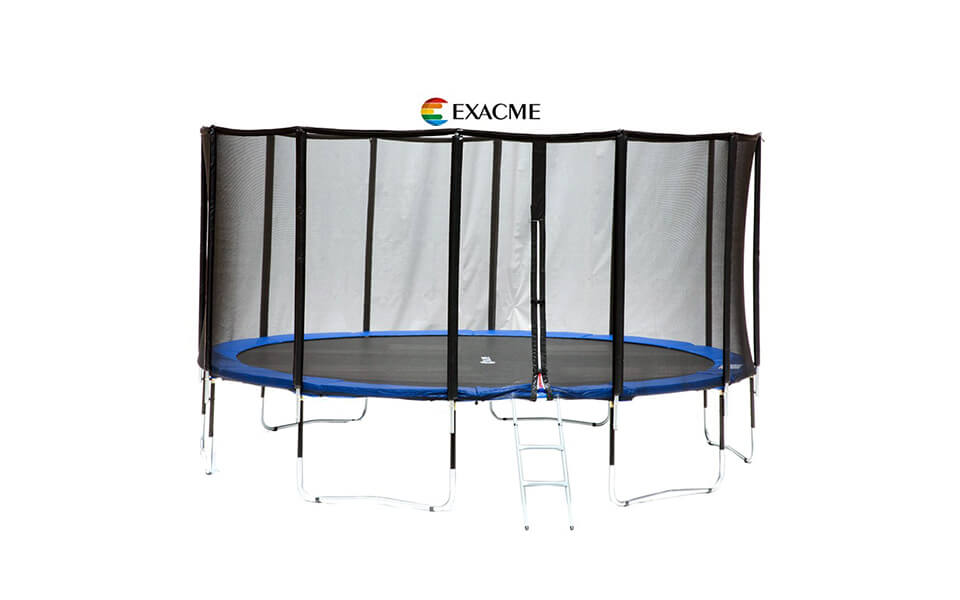 A luxury trampoline for a fraction of the price? Is such a thing possible? Well, we'd always err on the side of caution, but as we say, every trampoline deserves a fighting change. Let's see how the Exacme unit performed. Read more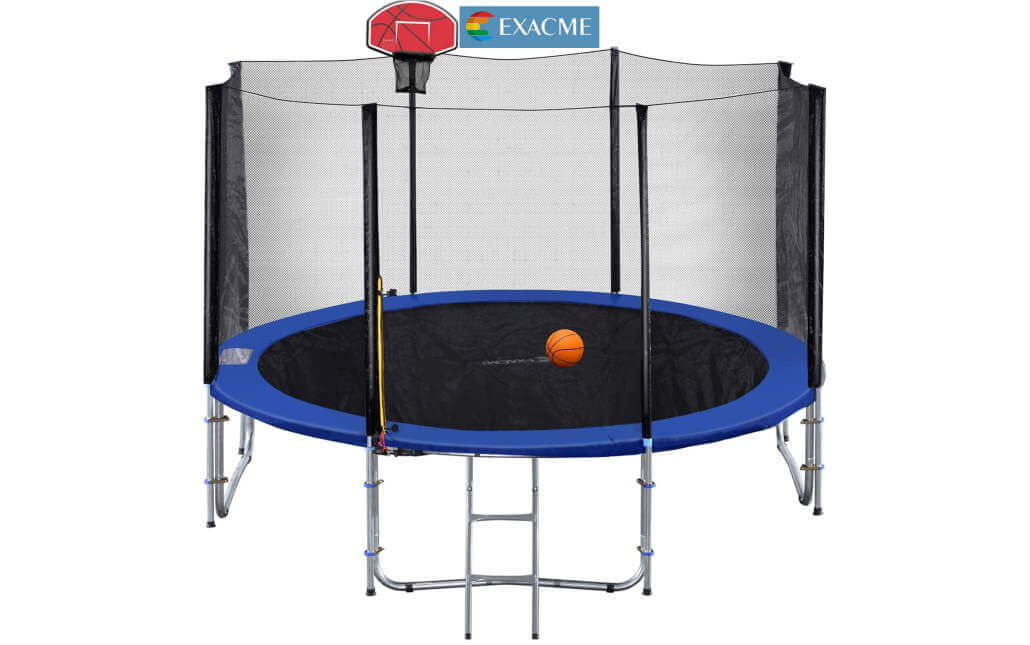 ExacMe, a fairly unknown but well-experienced trampoline manufacturer has come out with their take on a budget trampoline – a no-frills experience, but with a lot on offer – an enclosure, six legs, and a ladder. But how does it compete against other 14ft trampolines? Read ExacMe 14ft trampoline review here…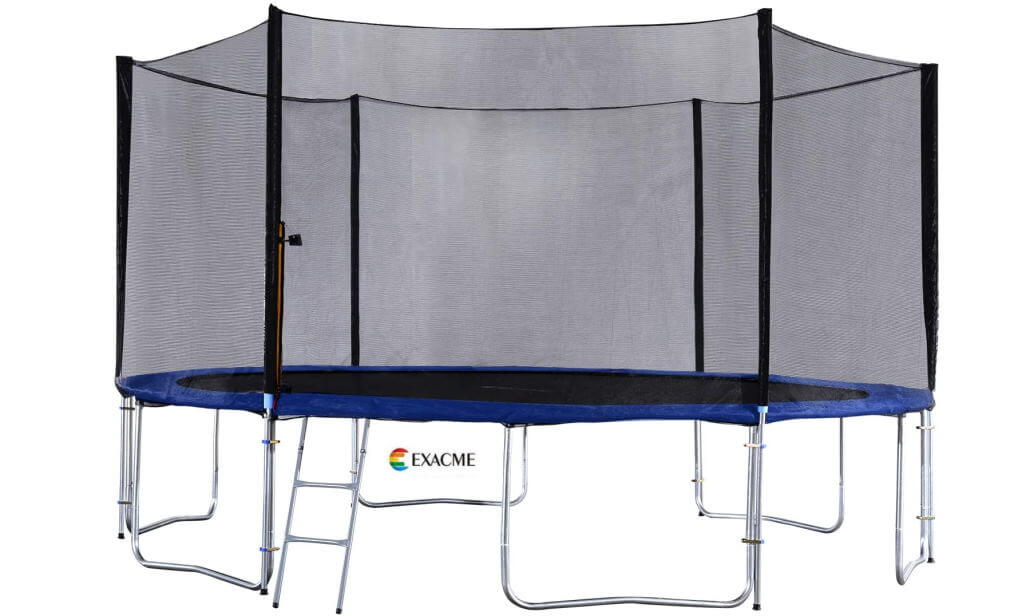 ExacMe 15 ft Trampoline T-series, trampoline with a crazy weight limit, low price, and great reviews, and probably one of the best deals you might get. Below average price coupled with a lot of free extras, create that sweet spot when it comes to trampolines. Are there any hidden surprises? Read our review about the 15 ft ExacMe trampoline!