You have decided to buy a trampoline. Now, what do you do? For a start – a simple trampoline buying guide!
Buying a trampoline is not and should not be an easy task. With so many available shapes, sizes, and different safety features, people have always had a problem recognizing great trampolines among thousands of trampolines currently offered in local shops. That's why we continuously review all new trampolines.
Frame thickness, mat and spring quality, safety –  all pieces of one big puzzle, a trampoline!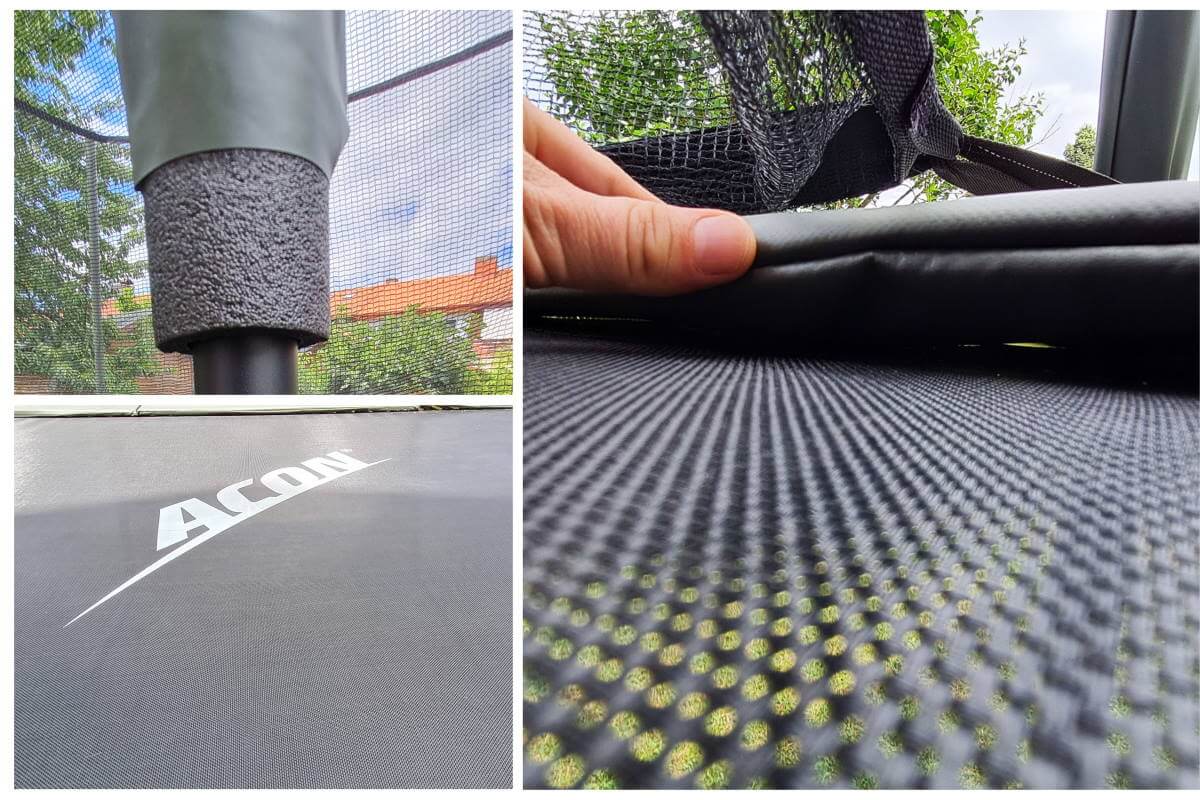 Think of it as a 3D puzzle, where all pieces must be the same quality to showcase your creativity in all of its glory. If only one part of it breaks, the whole thing is going down. Trampolines are no different, they all need to be made from good quality materials keeping them in one piece. This is why is essential to do research prior to buying one. Here we come into play – we did trampoline reviews of different shapes & size, making it easier for you to find a perfect trampoline.
TRAMPOLINE TYPES
Are you looking for a standard trampoline, mini trampoline, water trampoline, or perhaps a bungee trampoline that would be used for commercial purposes? The selection is huge and so are the differences.
As you might imagine, they an roughly be categorized into several categories, where each of which has certain conditions to meet – from jumpers' weight to desired jumping space.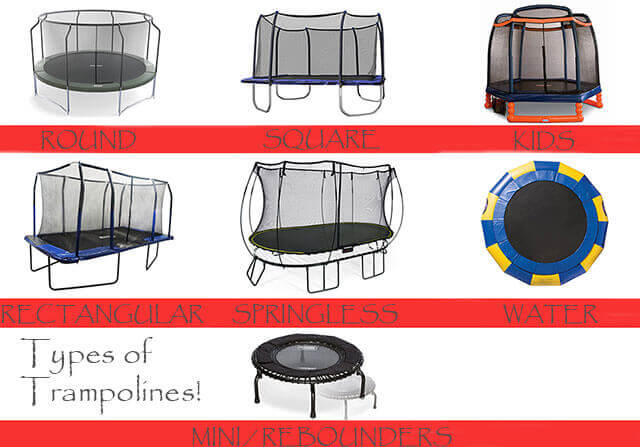 Indoor & Outdoor
If you plan to use a trampoline inside closed spaces then do it wisely – floor height should be at least several feet more than the actual height of a trampoline, as bounce it might provide will catapult you in the air. Don't forget that! If you are looking for an indoor mini trampoline or trampoline for smaller children, then you'll be all right, as bounce height can't be threatening. Click here for best mini trampolines or here for the best kids trampolines.
Outdoor trampolines are the most common types, and most of them can't be fitted inside, neither would be a good idea, as there are metal parts everywhere.
Spring-based & Spring-less
Most people aren't aware that there are trampolines without springs. And while it sounds like science fiction, as springs are the ones responsible for a bounce (mat is NOT stretching) some new ideas made it possible. Of course, there is not a lot of spring-less models, but those which exist are some of the best when it comes to quality. If you are among those who never heard of them, no worries, 98% of trampolines are still old-school steel-based products. From other spring types, let's just mention bungee ropes, as they are most commonly found on mini trampolines. Btw, if you want to know more about springs, click here.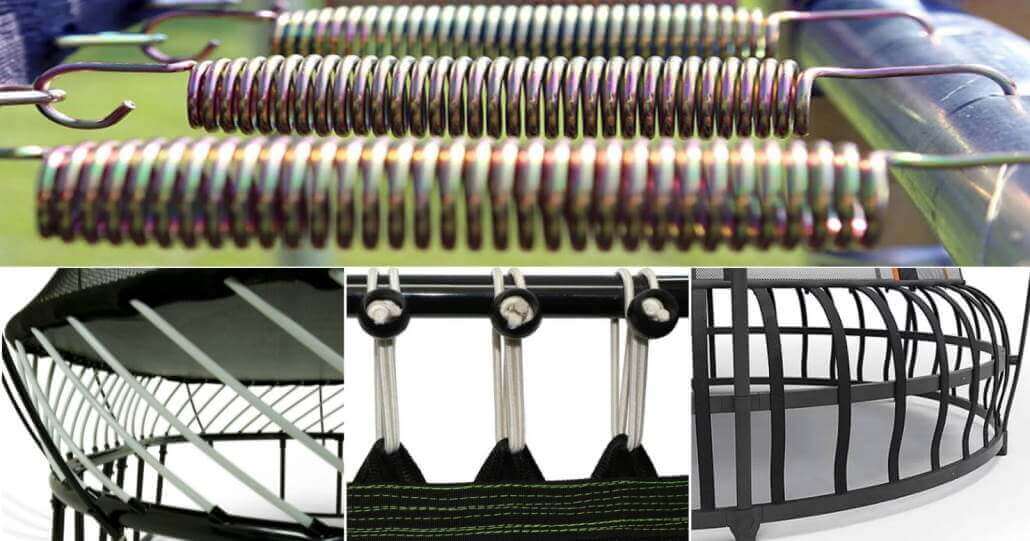 If safety is your #1 concern then springless trampolines are the answer. As spring-based trampolines have one layer of protection on them (padding), which can accidentally move and create a threat for the jumper. Jumping on or through springs is certainly not a great feeling, and most of all, not safe. As a matter of fact, you'll be lucky if you'll go with a few scratches, as a broken foot or toe would be the most possible injury.
Springless trampolines tend to remove that threat by combining new technologies and new concepts, with one goal – to make trampolines safer for their users. They do that by eliminating springs and padding altogether, all via a new design concept. But, under no means, you should think that they are 100% safe. In the end, it all comes to the "rule set" – what you should do and what you shouldn't.
Learn more about different types of trampolines
TRAMPOLINE SHAPES
Oval, round, rectangular, square? Which of those shapes is the best? If you need it for occasional fun, then whichever you like most will do, as long as the weight of the jumper is within product limits. For gymnasts there is no dilemma, they need rectangle-shaped and that's basically it.
Regarding the most frequent question there is: "What's really different between a rectangle and round ones?" we made a bit deeper comparison here: Rectangle Vs. Round
---
Round
Most popular outdoor trampolines are used for occasional bouncing fun. They tend to direct jumpers to the center of the mat so can be considered as beginners trampolines. Read our reviews of round trampolines and make sure that your trampoline activities stay safe & fun.
What is a good trampoline to buy?
---
Rectangular
Rectangle trampolines are the most popular trampolines among gymnasts and all other people who demand powerful bounce and extra safety from the trampoline. Rectangular trampolines are trampolines that will give you the best and highest bounce.
What is a good trampoline to buy?
---
Square / Oval
Square trampolines are trying to provide safety of round with the bounce quality of the rectangular, square trampolines are gaining popularity like never before.
What is a good trampoline to buy?
---
SIZE – What size trampoline should I buy?
Sometimes less is more. It is important to buy a trampoline based on the specific age of the user because the overall usability and performance of the trampoline depend on the jumpers' weight. 15ft trampoline for a preschooler? A big no. So always try to buy a trampoline accordingly.
While the average trampoline size is 12 ft, during the last few years most of people decided to go with bigger models, mostly 14 feet, while a small number decided that 15 ft will be a size that would suit them. Have in mind that sometimes there is no real difference in jumping space between those two, as the location of the net (enclosure) dictates how much room there's gonna be. Also, sometimes the shape is what matters, for example, a 14ft square trampoline would have jumping space equivalent of a 20 ft round trampoline.
---
Where Should You Buy a Trampoline?
When purchasing, you have three real options available. The first option is a big-box store. Several big retailers carry them. You can get great deals at stores like this. Also, big-box stores usually have a consumer-friendly return policy. With that said, the selection at these stores tends to be fairly limited.
The second option is to shop online. There are always deals available on web-based stores, and there are all kinds of products to choose from. You'll be able to find trampolines you wouldn't be able to obtain anywhere else. With that said, having one shipped to your home can be a challenge. In addition, not all stores will be able to answer questions or provide you with detailed product information.
Your third option is to work with a dealer. This is a type of retailer that exclusively sells trampolines and accessories. When you're buying directly from a dealer, you'll have to pay a little bit more. Even lower prices will usually be above the rates you'd see at a bigger store or online shop.
Which trampoline brand is the best?

When it comes to brands and manufacturers, only several can be considered as high-end recreational trampolines – ACON, JumpSport's brand AlleyOOP, Spingfree Inc springless trampolines, and a few models of Vuly Play trampolines. Of course, there are also a few all-American trampoline manufacturers which do produce fantastic trampolines, but as we haven't tested them, they will not be on the list. Have in mind that each and every brand tries to keep up, so things are definitely changing very fast.
For other questions you might have please visit our "Frequently Asked Questions" section.