Review of Zupapa 15ft Outdoor Trampoline, 2021 model
Weight limit: 425 lbs (190kg)
What it lacks in refinement, it provides in value. The Zupapa trampoline is big on providing more bang for your buck. Obviously, this trampoline is foreign-made and imported, but Zupapa, the German-based company, is big on certificates and displays its TÜV certificate proudly. In essence, this means that it has been certified by TÜV Nord, a highly respected European certification agency for sporting equipment for standards in manufacturing and materials. But, let us jump onto the Zupapa trampoline review!
---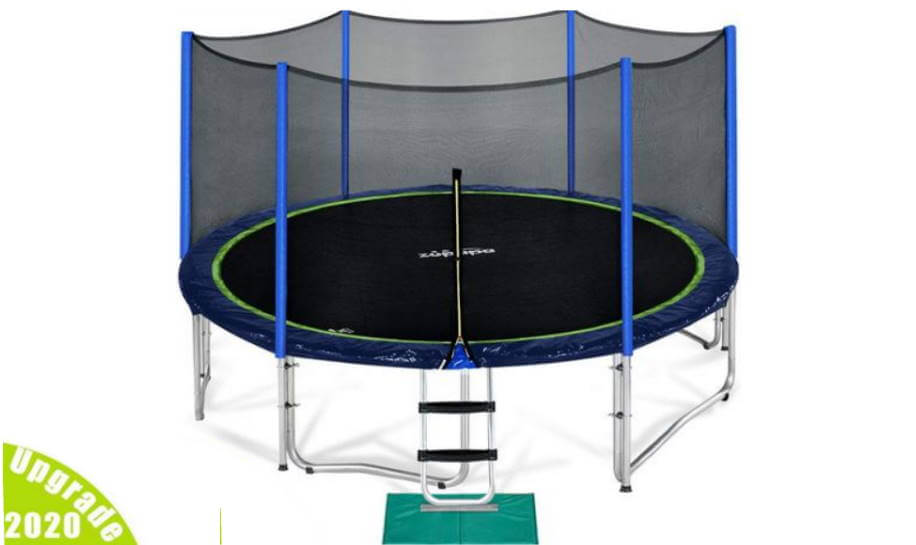 Buy on Amazon - $529.99 (last updated: 2023-11-26 10:00:04 ET)
Design:
Zupapa trampoline is one of the trampolines that really surprised us. We expected just a regular average-quality trampoline. But all I can say is: We were wrong! Zupapa is a fairly unknown trampoline brand that tries to position itself as a maker of good, best-buy products that are very safe. That's rather ambitious, but let's not discount them from the get-go.

Frame
In practice, the Zupapa trampoline 15ft set comes with a 1.65″ diameter steel tubing, 1.5 millimeters thick. The manufacturer claims that it's much thicker than the rest – close, but no cigar. It's perfectly, adequate, though. Zupapa can safely be left outside since the frame is galvanized steel, really
The trampoline frame features double-reinforced legs thanks to the use of long enclosure poles that go all the way down to the ground. This adds structural stability to the trampoline and makes for a more responsive bounce, as every recreation trampoline deserves. The poles are enclosed in foam 1cm thick. Nope, that's not much, but others aren't much better either, except in some more pricey models, like ACON round or AlleyOop PowerBounce.
The design is the same old and quite boring if you ask us. It sports a shade of "boring blue" as we like to call it; this is an indication of overseas-manufactured cookie-cutter parts. But this is not a trampoline you buy for its looks alone.
Note: You'll get a complimentary ladder, which will be useful for younger jumpers.
Safety Enclosure Net
When compared to the previous model (2019), Zupapa 2021 really did fix their own mistakes. Previously used enclosures were not so great, could be ripped quite easily, so them changing material is a big plus. But if you do need a replacement, new enclosures can be purchased separately,  so no worries there!
UV-protected PolyEthylene netting helps keep bouncers safe, although the old-style enclosure doesn't keep the springs away from the enclosed area. The overall height of the trampoline is 2.5 metres (98 inches), with a ground clearance of 26 inches. We liked that the enclosure is rather high and that the pads were pleasantly thick (3.3 centimeters / 1.3-inches). This is above average but PVC which covers it is not so good, so expect the safety pads to give out the soonest. Some have experienced severe wear in just under a year and they can be costly to replace. The damage is mostly cosmetic, though. There were no such problems with the enclosure or mat.
Bounce & Tech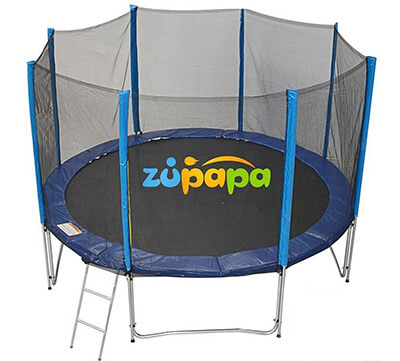 A major plus point for the trampoline is the fact that it comes with 108 galvanized springs. And they are quite long – 7 inches each. That's among the best for the size: others come with 96 or even 72. This, of course, translates to a more responsive and comfortable bounce. It's much smoother and more enjoyable, and the trampoline doesn't twist when you jump, thanks to the good design of the legs.
The mat is UV-resistant with 6-rows of stitching, very good and responsive (thanks to a large number of springs), but fairly basic otherwise. Too bad they didn't use the 8-row stitching model, as that is the one they offer for replacements. Strange, but we are pretty sure that Zupapa recognized the error and that new models will have 8-rows.  The mat consists of 108 V-rings (always the same number as springs, in case you're ordering a replacement mat).
You get a ladder for getting on and off the trampoline and a mat cover to help preserve the trampoline in severe weather. As for the trampoline stakes or anchors, get them if you want to be absolutely safe, as the ones included in the package aren't so good, so definitely aim for something sturdier. But, the trampoline is quite heavy when assembled so they might not even be necessary – if you live outside a hurricane/tornado-prone area.
The overall weight capacity is 425 lbs (roughly 190 kg) which is enough for a single person and then some, so you are perfectly safe. It doesn't feel unsafe to bounce on at any moment.
Is it easy to assemble the Zupapa trampoline?
Zupapa 15ft trampoline comes in three HUGE boxes. Don't be put off, however, as the instructions are simple and it's doable: just be patient!
Everything is included in the boxes, and you won't need any extra tools. You even get a pair of gloves so that you don't get your hands dirty with oil and grease from the metal parts. They've really tried to make installation as simple as possible.
The hardest part is putting the foam sleeves on the enclosure poles. If you're having trouble as we did, just secure it with duct tape or something similar. You should be done in an hour, two hours tops, but only if you hadn't had any prior trampoline assembly experience! No parts were missing when the trampoline arrived.
The customer service is good, actually, and they will help you replace parts easily if broken under warranty, no questions asked. Expect great service! This is a rarity in the trampoline world and the unit is worth recommending for this alone.
Even though instructions are poorly translated, Zupapa made it easier by publishing an instructional video, which helps exactly as its name states – "Watch for 3 minutes to save hours!"
What about Zupapa warranty?
The warranty is 10 years on the frame, and 2 years on everything else. Accessories have a 3-month warranty. It's not the longest, but as we said, the customer service is fantastic and you have someone to rely on. Any customer service queries regarding Zupapa trampoline should be sent to their e-mail address at maxlead.us@gmail.com.
If you're looking for a no-frills 15 foot trampoline, this best-buy model is the one to consider.
---
What Are Customers Saying About 2021 Zupapa Trampoline?
James Beasley said (July 17, 2021):
I ordered 15ft Zupapa for my son's birthday. Very sturdy trampoline, assembled by myself in 45 minutes (do have prior experience). When compared to our last trampoline, which was round Skywalker 12ft, Zupapa is absolutely huge. Can't say anything about the longevity but the overall quality seems pretty good.
Abby Moreno said (October 10, 2021)
Compared to the last one, which arrived without any additional accessories, Zupapa really surprised us – not only we received a ladder, but also all tools which were required for setup – even gloves. There were some issues, like 2 missing springs, which was a bummer at the time, but customer service did not complicate at all and we received those (with two extra, which was nice) within 24 hours!!!

The trampoline is big, mat feels very stretchy, probably due to huge number of springs (didn't count them but there is A LOT). We hope it will serve us for years to come. Thank you!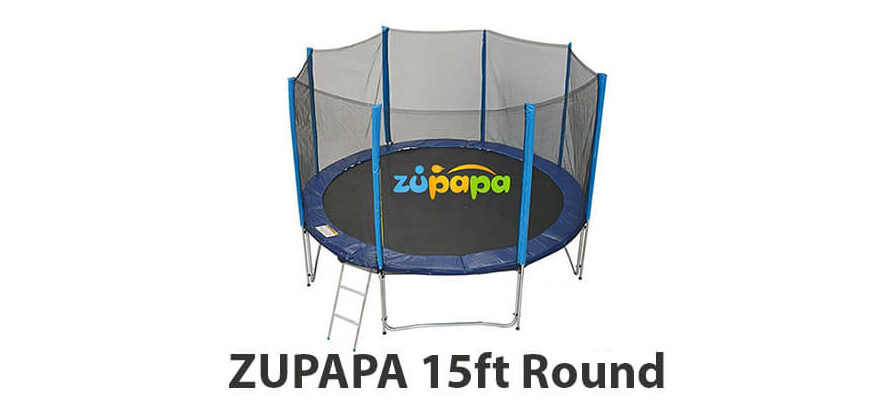 Zupapa 15ft Trampoline
This trampoline won't blow your away; it's not too exciting, but it provides a nice package at a good price point. It's safety features are good and the overall construction much better than in some other basic trampolines. It's sturdy and gets the job done.
PROS
Great value 
4.1
Excellent customer service
CONS
Boring design 
Netting attaches on the outside