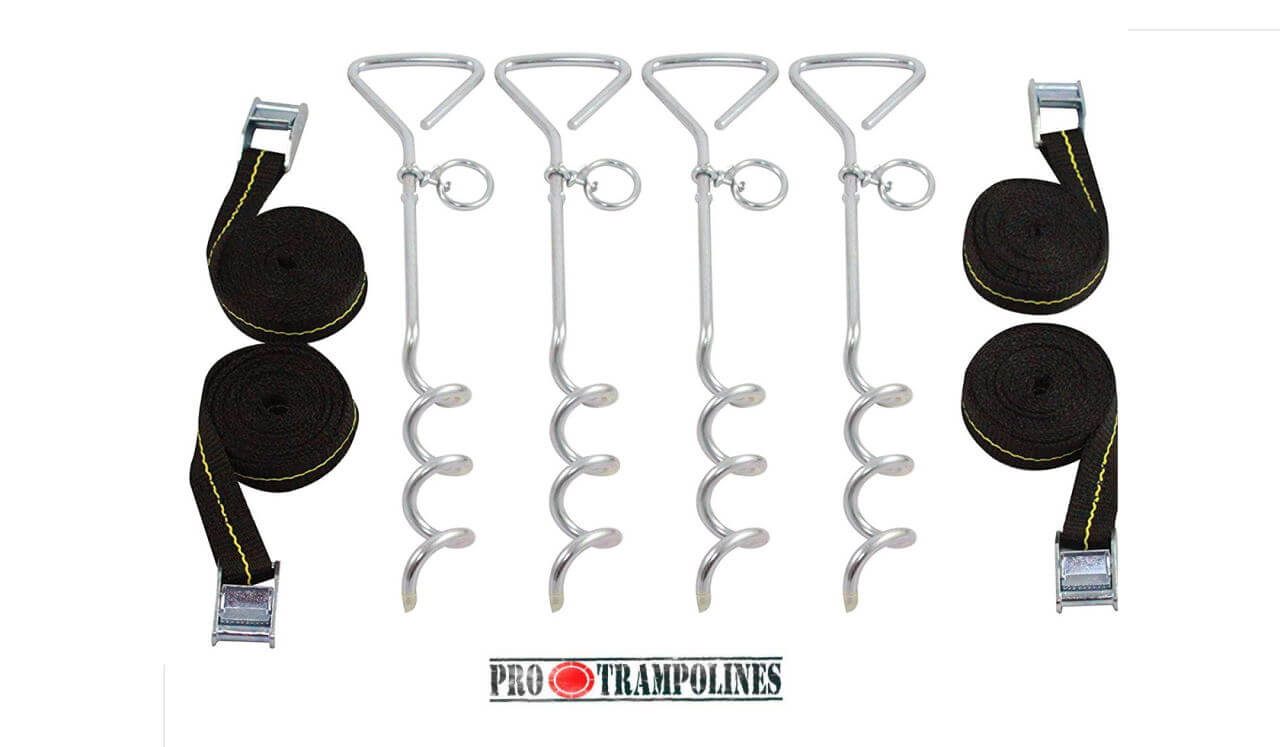 Nature can sometimes be cruel and unpredictable. Strong winds, storms, and heavy rain can wreak havoc within minutes. And if you leave your trampoline outside all the time – which we all do – you run a real risk of getting your trampoline literally blown away into your neighbor's yard. That wouldn't be a problem if the trampoline is usable… but they get all mangled and become absolutely unsafe to use.
So how can you deal with this issue, aside from regularly disassembling the trampoline, especially if you live in areas with unpredictable weather? Sometimes, you might even not have enough time to react. Well, trampoline anchor kits are a cost-effective and time-saving option.
Now, you might ask – how does a trampoline weighing over 100-300 lbs get thrown away by the wind? Well, the trampoline has a large surface area and the mat stands some 3-4 ft. above the surface. This creates a very convenient wind tunnel below the mat that can easily lift the trampoline up, like a primitive glider.
One option is trampoline stakes. They are simple U-shaped pieces of metal that you hammer down into the ground over the legs of your trampoline. They are usually the cheapest option and do their job well, but be careful as with soft soil and regular use, they can become loose. You'll have to hammer them down periodically.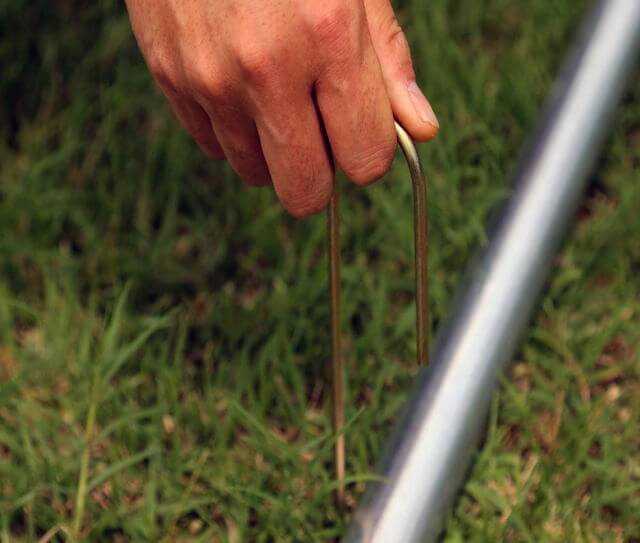 Trampoline anchors are a little more high-tech but offer better security. They consist of literal stakes being placed deep in the ground on all four sides of the trampoline. Durable nylon straps are then placed around the trampoline frame and over the stakes and then tightened. Anchors are less likely to become loose and are a more professional option. Several manufacturers offer their own tie-down kits that you can use, but third parties offer universal anchor kits that are just as safe.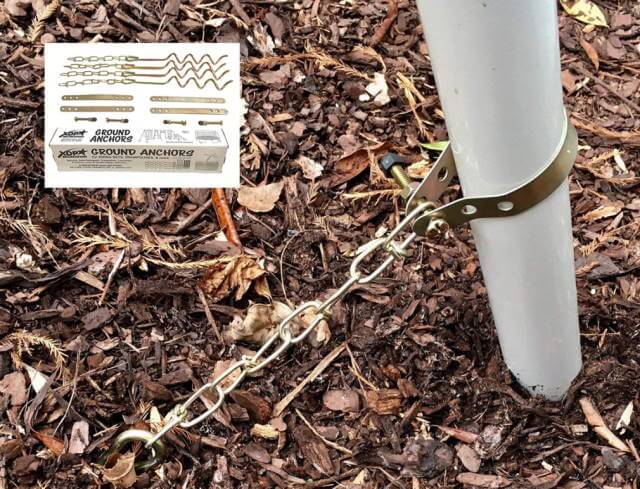 For additional safety, we advise pouring concrete in the dug-in area around the stake. This is a permanent solution though; you won't be able to easily move the stakes around anymore.
Oh, and there's an added bonus due to… human factor. You don't see trampolines being stolen often, but it does happen, unfortunately. Stakes and trampoline anchors are there to make the thieves' jobs much more difficult and they'll likely flee once they see the safety methods used.
Both anchors and stakes will provide sufficient protection during most cases of severe weather, but in case of hurricanes and other rare occurrences, we recommend you put extra sandbags over the legs (if your trampoline has U-shaped legs) and remove the enclosure, as it would probably completely tear it.
Do note that you should also place your trampoline smartly so that you shield it from winds or rain as much as possible. Trampoline anchors do help, but you should try to further reduce the risk nevertheless.
When combined with heavy-duty, rugged trampolines, anchors can do wonders to secure your trampoline in the worst of weather conditions for a truly small investment.
How to anchor your trampoline?