One look on this trampoline and you will be certain that this is a trampoline which could easily fit into Kids&Toddlers category, as the height of the trampoline, is such that even two-year old's can easily climb on and off it, without any additional ladder.
Skywalker Jump'N Dunk is available in three different colors – green, blue and purple. Regarding quality, as this is tenth Skywalker trampoline we had on review, and as this trampoline has same features as it`s bigger brothers – Skywalker 12 or Skywalker 15 foot trampoline, we are more than certain that this model will show consistency of Skywalker's manufacturing process and quality guidelines, together with US Safety Guidelines.
Price? Just right to make it a perfect gift for your loved ones.
Weight limit: 175 lbs (80 kg)
Recommended for: Children 3-8
---
Buy on Amazon - $185.24 (last updated: 2023-11-26 12:00:02 ET)
Skywalker  "Jump N` Dunk"8 foot Round Trampoline Review & Specs
Skywalker 8 foot trampoline has some great specs. Good quality parts, decent price, and a possibility to make it indoor or outdoor (we would stick with outdoor placement) brought this trampoline to the top of best-selling 8 ft. trampolines.
The only problems you might have were the same as with all of their trampolines – occasional issues with shipping packaging, meaning that quality control could be better.
But, the latest reports did confirm that Skywalker improved it and that packaging problems have been decreased to a minimum. We would like to think this is true as Skywalker really doesn't deserve a rating decrease over such resolvable issues.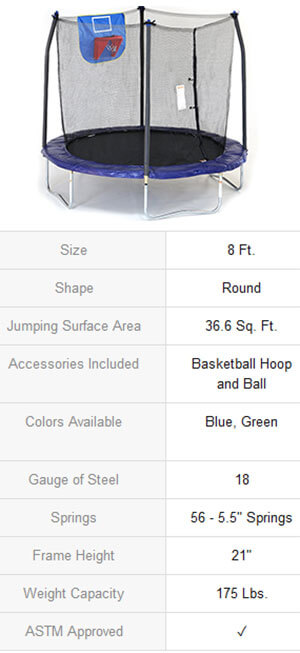 Frame:
The frame is made from 16-gauge pre-galvanized steel and thanks to 4 W-shaped legs and T-sockets to connect them to the frame, it offers outstanding sturdiness when compared to other 8 ft. trampolines. T-sockets also lengthen the lifespan of the trampoline, but not only that but act as an additional safety feature, as such sensitive points on the trampoline simply should not fail. The frame is 21 inches tall (1,75 feet).
Safety & Enclosure
You don't need to look hard to ascertain this is a kid's trampoline. That's why security is of utmost importance. It seems that Skywalker did take care in this area, as they have provided a good enclosure that should help minimize any possibilities of accidents and injuries from occurring.
The enclosure features a patented Stay-Put technology, which eliminates dangerous gaps between the enclosure and the jumping surface that leave certain areas exposed. It's padded and consists of four poles that help with stability.
The poles are angled to further prevent the possibility of contact with the safety poles. The enclosure can be closed with dual zippers and a latch, to keep your child safe and prevent any possibility of them falling from the trampoline. We must say we were rather impressed with the range of safety features that help prevent injuries to fingers and toes.
The spring pad is made from UV-resistant materials (soft foam with PVC outer coating), as is the standard for most trampolines nowadays, and is wide enough to cover frame & springs. The material is thick and there is no chance of your child coming into contact with the springs, as the springs themselves are placed outside the enclosure. It's a nifty feature that we really liked.
Pad itself is connected to V-rings and frame by using straps.
As said, the trampoline comes in a range of colors – you can choose from blue, green, and purple. And they all look nice, but be careful as padding color dictates overall trampoline price, so check out different options if you are buying this trampoline. Price can really fluctuate.
Springs & Mat
Standard Skywalker mat with 4-stitches, made from PolyPropylene. Mat disappointed us as overall bounce quality could be better, but then again, this trampoline is intended for smaller children, and for them, it is quite capable. The jumping area has a total surface of 36.6 sq. ft, basically, a diameter of 7 ft is usable, as additional ft is used for padding.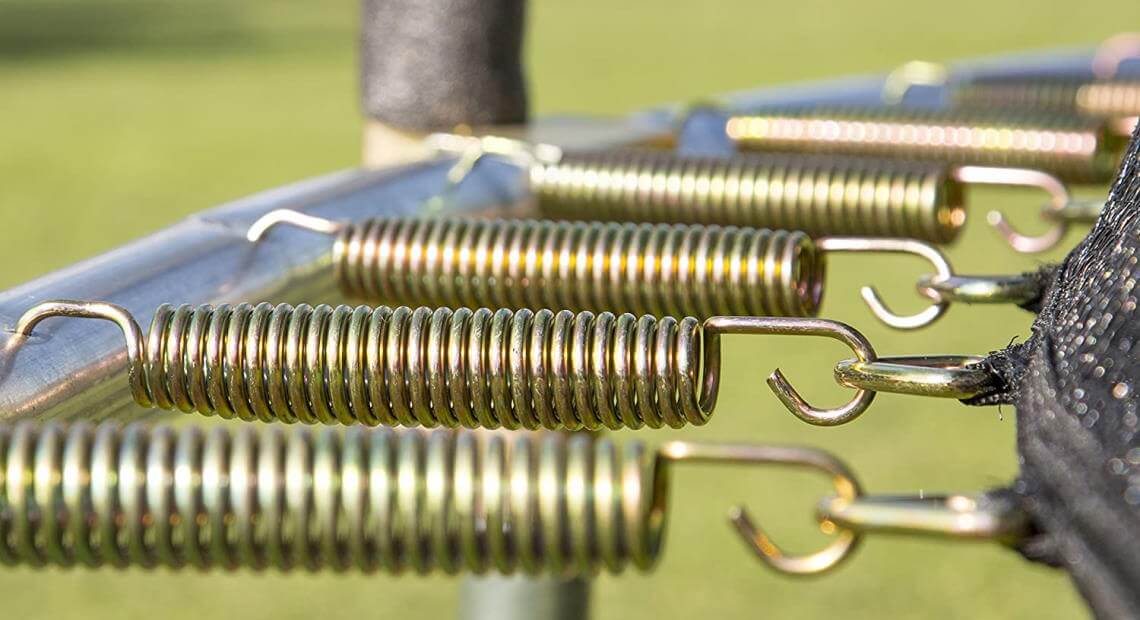 The springs are fairly sturdy and look like they can take a beating. There is a total of 56 springs, and they are 5.5 inches long and are connected to the mat via V-ring. The springs are made of 18 gauge steel and won't rust, as they are coated in golden color.
They make for a good bounce, especially on trampolines of this size – maybe not the best we have ever seen, but considering the price and the class it's in, the guys from Skywalker have made a great job.
The maximum weight capacity of the trampoline is 175 lbs (80kg).
The Basketball Hoop
Now, on to the most interesting part of the trampoline – the basketball hoop.
A basketball hoop is easy enough to set up – it attaches to a rope between the two enclosure safety poles, and there are additional straps that help keep it tight and secure. The hoop is foam padded, which means there is less risk of injury. Another great safety feature is that the baseball rim will break away if sufficient force is applied to it.
The danger of getting limbs stuck is therefore reduced to zero. We figure the kids will have a lot of fun with the hoop, and there are a bunch of games they can think of and try out. Definitely recommended if your children are tired of traditional trampolines, for some reason.
Assembly & Warranty
The whole trampoline can be assembled without any outside help. It took us 45 minutes to do so, and it should not take you more than an hour. That's another plus in our books. It can be disassembled just as easily. Note that the trampoline comes with a 3-year limited warranty on the frame and a 1-year limited warranty on all other materials. Read "limited" once again and have that in mind!
Assembly manual can be downloaded here.
Happy bouncing!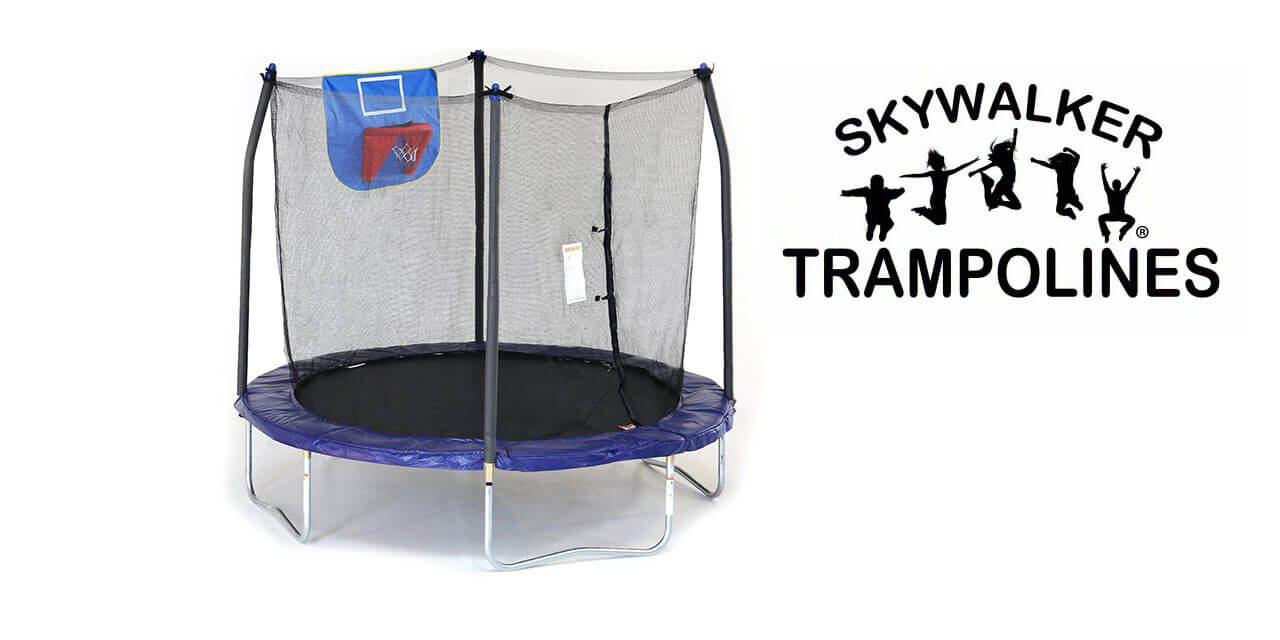 Skywalker Trampolines 8-foot Jump N' Dunk – with Safety Enclosure and Basketball Hoop
We really liked this Skywalker Jump N'Dunk Trampoline. It has a great safety enclosure and a thoughtfully made basketball hoop. The safety of this trampoline really has to be seen to be believed. We were thrilled with the features, and the bounce is nice too. Good, well-made trampoline which you should consider if you are limited by space. Can be used as entry model for youngsters! Regarding assembly, please check instructions which we have included in "Assembly and Warranty" section.
SPRINGS (KIDS TRAMPOLINE)
PROS
Accessibility of replacement parts
Safe, even for smaller children
Sturdy
CONS
Weight limit could be higher
Mat with 4-stitches is thing of the past
4
For category - Trampolines for kids!