This trampoline is a pure jumping utopia where your kids or toddlers can spend many hours without any possible safety risks.
SkyBound Super 7 trampoline is 7 ft. octagonal trampoline and can be used either indoors or outdoors, giving you a chance to keep your children active all year long. As this trampoline has a lot of positive reviews we decided to take a closer look. So let`s see what SkyBound Super 7 trampoline is really made of…
Weight limit: 110 lbs (50 kg)
Recommended for: Toddlers & children up to 6 years of age!
---
SkyBound Super 7 foot Octagonal Trampoline Review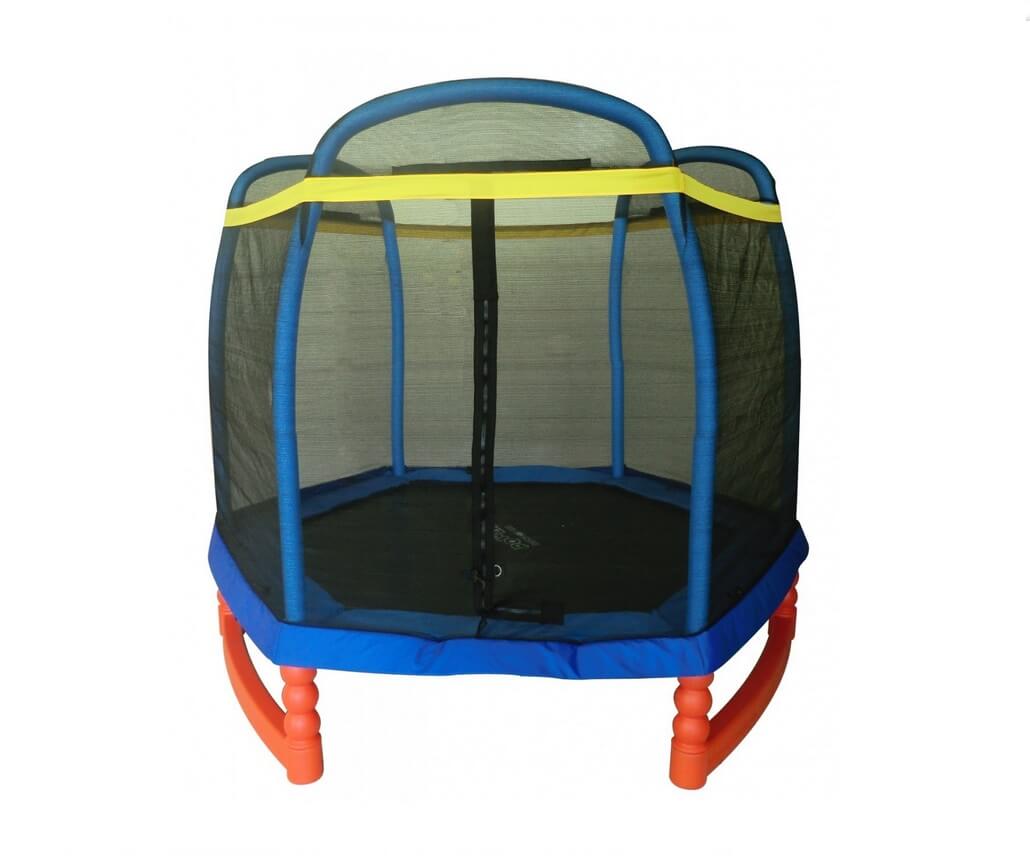 Just by seeing this trampoline you instantly know it is made for toddlers and smaller children. Combining four colors – black, red, blue and yellow, it truly is unisex product which both genders will adore.
Frame
Frame is made from 18-gauge steel but covered in strong molded plastic which covers all steel parts, not just the frame.
Springs
36 springs, 5.5-inches long, enough for nice & smooth bounce.
Mat
Jumping surface made from polypropylene, looks like good quality with at least 6-stitches. It most certainly can handle years of usage within the declared weight limit.
Poles
Safety is guaranteed with 3 arch frames (6 slightly bent steel poles) covered with soft foam padding. Poles are connected directly to frame legs and are sturdy enough to stay in place even when your toddler is trying out the limits of this trampoline.
Enclosure
The Skybound trampoline is fully enclosed with mesh netting, giving you peace of mind when your toddler is enjoying happy times inside it. Enclosure closes with zipper and
Assembly
Assembly is pretty straightforward and can be done by a single person in under an hour. The only problem could be with screws so a decent screwdriver would come in handy. Overall dimensions of the assembled trampoline are 84″H x 84″W x 84″D while the total weight of the trampoline is 66 lbs.
Warranty
The warranty on the frame is 2 years without any real warranty on all other parts. If defective, the trampoline can be replaced within 30 days with a money-back guarantee.
---
Check TOP 10 Best KIDS Trampolines
Safety advice
Before the children will start using the trampoline, you should certainly discuss rules, but also about risks if the trampoline is not used properly. You should not let them use the trampoline with any kind of jewelry, necklaces, or any other item that can scratch the mat.
Finally, while using the trampoline, make sure there is never more than one person jumping. If beginners, do not let them make some stunts (e.g. somersaults) because if not done properly, this can lead to serious head or neck injuries. Never let the children use the trampoline before you are assured that they will follow all the trampoline safety guidelines.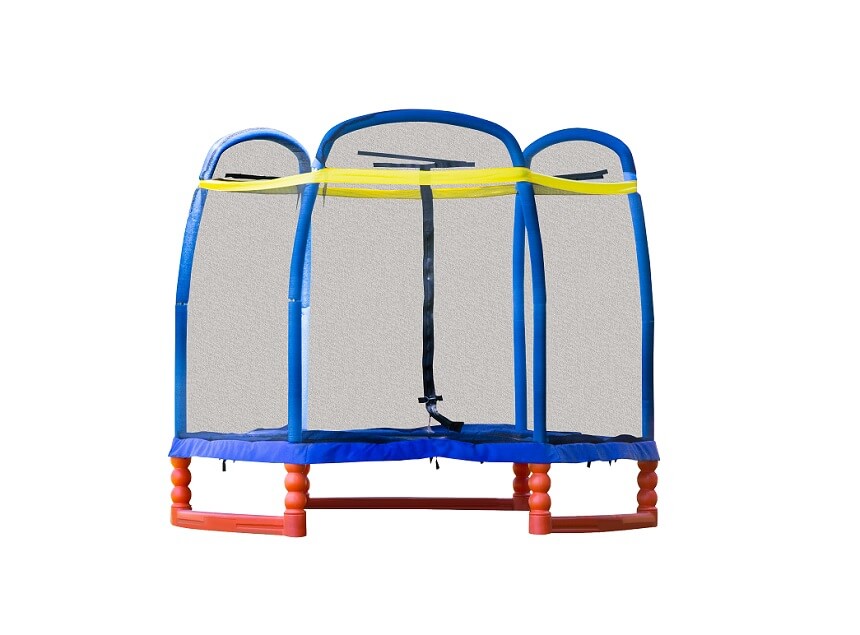 SkyBound Super 7 ft Trampoline
Very good trampoline for toddlers and smaller children whose warranty period threw a shadow on overall quality. If you are in search for best present you can give, this trampoline is the one. As long as there are no problems with it...
PROS
High safety standards
Good price
Indoor & outdoor use