Review of Magic Circle 12 foot Round Trampoline with Enclosure
Is your child desperate for a trampoline but you have limited space? Then the KidWise 12 ft Magic Circle trampoline might be the answer. This one-person trampoline is a completely integrated unit, with the strong safety cage sewn directly onto the jumping mat itself – so there's no danger of even the tiniest children slipping out.
But don't let its small size fool you into thinking that this isn't a strong and robust trampoline unit – because the 12 ft Magic Circle trampoline is tough enough for both kids and adults up to 450 lbs. – double that of most other brands! Produced by a company whose safety records are exemplary, and they've been in business for 35 years!.
Weight limit: 450 lbs (200kg)
Recommended for: Age 6+
---
KidWise Magic Circle 12ft kids trampoline specifications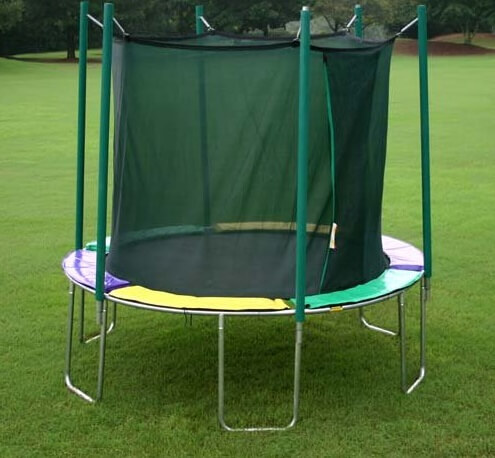 Frame:
The frame is made from 14-gauge galvanized steel and it features six support legs, making it very stable but it increases the price significantly.
On the bright side,  you get a 10-year frame guarantee for this all-American product that's proven to be one of the safest on the market.
Springs:
78 pieces of 8.5″ springs made from tapered steel will provide extraordinary bounce and honestly, this length of springs is uncommon on 12ft trampolines. Yes, 78 is not ideal, but we've seen less. Kidwise tried to compensate a number of springs with increased length, and bounce is not bad, but we did expect more!
Mat:
Mat quality follows springs. 6x woven PP mat together with bouncy springs provides safe bounce even for small children or lighter teens. Mat is very thick and it will last for years to come.
Enclosure:
Enclosure is sewn directly to the trampoline mat so there is no risk of landing onto trampoline springs. While this increases safety it does' decrease usable jumping area, but as we are talking about 12 ft trampolines, where most of the users will be children, the decision about safety-first was the right one! The total height of the trampoline with enclosure is almost 9 ft.
Last, but certainly not least, the 12′ Round Magic Cage is simple to assemble. No nuts, bolts or straps to worry about here. Top it off with a free weather cover and you've simply got the value, and one of the safest trampolines on the market. Did we mention this trampoline is made in USA and its quality is fantastic? But unfortunately, for the price, you can get much better trampolines, so this is a kids trampoline that we simply cannot recommend.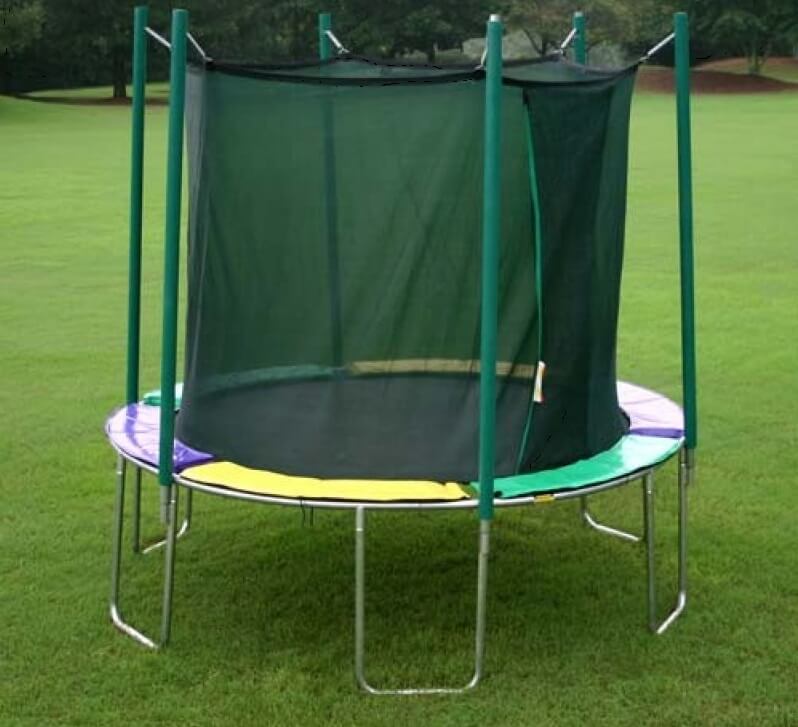 Kidwise Magic Circle 12ft Kids Trampoline
Very safe kids trampoline that comes with price higher than it's worth, as for the price you can get better trampoline. Not recommended.