Merax Twin Mini Trampoline – Perfect for child-parent activities
The catch with Merax is in the oval jumping surface. The trampoline is smallish, but it can hold two kids simultaneously. Their approach to safety is interesting, to say the least: it behaves like two separate trampolines: with the addition of a handlebar in-between, the risk of collisions is nonexistent, making it as safe as the standard mini trampolines.
This dual mini trampoline is foldable in half after removing the handlebar. The rust-free steel frame is good for up to 180 lbs, which makes it appropriate for ages up to 11. Take care if a parent is to jump on it: you could easily exceed the limit. This limits its uses, unfortunately, as it would have been nice for a kid and a parent to jump together. Forget it if you aren't skinny – even if the frame holds out, you could still topple it over. The trampoline can be used without the handlebar for single-person activities.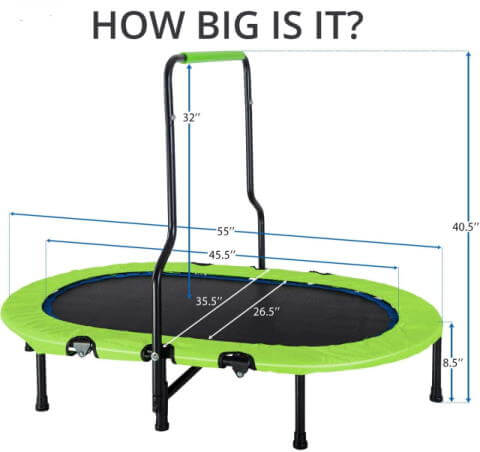 The assembly, however, is lightning fast. There is no screwing required, but since it's spring-based, adjusting them and then opening them up for the first few times can be a chore. It measures 56 x 36 inches, but it's very light, at just over 15 lbs.
It is sturdily built, though, and should last a while.
Our verdict? B-
Features:
Oval rebounding surface
Rust-resistant frame
Foldable design
No additional tools are required for assembly
Perfect for 2 children or parent-child activities
We aren't sure what to say about this. It's a nice idea, but the execution is a tad lackluster, almost gimmicky. A larger weight limit would make this more usable. As it stands, this is good only if two kids were to bounce on it. It won't break the bank though, so if you're curious, you can try it out.
Specifications: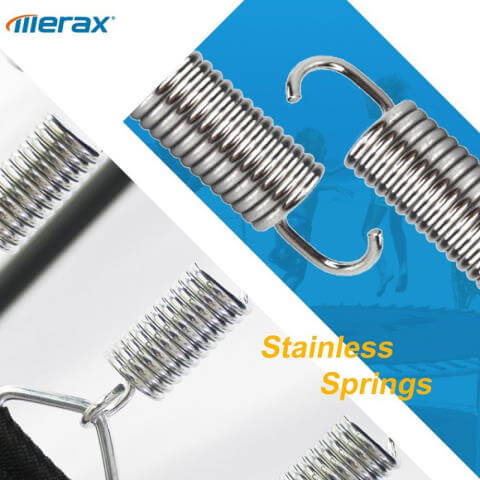 Color: Black steel tube, blue or green cover, black jumping mat
Jumping mat material: PP (Polypropylene)
Safety pad cover material: PVC
Weight limit: 180 lbs (80 kg)
Weight of trampoline: 15.29 lbs (7kg)
Overall Dimension: 56 inch x 36 inch x 54 inch (L x W x H)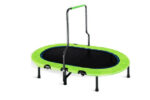 Merax Parent/Child Twin Mini Trampoline