As a child, jumping on a trampoline can provide hours of entertaining fun. Being bounced into the air like you weighed nothing at all, then landing with all the grace of an Olympic gymnast, there was nothing that brought more pleasurable enjoyment than the simple device known as a trampoline.
Trampoline is of the best presents you can give your child. Colorful & happy looks, fun and activity combined, safe. What else can you ask for?
Why are kids' trampolines good?
Small toddler versions, let us call them "starter trampolines" have only one intention – to teach your kids to jump! And by doing that they will exercise without knowing, simultaneously extending and improving many of its capabilities:
Balance – When jumping on the trampoline, with every single jump your child makes, the brain needs to find the center of balance over and over. By doing that,  through time we learn to control our bodies.
Understanding a rhythm – When jumping on a trampoline your kid needs to keep a steady rhythm to perform the highest, best possible jumps. Therefore, jumping on a trampoline has a strong influence on dance (shake it :)) and overall, improved gymnastics capabilities!
Coordination – bouncing on a trampoline requires certain coordination skills. Using those skills during the jump, meaning all the time, you improve yourself and get better and better.
Click here to see all benefits trampolining has to offer.
What about safety and possible injuries?
Well, trampoline safety is always a hot subject. Mostly, two groups of people are the loudest. The first group glorifies trampolines as almost perfect exercise equipment whose benefits outweigh most safety concerns. Other groups are the ones who are frightened of them because the percentage of people being hurt using a trampoline is fairly high. And they are both right.
Now, as a parent, let me show you that you have nothing to worry about – Trampolines we review here are specifically designed for toddlers and smaller children, they have all passed safety testing and by some deviations from the standard design of outdoor/round trampolines, they have shown themselves as VERY SAFE TRAMPOLINES!
Best Trampoline for Kids
Upper Bounce 7 ft Trampoline for Kids with Safety Enclosure
7ft Upper Bounce is happy looking trampoline that will make children enjoy every minute spent on it.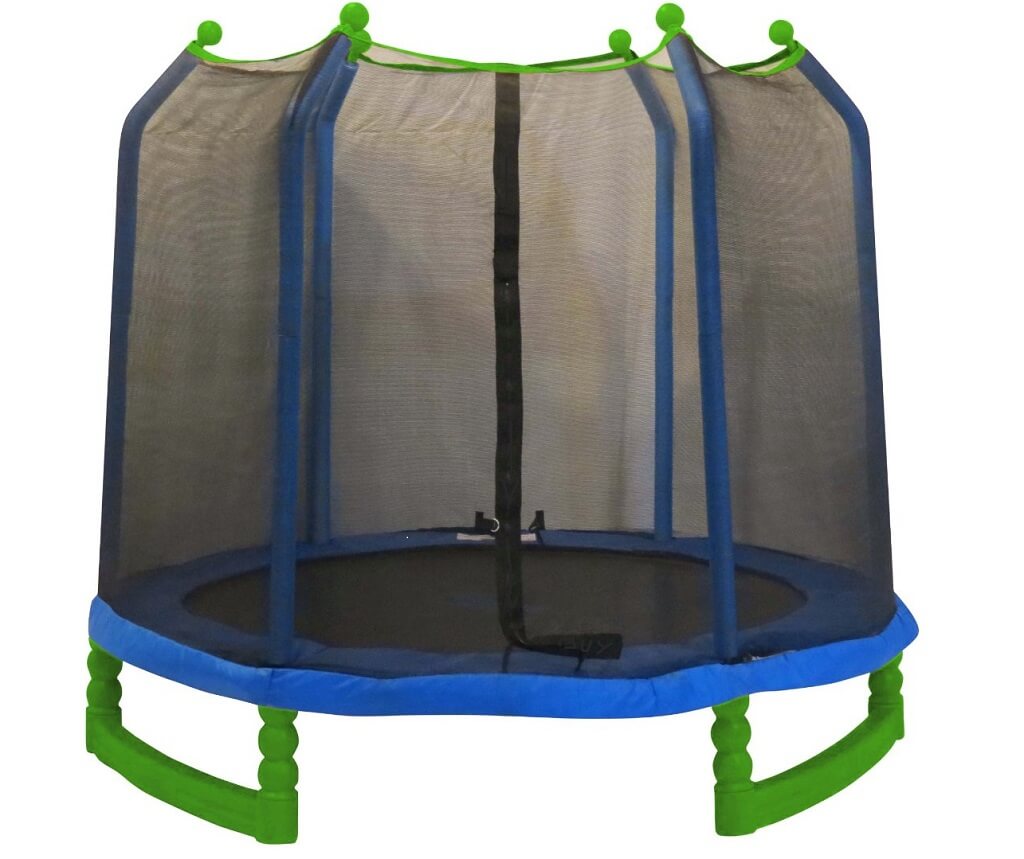 Made from steel combined with high-quality molded plastic this trampoline has taken the best of both worlds. Steel frame as a primary point of stability covered with plastic to minimize any chance of injury work together and make fantastic trampoline frame.
6.5″ springs provide more than decent bounce, so if you plan to install this trampoline indoors make sure that you have enough available height (when assembled this trampoline's full height is 6.5 ft, so make sure to have at least 3 ft extra). Springs are covered with padding same as enclosure net poles.
As there is a zip lock on the entrance of the enclosure make sure that it is closed at all times during trampoline use.
Overall, this is a fine quality trampoline for kids but comes with a price…
Weight limit: 150 lbs (70kg)
Recommended for: Age 3 – 10
---
Little Tikes 7 ft Trampoline with Enclosure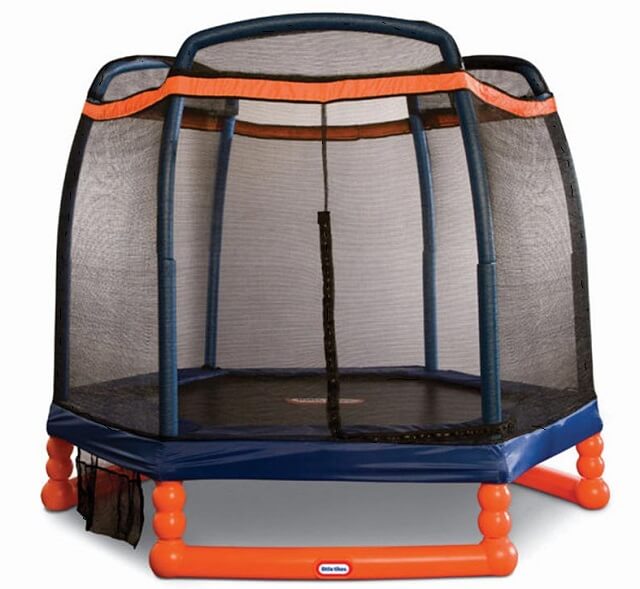 Little Tikes is specifically designed for toddlers and elementary school children. Its jumping surface is 7 ft in diameter (2.2m) and with a good quality mat which ensures that you can use this product for years to come. Of course, do not expect crazy heights, as the use of this trampoline is primarily for children just starting and learning to bounce.
Little Tikes 7 ft kids trampolines frame is made from durable plastic instead of standard steel frame, increasing the safety of jumper to a whole new level. There are also steel poles covered with cushion padding minimizing any chance of injury. Strong safety net with zipper entrance, making sure that no one falls out.
It is very easy to assemble and one adult can do it in under 45 minutes. The weight of assembled trampoline is 75 lbs (34kg).
Nice little addition to this trampoline is a shoe holder (free with trampoline) which can be used to keep whatever you want while you jump, instead of just throwing it on the grass.
Have in mind that this Little Tikes trampoline for kids is designed primarily for outdoor use but it can be used indoors, but not without a ceiling height of fewer than 12ft.
It comes with a 1-year warranty on frame, covering all possible defects, and a 90-day warranty on all other parts.
Weight limit: 100 lbs (45kg)
Recommended for: Age 3-6
Little Tikes 7 foot Full Review
---
Bounce Pro 7 ft My First Indoor/Outdoor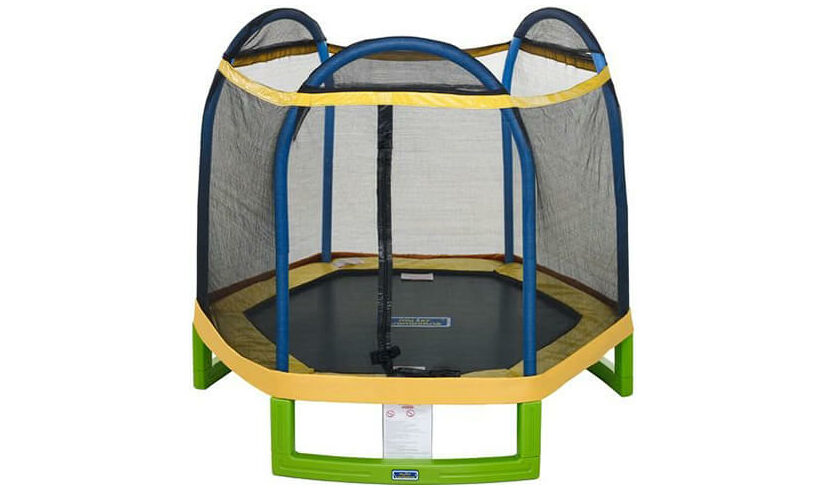 Weight limit: 100 lbs
Recommended Age: 3-8
This is rather small (7ft) but joyful-looking. Its hexagonal shape is interesting and the color combination of green, beige and blue looks soothing and inviting.
The enclosure is very interesting in design, consisting of three arched poles holding the enclosure netting. Entry and exit are done via a zippered entrance.
The enclosure netting is very woven and almost transparent, allowing for easy visibility. The steel frame is durable with steel tubing, both in the legs and the poles. Still, due to its size, the trampoline is easy to move around and can be used both indoors and outdoors.
All the materials are UV-resistant and so can be left in the sun. We aren't sure about the integrity of colors though, they could fade in the sun. The enclosure poles are covered in foam, but kids are quick to pick off parts of them.
The manufacturer states it could be used by children from ages 3 – 10, but because the weight limit is only 100 lbs, which is adequate for small children, we would say it's intended for kids from 3-6. Bounce itself is not the best, but certainly food enough for smaller children. As always, have in mind that only one child should bounce on it at a time.
It is 16 inches above the ground, while the entrance is 23 inches. Younger children could need some help getting in and out, as there are no ladders.
Not difficult to put together, but two adults should do it for quick and hassle-free results, as the trampoline uses springs that can be hard to pull.
Overall, this is a good entry-level children's trampoline. It is sturdy, durable, and looks very pleasant. Don't expect miracles from it, but it delivers on its promise – to provide endless hours of safe fun for children. We appreciate the honesty, and so recommend this quality product.
---
Propel Trampolines Indoor/Outdoor Kids Trampoline with Enclosure
Weight limit: 100 lbs (45kg)
We've definitely entered the era of weird and offbeat trampolines. No, don't wake us up – it's not a nightmare. We're excited to see what the manufacturers will come up with next. In this case, we've tested a Propel Trampolines 7-feet unit.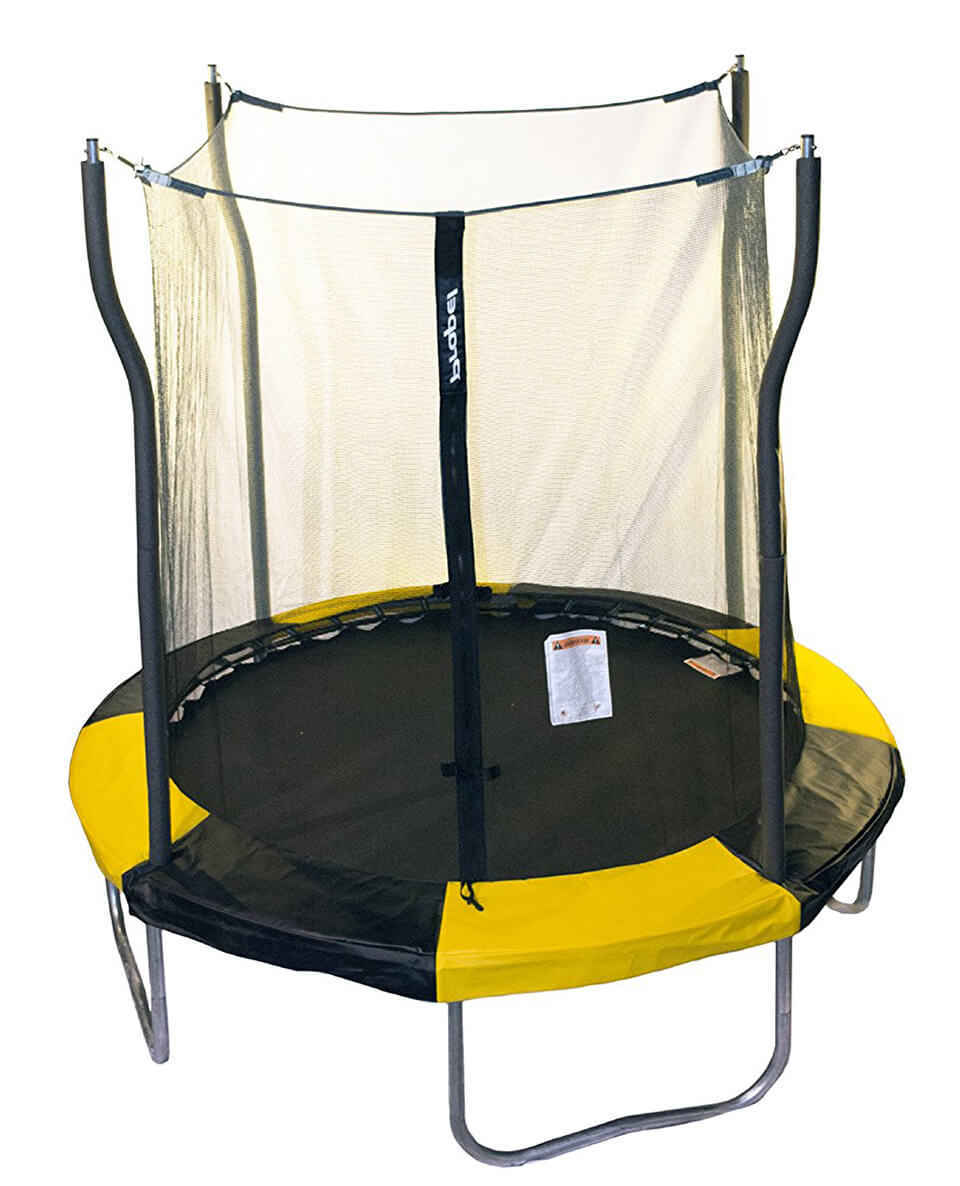 Obviously, there is demand for this baby, and dare we say, it's not bad at all. Sporting 40 springs on a 7ft frame is a recipe for a good bounce. The "Sure-Lock" frame pad is of good quality and sufficiently thick. The netting is well-made, very taut, and there is plenty of foam around the enclosure poles. Safe entry is facilitated with a sturdy zippered opening that opens all the way to the top and can be additionally secured.
Thanks to the use of steel brackets, the assembly is quite simple and the trampoline is stable. However, it is quite light so don't leave it outside in storms or strong winds without securing it with stakes.
The rated weight limit of 150 lbs makes it unusable for plenty of us adults (although it hasn't broken under our weight). It would've been nice if it went to up to 200 officially, but therein lies the rub – it would have to be bigger for that.
Its unusual size is a double-edged sword: if you see the use for such a trampoline, this is the one to seriously consider. It's well built, interesting-looking, and it doesn't break the bank. If you can live with the size, this is a solid buy.
Recommended for: Ages 3-8
---
Skywalker 5 ft (60″) "Seaside Adventure" Trampoline with Enclosure
Weight limit: 100 lbs (45kg)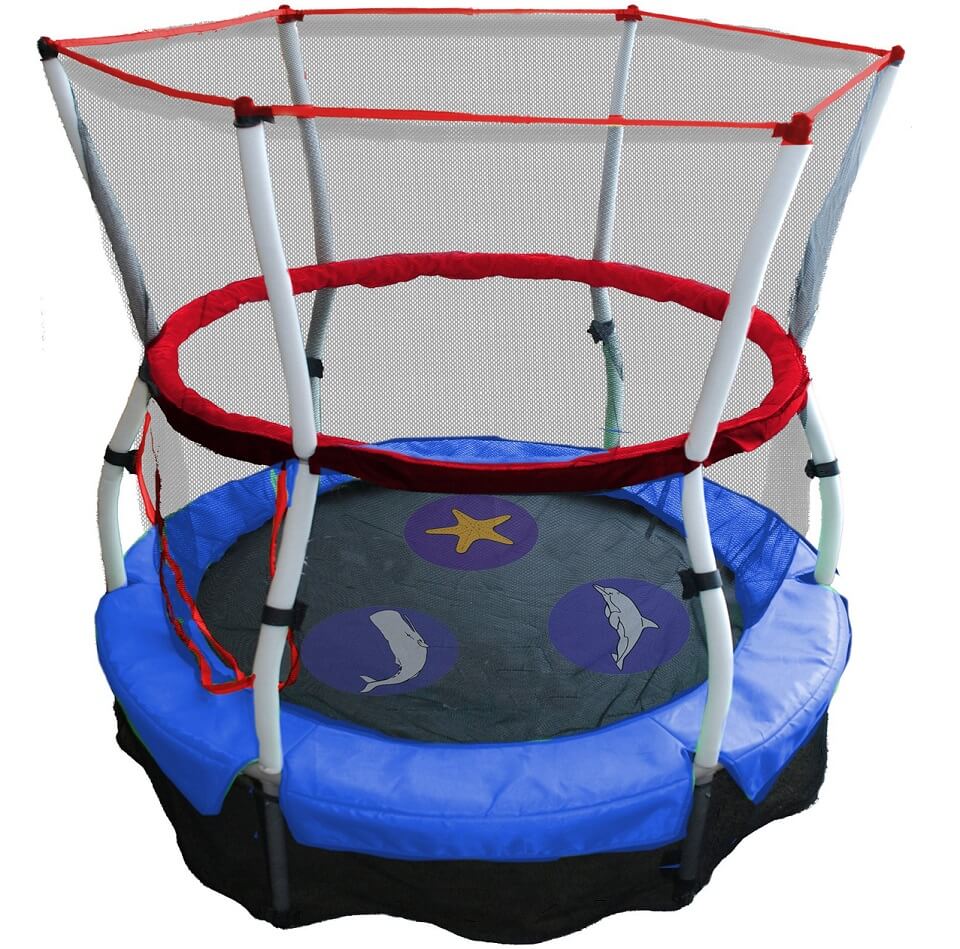 Kids will love to jump on the" Seaside Adventure" Bouncer as it is covered with colorful graphics of sea animals, making it happy-looking and enjoyable for small kids.
It comes with included trampoline enclosure that connects directly to the mat, closing all gaps so your child is unable to hit a frame. This trampoline has no steel springs, instead, there are bungee cords all around the mat. By watching children jumping I can say that cords are doing a nice job providing a higher bounce than I initially imagined.
Assembly of SkyWalker 5ft trampoline is pretty straightforward, and even though instructions are a complete disaster you can use common sense and very easy install this trampoline. When assembled, the total dimensions of this Skywalker trampoline for kids are 5x5x5.1 feet.
This trampoline's intended use is to be your kid`s first trampoline.
Overall, this trampoline is really good when it comes to the quality of parts, but, one thing which lowered its rating is arched poles on the enclosure, which are turned inside, making it possible to hit one part of it. Yes, poles are covered with foam but in our opinion, this is not enough. Standard, straight design of poles would be a much better solution. OK, the trampoline would not look so cool, but as it is made for kids it would be slightly safer.
Recommended for: SkyWalker "Seaside Adventure" is a 5 ft trampoline perfect for smaller kids and toddlers.
---
Skywalker 3.3 ft (40″) "Lily Pad Adventure" Trampoline for Toddlers
Weight limit: 100 lbs (45kg)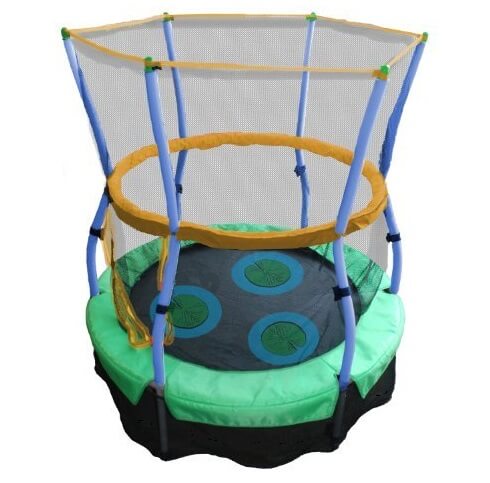 Skywalker 40″ trampoline has been made for toddlers and only for them. It is an indoor trampoline that has an enclosure included in the set, but which we don't recommend to be used outdoors.
The frame of the trampoline is well padded, even not thick enough, but safety is not in question as toddlers can`t jump high, except for the middle bar which is arched towards the inside of the trampoline and poses safety risk if the child would hit the bar while jumping.
We understand that this middle bar is there for a purpose (something to grab on, as this is a toddler trampoline) but we lowered our rating by 0.2 points only because of this. Good thing that there are no steel springs but elastic bungee cords which act like ones.
But, we disliked it for several reasons: The trampoline we got was not exactly the same as in the picture. Instead of having 6 poles trampoline only had 5. There were also problems with screws being too big so we had to make an additional purchase at the local hardware store to assemble it. This is a kinda strange situation as Skywalker is usually known for quality products.
The enclosure is not tight enough and in our opinion, it's way too loose. While this does not pose a direct safety risk we would rather see it well tightened. And last, not least, is that assembly instructions are terrible.
As we mentioned above, Skywalker is a company known for making good quality trampolines, so we really can't figure out why so many problems were with this specific product.
Total assembled size of "LilyPad Adventure" trampoline is 4.8×3.3×3.3 feet (58″x40″x40″).
Overall, we would not recommend this trampoline for toddlers as the quality of the product disappointed us. But as it has a good price it would make a good temporary fun toy to use.
Recommended for: Ages 0 -3
---
Super Jumper 6 ft Trampoline for Kids with Safety Enclosure
Weight limit: 120 lbs (55kg)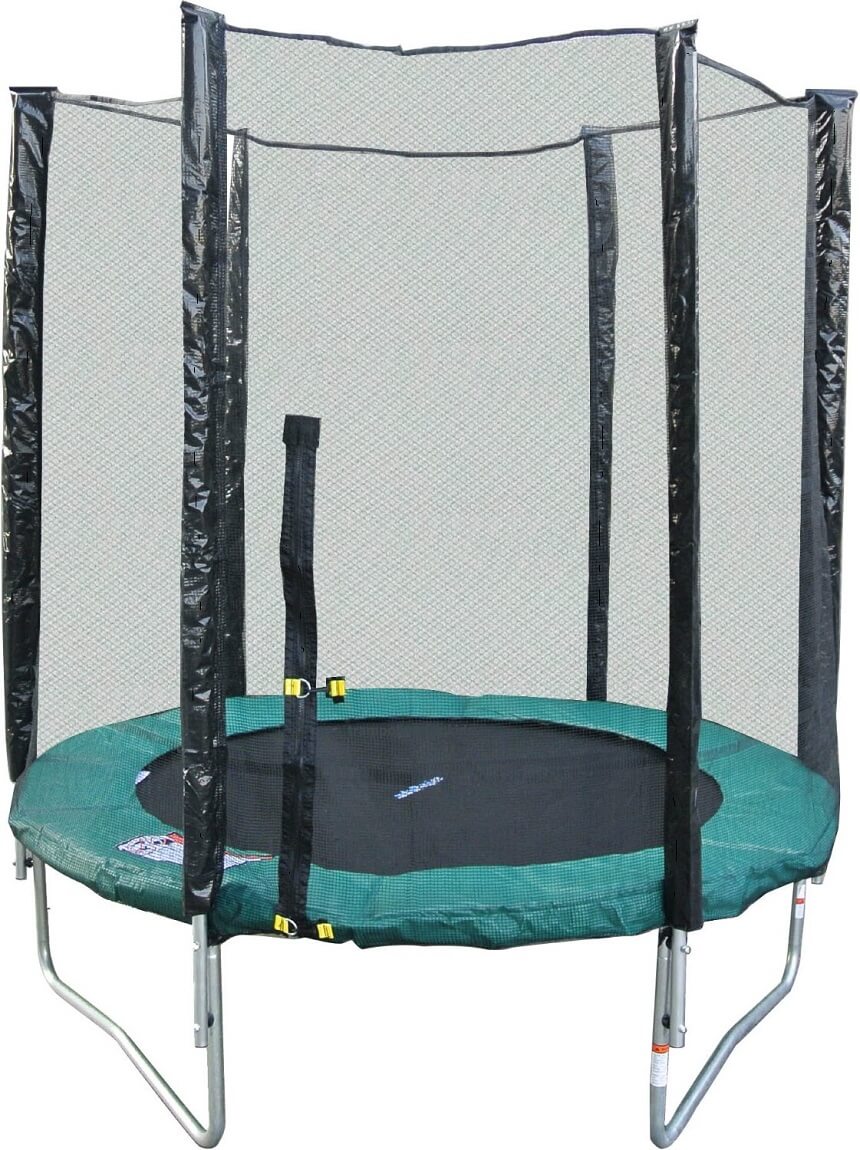 Super Jumper 6ft kids trampoline is a product that surprised us with its quality. Honestly, for that price, we expected just an average trampoline which we need to test. Oh, we were wrong.
Super Jumper 6ft trampoline comes with zinc-iron frame (72″ in diameter) padded with 0.8″ thick safety padding which is 10″ wide. Mat is very good, made from PP (PolyPropylene) with 6 stitches, and is certainly the most durable mat that we had on test, at least in this category. Bounce is not so high, but this is not so important as this trampoline is for smaller children. This is partly because of short (5.5″) springs and partly because of a number of them – only 36 springs.
Warranty on this product is 1 year on all parts. Dimensions of the assembled trampoline are 97.5″x72″x72″ (HxWxD) and it's intended to be used outdoors.
Overall, the 6ft Super Jumper really surprised us with the quality of parts (when compared to price) and it is a trampoline we would recommend purchasing.
Recommended for: Ages 3 – 7 (manufacturer tagged for ages 6-10, but we strongly disagree as bigger trampolines would be more suitable for that age)
---
Airzone 4.5 ft (55″) Trampoline for Kids/Toddlers
Weight limit: 60 lbs (30kg)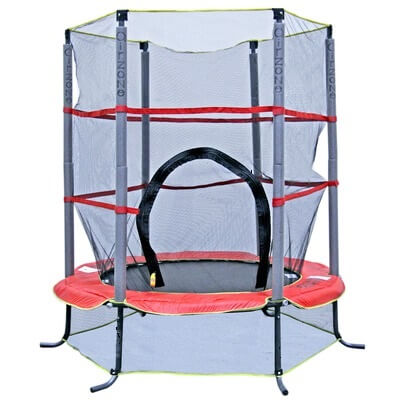 Airzone kids trampoline is a good-looking trampoline that would be a perfect gift for any occasion. Don't know what to buy for Christmas? Here is your answer! With this trampoline, kids will be thrilled. It is the perfect solution to have your child play games and jump around without any worries that something might happen!
55″ Airzone mini trampoline has no standard set of steel springs but features very elastic bungee cords acting as springs which, together with a mat, provide pretty exciting, let us say "lightweight" bounce and gives you peace of mind knowing that there is one thing less to worry about. Those elastic bands are covered with padding filled with a thick layer of foam.
What we didn't like at this trampoline is a frame, which has a somewhat unusual design of legs, which are shaped in "J" form. We had a feeling that this kind of design lowered the overall stability of the trampoline. Also, a weight limit of only 60 lbs is a bit too small, especially when competitors offer limits up to 120 lbs.
Overall, this is a trampoline whose price would greatly justify all minorities we encountered. If you stumble on it with price as this below, go for it.
Recommended for: Toddlers and small children up to age 5.
Airzone 55″ Mini Trampoline Full Review
---
Reviews of Best Mini Trampolines for Kids and Toddlers
Pure Fun 3 ft (36 inches) "Ladybug" Mini Trampoline
Weight limit: 75 lbs (35kg)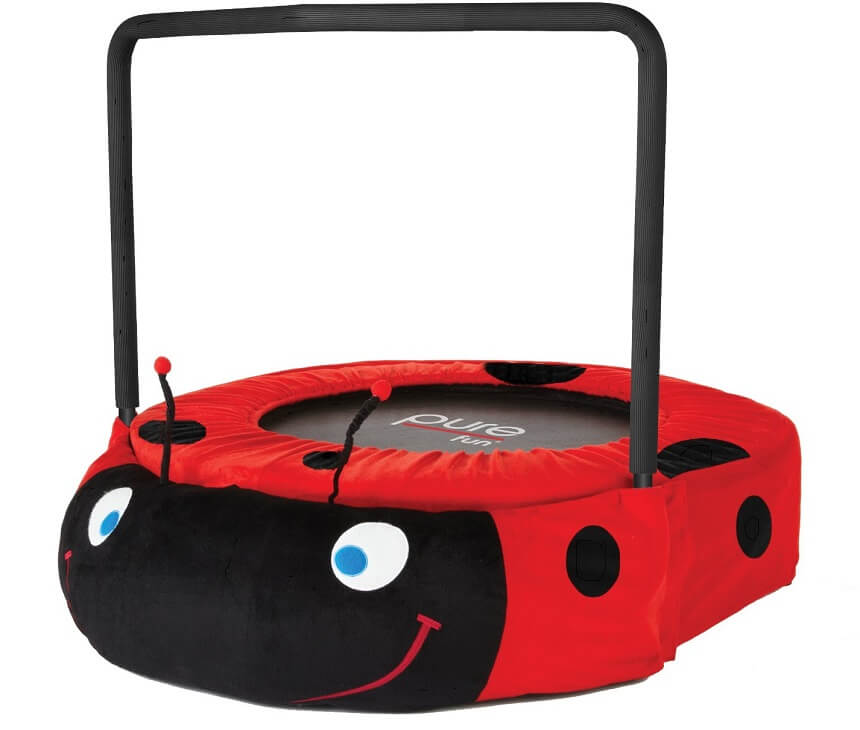 Pure Fun Ladybug is a mini trampoline that will make your child happy when just looking at it. Ladybug's face on the front can be detached and used as a pillow.
Good addition to the Ladybug toddler trampoline is the handlebar which helps with stability while jumping. Complete trampoline is 36″ in diameter while available jumping space is around 32″, more than enough for children. They can even use it while watching TV, and combining those two cannot be a bad thing 🙂
Dimensions of Ladybug trampoline are 3.45x3x2.6 feet or 41.5″x37″x32″ with a total weight of 22 lbs (10kg)
Overall, as this is mini trampoline made solely for children its cuteness got our hearts and we will gladly recommend this product! And yes, the quality of the product is exceptional! Your toddler will be happy!
Recommended for: Children 3+
---
Bazoongi 4 ft (48″) Bouncer with Handlebar
Weight limit: 150 lbs (70kg)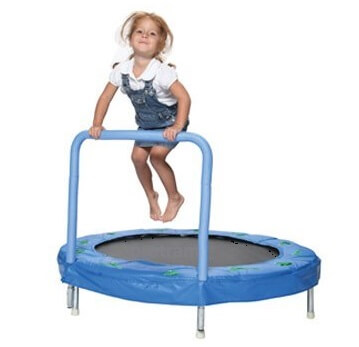 Bazoongi is a well-known brand when it comes to trampolines. This bouncer features a cute frog design around the mat. Unfortunately, this trampoline is available only in blue color and you can`t choose additional colors, something more appropriate for girls.
30 pieces of 3.5inch steel springs, together with a fantastic mat give almost exceptional bounce, at least for this category of trampolines. It is almost like standard workout mini trampolines. The height of bounce average child can achieve is somewhere between 12-25″, and this was quite unexpected! Unfortunately, there are 30 low-quality springs so don't be surprised if they start to snap after several months of use.
The handlebar is not adjustable so you need to be careful of the child`s size
Recommended for: Children 4+
---
Fold & Go 3 ft (36″) Mini Trampoline with Handle bar
Weight limit: 150 lbs (70kg)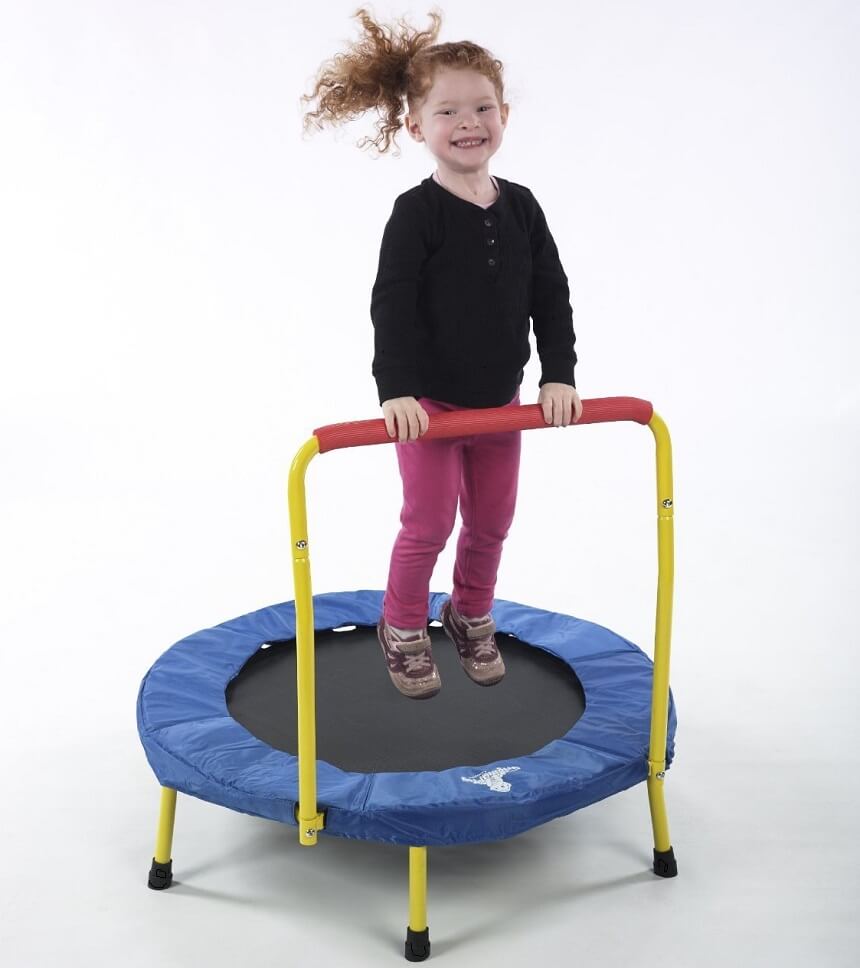 Fold & Go is a folding mini trampoline for kids which comes semi-assembled. Just screw legs onto the frame and attach a handlebar and your kid is ready to jump!
This 36″ bouncer has a well-padded steel frame with a total weight limit of 150 lbs (70kg), which is remarkable for that type of trampoline.
The trampoline can be used for play or exercise for all children, including children with special needs.
It is available in several different colors – unisex yellow/blue, limited edition girls lime-green/purple, and exclusive boys red/blue edition!
Recommended for: Age 2+
Fold&Go Mini Trampoline Full Review
---
Little Tikes 3 ft (36″) Trampoline for Toddlers
Weight limit: 55 lbs (25kg)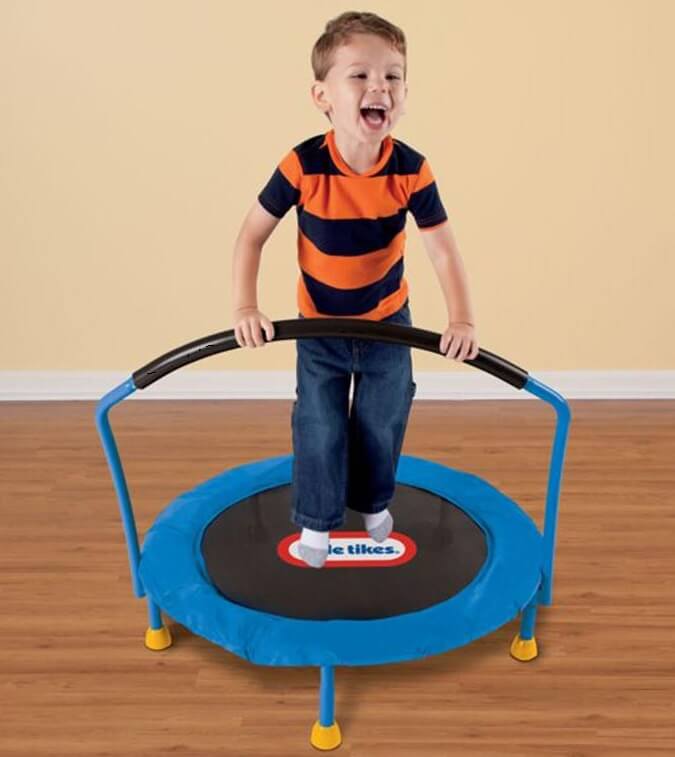 It's clear at first sight that this mini trampoline (just 3 feet) has been designed with small children over a year and a half in mind. It's cute, small, and surprisingly safe. You might think that children shouldn't be allowed on trampolines – and that's true in general – but this small trampoline is made exclusively for them.
And it's good. Its legs are very short and it's set very low, so your toddlers won't trip. The bounce is only slight, of course, and your kid can always latch onto the handlebar that comes with the trampoline. The feet are non-slip, but the trampoline can feel a bit wobbly when the kid is bouncing too strenuously.
The assembly process is very simple and can be done in under 20 minutes. The instructions are very clear and come in several languages. Don't try to bounce yourself! The weight limit is 55 lbs, enough for a small child, but not for an adult! There have been some issues with the foam on the handlebar, as it may present a choking hazard. It would be best to cover it with some kind of tape.
This trampoline is a great way for your kids to have fun, stay active, and develop a sense of balance. It's light, convenient, and fairly safe. It also won't break the bank and the warranty period is 1 year.
It's therefore hardly surprising that this has been the bestselling kids' trampoline on the market.
Recommended for: Age 2-6
---
Diggin "JumpSmart" Electronic Triangular Mini Trampoline
Weight limit: 80 lbs (35kg)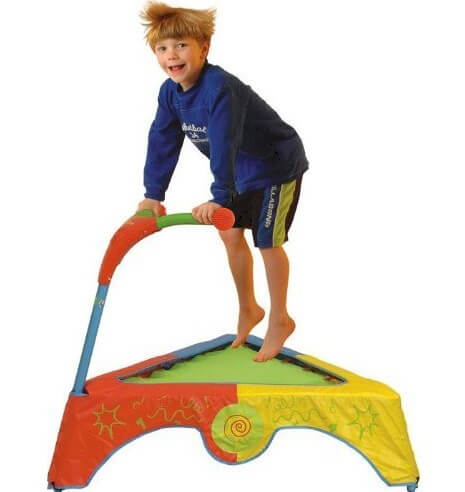 Because of its triangular shape, Diggin "JumpSmart" is a bit different type of mini trampoline.
This triangle-shaped small trampoline for kids is a gaming platform in the full sense of the words. Features a five-in-one sound gaming system with sound recognition (animal sounds), music (musical sounds statues) and rhythm, memory (memory matches), and counting (bounce counting). This alone requires 3 "AA" batteries which are not included in the set.
Recommended for: Children 3+