Review of SkyBound Springfree Trampolines (10 FT | 4 Legs)
SkyBound's Springfree Trampoline, at 10 feet in diameter and supported by 4 legs, offers a blend of safety and fun, crafted with meticulous attention to detail. This review delves into its technical specifications, design, and user experience.

Weight limit: 330 lbs (150kg)
Buy on Amazon - $519.99 (last updated: 2023-11-26 11:30:03 ET)
Design and Safety Features
The frame, made from galvanized, powder-coated steel, and supported by 4 legs, will bring peace of mind when it comes to sturdiness. 4 support legs are industry standard when it comes to 10ft trampolines, so we expected nothing less.
At the heart of the SkyBound Springless trampoline's design are the patented bungee cords, which replace traditional metal springs. This ingenious modification not only enhances safety by eliminating pinch points but also contributes to a smoother, more enjoyable bounce. The trampoline's smart zipper system simplifies the net installation, ensuring a seamless, gap-free connection between the mat and the net for added safety.
The trampoline enclosure is supported by patented fiberglass rods, which offer unbeatable stability compared to standard metal poles. These rods boast superior durability, flexibility, and rust resistance, enhancing the trampoline's longevity and safety. The maximum weight limit of 330 lbs speaks to the trampoline's robust construction, capable of accommodating multiple jumpers safely (not that we approve due to safety concerns).
Crafted with high-strength polypropylene, the newly designed pad of the SkyBound trampoline stands out for its durability, UV resistance, and water permeability. This material choice ensures a product lifespan that far surpasses regular foam pads. Additionally, the pad is securely attached to the frame with high-quality straps, preventing loosening and wear.
Performance and Experience
The use of 88 bungee cords provides an exhilarating bounce, rivaling that of spring-based trampolines. Users have reported a high level of satisfaction with the bounce quality, noting its responsiveness and the joy it brings to children and adults alike.
The flexible net enclosure is designed with safety and fun in mind. It cushions jumpers effectively and prevents accidental falls to the ground. This feature, combined with the quiet operation of the bungee cords, makes the trampoline a delightful addition to any family's recreational activities.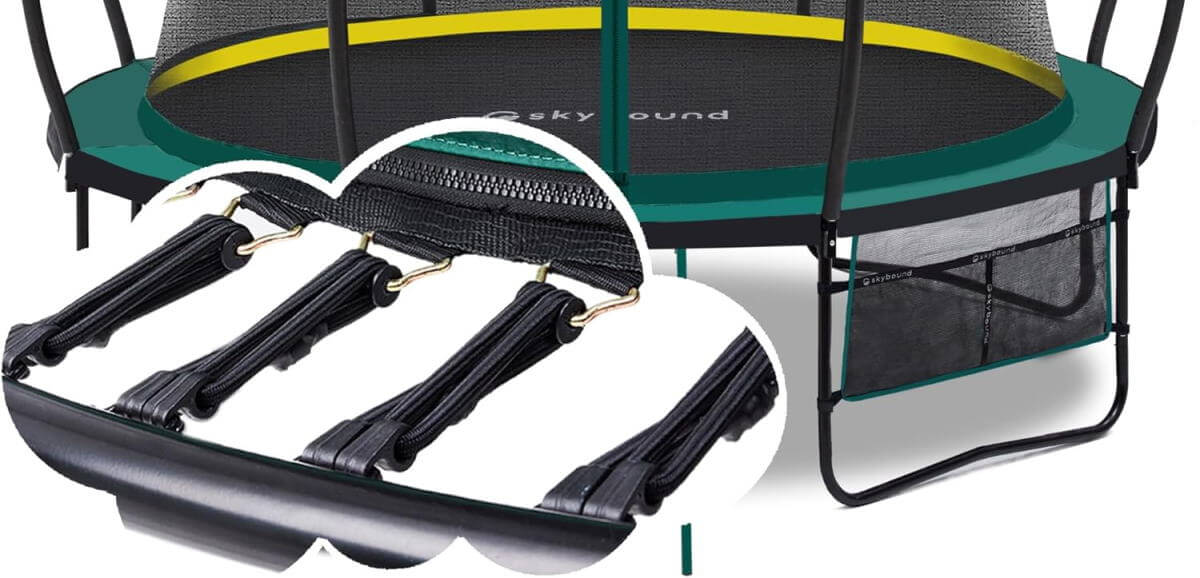 Assembly and Warranty
The SkyBound 10ft Springless Trampoline includes all necessary components for a straightforward assembly process, which users have found to be relatively simple and quick. The included tools and user manual facilitate the setup, making it a hassle-free experience. Furthermore, the trampoline comes with a generous 5-year warranty on all components, providing peace of mind regarding its quality and durability.
User Feedback and Final Assessment:
Customers commend the SkyBound trampoline for its quiet and safe bounce, with several reviews highlighting its ease of assembly and robust build. However, some users have expressed concerns about the price, especially for smaller models, and the perceived durability of certain parts, like the quality of enclosure, something we still aren't sure about.
But, all things aside, the SkyBound 10ft springfree trampoline, with its innovative bungee cord system and sturdy build, offers an excellent balance of safety, fun, and durability. While the price may be a factor for some, the technical sophistication and safety features make it a standout choice for families seeking a reliable and enjoyable trampoline experience. If you're still not convinced, go and check a list of 10 best trampolines you can buy today!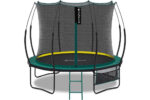 SkyBound Springfree Trampoline for Kids
Final thoughts!
The SkyBound 10ft Springfree Trampoline is the backyard buddy you've been looking for. Safe, sturdy, and a blast to bounce on – it's the trampoline dream come true for kids and parents alike. Let the good times roll and the high-fives fly!
PROS
Safe Design - The revolutionary elastic bungee cord system is much safer, eliminating potential injuries caused by traditional metal springs (check cons as well)
Quality Construction - Sturdy build quality, it feels well-constructed, which is essential for both safety and durability.
Ease of Assembly - Clear instructions and straightforward assembly process, taking approximately 75 minutes to complete.
CONS
Durability of Components - Some concerns about the solidness of the bungee cord loops and the use of plastic hooks for connecting the bungee cords to the frame.
Potential for Net Damage - There's a risk of the safety net tearing, as it doesn't look too tear-resistant, at least to us.
Durability of Bungee cords: We have concerns about the longevity of the bungee cords, las oposed to standard steel springs, that we know would last longer.