Acon's round trampolines are perfect for various activities, from more intense use all the way to daily fun and trampoline games. Round trampolines provide excellent bounces and durability. The best bounces occur in the center of a round trampoline because, with this type of trampoline, all the springs work together and tend to draw jumpers back to the center.
---
Table of Contents
---
Who is it for?
You might think that because we're talking about a 15ft trampoline that it would be perfect for everyone, but this is only half true. It's not the size that's the issue here, it's the shape, as round trampolines are more suitable for trampoline newbies and semi-experienced jumpers, while rectangular models are best for experienced jumpers, gymnasts or cheerleaders.
The jumping height is similar but not high as on above mentioned ACON Air 16 rectangular trampoline, mostly due to a bit shorter springs.
Design
Design is pretty much the same as their other models of round trampolines, where light-green color prevails, probably to fit into the surroundings, as some people don't want their trampoline to be the centerpiece of the entire yard. To be honest, we just can't get over the fact that the black version is not available as it looks way cooler! But, this two-tone option works just fine.
What's new with this design is ACON's patented "Synergy design", which ensures the frame, mat, and springs work together to provide the best, most amplified bounce, as much as 10% better jumping experience than on previous models. In simple words, it's just the precise engineering of every single piece, ensuring you won't have to drill additional holes during the assembly, something that happens quite often on cheaper trampolines.
Is it sturdy?
With a weight of almost 230 lbs (104 kg) it's definitely not a lightweight trampoline, which is always good as heavier trampolines are, as logic dictates, sturdier than light-weight ones.
Frame
The black coated steel pipes are a full 2 inches in diameter and .08 inches thick, which is a bit less than on their biggest rectangular trampoline (frame tube diameter measures 2.4″ and is 0.10″ thick) but more than the competition offers on their trampolines, and that's the main reason why this trampoline has no single user weight limit but only structural weight limit of 1750 lbs. The frame stands almost 3ft above the ground so included ladder is a must, especially if younger children will be those using this trampoline.
The trampoline is 36 inches high and weighs a total of 295 lbs.
What's the weight limit?
As with most ACON trampolines, and due to fantastic part quality, there is no single-user weight limit. When it comes to structural limit, it's around 1750 lbs. Pretty sure this will suffice.
Jumping mat
Mat is fantastic, as you would expect from pricey trampolines, and it's not a surprise based on the fact that it's 10-times cross-sewn, UV-treated polypropylene. 10 rows of stitching always brings me confidence that you won't fall through it, as I once did while testing X-fact trampoline (entry-level cheap trampoline).
The mat offers a usable jumping surface of 13ft in diameter (395cm).
Springs
With innovative new X-series springs, bouncers get 10% more air with every leap, but this is still something like 30% less when compared to "Performance springs", unfortunately, those are available only on rectangular models. But if you do compare it to the similar round trampolines, they are definitely a winner. There are 110 pieces of heavy-duty 8.5″ long (21.6cm) springs, made of galvanized steel. They are good quality but do expect that some of them will stretch after a season or two. It would be fantastic if ACON decided to put at least 2 additional springs in the package just to ensure that trampoline will be as-new even beyond regular usage. As a plus, you will receive the spring-pull tool, something that's nowadays usual to receive with the trampoline.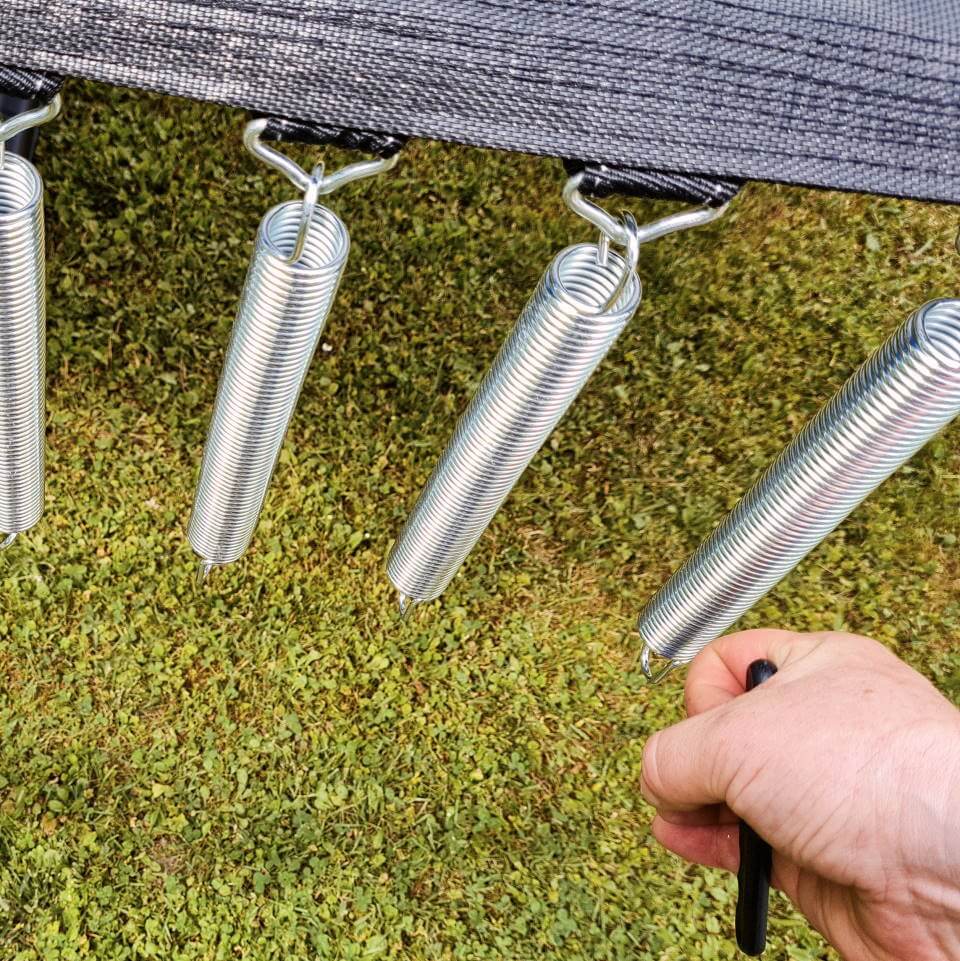 ACON 4.6 Enclosure
You can choose between premium and standard enclosures. So what is the difference?
Premium enclosure is basically an enclosure that connects between the mat and safety pad, decreasing the chances of hitting springs but decreasing available jumping space as well. This could be interpreted as a safety feature and it would be an enclosure of choice when it will be used by children younger than 12. Also, on the premium enclosure the metal rims rotating at the top of the safety net increase its ability to stay upright, together with increased structural flexibility.
The standard enclosure (the outside enclosure) has straight enclosure poles and the safety net is attached to the outside of the safety pad, on the external rim. This maximizes the jumping area of a trampoline but does not prevent the jumper's foot from getting caught in the strings (small chance if padding isn't positioned as it should be).

Enclosure poles (Premium)
One thing to know is that enclosure poles are connected to the frame but all the way down, so they don't only keep netting in place but also add to structural stability. Poles are padded, as they should've be, and look pretty slick, almost as if they are made out of carbon.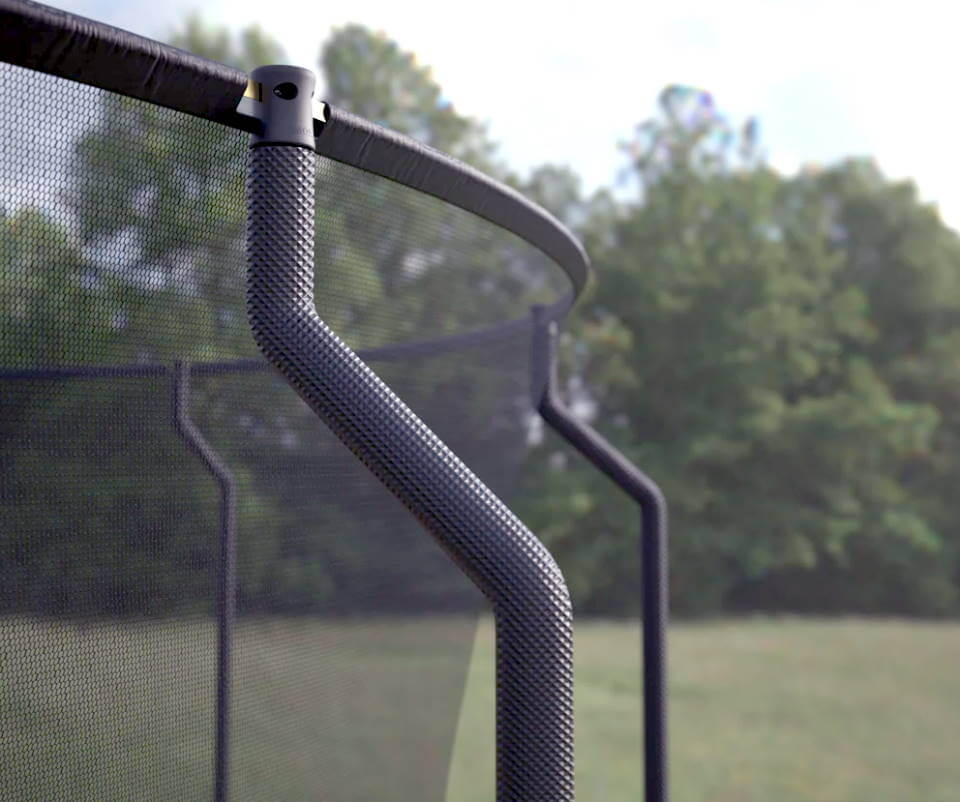 Padding
The safety pad is 1.2 inches (30mm) thick and covered with 14.5″ (30cm) UV-resistant vinyl that covers the whole length of the springs. There have been thicker pads than we've seen, but this one is perfectly adequate. The material is of better quality than most other competitors offer and should last you for years to come. One thing to mention is issues with rain entering inside the padding, especially during stronger storms, as the continued presence of water can seriously degrade the quality of inside foam, making it firmer on impact.

Overall quality – Is Acon Air 4.6 worth the money?
This is one of the most frequent questions we get with all ACON trampolines, as they aren't cheap but let me say, they are well worth the money. It's made from high-quality materials that do cost more at first, but over time it'll provide more value for money. If this trampoline is a bit out of your budget you can always check the smaller version –  ACON Air 4.3, 14ft trampoline that will save you a few hundred $, but you will sacrifice the size of a jumping area, as it's not really big enough for an adult to use comfortably. If that's also too expensive, then check one of the best-buy options – Zupapa 15ft round trampoline!
What's in the boxes, shipping size, and weight
ACON Air 4.6 is shipped in 3 packages, two large ones and one small one, with package size as follows:
Package 1: 156x53x41 cm, 110 kg
Package 2: 180x37x17 cm, 36 kg
Package 3: 96x15x8 cm, 3 kg
Warranty period
The warranty on all ACON products is phenomenal and is:
10 years on the frame
5 years on springs and jumping mat
2 years on a safety pad
Pros and cons:
Pros
Very strong frame and overall stability
Fantastic mat
Durable and rust-resistant springs
Will last for years, but we advise not to leave it outside during extra-harsh winters
Package contents, you'll get everything you need for assembly
Included free-of-charge ladder
Cons
As with all trampolines, some springs will stretch, maybe ask them to send two extra
Assembly takes a long time, but it's well worth of it
Price
Specifications:
Weight limit: 1750 lbs structural, no single user weight limit
Size: 15ft with 13ft of usable jumping area
Height: 3ft
Trampoline weight: 230 lbs
Mat: 10 rows of stitching
Springs: 8.5″ springs, 110 pcs
Enclosure included?: Both variations available – with or without an enclosure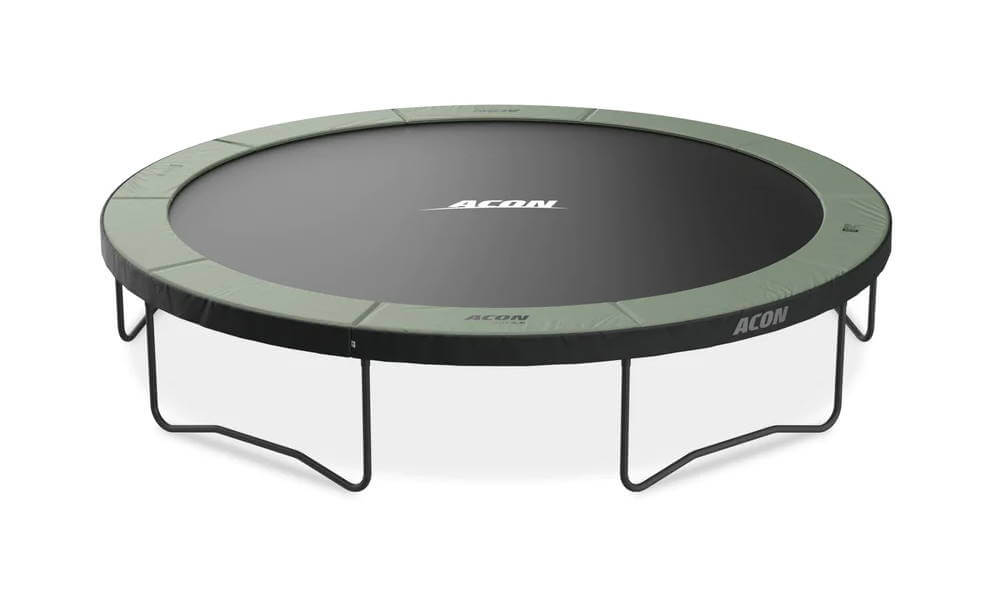 ACON Air 4.6 Review Summary
This trampoline is definitely one to consider, but only if you plan to use it for a long long time. If that would be your first trampoline then it's a product that you'll be happy with, but only if the age of jumpers is 8+. For age to the mentioned limit, we would advise considering smaller models, like ACON Air 3.0 (10ft trampoline) or ACON Air 4.3 (14ft trampoline). Anyway, this is a great trampoline but it does come with a cost.