ACON Air 10 ft Trampoline Review – Model 3.0 with included Enclosure
Coming from Finland but made in the USA, this trampoline has very good overall specs and a premium safety enclosure as its main highlight. Acon Air 3.0, the 10-foot trampoline is designed for children or younger teenagers.
If you need something bigger, then check Acon Air 4.3 (14 ft) trampoline review or one of the best trampolines you can buy today – ACON Air 16 Sports HD Rectangle Trampoline
Weight limit: 220 lbs (100 kg)
Size: 10ft (3.05m)
Shape: Round Trampoline
Recommended for: Children 6-12 years old
---
Acon Air 3.0 10 foot Trampoline Specifications
Only best things come from Finland, one of the richest European countries. This trampoline is no different. Only premium materials used will guarantee long and worry-free usage of this trampoline.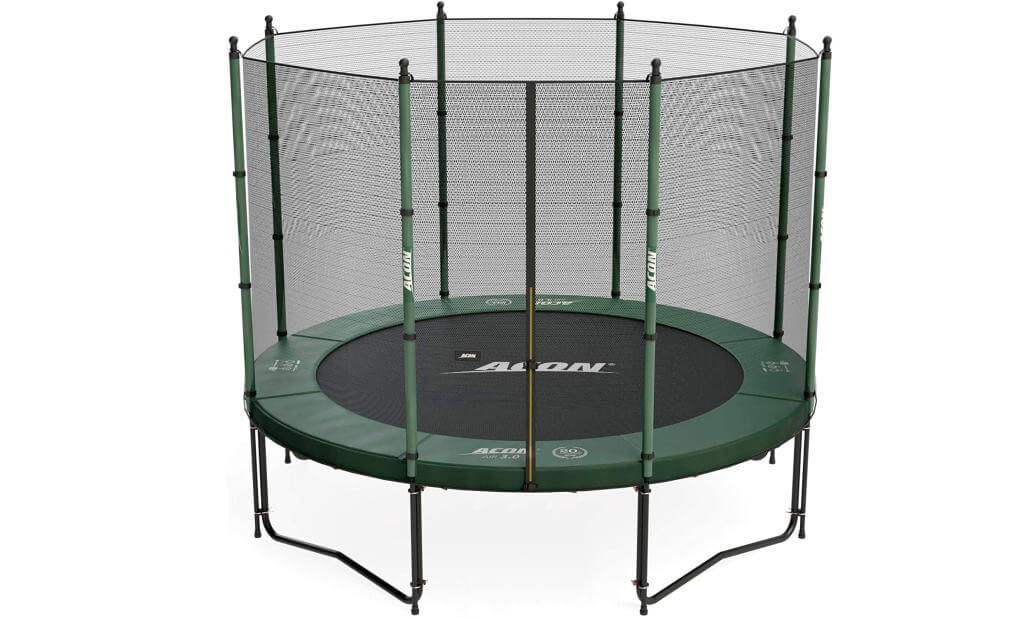 Frame:
Galvanized steel frame with a diameter of 1.5 inches (38mm) and pipe thickness of .06-inches.
Springs:
64 steel springs, 7 inches long, preloaded to 49N. As you may see on our trampoline search chart, a trampoline of this size very rarely has that many springs of this size. It's more common to see this on 12ft trampolines than on 10 ft, but probably that's the reason why ACON trampolines always have high ratings and good reviews.
Padding:
Padding is 1.2″ (30mm) thick and covered with slick navy-green vinyl and coated with rubber. Padding is almost 14″ wide so completely covers springs.
Mat:
Mat is made from cross-sewn PP (PolyPropylene), 10 rows of stitching. Mat is fully UV resistant.
Enclosure:
The enclosure is premium quality with a total height of 1.7m from the surface of the mat. As this is not so big or very high trampoline, it's possible to have it indoors, just make sure to put some kind of rubber underneath the legs, as if not, damage to the flooring is guaranteed.
Poles:
8 poles that hold enclosure are also used as additional points of stability.
---
Warranty:
10 years for the frame
5 years for the jumping mat
2 years for other mat components
2 years for the springs
2 years for the safety pad
Assembly of Acon Air 10
The assembly is very easy and can be done by one person in 1-1.5 hours, depending on previous assembly experience.
Height: 2.52 ft (77 cm)
Weight of trampoline: 121 lbs. (55 kg)
Package Size: 130 x 53 x 26 cm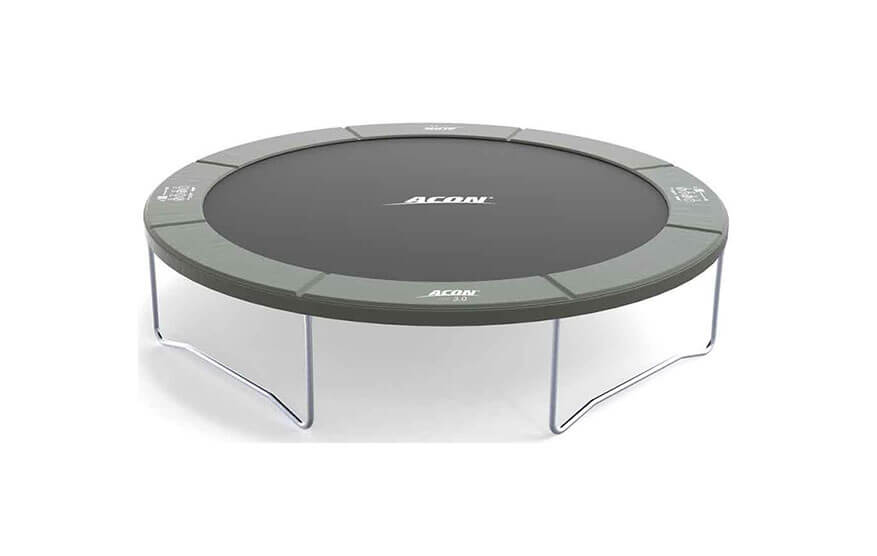 Acon Air 10 ft Trampoline – Model 3.0
As this is very good trampoline we lowered several points due to lousy assembly manual. Also, 10 foot is a bit too small for our taste. Don't get me wrong, this is fantastic trampoline if it will be used by children, and only by them.
PROS
Bounce: The ACON Air 10 ft Trampoline Model 3.0 is made with premium materials and features 64 steel springs preloaded to 49N, providing a high-quality bounce experience
Assembly: Is easy and can be done by one person in 1-1.5 hours.
Warranty: The trampoline comes with a 10-year warranty for the frame, 5-year warranty for the jumping mat, and 2-year warranties for other mat components, springs, and safety pad
CONS
Price: The price of this trampoline may be a bit higher than some other options on the market