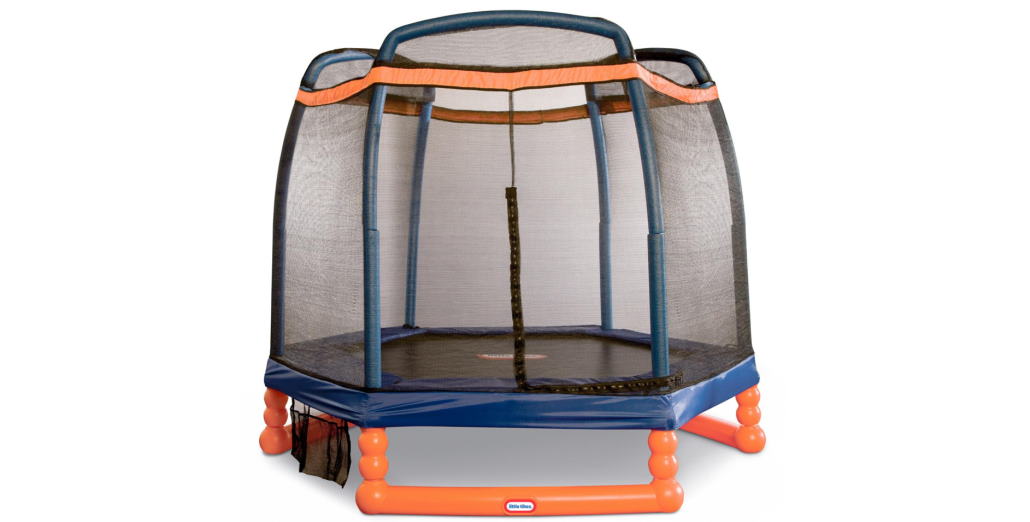 Little Tikes Trampoline Review
Weight limit:105 lbs (45 kg)
Recommended for:Toddlers & younger children, Age 0 – 6
This time we are reviewing one of the best looking trampolines for kids – Little Tikes 7 foot trampoline in blue/orange. But, is good looks everything that this trampoline has to offer? Well, let's see and hope for the best, as this trampoline is one to think about buying for your toddler, so safety first.
Little Tikes 7 ft. trampoline is for indoor/outdoor use, and you are not limited by space you should use it as an indoor trampoline – perfect for colder days! The height of Little Tikes trampoline is 7.5 ft so bear that in mind if you plan to use it as inside your home, something we would definitely recommend as other product owners clearly stated that materials used in this trampoline can't withstand weather elements, becoming deteriorate fairly fast, within a year or so. That's rating down for Little Tikes, as they should clearly state that, otherwise could be seen as false advertising.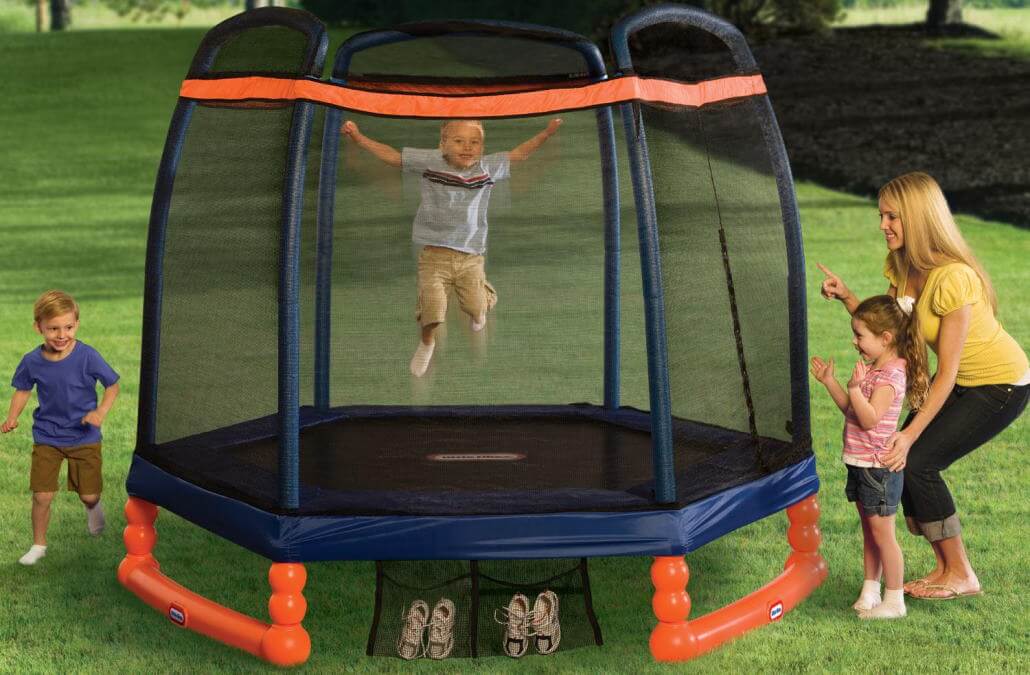 Little Tikes 7 foot Round Trampoline for Kids Specifications
Frame:
The frame of this trampoline is made from blow-molded plastic which covers a steel base, reinforcing it so it's sturdy enough to support your child in their happy moments of play on this trampoline. It is an ideal playground for your toddler or a bit older kids! The height of the frame alone is around 1 ft. (12-inches). Be aware that the color of plastic can easily fade if exposed to direct sunlight for a longer period of time. We would advise setting it up in a shady area.
Springs:
36 galvanized steel springs which provide good but not so high bounce. After all, we haven't expected more as this trampoline is considered to be your child`s first trampoline.
Mat:
Mat is made from PolyVinyl and has an overall jumping mat size of 21.65 sq. ft. Be aware that the replacement mat for Little Tikes 7 foot trampoline can`t be bought separately. If mat goes, trampoline goes…
Trampoline pad:
The trampoline safety pad covers all parts, from frame to springs.
Enclosure:
The safety enclosure is made of PE netting and it`s supported by 5 heavy-duty steel poles which are padded with soft but durable foam.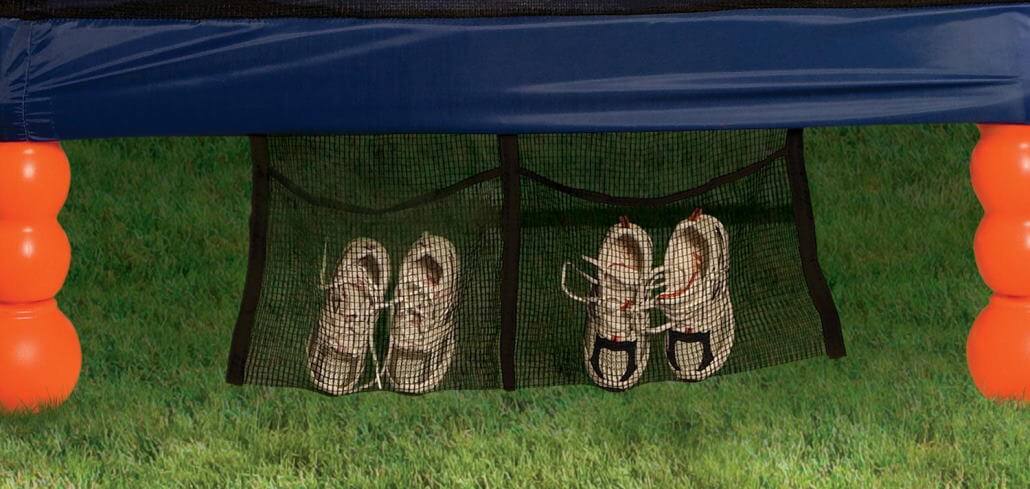 Assembly
Assembly requires 1 hour and a minimum of 2 people, but it can be done by a single person only. You will need to use some strength to put springs into place, where provided loading tool comes in handy! When fully assembled the structure has a dome shape with a circular base for jumping. The total diameter of Little Tikes trampoline is 7.4 ft. (roughly 90-inches) with dimensions (when assembled): 7.5 ft L x 7.5 ft W x 6 ft H (90″L x 90″W x 72″H inches). It has a "ground-to-jump" surface height of 17 inches, making it very easy to climb, even for toddlers.
Warranty
Little Tikes trampoline comes with 90 days warranty on all parts. We hope that in future Little Tikes will change this as it is way too short.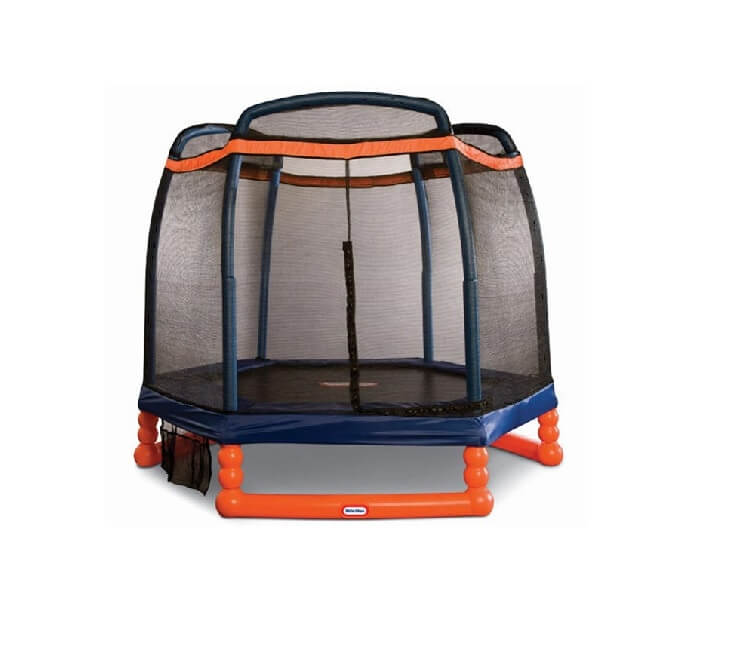 Little Tikes 7 ft Trampoline
PROS
Made from durable plastic with steel frame as base
Very safe
Provided spring loading tool & shoe bag
Can be used indoor or outdoor, preferably indoor
Price/quality ratio
CONS
Assembly could be a bit easier
Additional textures on trampoline mat would make it more appealing to toddlers
Short warranty period
Need Little Tikes Trampoline Parts?
Little Tikes Replacement Enclosure
If you need replacement net for 7ft trampoline then you can find one made by Skybound and which fits Little Tikes 7ft trampoline and SkyBound Super 7 trampoline.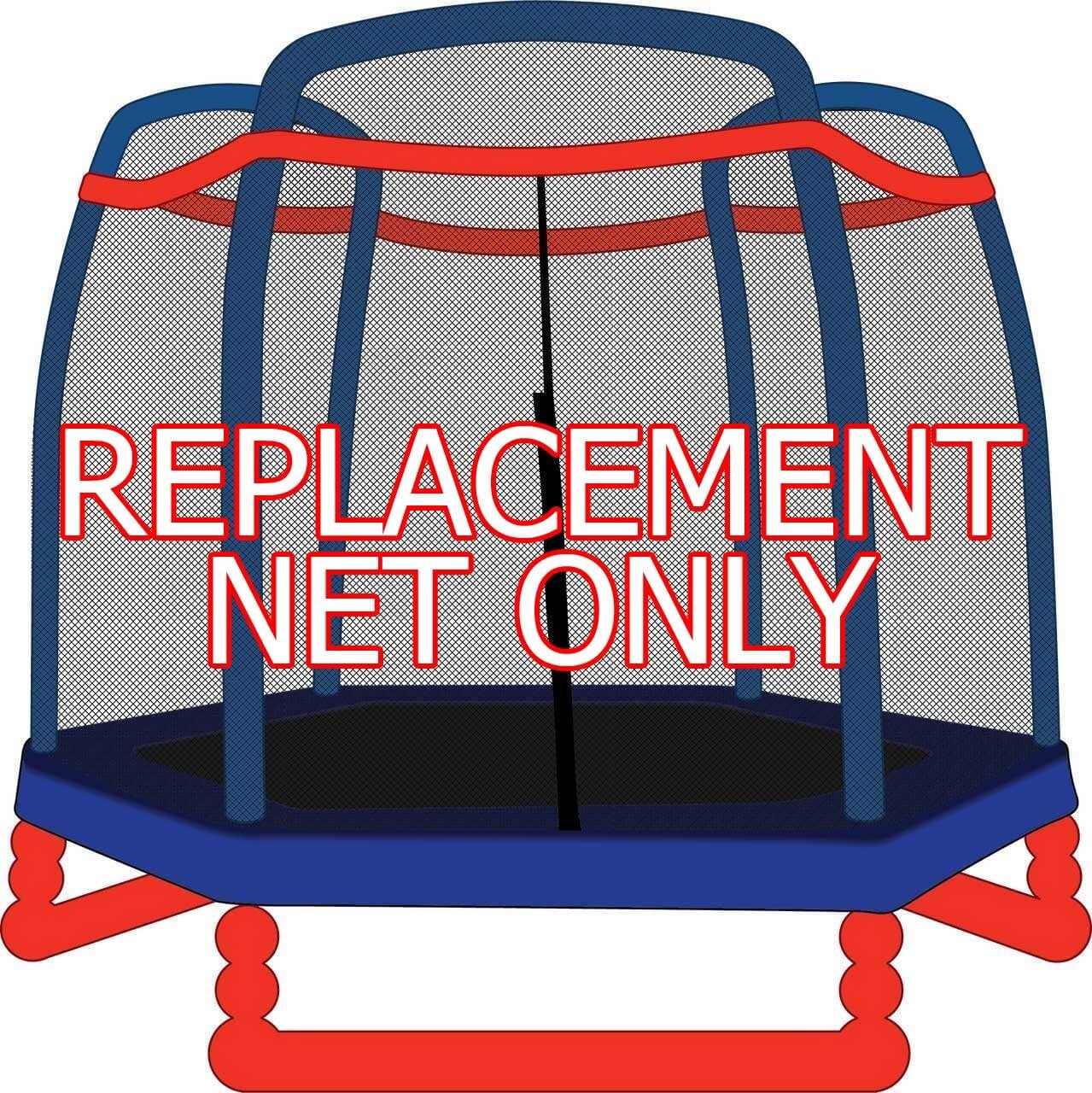 Specifications:
Tightly Woven Mesh (triple stitched) composed of stronger and thicker materials, making it stronger for any kind of accidental falls on enclosure.
UV resistable
Additional Anti-Bacterial & Anti-Fungal coating
Stronger and Lasts Longer than Standard Trampoline Nets
Zipper Doors andExtra Security Buckle Straps
6 Month Warranty on netting
Sleeves which go over enclosure poles
Fits Frame Shape: Round
Fits Frame Size: 7′ Ft.
Fits Pole Type: Arch
Fits Pole Count: 3
Fits Top Attachment Type: Sleeves
Fits Bottom Attachment Type: Velcro Strips