Diggin JumpSmart Mini Trampoline for Kids on Review
Diggin JumpSmart is a trampoline with only one purpose – to teach toddlers how to jump and enjoy trampolines!
This happy-looking kids trampoline comes in an unusual triangular shape and happy colored looks. Trust me on this, when your kid looks at this trampoline mood will go up and stress will go down…Same exact benefit of larger trampolines for older children or teenagers! With its integrated 5-in-1 game & music system it is a perfect and affordable choice to keep children active during cooler months.
Weight limit: 80 lbs (36 kg)
Recommended for: Children, Age 2+
---
Diggin JumpSmart Trampoline for Kids Specifications
Diggin JumpSmart can be used either indoors or outdoors. It is fairly large for toddlers trampoline, and made from high quality plastic with bungee cords acting as springs, so no steel parts here.
Frame and cords are covered with happy colored pads which can be easily cleaned if needed. IN our opinion, padding could be a little thicker but this will also do the job as there really are no dangerous parts around.
Because of the attached safety bar, jumping on the Diggin JumpSmart trampoline is very safe for children. Bicycle or tricycle designs work much better than straight handles when it comes to balance, and honestly, children feel safer than with standard stability bars. Handles unfortunately can't be folded, but as this is for toddlers and they will benefit in having a handle, all good.
Assembly of Diggin Jumpsmart trampoline

Well, here we are… The Assembly of this trampoline requires at least two people, a few drinks, and steel nerves. If mat and cords would come pre-assembled life would have been so much easier. Also, another hard part is the handle, where you need to make sure that you secured everything (zip ties can help you a lot), that the holes are lined up on the correct side. We advise you to check the manual several times before starting. It will help a lot!
When assembled,  dimensions of Diggin JumpSmart trampolines are 3 x 3.5 x 3 foot ( 37.75 x 42.75 x 35.50 inches)
Check other Trampolines for Toddlers
---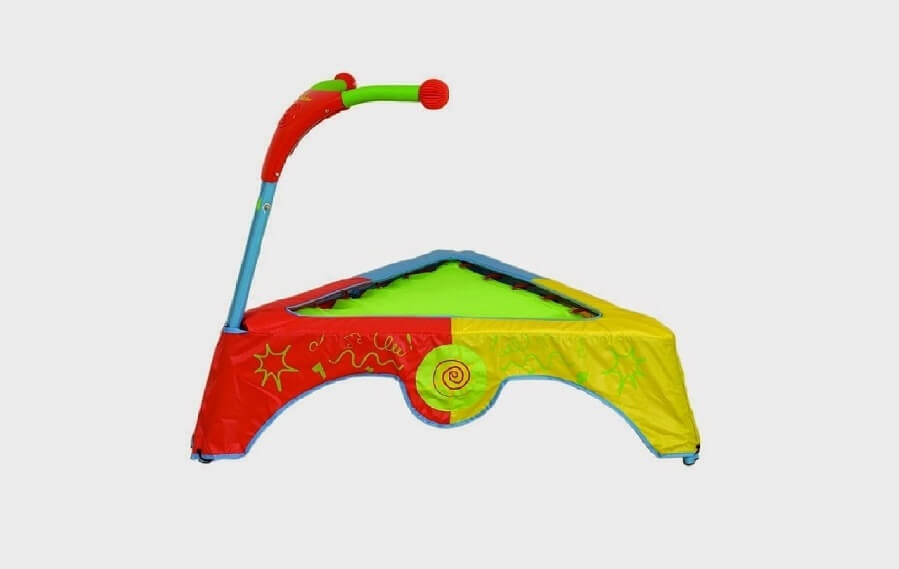 Diggin JumpSmart Mini Trampoline
PROS
Design of grip bar specifically made for children, so very safe trampoline for toddlers
Happy looking trampoline with various music & sounds to entertain your child
Reasonable price
CONS
Jumping area could be a bit bigger
Difficult assembly
Batteries (3x AA) not included