Have you ever wondered how and why trampolines were invented? Was this by accident or did someone decided that it is time to invent something people will jump on? And finally, who is that guy who made it? Let us try to answer those questions…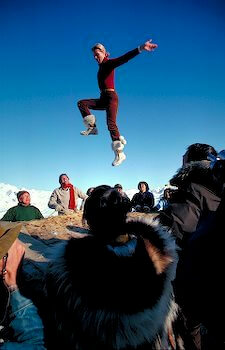 The idea of throwing people in the air has been around long before modern trampolines were invented. People from the Arctic regions, the Inuits, invented first trampolines from walrus skin (acting as trampoline mats) and other people acting as springs, most likely Native Americans did something similar as well.
History of Trampolines
Some rumors say that circus performer and trapeze artist Du Trampolin came up with first version of trampoline. First, he used trapeze net as a safety net if he would fell. But, he found out that if trapeze net is intentionally tightened, it would act as bouncing bed to jump high in the air.
No one knows if this really true or just a fairy tale, but rumors were a base for inventors to create today's modern trampolines.
In 1934, men named Larry Griswold, who was gymnast and diver, and George Nissen, tumbler on the gymnastics team, expanded original design of trampoline, using piece of stretched canvas attached to frame by coiled springs. In 1936, to market new invention, George Nissen rented a kangaroo to jump together on trampoline in the middle of Central park in New York.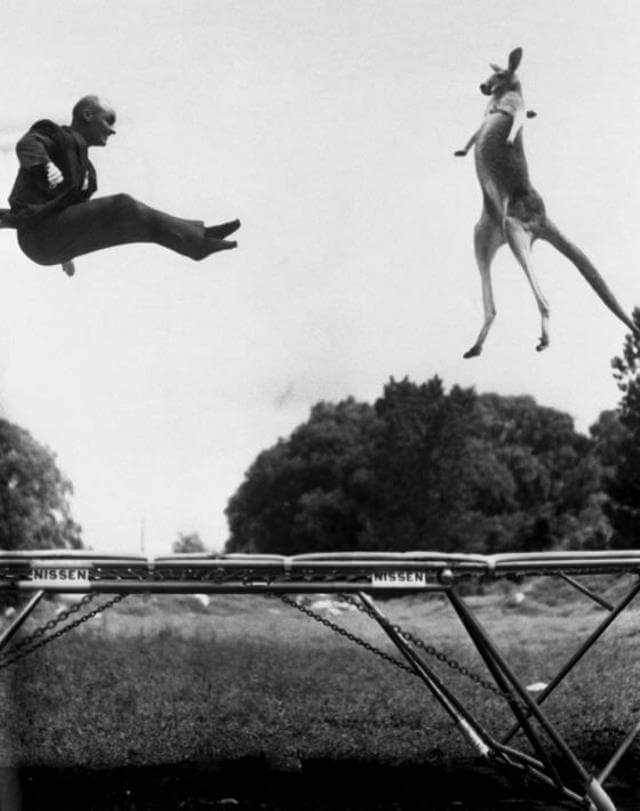 Term "trampoline" was decided based on Spanish word "Trampolin" which on English means "diving board". After that, company named "The Griswold-Nissen Trampoline and Tumbling Company" was established and rest is history.
First trampolines were primarily made for gymnasts, but were quickly recognized as good training tool used for balance and stamina, they were adopted by all other avenues as part of training equipment. Navy Flight School, NASA and other space agencies, they all recognized trampoline as perfect solution for pilots and astronauts.
Trampoline Facts
"El trampolino" was the Spanish word for "diving board", and one of the many words in common usage, which was once actually trademarked as "trampoline".
Finally, in year 2000, Olympics committee accepted trampolining as part of official Olympic discipline. The first gold medal awarded in Olympic trampoline competition, went to Irina Karavaeva, of Russia. The event, which took place at the 2000 Olympics in Sydney, Australia, was witnessed by George Nissen, the 86 year-old inventor of the trampoline.
The famous picture taken in the late 50s, of inventor George Nissen on a trampoline with a "tame" kangaroo (image above), was made possible only by Nissen holding its front paws when they got on it, so the animal could not kick him.
The Gillingham Jumpers, a club based in Kent, England, is the largest known trampoline club in the world, with 1700 members bouncing around the Jumpers Rebound Center, every week.
The 2005 edition of the Guinness Book of World Records, includes a category for the longest slam-dunk of a basketball from a player bouncing on a trampoline.
Judy Wills Cline became the first World Champion on the trampoline, in 1964. Cline held a total of ten world titles in trampoline, synchronized trampoline, and tumbling. The first men's World Champion, also crowned in 1964, was Dan Millman, who is a noted personal growth author and speaker.
In 1986, a six-man team from the Delta Epsilon chapter of Tau Kappa Epsilon fraternity at Cleveland State University, set a Guinness World Book record for "Longest time jumping on trampoline" –  53 days of continuous bouncing, beating team from Phoenix Arizona by one day (Fun Fact: – Phoenix team did it outdoors, during 110+ temperatures and frequent thunderstorms. Delta Epsilon bounced in a gym). Cleveland guys received a phone call of congratulations from Ronald Reagan.
Few other Guinness World records fun facts:

Highest bounce: 22 ft
Most backflips at once: 324
Most consecutive flips: 3,333
Trampolines have entered the arena of "extreme sports", with some trampoline parks offering a combination of bungee jumping and trampoline jumping, where participants wear a harness attached to bungee cord rigging, that allows them to bounce extra high off the trampoline, without the danger of falling if they lose their balance. Basically, they are offering bungee trampoline experience, with a bit of false advertising 🙂
 Glasgow, Scotland is the home of World's largest trampoline park – Flip Out; Park features 63,000 sq. ft  of jumping surface