SkyBound Stratos 15ft Trampoline
Designed with quality in mind, but without forgetting about safety, aesthetics, or overall customer satisfaction, SkyBound USA introduced us to Skybound Stratos, the kind of trampoline you would purchase once in your lifetime. It's a significant upfront investment, which is to be expected for such a high-end offering. However, the higher price compared with, for example, Skybound's own Cirrus must come with adequate improvements. It wasn't an easy task, considering how happy we were with the Cirrus.
Available in three sizes, from smallest 12ft version to mid-sized 14ft and largest trampoline from their portfolio and the one we will review – 15ft SkyBound Stratos. If you are interested in kids trampoline, then check Stratos baby brother – SkyBound Atmos.
Weight limit: 330 lbs
Recommended for: Age 8+
Enclosure included: YES
Direct rival: ACON Air 14ft Trampoline
---
Check Skybound Stratos price on Amazon
Design
While the aesthetics are largely subjective, we dare to say that when it comes to trampolines, this one isn't half bad at all. The design with curved poles looks futuristic, and yellow design elements provide uplifting contrast to the black mat and poles, making it look dynamic and eye-catching. The number of poles is stunning – 12 in total, double the number seen in most other trampolines. It doesn't only look luxurious but also contributes to the safety of the trampoline. The net can be uniformly taut around the trampoline, which makes it more difficult to damage the netting. It's a fairly large trampoline too, so expect it to be a conversation starter once you set it up in your yard.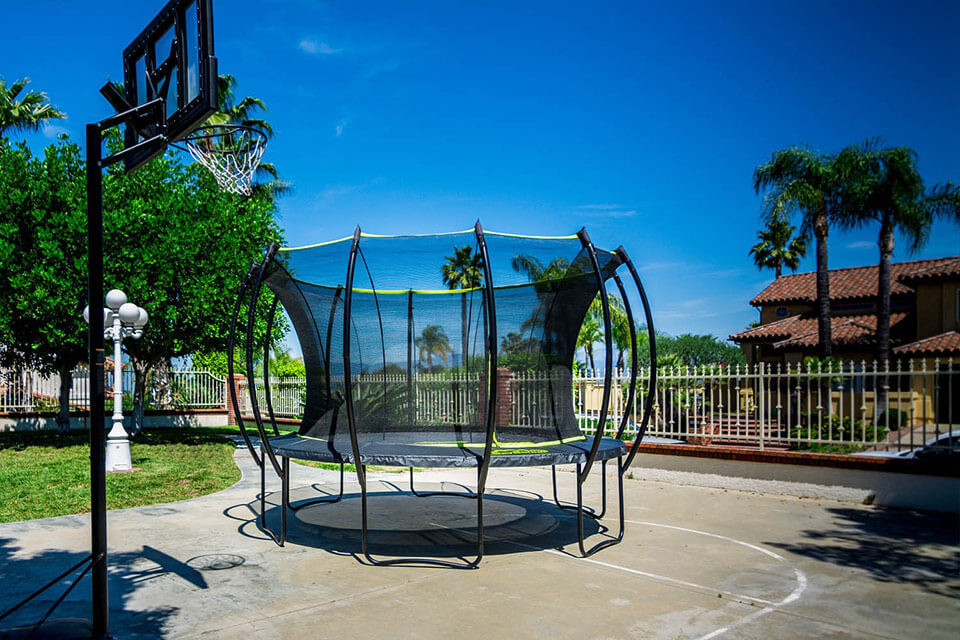 Frame
Galvanized steel frame with 6 steel W-shaped legs, powder coated to resist rusting. Frame comes with additional plastic pieces which goes on frame and improves traction on grass or any other surface.
Frame Material: Steel
Rust Resistant: Yes
Enclosure & Safety Pad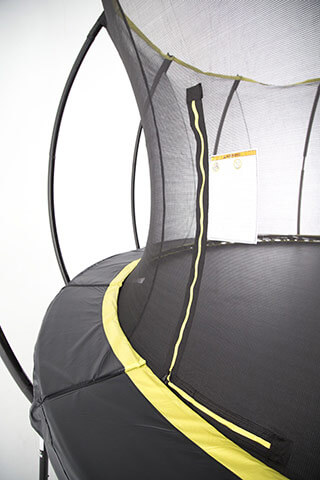 The most striking feature of the trampoline is definitely its 12 pole enclosure system. The enclosure poles are made of steel for increased structural stability and are curved for user safety. The number of poles, it should be noted, is larger than the usual six or eight. This makes the net more stable and less likely to break. It's very difficult to accidentally bump into one. The net is concave to ensure even more distance from poles. Maybe someone will mind about design as net comes into the trampoline a bit and it can be annoying, but after all this really improves safety.
Netting attaches directly to the trampoline mat's V-rings to keep you away from metal springs. The outer parts like springs are therefore outside the jumping area covered by the net. This shows a huge commitment to safety by Skybound. Even if you do bump into them, the poles are covered in a proprietary blend of foam and PVC material, making them both soft and very resistant to elements. Both the poles, the mat, and the pad feature UV-resistant materials, so they can be left outside with no noticeable deterioration. They are also powder-steel coated for better durability.
Six legs are W-shaped for maximum structural stability and ease of installation. This helps keep the trampoline stable and prevent it from flipping over. We aren't that sure about strong winds, though. Overall, the trampoline is rather tall, at 108 inches (more than 2.7 metres).
Enclosure Height – Top to Bottom: 6′ 2″
Safety Pad
Thickness: 25/32″
Width: 1′ 1″
Overall: 9′ H x 16′ W x 16′ D
Frame Rim Height – Top to Bottom: 2′ 10″ "
Frame Rail Diameter: 15′ "
Overall Product Weight: 283 lbs
Mat, Springs & Bounce
Saying one thing about mat is enough – Permatron. Permatron is standard PolyPropylene but with added carbon, where fibers are thermally interlocked to provide smoother surface which can withstand constant flexing, all without stretching. It features 10 rows of stitching, so no fear that mat will be easily destroyed.
Safety is not the only impressive thing about this trampoline. The impressively long springs (8.5 inches) provide a high, but well-cushioned bounce. Truly something that needs to be seen to be believed. It's not only the length (eh), it's the number as well – 108 in total, well above the customary 96 seen in most trampolines of that size. The result is extremely nice, responsive, safe, and high bounce. The padding covering them is 0.75 inches (about 1.9 cm) thick.
All these springs and structural rigidity mean the trampoline is good for loads of up to 330 lbs, which is not the best we've seen, but surely enough for everyday use. This is a major improvement over the Skybound Cirrus.
Assembly:
As SkyBound likes to point – lightning-quick set-up without bolts, screws, or brackets with so-cold push-pin technology will make installation of this trampoline a breeze. But will it? Even for slightly experienced people installation will take up to 2.5 hours, but without messing with tools, screwdrivers, and similar tools. We could do it in two hours, comfortably at that, thanks to both the clear design and excellent instructions. Installation indeed is a breeze but make sure to have extra pair of hands, only because of size.
Warranty:
The warranty is comprehensive, with 10 years on the frame, 2 years on the mat, and a year on the springs and the netting. The pads are given short shrift at 6 months warranty. Backed by Skybound's industry-leading warranty and meets or exceeds ASTM U.S. trampoline safety requirements.
---
Conclusion
Overall, we were extremely happy with this trampoline. The bounce is firm and high and we had absolutely no reliability issues. The installation is quick and the warranty is reasonably long, especially for the enclosure.
We liked the way SkyBound was dedicated to safety, and it really shows. The trampoline is safer than most trampolines we have had on test and coupled with its good rust and UV (sun) resistance, means you will be able to enjoy it worry-free for a long time. It does come at a price, though.  If you're in the market for a cheaper trampoline, check out our review of Skywalker 12 ft Trampoline with Enclosure or the Jumpsport 12 ft. StagedBounce trampoline.
 Video review (Credits: Tanner Braungard)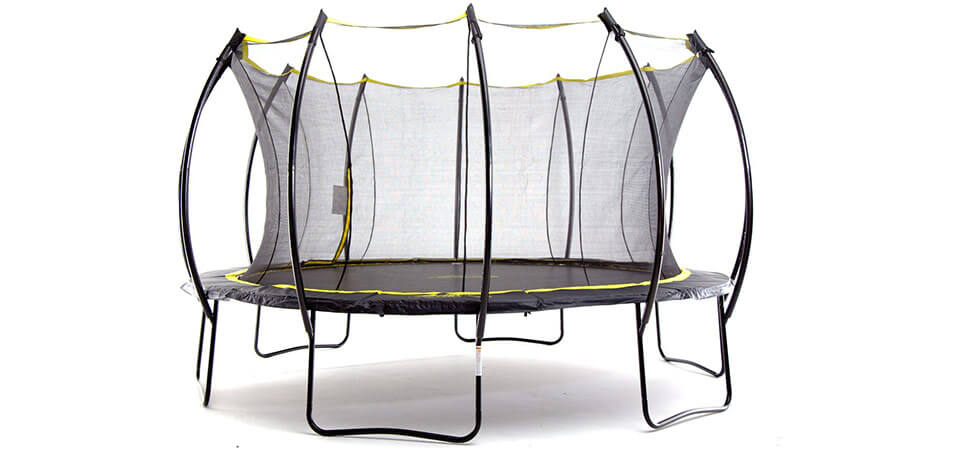 SkyBound Stratos Trampoline
The SkyBound Stratos Trampoline is very good and affordable trampoline with few rivals, one being ACON Air Trampoline. The Skybound Stratos trampoline also comes in 12 and 14 ft. versions. They are only marginally cheaper than the largest model, so if you're getting one, get this (unless your yard is too small). While it's among the more expensive trampolines, it's well worth the price. We can lament the fact that you don't get much accessories, but everything about this trampoline that you do get just oozes quality.
PROS
Great build quality with galvanized, rust-free enclosure
UV-resistant Permatron mat
Fantastic bounciness
Easy installation
CONS
High price
Skimping on accessories