Review of ACON Rectangular Trampoline
ACON, the manufacturer with Finnish know-how and years of experience in manufacturing trampolines, combined with Bosnian hard-working know-how (all comes down to cutting manufacturing cost), is surely a novelty in the world of trampolines. This trampoline is their newest attempt to assimilate the world of rectangular trampolines.
As the trampoline market lacks good rectangular trampolines, looks like ACON decided to put an end to it and make one great trampoline, capable of much more than fellow competitor products, in terms of parts quality, jump height, and last but not least – weight limit. The only issue with them is that most trampolines are almost always sold out, so if you get a chance – take it.
Now let's jump to some ACON Air rectangle trampoline specs!

Weight limit: 800 lbs
Size: 10×17 ft.
Recommended for: age 6+
Enclosure included: Yes
Notice: ACON Rectangle Trampoline is AVAILABLE FOR PREORDER ONLY. IN STOCK SOON
ACON Air 16 Sport HD Specifications & Features
Design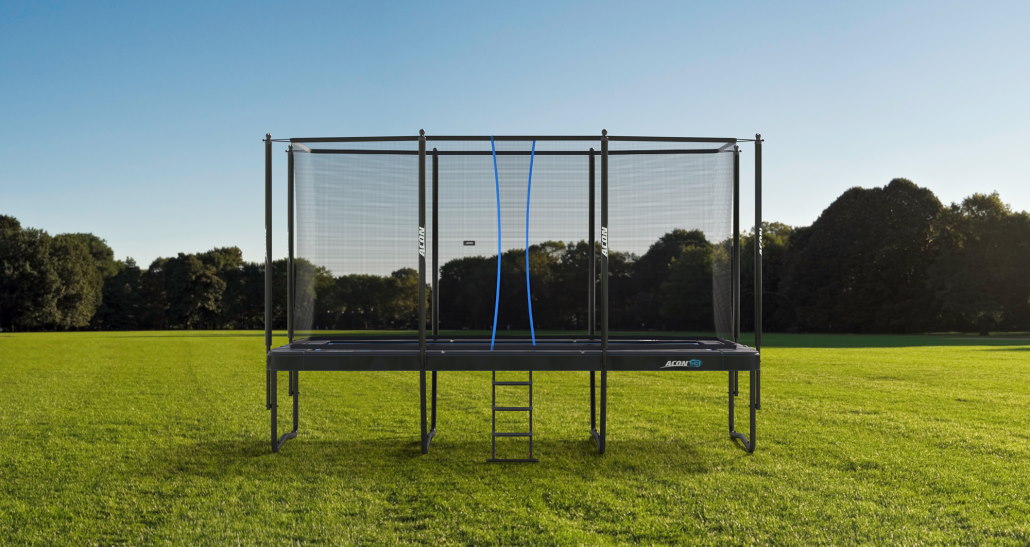 Check ACON 16 Sports HD price on Amazon
Design is perhaps the weakest point of the trampoline, so it's best to get this out of the way. The trampoline looks very subdued with its olive green color and black mat. While certainly not inconspicuous due to its sheer size, we feel it should have been designed in a bit more exciting way. Some might like the no-nonsense style though. It definitely is a nice change of color, at least for us, as most trampolines come in a generic blue color. With this trampoline, it's definitely "function over form" all the way – the Finnish way, as we like to joke.
Note: Trampoline enclosure for ACON Air 16 HD trampoline is INCLUDED in package.
Frame


The frame in this rectangular trampoline is extremely heavy duty. The diameter of the tube measures 2.4 inches and the tube itself is 0.10 inches thick. These are very thick poles and we feel they can take on a lot of weight. The frame tubes are galvanized inside and out, thus ensuring a rust-free experience.
Springs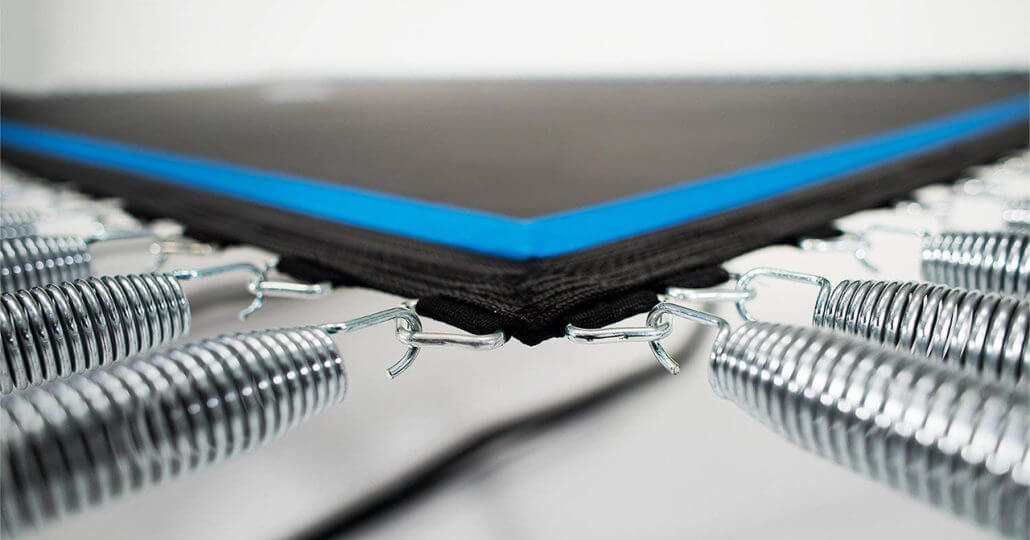 The Acon Air trampoline boasts an impressive number of springs – 140 pieces of heavy gauge springs! They are all galvanized to avoid rust and are 10 inches long. This all works out to give a bounce that is simply out of this world. The trampoline is extremely responsive and you can bounce very high with little effort. You can basically jump as high as you want, but take care not to jump over the enclosure! 🙂 Springs itself have a spring preload of 82 N.
Jumping Mat and Bounce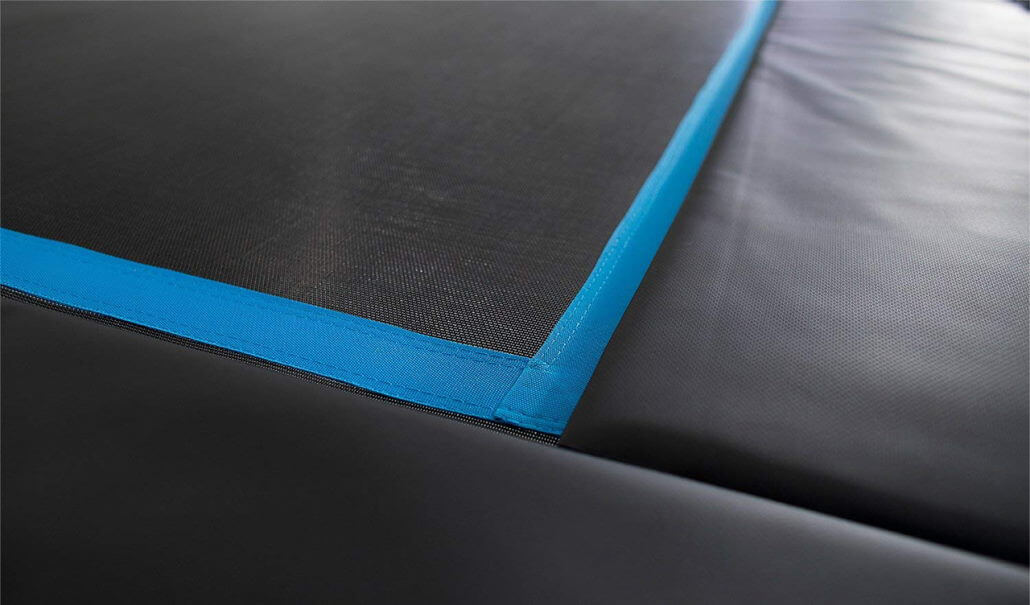 Now, this is where the real fun starts. The trampoline measures 17 x 10 ft. and the jumping mat is about 15 x 8 ft. large. This means there is 120 sq. ft. of jumping surface! The mat itself is 10 times cross-stitched polypropylene for extra durability and is covered with UV-resistant coating. The trampoline stands at 40 inches from the ground.
Enclosure and Safety Pad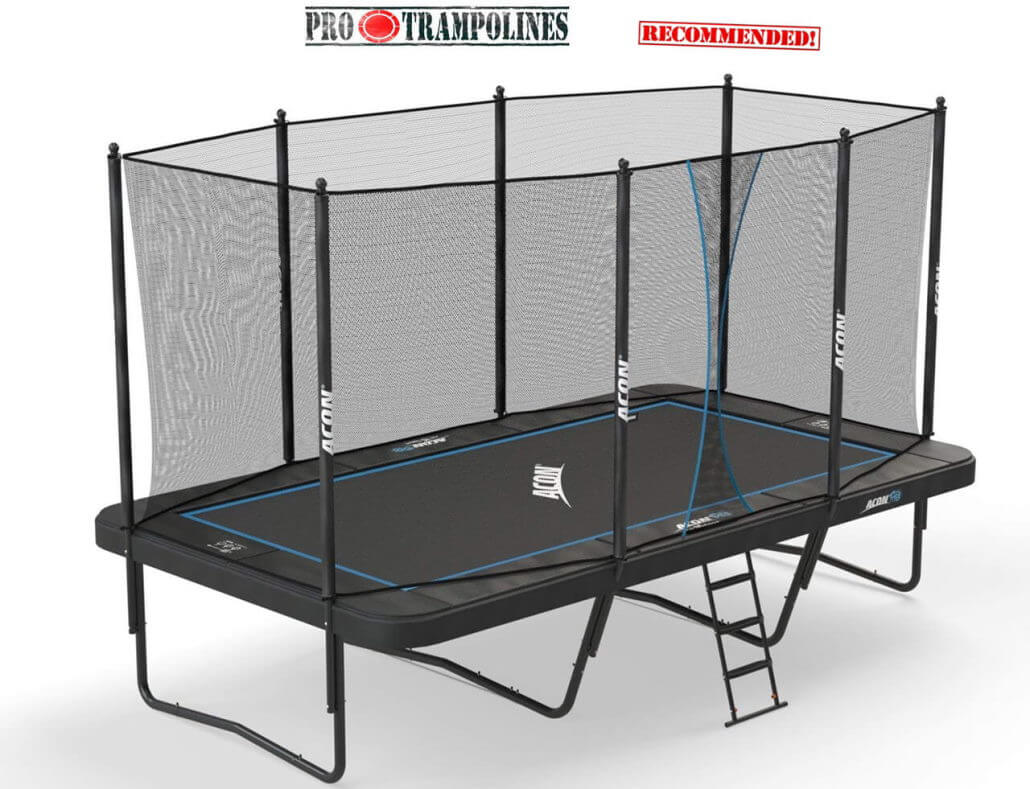 The enclosure is an another very impressive part of the trampoline. It is 7.3 foot high when measured from the mat, giving the trampoline a total height of over 10.5 feet. A total of eight poles are each 0.08 inches thick and measure 1.7 inches in diameter. They too are galvanized both inside and out.
The safety net is absolutely fantastic. It fits tight and the polyester material used is very strong. It is definitely fit for the purpose.
There are special doors you use to get on and off the trampoline. Of course, you can leave it on all the time, as the net is UV resistant and should not degrade over time. Time will show if we're right, but it just seems so sturdy and well-built that it should last a long while.
For maximum safety, the poles are covered with thick foam with a layer of vinyl that helps absorb the forces of impact, should you misjudge a jump. The poles are solid and have little give.
The safety pad is 1.2 inches thick and covered in UV-resistant vinyl. It's 13.8 inches wide so that it covers the whole length of the springs.
There have been thicker pads than we've seen, but this one is perfectly adequate. The material is of better quality than most other pads. It does sit above the springs so even if you land on the mat, it is still bouncy enough. The whole deal is heavy duty and you can leave it outside year-round. The trampoline can definitely withstand the elements – it is sturdy and bulky, but everything just fits into place and it feels extremely safe.
Warranty on Acon Trampoline
The warranty on the frame and mat is 5 years. While we've seen warranties on the frame of 10 years or more, this is less important as the frame is not expected to fail anyway, especially as it has a black powder-coated finish. But the 5-year warranty on the mat is phenomenal. The enclosure and net have a more standard warranty of 1 year. The customer service is very good and will do their best to answer your questions.
Assembly of Rectangular Air 16 Sports HD with Enclosure
The trampoline comes in three boxes plus the enclosure and the assembly takes a few hours. The instructions are very good and clear, but since the trampoline is so large, be prepared to spend some time putting it together. It comes with a spring pullet tool for easy installation of the springs. Beware though, assemble it on the spot where you want the trampoline to be, as it is bulky. It weighs 420 lbs (over 500 lbs with the enclosure) and it's heavy to move around.
---
Conclusion; Our thoughts about Acon Air 16 Sports HD rectangle trampoline!

What is there to say? If you are looking for a great quality rectangular trampoline but don't mind paying the price for it, then this is definitely the choice for you. Such build quality is rarely seen and the warranty on the mat – the part most likely to break – is outstanding. The whole trampoline is sturdy and the fact that the manufacturer hasn't specified a maximum weight speaks of its brilliance. Not that more than one person should bounce on the trampoline, but even four people would be hard-pressed to overload it.
The bounce is excellent and the enclosure provides enough safety for the regular user. Some might like its understated, conservative design.
This model, designed in Finland, is what a quality trampoline should be like. The only problem is – you better be ready to shell out a serious amount of cash. This is not a downside though; many trampolines of this size can cost even more, and with this one, you do get what you pay for.
ACON Rectangle Trampoline – Air 16 Sports HD
The Acon Air 16 HD Sport Trampoline features great build quality, excellent bounce with 140 springs and a huge jumping surface. Excellent trampoline that represents great value and quality when compared to its rivals. If you're in the market for a rectangle trampoline, you might seriously want to consider this model as ACON rectangle trampoline is currently considered one of the best rated trampolines.
PROS
Huge weight limit
Excellent bounce
Good warranty on the parts
Over 100 sq. ft. of bouncing surface
Can be used by beginners and semi-professionals!
CONS
Expensive
Bland design but still different from others