JumpSport 10×17 foot Rectangle Trampoline Review
Here we have one of the most popular semi-pro rectangular trampolines, trampoline which has been widely used by gymnasts and athletes, who use it to improve balance, visual acuity and overall to improve the health of the cardiovascular system.
JumpSport 10×17 ft. "StagedBounce" Trampoline is not cheap as you might think, but when you take a look at all its features and specifications you can rest assured that this is a good product which should be on your compare list.
Weight limit: 225 lbs (102 kg)
Recommended for: Athletes, gymnasts and everyone else who wants semi-pro trampoline. Age is not important but prior trampoline experience is.
---
Check JumpSport 10x17ft StagedBounce price on Amazon
JumpSport "StagedBounce" patented technology – Tech Hype or real advantage?
StagedBounce technology means that there are two sets of springs involved in providing energy for the bounce, where the last set acts as a bounce booster giving you a way higher lift than on circular trampoline. And when combined with rectangular shape, a shape well known for high bounce, then it is pretty clear that this is a win-win situation.
There is another great thing about StagedBounce technology – it lowers the amount of stress on your joints and knees, because when you land on the mat only the first half of springs takes action, lowering the total amount of stress in a single moment in half. So, we can say that it is clear that "StagedBounce" is not just hype, but a very helpful piece of engineering.
JumpSport 10×17 StagedBounce Specifications
Frame: Sturdy looking, sturdy it is. Thick steel tubing, almost 2″ (12 gauge) in diameter guarantees stability, and 2.5mm thick walls will make sure that frame will not break, ever. And as it comes with a jet black coat finish, making it rust-resistant but also very cool looking.
Mat: First-grade Permatron mat (Permatron is considered to be the best mat in the world of trampolines) with 10 rows of stitching and UV protection. The height from the ground to the mat is 40 inches (in case you will be buying a ladder you need a JumpSport 3-step ladder).
Springs: 108 performance springs, zinc-plated.
Padding: The padding is fantastic, it'ş thicker and wider than on other rectangle trampolines. It is high-density cell foam closed in PVC outer coating, 14 inches wide and 1-inch thick.
Enclosure: Enclosure is probably the worst part of this trampoline. While everything else follows a high price, in terms of quality, the enclosure does not.
Assembly:
As with most of the high-end trampolines, the process of assembly is not easy, but is straightforward and done with only a handful of tools. It will take you at least 2.5 hrs with at least two people. Honestly, most of the time will be spent on the assembly of the enclosure, as there are a hundred feet of straps and cords involved in the process. Not quite what we expected but we hope that this will be improved in future iterations of this model.
The Assembly manual can be downloaded here.
Warranty:
There is a 10 years warranty on JumpSport Trampoline frame, 5 years warranty period on springs and Permatron jumping mat fabric, 2 years on mat stitching, 1 year of limited warranty on safety enclosure.
Included in set: Frame, frame legs, springs, Permatron mat, enclosure, and corner rails.
---
Frequently bought together with this trampoline:
---
Trampoline Ladder – you need 3-step ladder by JumpSport for this trampoline (it is 40″ from the ground)

Trampoline BasketBall Set – JumpSport ProFlex

Trampoline BounceBoard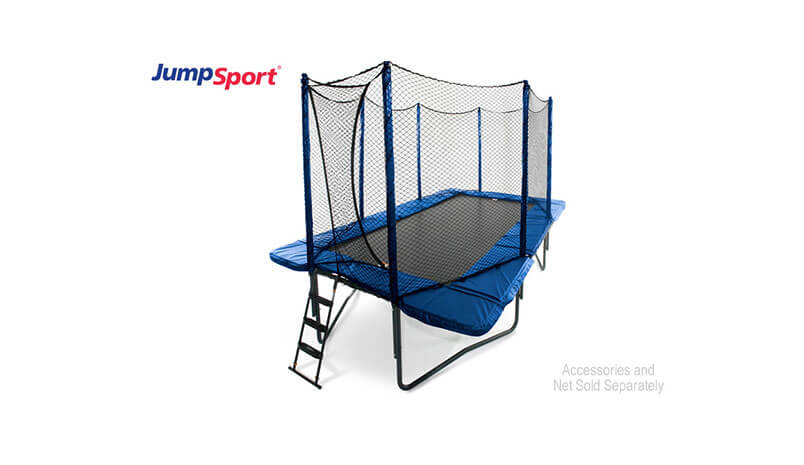 JumpSport StagedBounce 10×17 ft Rectangular Trampoline
Very expensive but good trampoline which should fulfill needs of almost any jumper - for gymnastic training or just recreational use. Filled with new technologies rarely seen in trampolines today, JumpSport StagedBounce can easily justify it`s price. Only thing is - if you do not have any trampolining experience then stay away from this trampoline as combing it`s fantastic bounce and rectangular shape can have unwanted consequences on any inexperienced jumper.