Review of SkyWalker 9×15 ft Rectangular Trampoline with Enclosure, Basketball Hoop & Ladder
SkyWalker Trampolines are well known and established brand, for who you've definitely heard of. This model is a rectangular version of recreational trampolines best used by semi/pro gymnast training sessions, but can also be used for everyday kids activities, from jumping to playing games, as Skywalker 9x15ft rectangle-shaped trampolines cover it all. But, the most important question is still open – Is it good and does it offers hours of thrill? Let's get to review!
Weight limit: 250 lbs (115 kg)
Recommended for: Age 10+
---
Skywalker 15×9 ft Rectangular Trampoline Specifications
Frame:
The frame consists of thick galvanized iron steel supported by 4 W-shaped legs, set in V formation on the edges. As it feels sturdy enough for recreational bouncing, we have a feeling that 5-6 legs (shorter main frame legs and additional ones in the middle) would make a huge difference regarding shaking while jumping. As a quick fix, a trampoline anchor kit can be used. All joints of the frame are extra secured with T-sockets which ensures the structural integrity of a trampoline frame.
Mat:


The total jumping size of the mat is 7x13ft, which will give you a total of 96 sq. ft of jumping space, which is not a lot, but this is what you get when netting is connected directly to the mat. Yes, it is safer but you will get less space.
Bounciness is only slightly better than on Skywalker 15ft round trampoline and it is crucial that you have on mind some differences regarding jumping on round compared to rectangular trampolines – round trampolines will always direct you to the center of the mat while rectangular will not, you'll really have to control where to land, so be cautious while performing flips and stunts on your new trampoline.
Springs:


There is a total of 76 springs which are 7.5″ long. Also, 12 of those springs are extra wide (1.25″ in diameter, rest is 1″) and should be placed at specific pressure spots around the mat. Whole idea of those "additional" springs is to provide extra lift, and as we were not totally happy with it, the question is how much those springs really help.
We expected more out of it!
Enclosure & Pad: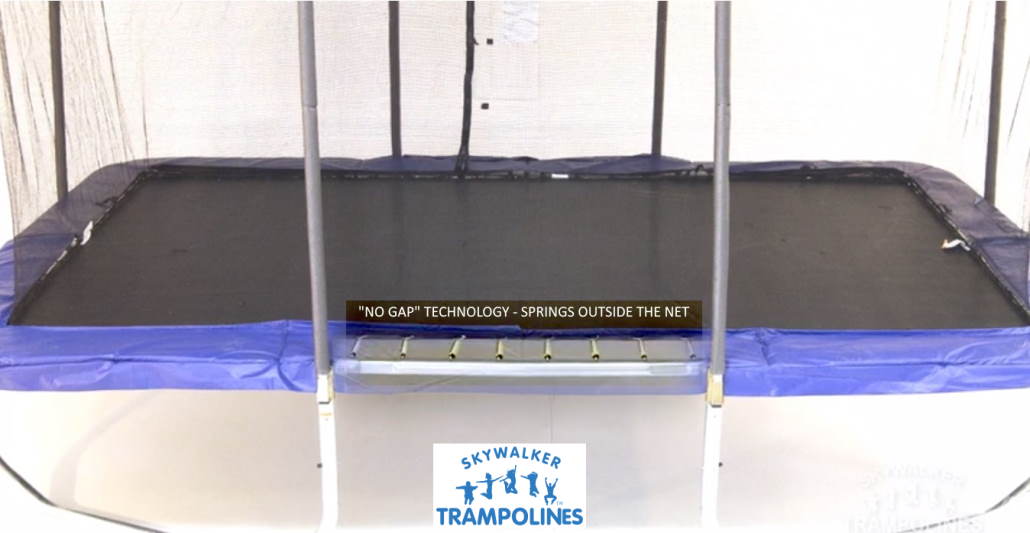 The enclosure is connected directly on the mat V-ring, so there is no way to hit the springs of a trampoline – technology patented by Skywalker and called "Stay Put". The entrance is secured with a zipper. Enclosure poles are also padded with soft foam so the chance of being hurt when hitting poles is minor. Total measures of trampoline are 15'L x 9'W x 9'6″H (with enclosure)!
Trampoline pad is made from UV resistant PVC (Polyvinyl Chloride) and it's half an inch thick. It comes in two L-shaped sections.
Pros
Good !"no-gap" patented enclosure!
Mat is good but not quite bouncy. Maybe a bit longer springs would do the trick. We hope that at SkyWalker they work on next-gen trampoline model to rule the trampoline world… Anyways, 0.1 points of the chart…sorry.
Thick frame. Legs do lower a point or two but frame is actually really good. Add some legs and there is perfect trampoline.
Cons
Bad assembly manual. Some steps will be a bit difficult to follow. But once you get it, it should be easy to follow. Complete assembly requires around 3 – 3.5hrs and requires your wife or best friend! 🙂 Warm sunny day welcome!
Bounce could be better…
6W legs would really come handy.
Warranty on trampoline frame is 3 years while all other parts have a 1-year warranty. But when it comes to SkyWalker we know this trampoline will last much longer.
---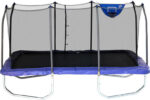 Skywalker 9x15ft Rectangular Trampoline
Overall this is good and sturdy trampoline, but would be better with few simple improvements, especially when it comes to springs and a bit thicker pad. We really do want people to stay safe, but also to be able to achieve heights which size of this trampoline deserves. Honestly, we can't wait too see new model of SkyWalker rectangular trampoline, with hopes it`ll be on the market soon!
Assembly manual can be downloaded here, and really good assembly video you can watch below, which we encourage as you'll get good insights about the size!