Designed for year-round use, Beast K9 Performance trampoline is a heavy-duty, rectangular trampoline made for jumpers of all ages, but the maximum performance it offers will be best used by experienced jumpers.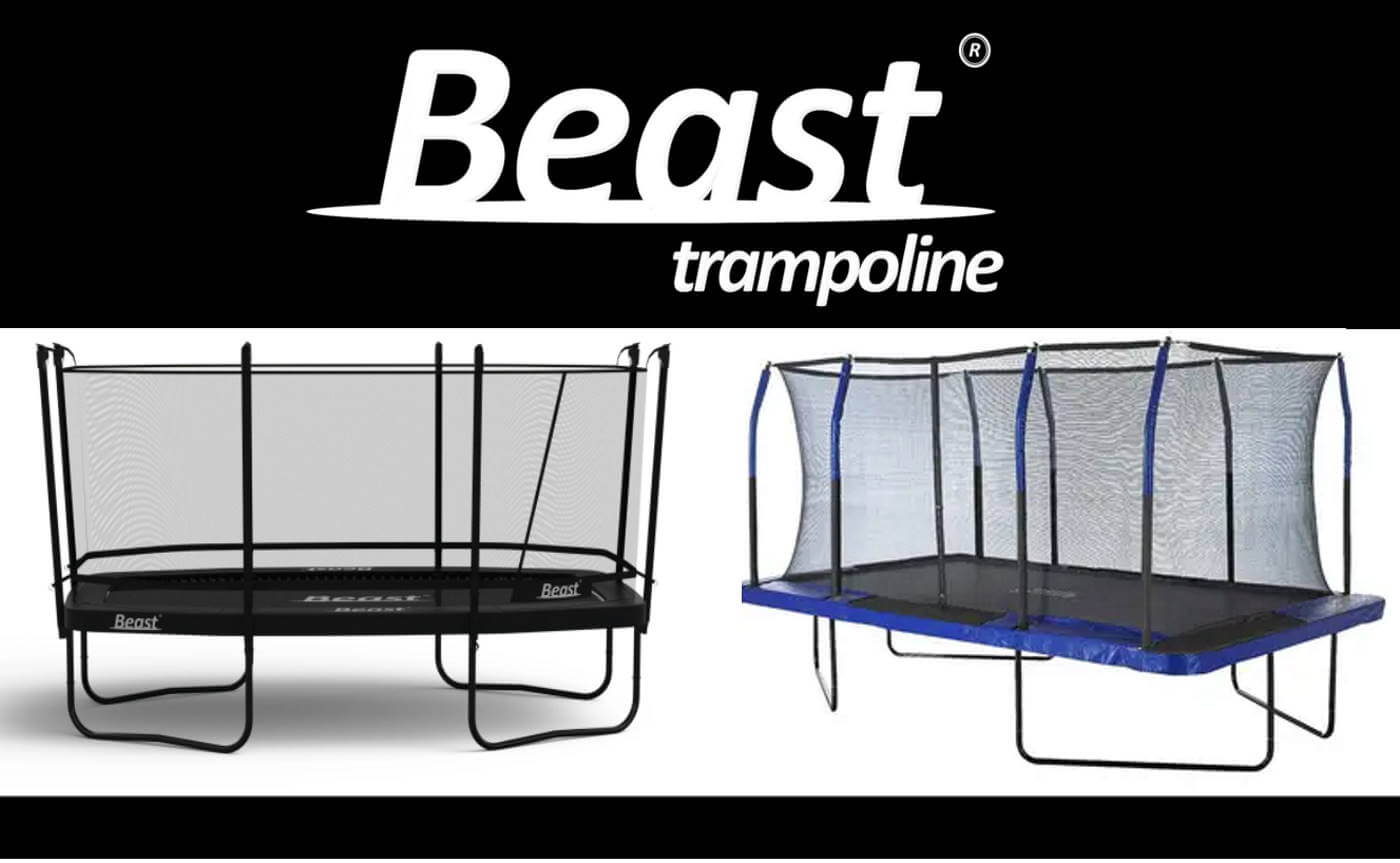 Table of Contents
---
Who is it for?
Beast K9 performance trampoline is made primarily for semi-experienced jumpers, like gymnasts, cheerleaders, and other active children. Of course, that doesn't stop anyone from using it, as due to its size, can easily accommodate a few children at a time.
Design
K9 performance trampoline has been designed for year-round use, meaning that the manufacturer states there is no need to take it down in the winter. While good quality steel parts can really justify this, we are more concerned about the degradation of the trampoline mat (bed) and netting, as quite often these parts do show signs of deterioration. As this is a 10x17ft trampoline, it will be big enough for a few children at the time, but only if they are engaged in playing trampoline games, and not in serious exercise (we never advised to have more than one person on the trampoline as it can result in serious injuries).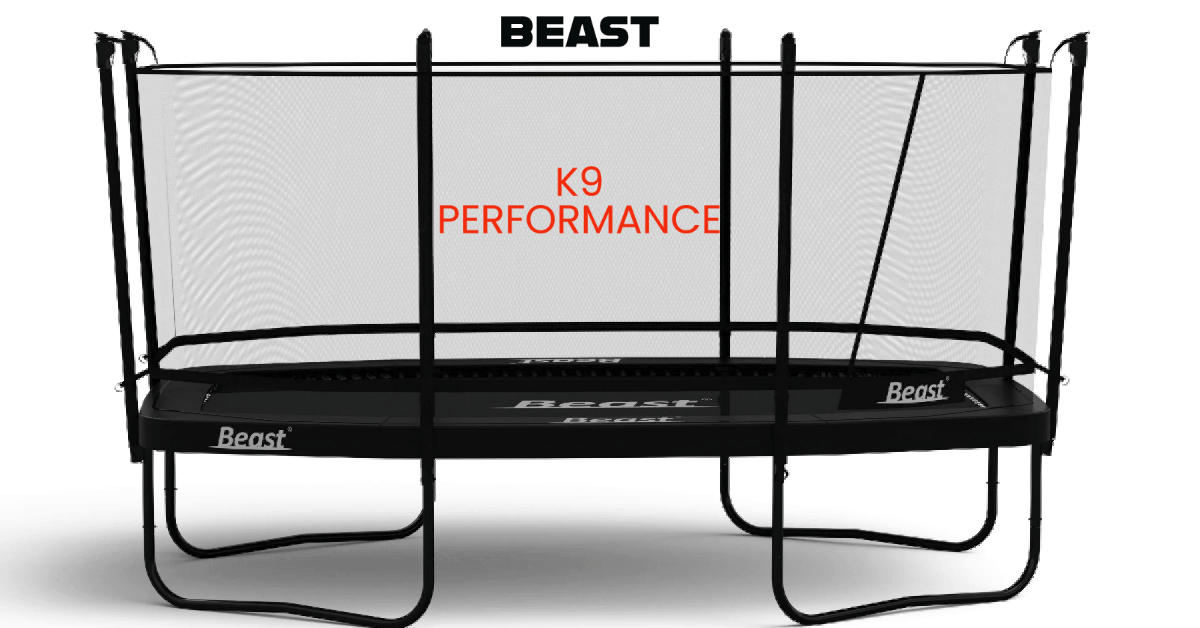 When it comes to looks, Beast K9 features black color which in our opinion looks way better than the standard shade of blue, something Beast offers as well, so please be specific about the color if you'll be ordering one.
Is it sturdy?
Quite thick steel parts definitely do their job, as K9 trampoline is quite sturdy, but we can't lose the feeling that structural stability would be better if there were center legs, something like ACON Air 16 uses. When jumping, especially if heavier adults are using it, there is some waggle, but nothing too serious, especially if the trampoline is placed on a completely flat surface. But again, as this trampoline weighs 550 lbs (trampoline, enclosure, ladder), it definitely isn't a big issue.
Frame
The trampoline frame is the main structural component of a trampoline. It is the metal framework that holds the trampoline together and provides support for the canvas bed and the springs.
Best K9 frame is made out of heavy-duty galvanized steel tubes with diameter of 2.4″ and thickness of 0.10″. This is considered to be average for trampolines this size, as there are models with a bit thicker tubing available on the market, but with thinner as well. And what "galvanized" means? It means that steel has been coated with a protective layer of material, usually zinc, which stops rusting. Frame specs are exactly the same as it's direct competitor – ACON Air 16 rectangular trampoline.
What's the weight limit?
Beast states that there is no single user weight-limit, but there is structural weight limit of 1000 lbs. As mat can definitely handle this load, together with huge number of springs, we are pretty confident that it can accommodate anyone who wants to use it.
What we don't like that trampoline anchors are not included and will need to be purchased separately (3-pack & 4-pack anchors are available), and we somehow feel that trampoline of this size should have them included. Minus points.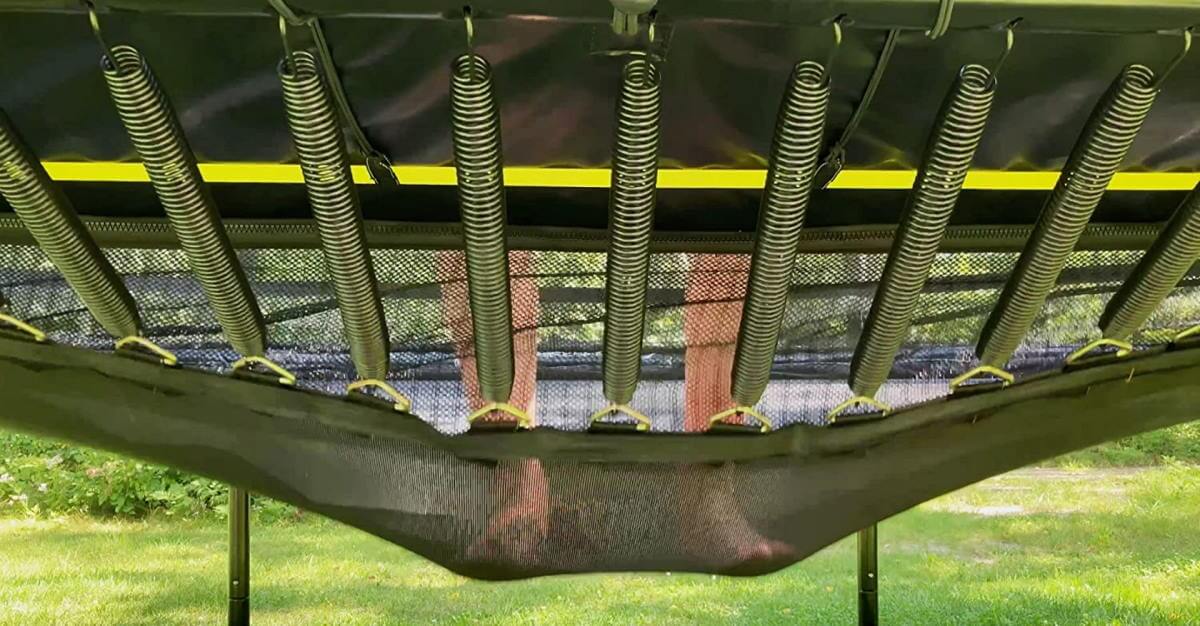 Jumping mat
Cross-sewn polypropylene with 10-row stitching. We need to say that 10 rows of stitching are becoming an industry standard for trampolines this big, and we expected nothing less. It is UV-resistant, in order to increase durability and safety.
Springs
124 pieces of Black PianoWire springs 9.5″ long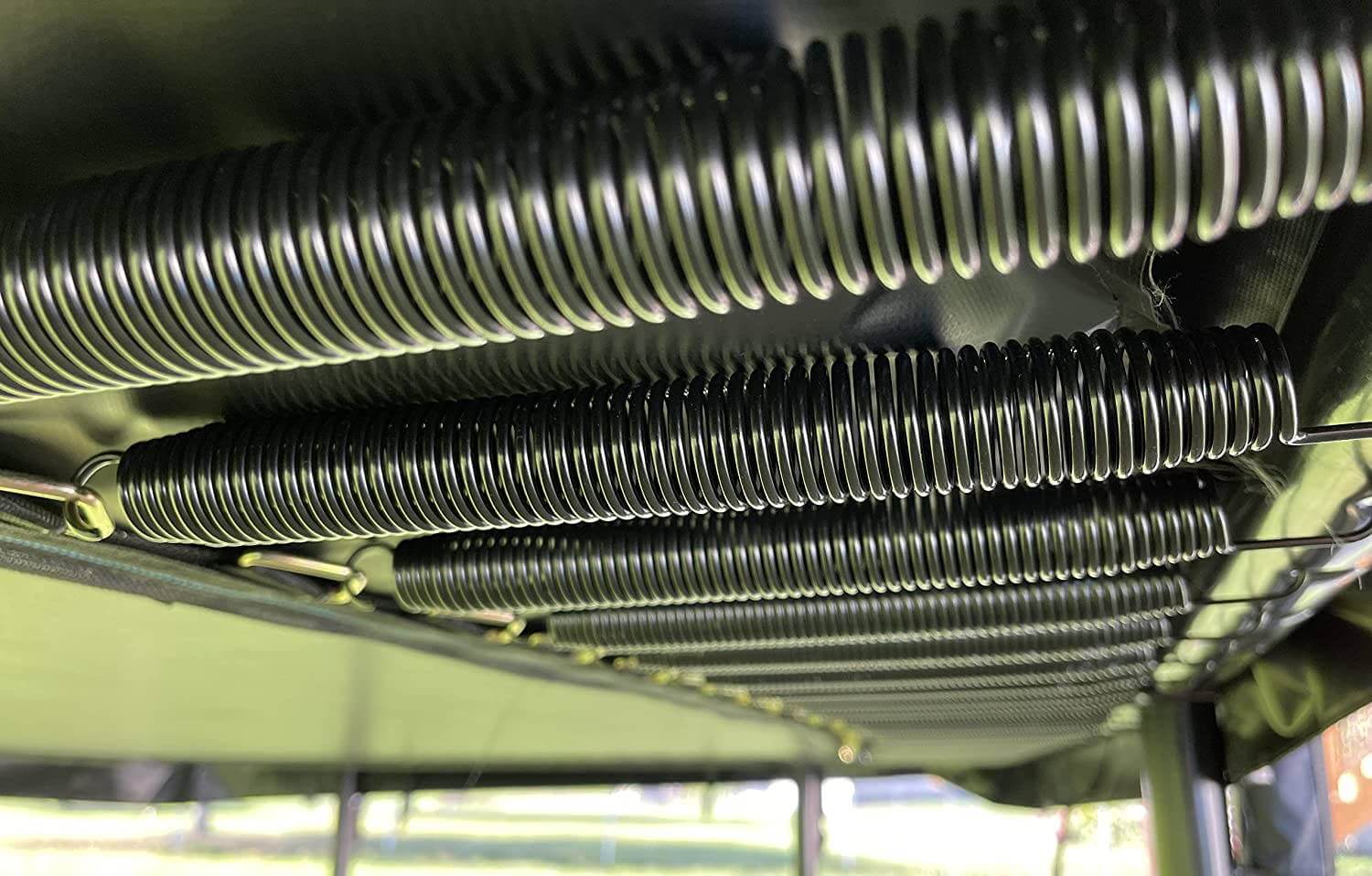 Spring Pull Tool Included
Beast K9 Perfomance Enclosure
The enclosure is an important safety feature of a trampoline, as it can help to reduce the risk of injuries from falls or collisions with the frame. It is important to ensure that the enclosure is securely attached to the trampoline and in good condition to provide effective protection. Beast features an enclosure with overlapping door, providing an extra layer of safety. There is also a model without enclosure, but for the sake of safety, we don't advise buying it.
Padding
Safety pad, a piece that covers springs so you don't accidentally land on them is made out of UV-treated PVC, filled with 1.4″ foam. Overall width of the padding is 15.5″, which is quite a lot, as it decreased available jumping place, but understandable as it needs to completely cover the springs (in this case 9.5″ long). One cool thing that K9 features is "zero-gap protection" with top & bottom safety pad zippers, decreasing a chance od someone's fingers being couth up in the springs, especially dangerous for younger children.

Warranty period
Warranty is the same as or even better than the industry standard, especially when it comes to springs.
10 years for the frame
3 years for the springs
2 years for the jumping bed and safety padding
1 year for the ladder and enclosure
Pros and cons:
Pros
Excellent mat
A good number of springs
Free ladder and spring pull tool
Cons
Price
Time-consuming assembly (difficult to do it yourself, extra pair of hands is recommended)
Trampoline anchors are not included
Specifications
Weight limit: 1000 lbs structural, no single-user weight limit
Size: 10x17ft, with 8x15ft of usable jumping area
Height:
Trampoline weight: 500 lbs (550 lbs with included ladder)
Mat: 10 rows of stitching
Springs: 9.5″ springs, 124 pieces
Enclosure included?: Both variations available – with or without an enclosure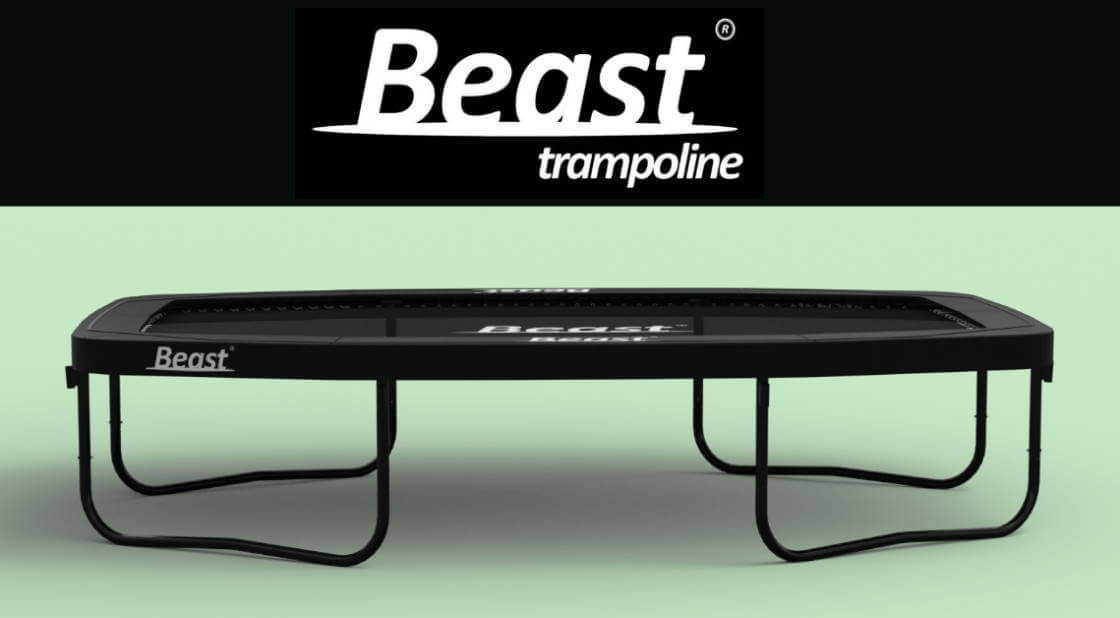 Beast 10x17ft Rectangular Trampoline Review Summary
As always, you get what you pay for. The design, sturdiness, and overall build quality are really good, so you can expect this trampoline will not fall apart in a year or two. Of course, some parts will have to change eventually, especially springs which do stretch after some time, but no worries as all of the replacement parts are easily available. Customer support is really responsive and will help with any inquiry you might have.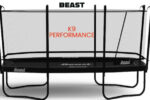 Beast K9 10x17ft Rectangle Trampoline with Enclosure