Upper Bounce "Spacious" Rectangular Trampoline – Perfect choice for for all trampoline enthusiasts.
Upper Bounce "Spacious" trampoline is not only a trampoline made to last but a trampoline that would withstand all kinds of activities while providing the maximum amount of fun. As it comes from brand manufacturer, which is one of the market leaders in the trampoline industry, we are sure that this trampoline by all quality indicators should be well above the standard.
Were we wrong or not? Answer below!
Weight limit: 330 lbs (150kg)
Recommended for: Age 8+
---
UpperBounce "Spacious" Specifications:
When this trampoline was assembled we were charmed by looks! It is a masterpiece (or very close to it) and Upper Bounce shown once again who is the master of trampolines!
Made from very durable and thick frame and with additional stability support from "FiberFlex" enclosure which interconnects all parts, "Spacious" is trampoline which can withstand anything.
4 W shaped legs connected to frame
8 poles holding up the enclosure, covered with protective foam and attached to "FiberFlex" top ring
96 pieces of 8,5″ trampoline springs for maximum tensile, bursting bounce
Mat with 8 rows of cross-parallel stitching made from PolyPropylene mesh material (industry standard is 6-8 stitches with maximum to 10 stitches)
0.5″ thick, 10″ wide trampoline pad with 450g PVC (PolyVinyl Chloride) material on top and 310g PolyEthylene (PE) plastic on bottom
enclosure connected to V-rings at the mat. Safer way but leaves less room to jump.
Overall dimensions of trampoline are 96″Lx168″Wx106″H (in ft: 14Lx8Wx8.83H) with total weight of 310 lbs. (140kg). Height from bottom to top (with enclosure) is 95-inches.
Warranty period: 1 year
Pros:
very stable trampoline
nice quality of bounce and overall mat responsiveness
high weight limit
good looking
maximum safety
replacement parts available from Upper Bounce – make sure this is an Upper Bounce product as a lot of similar ones being sold are just cheap copies!!!
Cons:
Difficult assembly – make sure to read instructions well. Also make sure you have spring hook tool!
Quality of poles and joints for top ring is poor.
Enclosure design limits overall jumping area
trampoline padding too thin
All in all, this trampoline makes a good purchase for all aspiring gymnasts and even competitive jumpers. Perfect for families where all family members would use this trampoline. Get this Upper Bounce rectangular trampoline and you're in for the bouncing experience of your life! If you have chance, buy it.
Still don't like it?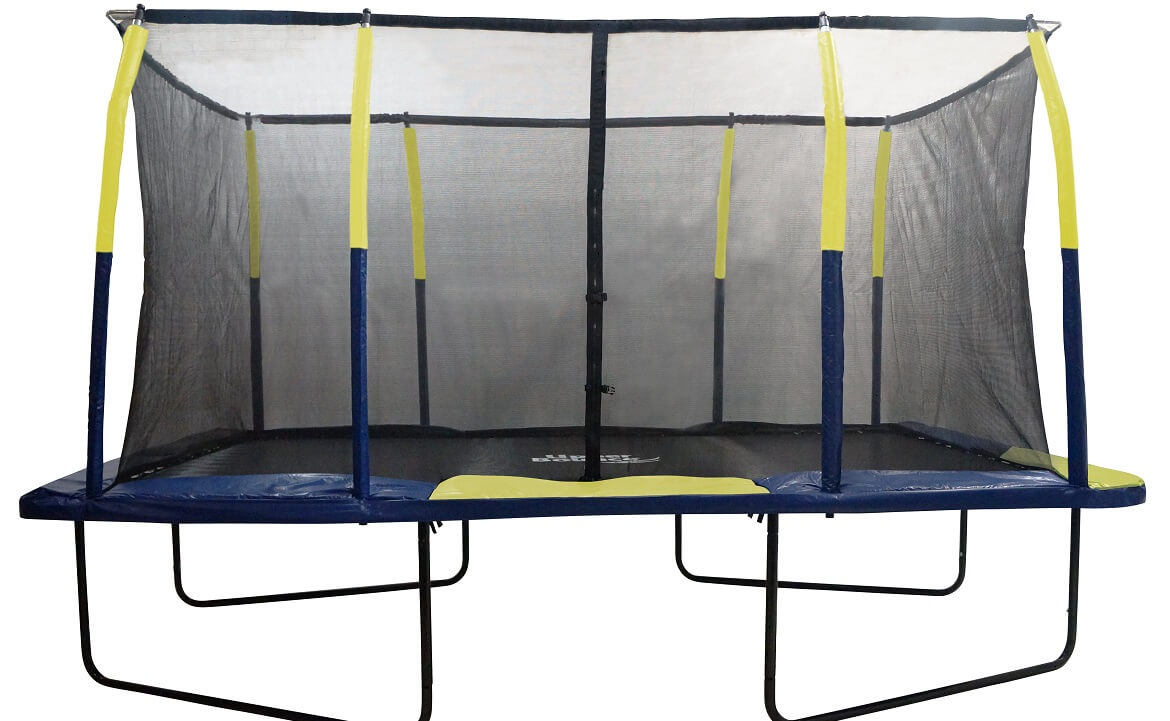 Upper Bounce 9x15ft Rectangular Trampoline with Enclosure
Good sized rectangular trampoline which won`t disappoint you. Overall very good quality and it comes with great price. Excellent buy.