SkyWalker 12 foot round trampoline is a cost-friendly solution if you are in need of an entry model, 12ft trampoline. As with all Skywalker trampolines quality is unquestionable. Not only that but Jump N' Dunk trampolines come with a mini basketball hoop, which guarantees hours of fun for your youngsters!
Weight limit: 200 lbs (90 kg)
Recommended for: Age 6 – 12 (This trampoline is perfect for families with several smaller children!)
---
Skywalker 12 ft Round Trampoline Review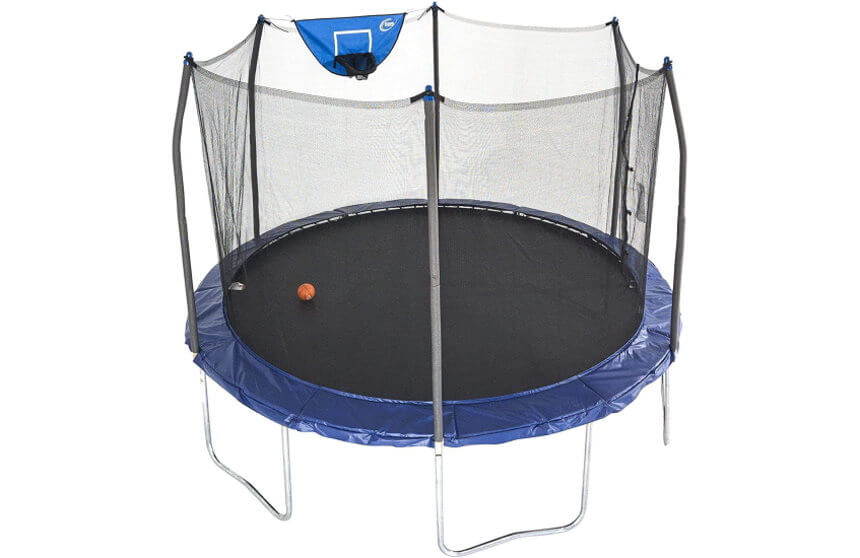 We feel the 12-ft is the ideal size for most backyards and/or novice jumpers.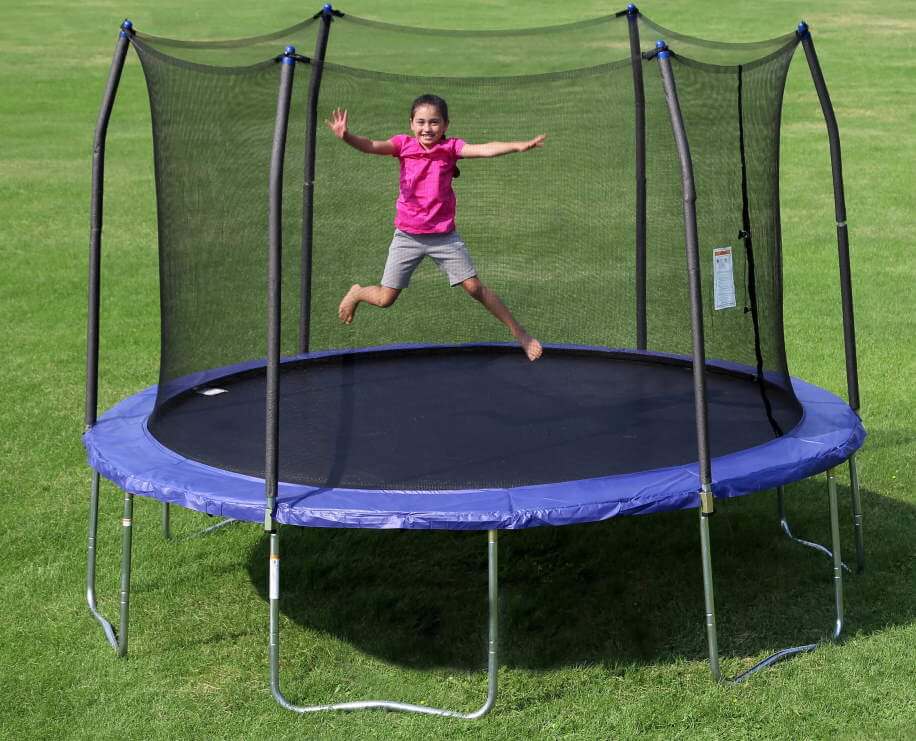 You'll want to upgrade to a larger diameter if you fall in love with trampolines, but teens and children will still be able to have plenty of fun on this unit. Thus, we recommend this unit to families with small children.
Frame:
This is a very sturdy and stable trampoline whose drawbacks would only be its size. But if only children will be using it then will serve you just fine. The frame itself is about 4ft from the ground, so getting a 3-step ladder would be advisable.
Springs & pad
96 springs, 6.5-inches long are located outside of the enclosure net. Each spring is made of steel and features a rust-resistant coating. As netting connects to mat jumpers will not be able to land on springs, but this safety feature makes this trampoline a bit small. The good news is that the spring-pull tool comes within the package!
Mat:
The full size of the jumping surface is closer to 10ft, while 12ft is the size of the trampoline as a whole. The overall jumping area is a tad over 88 sq ft. Not to put too fine a point on it, but a 15-ft Skywalker trampoline will have much more jumping area, about 140 sq. ft. of usable bouncing surface – some 75 percent more, but they do cost more.
SkyWalker 12ft Round Trampoline Specs Summary:
Safe for kids thanks to included safety enclosure; trampoline meets all ASTM safety standards
Size when installed 12 x 12 x 9ft
Skywalker 12 foot trampoline weight limit: 200 lbs (90kg)
Frame made from galvanized steel, 4W shaped support legs with extraordinary stability (thanks to proprietary Skywalker T-socket installation)
Total of 96 metal, rust resistant,  high quality springs, for enjoyable jump. Length of springs – 6.5″
Bouncy mat with
Available in 3 colors – red, blue, green
Warranty:
3-years limited warranty.
Pros:
Biggest advantages of any Skywalker trampoline is accessibility of replacements parts. If any of the parts should need replacement you will have no trouble buying it. This makes this trampoline very cost-friendly, especially on long run.
All materials are high-grade, UV resistant and will withstands all possible weather conditions.
Cons:
A bit too small for any kind of recreational use by older children, teenagers or adults.
Warranty period is a bit short and it includes 1-year limited warranty on frame and 90 days on other parts.
Too conservative weight limit
---
The instructions could be clearer overall, but the installation is simple enough that it won't be an insurmountable issue – but get a pair of hands to help you if you want it done quick. Two hours is the norm. The spring pulling tool is included. Installation would be a huge pain without one, as the springs have to be tensioned correctly in order to function.
This is a well-built, capable trampoline with good all-around performance. You won't regret the purchase and you'll save yourself a lot of headaches that shoddily manufactured trampolines can give you. It's a step forwards over the no-name trampolines and we heartily recommend this as a best-buy unit.
---
Already a owner of SkyWalker 12ft Trampolines? Download SkyWalker 12ft user manual!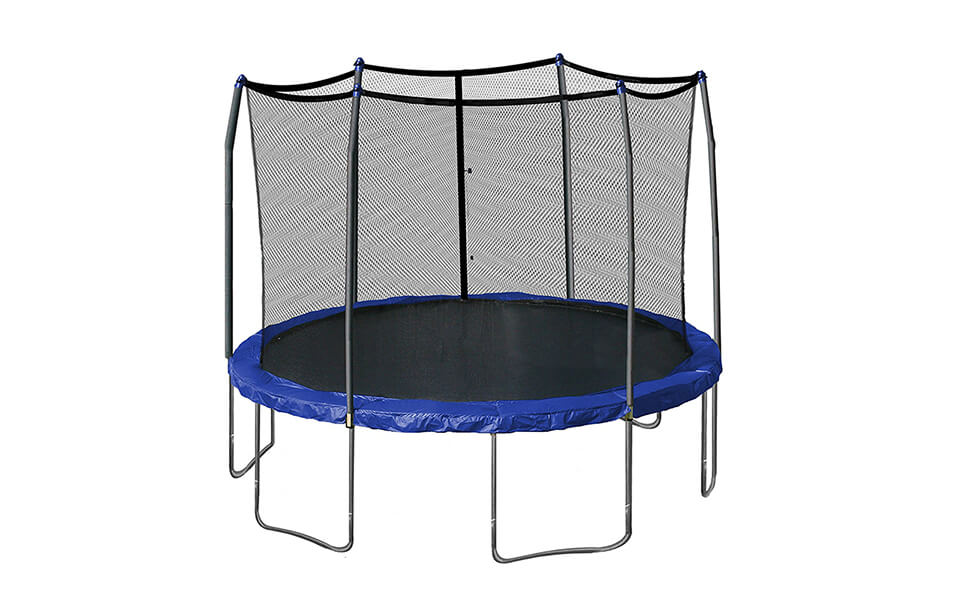 SkyWalker 12 foot Jump N' Dunk Trampoline with Enclosure
PROS
Solid and sturdy construction
Relatively easy to put together
Comes with basketball hoop