The 8×13 ft. springless oval trampoline is the cream of the crop in many ways – both technological and aesthetic. The first thing you'll notice on this trampoline is its sleek look with its curved lines – and the fact that there are no springs!
Advertising as world safest trampolines, SpringFree Inc. implemented the "No Spring" technology with only one purpose – to eliminate injuries caused by hitting and hard part on trampoline. While this is a huge benefit for owners, it's not the only one…
Weight limit: 250 lbs (115 kg)
Recommended for:Age 8+
Let us jump to Springfree 8×13 ft Large Oval review!
---
Check Springfree Large Oval price on Amazon
Review of SpringFree 8×13 ft Large Oval Trampoline with Enclosure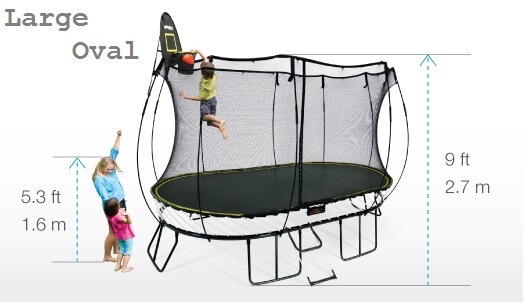 Frame:
Handles structural load of incredible 1100 lbs, which is more than 500 kg. Double layer of powder coating on pre-galvanized steel ensures that rust will never happen on this trampoline.
According to other owners which had it for several years, complete trampoline, not only the frame, looks just as same as the day they bought it.
Springs:
Without standard steel springs, there is great looking 60 composite rods. As you might think why would anyone use fiberglass on trampolines, well, there is the perfect reason to do so. Not only does it looks cool, it greatly reduces the chances of injury (as much as 35%, according to research about injuries involving frame or springs). Yes, the trampoline works with the help of fiberglass rods providing a safer and more consistent bounce.
The beautiful part about these rods is that they are situated completely under the mat. There is no need for any pads to protect the jumper, as it's simply impossible to land on them and this lets the net be as close as possible to the edge of the mat, which makes the trampoline even safer. Springfree Inc calls this the SoftEdge technology. On the negative side, it does drastically increases the price of a trampoline. And is it worth it? The answer is pretty much clear, just ask yourself how much is your child's safety worth.
When it comes to the quality of rods, you can expect that they will hold at least 5-6 years, after that around 20% will need to be replaced. Have in mind that if you need to replace the rod sleeves, it's nearly impossible to do yourself, so you would need their service to do it.
Mat:
The mat is made of polypropylene, and there is 92 sq. ft. (8.5 m2) of jumping space, which is equivalent 10 x 15ft oval trampoline with springs.  It is very shock absorbent and bouncing on it is really pleasant. Regarding bounce, we have nothing bad to say as it is close to being best among recreational trampolines, but still not so high as with mid-class rectangle trampolines, such as ACON Air 16 Sports HD or AlleyOOP PowerBounce.
The enclosure, however, is a marvel to behold. The poles aren't hard at all – in fact, they're made of a very light, flexible material that bends as you go. In practice, this means no impact with the frame and poles is possible, as the poles are curved away from the jumping surface.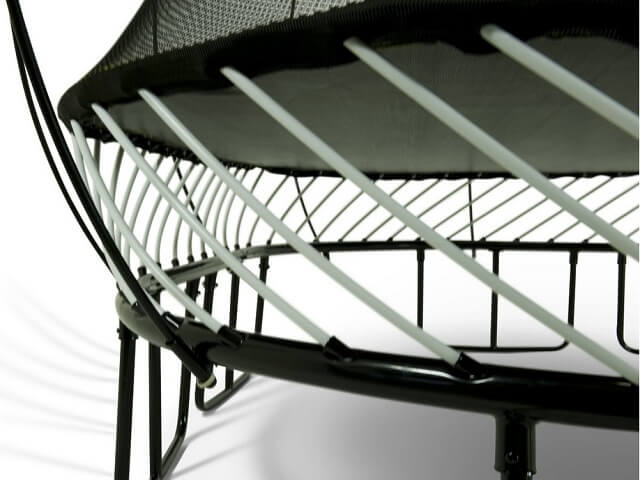 Enclosure:
Made from PolyProylene, same as mat, guaranteeing longevity. Enclosure is made from SpringFree proprietary FlexiNet invention, where there are no standard steel poles, increasing jumpers security to the maximum level.
Poles:
There is 12 enclosure rods also made from fiberglass, strategically placed all around trampoline. As fiberglass is very strong but flexible, there shouldn't be any problems regarding breaking them, even if you think that so thin a rod can't withstand that amount of force. Also, they are not straight but curved, leaving a lot of space for the enclosure to be stretched without even touching the poles.
---
Assembly
Assembly of this trampoline is a time-consuming process for which you need at least three hours (declaration says 8, but this is probably only a case when one person, without any help, tries to assemble this trampoline), but pretty straight-forward when you stick to manual, with only one flaw – step 7, which explains how to install rods and is a bit strange, if not impossible. Manual says to install rods on one side and then on the alternating side, but if you follow this you will have huge problems pulling the mat on another side.
Anyway, first put in 6 rods as shown in the instruction manual and then go around skipping 6-7 holes. Doing it like this you will get the trampoline mat evenly positioned and easily connected to all rods.
Because of that we would recommend another option – to follow a complete video tutorial, you just need to scan the QR code on the box and you're taken to a video where a Springfree professional guides you along the assembly process.
Warranty
SpringFree offers two types of warranty: The first is a basic warranty where you get 4 years on frame and 1 year on all other parts. The second is extended warranty and it doubles warranty period, e.g. frame 8 years and all other parts 2 years. Extended warranty can be obtained for free, the only thing you need to do is register here and provide certain info about trampoline – Name, address, trampoline model, serial number, date and place of purchase and scanned purchase receipt.

---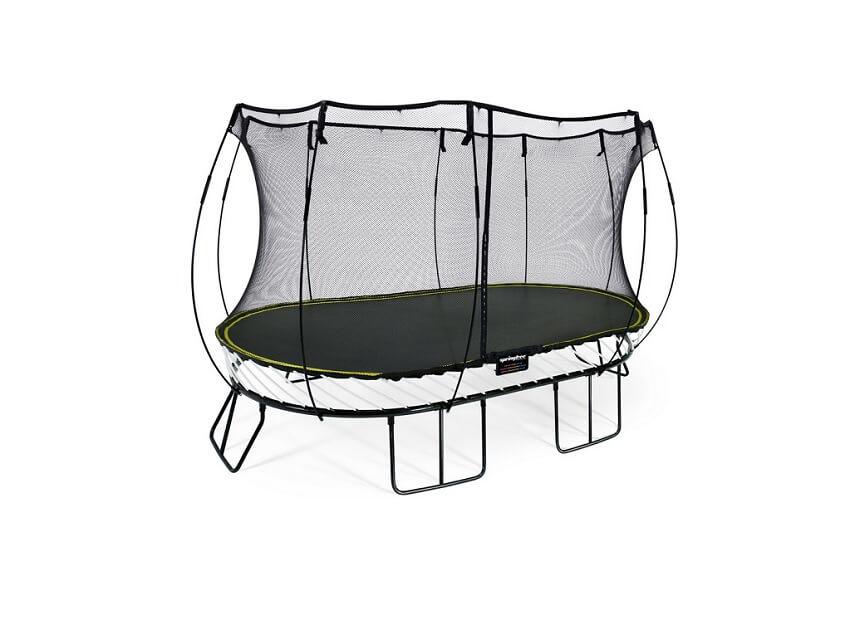 SpringFree 8×13 ft Large Oval Trampoline
Well, there's hardly a safer trampoline on the market. Plus, it's oval and there's not many of those on the market. Springfree trampolines are in general one of the best-quality trampolines on the market, and it shows in this case too. They will cost you, and this one is no exception. But if you can afford it – go for it.
PROS
Big jumping area
No springs - One of the safest trampolines on the market  *Notice: Not any trampoline is 100% safe,
No need for storage during winter, as it is designed to withstand extreme weather,
Included basketball board and ladder,
Comes with 4 sandbags, great for increasing stability due to usage or windy conditions.
CONS
Expensive,
Complicated assembly and dis-assembly,
After 5 years some parts will need replacement,
Mat should be treated after 2 years with special fluid sold by SpringFree Inc.