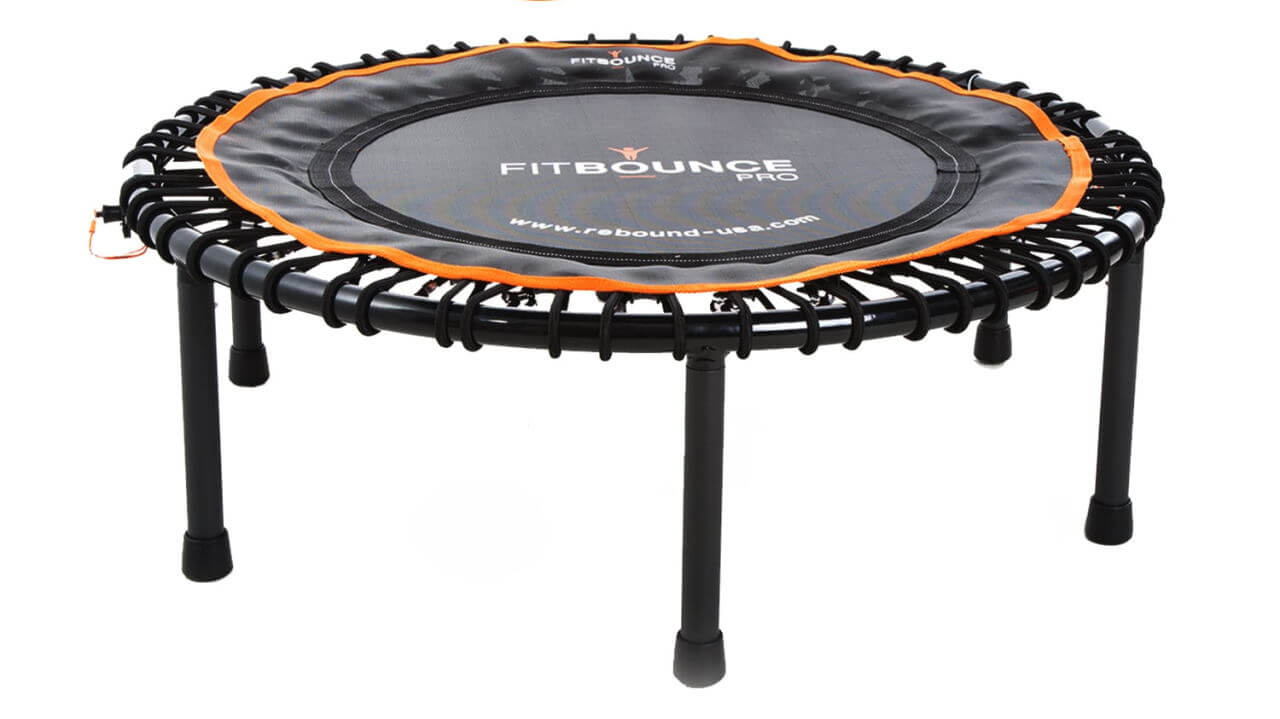 In line with the traditional MaXimus Life quality, this one is no different. It's their top model of home rebounders and it shows. It sports a diameter of 40 inches, making it a great choice for everyday use. The Fit Bounce Pro II rebounders are imported into the USA by ReboundUK, a reputable company. We were therefore expecting a good quality rebound trampoline, and we weren't disappointed.
Weight limit: 330 lbs.
Recommended for: Everyone looking for gym-grade home rebounder
---
MaXimus Life "FIT BOUNCE PRO II" Rebounder Specs
Changes from the previous model are mostly cosmetic, and there was no need to change a lot, as the underlying product wasn't behind in quality or design compared when to its direct competitors.
Buy on Amazon - $425.00 (last updated: 2023-11-26 12:00:02 ET)
MaXimus Life "Fit Bounce Pro II" rebounder is very sturdy for 40-inch mini trampoline, and as you would expect, it can handle jumpers up to 330 lbs.
Rebounder can be folded in half and all of the legs are easily removable. It will take two people to do it safely, this really is not an easy process to do alone, as it's ridiculously difficult to open and close the first few times because the cords need breaking in, but it becomes easier over time.
Fit Bounce Pro II folds only halfway, like a taco, so it won't get as small as quarter-folding trampolines, but it's good enough for occasional transport.
Design
When it comes to looks, it's quite a looker with its semi-transparent spring skirt with orange details.
The bungee cords are in plain sight, giving it a futuristic look. Sadly, this is detrimental to the overall safety of the rebounder, as it's possible that limbs get tangled in between the cords. It is very unlikely but there is always a chance…minus points added. Cords are very soft, though, but we wouldn't want to risk it, especially not bare-footed, so at least try to use socks, it will somewhat protect your fingers and nails.
Its six legs are spring-based with a clip-in design, meaning no screwing is required. The trampoline is half-folding and can be stowed away in a convenient carry bag. It's ridiculously difficult to open and close the first few times because the cords need breaking in, but it becomes easier over time.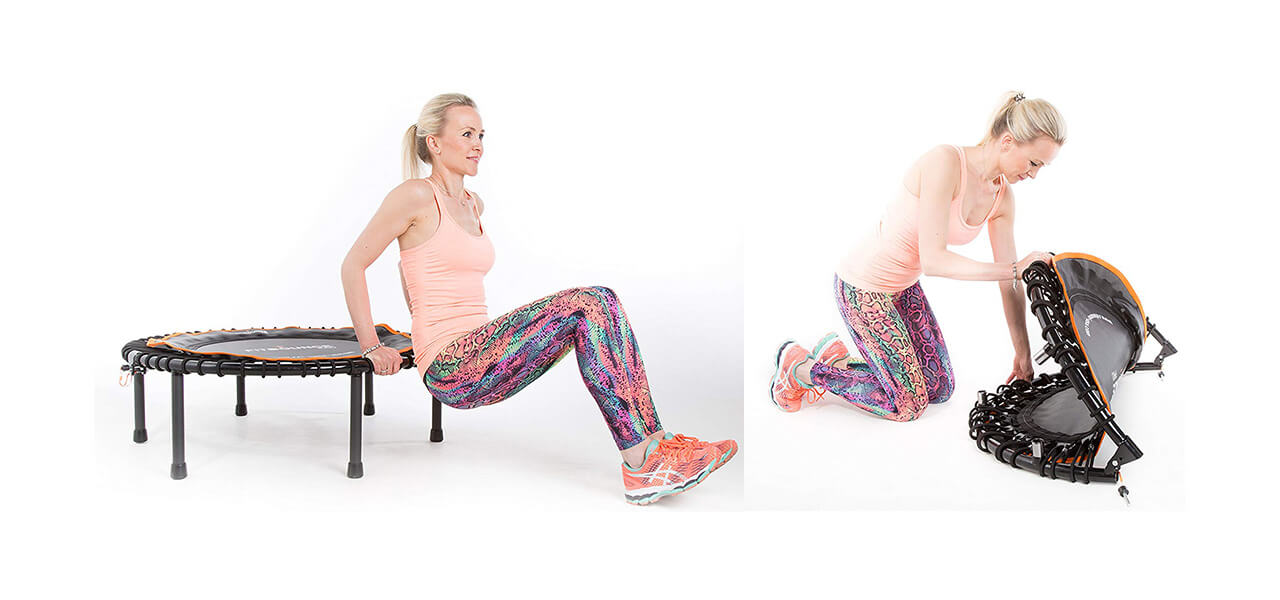 Mat & Bounce
The mat is quality-made and won't break soon. Unfortunately, due to the cords, the rebounding area is a tad smaller than with other rebounders – only 28 inches in diameter so you need to be careful during exercise.
The bounce is very quiet, almost silent while being smooth and resilient at the same time. Two extra bungee cords are provided if the current ones get snapped or worn out. There is a total of 30 bungee springs, 8 mm thick. This makes Fit Bounce Pro significantly quieter than competitor products and doesn't squeak in use, but it doesn't stretch much as well, probably due to its size, as 40″ is just a bit too small for a few exercises you might want to perform.
These bungee cords are a lot safer than springs and provide a better bounce that puts even less stress on your joints and bones, it really does feel effortless. Is this better than regular steel springs? Definitely, as the rubber rope spring system stretches further than metal springs and slows you down to a soft, quiet landing on the mat. Springs store the energy that was absorbed during deceleration (landing), and release it again during the acceleration of the jump. This creates a feeling of weightlessness at the height of the jump, such as hovering and effortless jumping.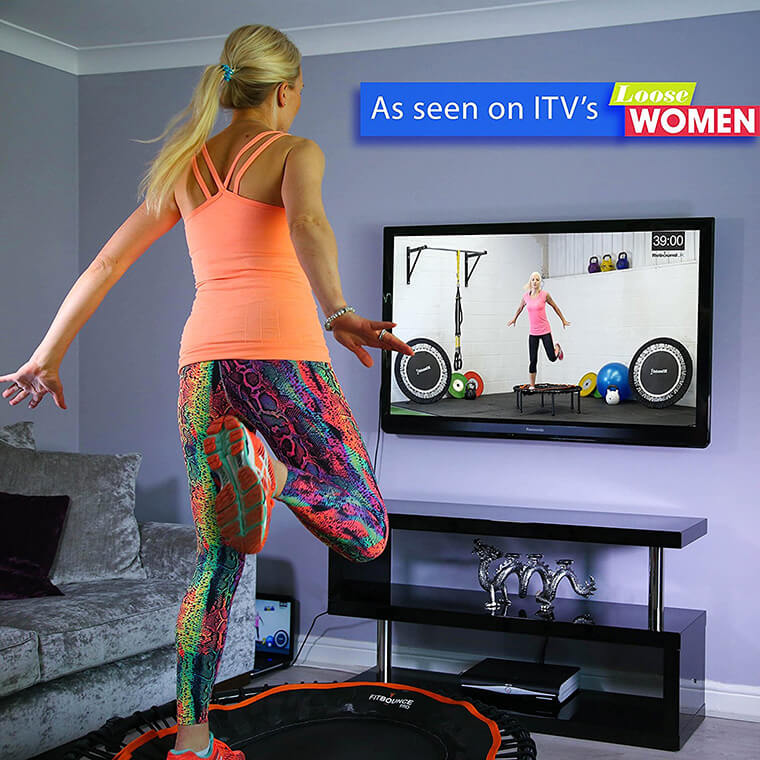 Accessories
The trampoline comes with a nifty storage bag, an exercise DVD, and a pedometer. The handle bar is sold separately and it is recommended if kids will be using it.
The pedometer (bounce counter) is a nice addition that lets you track your exercise progress. You also get a free music download letting you get 60 minutes of workout music and three months of free online video membership to their 'Bounce and Burn' streaming service.
Warranty & Customer Service
The customer service is very helpful and they are glad to answer any queries. The well-designed manual makes assembly a breeze. Spare parts are available from the manufacturer. The warranty is excellent – The Fit Bounce Pro has a lifetime warranty on the frame and legs, while mat, springs, and leg springs have a 12-month warranty.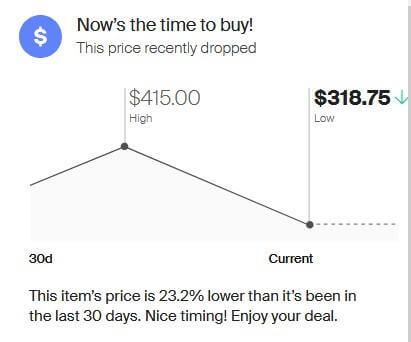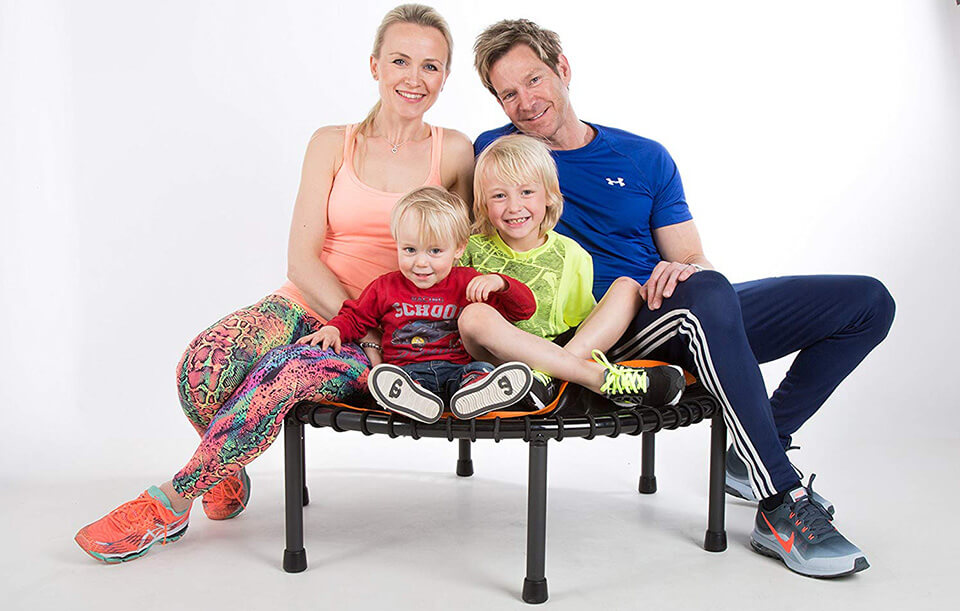 Fit Bounce Pro II
Overall, this is a capable and good-looking trampoline. It is well-made, sturdy and adequately bouncy. The warranty is phenomenal. The addition of a bounce counter sweetens the deal. It's a nice little unit with a hassle-free assembly and a quiet bounce. Our verdict? Very good.
PROS
Great build quality
Attractive design
Quiet operation
Excellent warranty
Bounce counter
CONS
Potential safety concerns (skirt)
No handlebar included in price