Merax 36″ Kid's Mini Exercise Trampoline Portable Trampoline with Handrail and Padded Cover
Weight limit: 180 lbs.
Recommended Age: 4 – 12
---
This is a small-form kids' trampoline, measuring 36 inches in diameter. Its cheerful light blue spring pad and handlebar color are very eye-catching, and its silver metal legs add an interesting accent to it. The pad is UV-resistant and looks heavy-duty: it shouldn't tear soon, especially if you keep the trampoline indoor.
While the previous model used bungee cords, this one uses full-fledged springs. This ensures a better bounce for kids and a longer-lasting (if noisier) operation. The jumping surface is set 10in from the floor.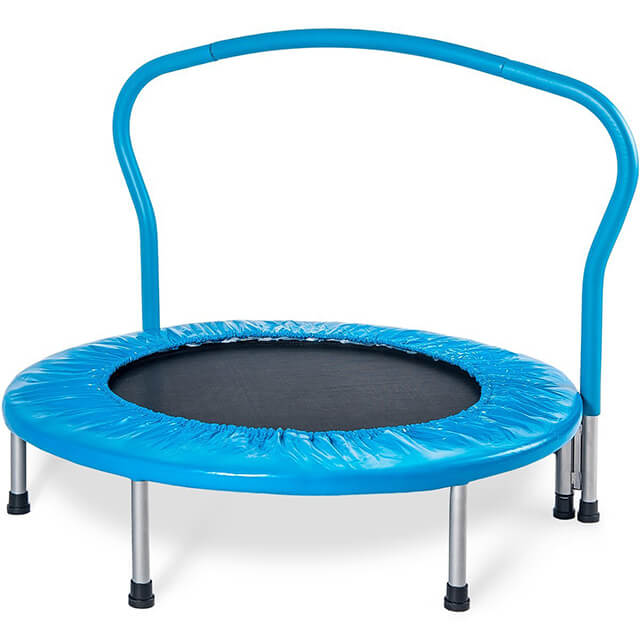 The main selling point of the trampoline is the fact that it can be used both by kids and adults. Namely, the trampoline can hold 180lbs. person, so plenty of adults will be able to use it. The catch is in the handlebar: it is set very low, at 33 inches from the surface, so that kids can latch on to it. When removed, it becomes a full-fledged adult exercise rebounder.
Take care so that kids don't fully lean onto the bar as the trampoline could tip over. This can be solved by adding some counterweights to the legs opposing the handlebar.
It comes fitted with stainless metal springs and a PP jumping mat. We do not recommend using it outside, though. It is easy to put together, it takes only a little bit of screwing and assembling. The trampoline is quite light but doesn't feel flimsy or unsafe. It's easy to move around, although you can't fold it.
The handlebar is removable and it's very grippy when set up. Don't use it as an adult though, since it's too low and you'll end up with back pain very quickly. The bounce surface is tailored for kids as well, so you might find the bounce is inadequate for adults.
The manufacturer doesn't have an official website and you'll have trouble obtaining a proper warranty after the first few weeks of use. However, you can expect to get a refund if parts arrive defective. Luckily, we haven't encountered shoddy quality or catastrophic failure.
While serviceable for adults, we recommend it the most for kids 4 to 12 years of age. Adults can use it in a pinch, but soon they'll want something more serious, as it is simply too small for them. This is a good basic mini trampoline for kids whose parents wish them to burn off extra energy.
---
 Pros 
Cons:
lackluster warranty
too small for adults
Merax 36″ Kid's Mini Exercise Trampoline
Very basic kids mini trampoline seeking parents who want to increase level of child`s activity. Affordable and recommended product.