Discover a new level of high-performance workout with the Ultimate Rebounder by Urban Air, a mini trampoline designed for the fitness enthusiast. With its focus on high performance and accommodating heavier loads, this trampoline offers a unique blend of safety, durability, and exhilarating bounce. Let's delve into the features that set the Ultimate Rebounder apart.
Weight limit: 400 lbs (180 kg)
Size: 40-inch
Specifications Overview
Frame
The Ultimate Rebounder's frame, constructed from robust alloy steel, offers strength and stability for even the most intense workouts. The frame's 40-inch diameter provides a spacious platform, while its foldable design enhances portability and ease of storage. Weighing in at a light 28 pounds, this trampoline is perfect for both indoor and outdoor use, making it a versatile addition to any fitness routine.
Jumping Mat
At the core of the Ultimate Rebounder is its Permatron fabric mat. Renowned for durability and performance, this material ensures that the mat can withstand rigorous use. The 28-inch diameter of the jumping surface allows for a comfortable and effective workout space. Capable of supporting up to 400 pounds, this trampoline is ideal for those looking for a high-performance exercise tool.
Springs
The Ultimate Rebounder is equipped with 36 metal springs, specifically engineered to provide a firm, supportive bounce. These springs are key to the mini trampoline's high performance, offering a safe and efficient workout experience that challenges and benefits users.
Additional Features
An added advantage is the inclusion of a carrying case, enhancing the trampoline's portability and convenience for those on the move. This feature, along with the trampoline's manageable weight and compact frame, makes it a practical choice for fitness enthusiasts who value mobility and ease of use.
User Experience and Performance
The Ultimate Rebounder has received high marks for its build quality and effectiveness in providing a high-intensity workout. Its sturdy construction, including durable paint and rubber leg caps, ensures longevity and user satisfaction. While its portability is a plus, it's worth noting that folding the trampoline for storage or transport may require some extra effort.
---
Buy on Amazon - $429.00 (last updated: 2023-11-26 10:30:03 ET)
The Ultimate Rebounder by Urban Air stands out as an exceptional mini trampoline designed for high-performance workouts and supporting heavier loads. Its strong frame, durable mat, and well-designed springs combine to offer an unparalleled exercise experience. Despite some effort required in folding, the overall benefits make it an excellent investment for those looking to enhance their fitness routine with a challenging and effective piece of equipment.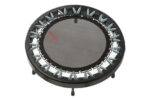 Ultimate Rebounder by Rebound Air: A Trampoline Review
PROS
Build Quality - robust build capable of supporting high weight limit (400 lbs)
Folding Design - quarter-fold design, enhancing storage and transport convenience, especially with included carrying case
Mat - "Permatron" mat, one the best materials for trampoline mats, it will guarantee longevity
CONS
Bounce - the firmness of the bounce may be less ideal for lighter individuals but proves exceptional for those with a heavier build.
No padding - it doesn't have a spring cover and there isn't a cover that fits it. Manufacturer explained that a spring cover would stop it from folding.