JumpSport 250 | Fitness Trampoline, In-home Rebounder Review
Weight limit: 250 lbs (115 kg)
Recommended for: All interested into serious training sessions or getting into shape
As all mini trampolines from JumpSport's family, model 250 is strong & quiet trampoline but with some specific features when compared to other. As it is often used in gym's, and it is considered as economical version of semi-pro mini trampolines for every person interested in serious training, you can be very sure of it's quality. Only thing you should consider if thinking buying this particular model is it's size – 39″ or 3.25 ft, with usable bouncing area of 35.5″.
If you plan to spend a lot of time on it then you should perhaps think about bigger brother – JumpSport Model 350 or even their current flagship, Model 570 PRO.
---
JumpSport 250 Indoor Trampoline Specifications
JumpSport 250 mini trampoline is non-folding trampoline very similar to other JumpSport's mini trampolines, but a bit more eco-version, at least when it comes to price.
JumpSport 250 is 3.3 foot (40-inches) mini trampoline which features 3 ft (35.5-inches) of usable jumping area (in diameter). It's frame and legs are made of high quality  steel which helps to keep this trampoline super stable, partly thanks to 6 pieces of JumpSport's arched legs, allowing you much wider range of exercises than on normal, low-cost mini trampolines. Frame itself is made from 16-gauge steel.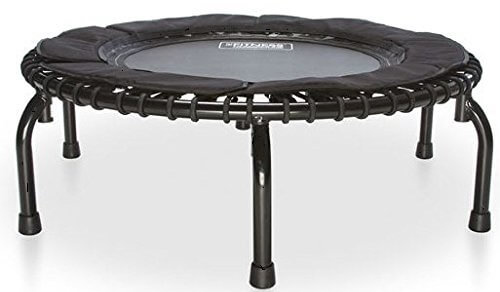 The bounce is very soft and smooth,  allowing you to exercise much longer periods of time. This is because this trampoline uses 30 elastic cords called EnduroLast2 which are tested and guarantee 1 million jumps without any problems. Also, mat is made from material called Permatron PolyPropylene, which is top choice for all pro & semi-pro rebounders.
Be aware that mat made from Permatron will not stretch so there is no worries about throwing you of balance during stronger workout sessions. When those two are combined you get very good results – trampoline which is super strong and very quiet.
Other specs:

Total trampoline weight – 18 lbs (8,2 kg)
Quality 2-coat finish
Trampoline comes with workout DVD to help you start
Often used in gym's
Warranty
JumpSport offers long periods of fully covered warranty,  and it is different for most parts – steel frame and steel legs come with lifetime warranty, mat and springs have 2 years of warranty, and all other components 1 year.
Assembly
Assembly of Jumpsport 250 is incredibly easy. It will take you only several minutes to get it assembled and try it out. Assembly only consists from attaching legs into holes, without any tools needed. Kids stuff! When assembled it is 41-inches in diameter, so please check you have enough room to place it. Those 2 extra inches come from arched legs, which are wider than trampoline itself. Total height of trampoline is 12.5 inches.
If you also decided to buy JumpSport Quick-Release handle bar (not included in the package, can be purchased separately) you won't have any problems at all, as it connects directly to two of arched legs with a simple clutch. Note that you will need Allen key to tighten it properly.
---
Video of JumpSport 250 Mini Trampoline
TOP 10 Mini Trampolines and Rebounders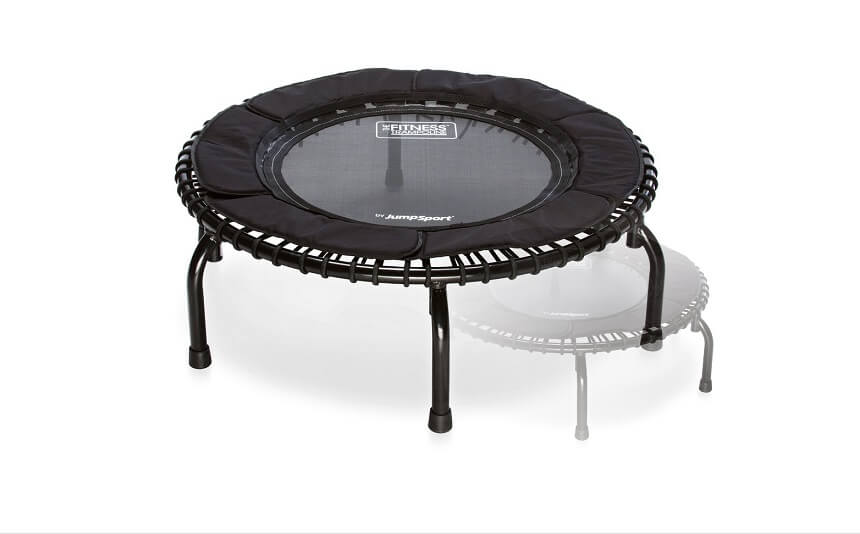 JumpSport 250 Fitness Trampoline
If you want a great and reliable mini trampoline that is safe, easy on your body, and lastly - quiet, but without huge jumping surface, then JumpSport 250 is for you!
CONS
Handlebar not included